How to Start an eCommerce Store with WordPress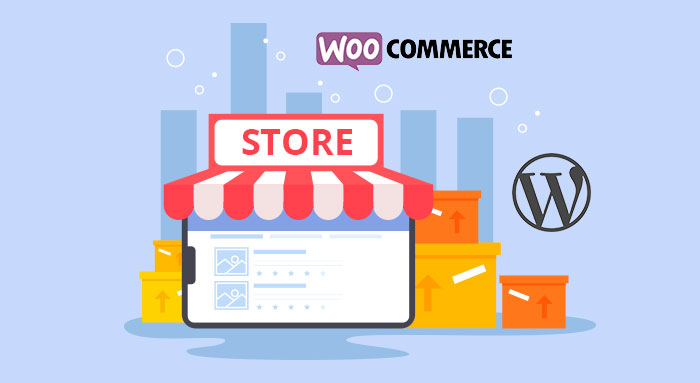 More and more people are getting comfortable with starting their eCommerce business online. It makes sense because, over the years, the means through which you can start such a business have evolved greatly. Some platforms take as little as 30 minutes to have your very first online store opened and fully functional.
And it's a good time to get into this market, too. Global eCommerce sales are skyrocketing, as more people turn their eyes towards digital platforms when doing their shopping. Heck, even things like groceries and food delivery have become something that many people do through their smartphones.
You can also look at popular creators on platforms like YouTube. Most have switched their primary source of income to merchandise. Which, of course, is always run through some kind of an eCommerce platform. Not only is there a demand for digital products, but there are plenty of means to get started.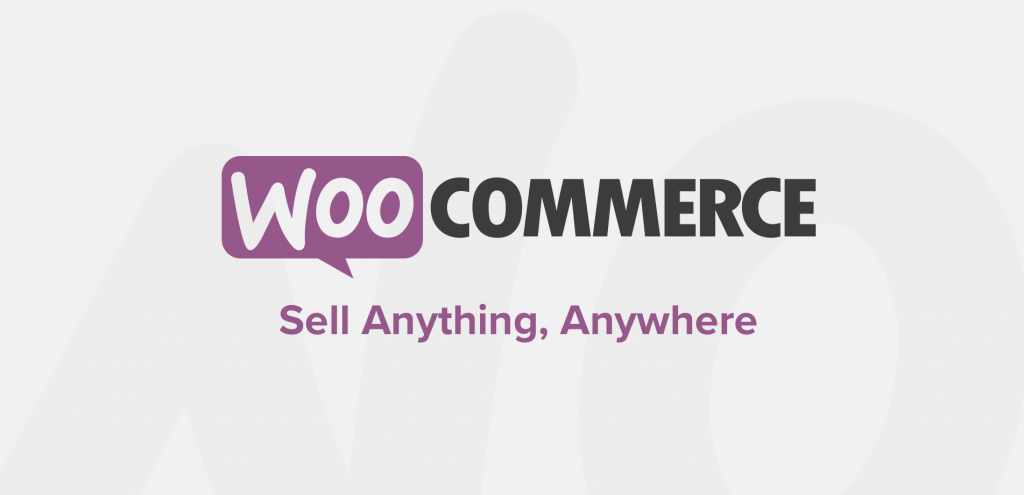 And in this guide, we will explore using WordPress as your go-to platform for starting an eCommerce store. To be more specific, we will focus on WooCommerce addon. An exceptional plugin that supercharges your WordPress site with world-class eCommerce functionality.
Let's dig deeper into WordPress and why it's a great choice.
Choosing WordPress for eCommerce
Most people, when they hear the word WordPress think about blogging and writing articles. In the bigger picture, WordPress is advertised and built as a blogging platform. But, thanks to the innovation of people (developers), the platform has become far more than just a means to blog.
These days, you can use WordPress to run online stores, learning platforms, all kinds of business sites, and even create digital courses. The tools (plugins) are all there for you to use and adapt to your needs.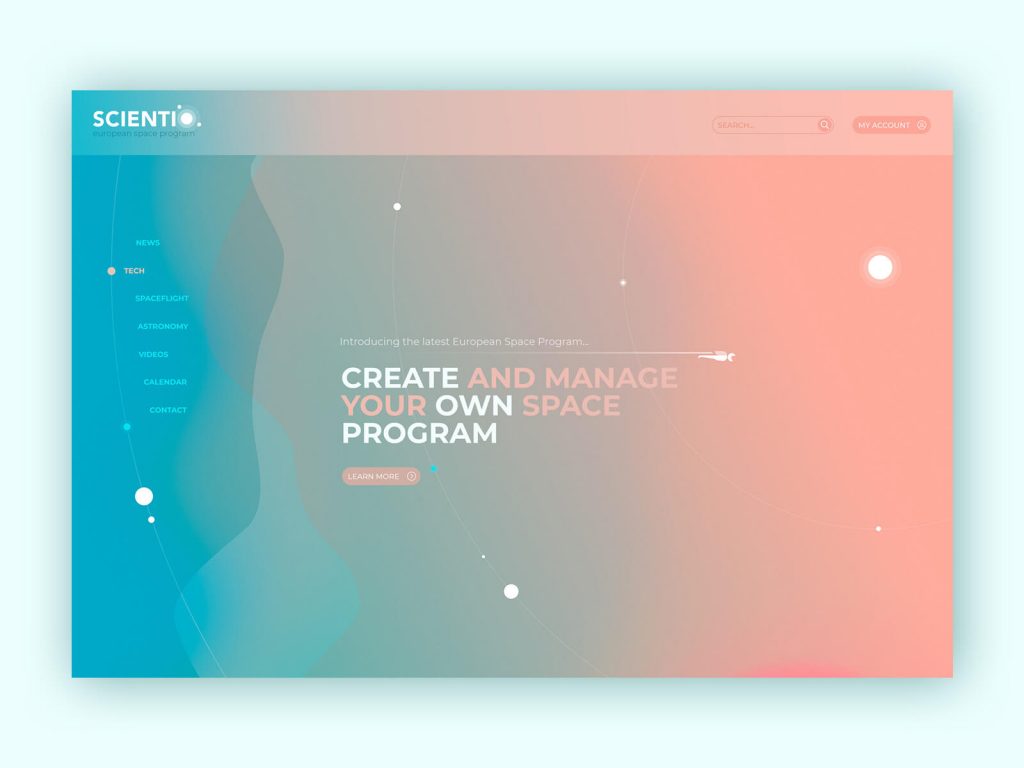 WordPress sites can range from the simplest looking, to the most creative and innovative designs you have ever seen. And WooCommerce, an addon that has more than 5 million active users, helps to turn your seemingly average blog into a full-blown eCommerce store.
Getting Started with WooCommerce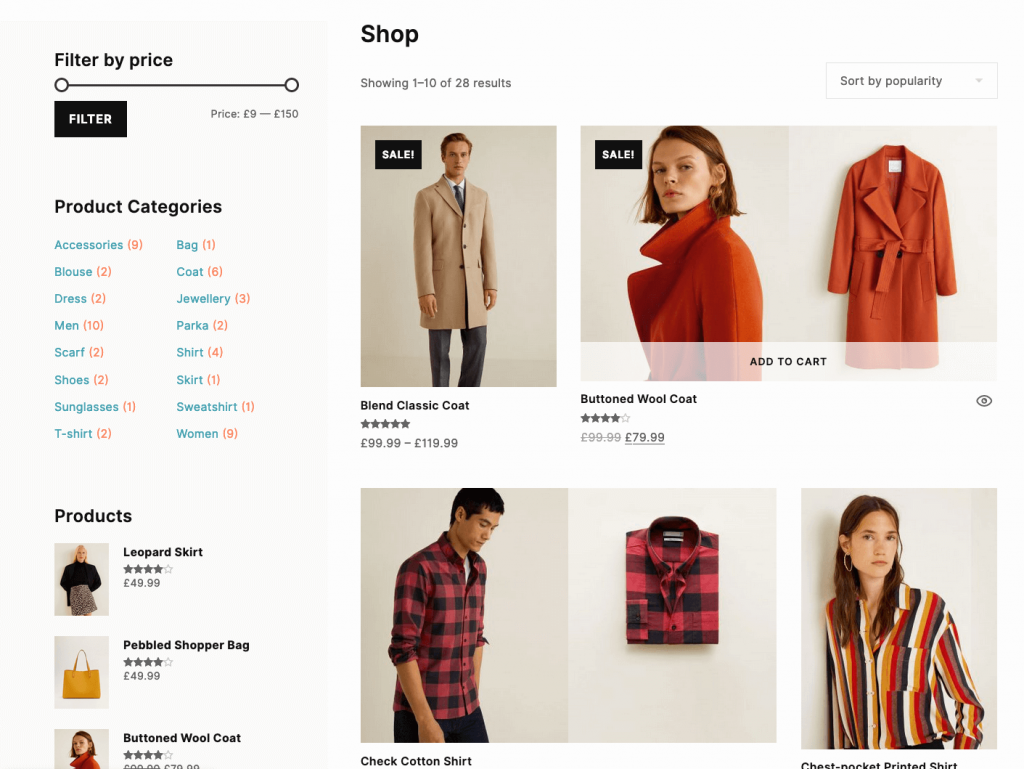 Much like any other WordPress plugin, getting WooCommerce installed and activated is super simple. You grab the addon from the official plugin repository and activate it on your site.
Immediately, a new page called /shop/ will be available on your site. You can change the name of this page to whatever you like or keep it as is.
Download: https://wordpress.org/plugins/woocommerce/
As soon as you activate the plugin, you'll have access to the WooCommerce Dashboard. And it is in this dashboard where you'll do most of your configuration requirements.
Specifically:
You can manage product stock, cart display, and checkout process.
Add payment gateways such as PayPal, Stripe, Bitcoin, and others.
Set up shipping options and pricing for local and international customers.
Integrate your store with platforms such as Facebook, Twitter, Google, and many others.
…and so much more.
Gradually, you're going to learn about WooCommerce plugins which further enhance your store's functionality. In fact, we have previously written on such topics and have two very useful articles to share:
Before you dabble with all that though, we recommend looking at the official WooCommerce Documentation. Understanding how the software behind your business works is crucial, and there are few platforms that make it as easy as WooCommerce.
Pros and Cons: It's Good to Know!
As with any software, there are going to be advantages and disadvantages. It's no secret that platforms like Shopify make it simple to start an online store. And there are countless others that we could list in this article.
But, despite any platform's popularity, there are always going to be pros and cons. So, for this segment, let's look at WooCommerce and why it's such a great choice for your very first eCommerce store.

First and foremost, WordPress is the most popular content management system on the planet. Joomla, which is ranked 2nd, is behind by a whopping 50%. And Shopify, which is ranked 6th, is behind by more than 57%. WordPress has clearly made a name for itself.
And using it for your eCommerce store means that you're going at with tens of millions of other WordPress users. Whether you need help, advice, new tools, or design tips — there are more resources available than you'll ever know how to consume.
Here are the Pros and Cons of using WooCommerce:
Pros
Completely free and open-source.
Create a catalog of 10 or 10,000 products. It's unlimited!
Naturally works on smartphones, tablets, and desktop computers.
Extensive customization tools to help you tailor your store to your personal needs.
Installation takes a few minutes and everything is done through an installation wizard that takes you through pre-built steps.
Enormous availability of custom designs and add-ons, many of which are free of charge.
Cons
You have to purchase your own domain name and hosting. More importantly, you have to configure it all yourself. There are, of course, many guides which show you how to do it. But, laziness is certainly a factor when it comes to technical things.
The best plugins and themes are priced at a premium. Of course, you can get by without them, but be prepared to invest the money as your store grows.
As you can tell, it's not all so horrible. All you need is a little patience with setting up a hosting account and you're set. In fact, most hosting companies do all the hard work on your behalf. Which includes domain registration, setting up WordPress, and so forth.
So, now that you have a bit of a background on WordPress and WooCommerce, what's next? We'll dedicate the following part of this guide to two areas: themes and plugins.
For themes, we'll show you some of the best WooCommerce designs available. And, the same goes for plugins. We'll include addons that add invaluable features to your eCommerce store.
WooCommerce Themes: Get Your Store Sparkling!
All great online stores have one thing in common: their design. And one great thing about WordPress is that a wonderful design is only a few clicks away. Themes are a very big part of WordPress, and in fact, a big part of the success of the platform. You can find tens of thousands of uniquely designed themes for your blog or store in a matter of minutes.
And the best part is that a modern industry-level design might cost you $50 at most. That beats paying more than $10,000 for a custom design from a user interface professional. So, if you're looking to get your store right from day one; check out the following WooCommerce themes we recommend!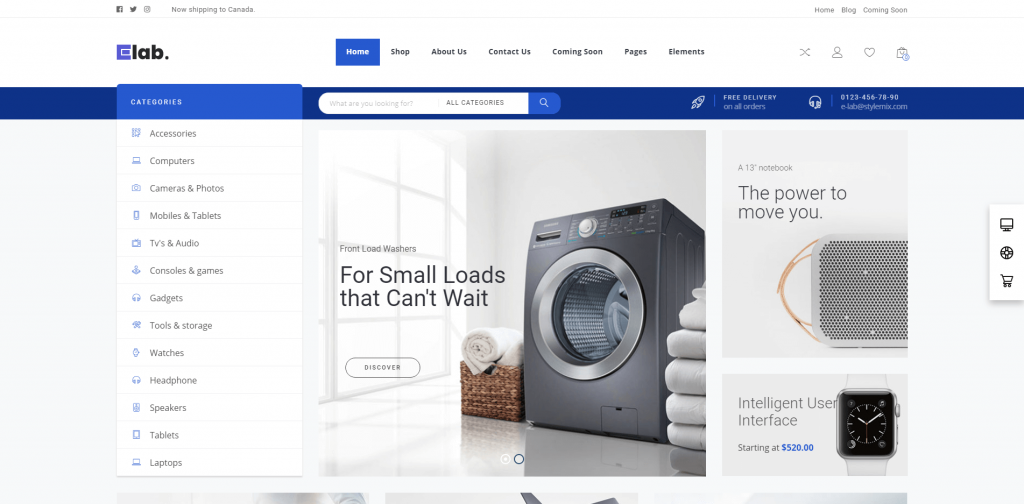 eLab is the latest eCommerce theme from StylemixThemes. Although originally designed as a theme for Electronics Stores, you will be able to use eLab in many different niches. This is possible thanks to a wide variety of demo layouts that come pre-packaged in this theme. You can choose between Minimal, Creative, Trendy, or a Classic eCommerce design.
Though the most important aspects of this theme lie in its features. Namely, a custom page builder add-on called X-Builder. With this builder, you can put yourself in charge of any kind of design matter. Adjust layout positions, implement new sections, or modify the styling of your product pages.
It goes without saying that eLab is a responsive theme that effortlessly renders on mobile and smart devices. As more and more shoppers use their mobile devices to shop online, it's quintessential that your store works across all platforms equally well.
Lastly, you'll get access to many premium plugins at no extra charge. Those plugins include Slider Revolution, Product Compare, WishList, Breadcrumbs, and others!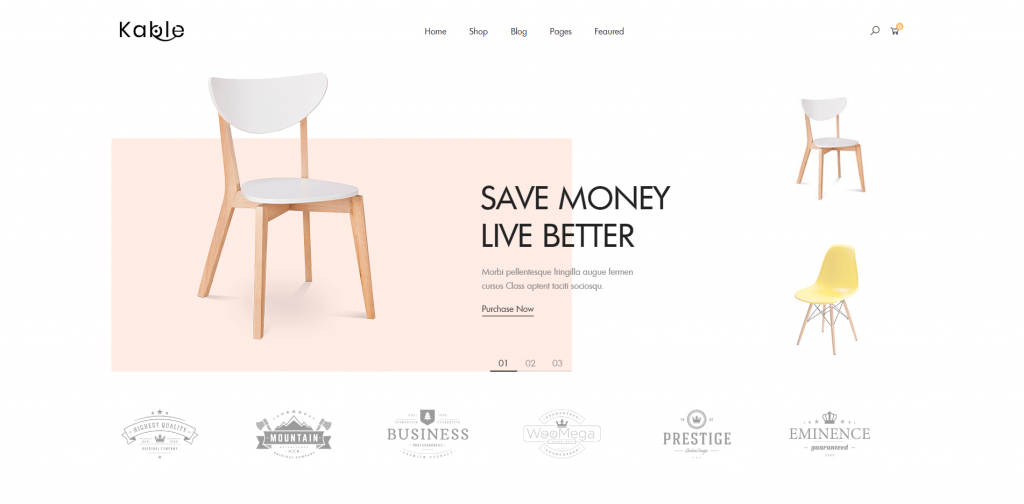 If you love a clean and minimal look, then the Kable theme is going to fit you well. This multi-purpose theme is full of interesting features and is further complemented with the Visual Composer plugin. Visual Composer is a WordPress Page Builder which gives you enormous control over managing your site's design.
The first thing you'll notice with Kable is how easy it makes it looking at products. Everything has a place on the page, and it lets customers browse for products at a steady pace. And whether you wish to sell jewelry or food-related items, you can adapt Kable quickly and efficiently for the necessary cause.
Last but not least, Kable is fully equipped with plugins like Amazon Multi-Vendor, Flipkart, and many others which help you populate your store with sellers outside of your own circle.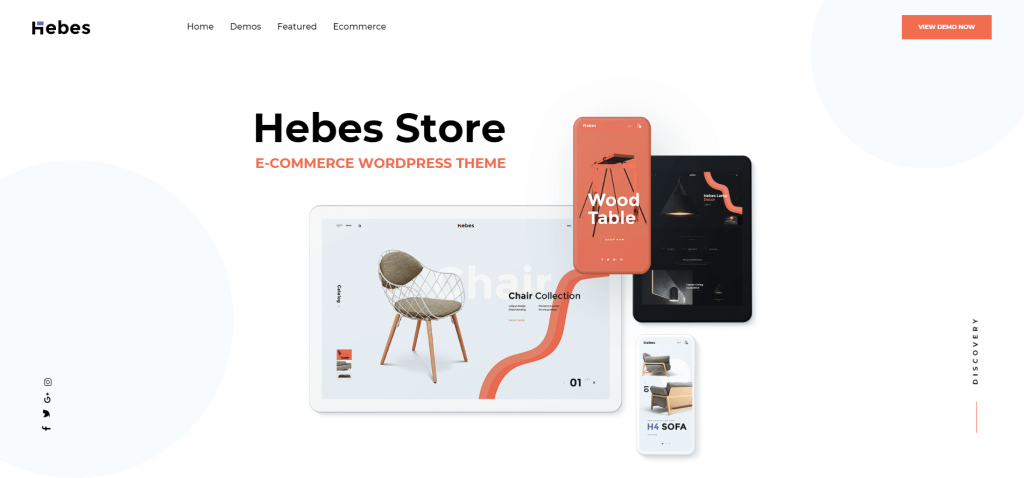 Hebes is a creatively designed WooCommerce theme. It manages to capture the elements of modern design, with the necessities of smooth page transitions and navigation features. Best of all, you get to choose from one of the many pre-designed homepage layouts to start things off right away.
Simply pick the homepage style you like and apply it to your own store in a matter of seconds. Afterward, you can use the theme dashboard to add new content, manage the design, or implement new sections for your content.
Of course, what would an eCommerce store be without blog posts to spread the latest offers. Good news, Hebes has a custom designed Blog design which will help you attract readers and new customers.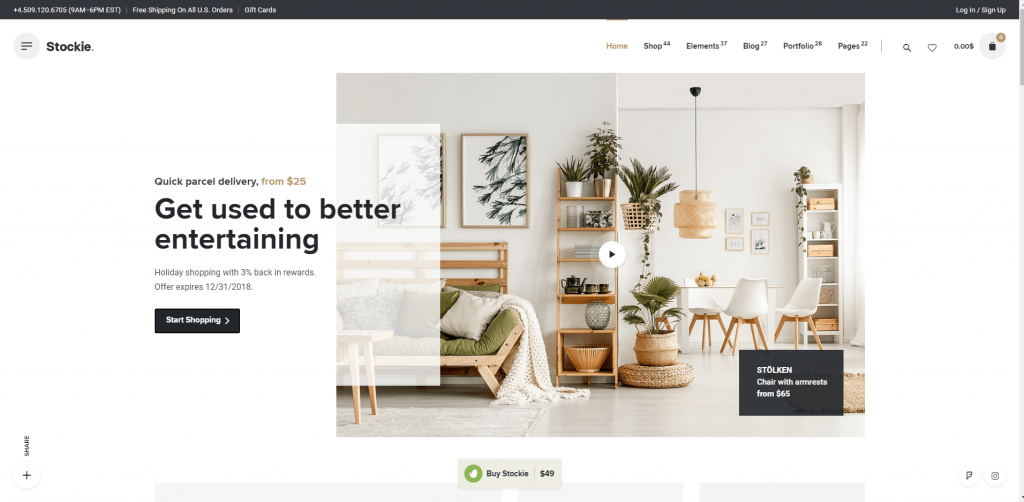 The Stockie theme has so many wonderful features that we would need an entire article to discuss them all. First and foremost, Stockie is a multi-purpose WooCommerce theme. As a result, you can use Stockie for any kind of an online store purpose. Fashion, gaming, electronics, furniture, anything at all. The design integrates with your product display seamlessly.
You don't need to know any prior coding to manage this theme either. An in-built customization dashboard lets you configure everything from the ground up.
E.g. You can select a custom Shop Layout for each of your pages. Further, you can enable or disable animation effects, choose the number of products per page, and much more. The same feature extends to elements like branding, headers, footers, typography, and more.
It's as good of a theme for beginners as it is for experts alike. And I think you're going to love the creamy yet stylish colors that permeate the Stockie design.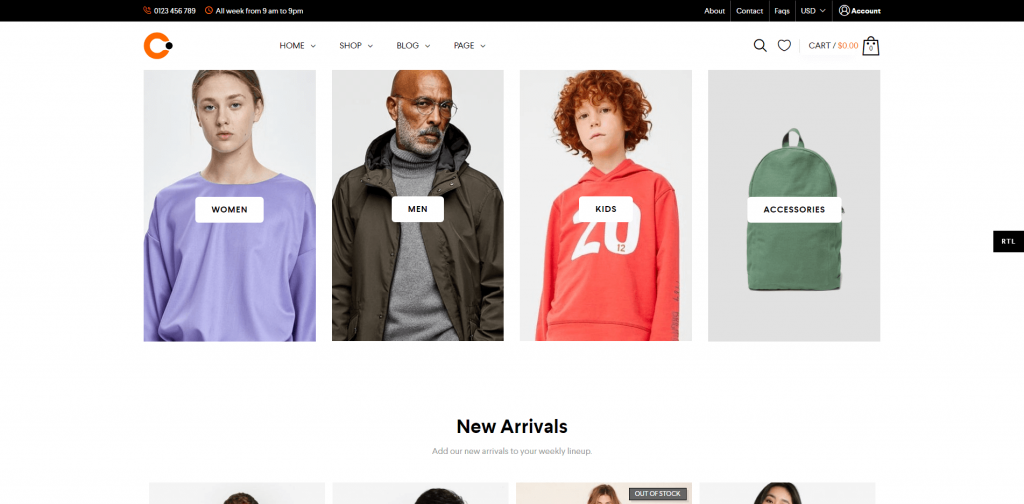 Cerato is an eCommerce theme that's using Elementor for its back-end. Elementor is a fairly popular WordPress page building plugin that has a reputation for being easy to use. Another upside is that this theme costs only $25 in comparison to $49 for the other themes we listed.
On the design side, Cerato comes through as a clean and straight to the point type of a theme. And with 21 demo layouts to pick from, we can't imagine you having trouble finding a design that fits your imagination.
The features are also great, and here are the most interesting ones:
Calculate free shipping based on your specified threshold. If a customer has enough value in their cart, they'll be able to get free shipping.
Real-time search form which looks up products instantly. No need for customers to make several clicks to find a product.
Quick preview of product pages. By hovering over a specific product, customers can get a glimpse of additional details without needing to switch pages.
Stylish blog design which will give a spotlight to your blog posts.
Extremely well-performing. Based on reports from performance tests, Cerato theme easily scores in the 99% percentile.
It's safe to say that this theme is a jack of all trades. Modern, great features, and a lot of customer attention, too. In just a few months, this particular design has more than 600 sales.
WooCommerce Plugins: The Essentials!
Plugins add functionality to your site that you wouldn't otherwise get out of the box. Although WooCommerce comes with many great features by default, there are countless plugins you can use to further enhance your store. In this segment, we'll look at the essential add-ons you can use.
Dokan is one of the top multi-vendor marketplace builder plugins for WooCommerce powered by WordPress. WooCommerce allows you to build your very own single store. You can turn it into a multivendor marketplace like eBay, Amazon using Dokan. It's the best marketplace builder solution for WordPress with over 20,000 active marketplaces around the world. And you don't need to get worried about the cost, you have the opportunity to start your dream eCommerce journey with Dokan even for Free!

A multi-vendor marketplace is a platform where you can easily add unlimited vendors to sell their products and you can make millions without extra effort. Hire vendors from your community to upload & sell their products using your marketplace and set a certain commission. Yes, things are easy with a powerful marketplace builder solution like Dokan. 
Dokan Top features at a glance:
Unlimited Vendors & Frontend Dashboard for everyone
Easy Order Management
Individual Vendor Stores & Withdraw System for Vendors
Multiple Commission Types and Product Category
Frontend Variable and Grouped Products
Easy Shipping Management
Smart reports generation
And everything you may need to successfully run your smart-professional marketplace. With having almost all essential features, Dokan has over 20 independent modules to power up your marketplace.
WordPress is becoming more powerful and popular for eCommerce too. And with solutions like Dokan, you can easily start a multi-vendor online marketplace based on WooCommerce to support your community and make money online. Go give a try to Dokan now!

Stripe is an alternative payment processing platform that's a direct competitor with PayPal. Although PayPal itself is great, Stripe offers a lot more flexibility and a lot smaller fees when it comes to credit card processing. That's also one of the hitches with Stripe, you can only accept credit card payments. (All major brands accepted.)
Stripe has no setup fees, no monthly fees, no hidden costs: you only get charged when you earn money! Earnings are transferred to your bank account on a 7-day rolling basis.
Stripe will charge roughly 2.9% + 30 cents per any given charge as long as you're doing less than $1 million in sales on a yearly basis. This is far more appealing than the enormous rates imposed by other payment gateways.
The plugin can be activated after you've created a Stripe account and connected your specific eCommerce store. Afterward, all payment processing should occur naturally. Do make sure to check that Stripe is available in your country.

Booster is loaded with more than 100+ unique sub-plugins which give your eCommerce store a serious boost! Most of the plugins and tools are related directly to marketing, product management, and customer experience.
There are several plugins that optimize your shipping and orders management process. For example, you can specify shipping methods for different types of users. If someone is a regular client, you can set their account to a unique status so that they always get free shipping.
Take a closer look at Booster and see if you don't find something that you like. It's a massive list of additional tools and features, and perhaps the only plugin you'll ever need to take care of your eCommerce needs.

Services is an official add-on by Automattic, the company behind WordPress. Simply put, Services takes off the burden of performing certain services on your own servers.
As an example, Services will produce shipping labels, let users print them out, and also automatically calculate the tax. Further, Services provides seamless provisioning for both Stripe and PayPal.
Think of it as a means to lighten the load off of your shoulders. Services will keep a record of each sale and present you with solid order data you can access at any time.

Having customers abandon their cart sucks, any eCommerce seller will tell you that. In fact, most online shoppers do abandon their cart for one reason or another. But, do those items have to remain in those carts forever?
This is what the Cart Abandonment Recovery plugin is trying to solve. Rather than forgetting about your customers, the plugin will send out an email once in a while to ask if the customer hasn't changed their mind. The email itself can be customized and tailored specifically by you.
The plugin, on the other hand, will do all the automation of the task. You can select specific timeframes, follow-up emails, and even throw in a coupon as a part of the deal.
It gives you a second chance to turn someone into a customer. And it certainly beats having all those carts sit abandoned forever.
Conclusion
WordPress is a powerhouse of a platform. And in combination with WooCommerce, it's an exceptional combo to start your personal digital store. All the guides, all the tutorials, and all the necessary resources are readily made available to you right now.
Don't let the initial process of settings things up to scare you either. Hindsight, WordPress has one of the easiest to manage dashboards in the world. And that's also one of the top reasons why people love WordPress so much.
Needless to say, the showcase of different resources in this guide is a testament to that. You can get your hands on all kinds of great designs, add-ons, and so much more by choosing WordPress & WooCommerce.