5 Top Email Marketing Services for Small Business Compared
Who would like to sit in front of the computer and keep on sending the emails a whole day long? Over and above that will take a lot of time and efforts in order to send the emails to all the subscribers one-by-one. And honestly, no one's got time for that.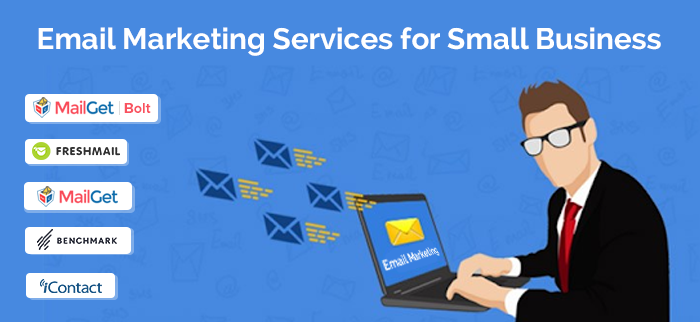 We all are aware of the term 'Email Marketing Services'. These services allow you to create beautiful emails and send them to the list of subscribers at once.
What benefit do you get while using 'Email Marketing Services'?
Once you get started with the email campaign, you will realize it's not as easy as it looks. Rightly said by a great man, "the grass is always greener on the other side" & same goes for the email marketing.
Your emails pass through various channels(servers) in the process of transmission. And when it reaches the recipient it's not necessary that it will land in the inbox & even if reaches the inbox, it's not necessarily whether the receiver will open it or not!
Well, not trying to scare you at all… it's not that gruesome task. Further, if you use the email marketing services you can have an upper hand on many features like:
You get a 'drag & drop' email builder
A range of Templates to choose from
Assured inbox delivery by dodging the spam filters
Autoresponders to automate replies to the people
List Cleaning for removing bad emails
Drip Emailing to schedule your email marketing campaign
Track your emails to know if the recipient opened the email, clicked on the links, unsubscribed you, etc.
To put in a nutshell, here are top-notch email marketing services for small business that will provide everything that is crucial for the email campaign.
Coming to the services, let's explore the services & find out what's in the store! Let's start with the best ones:
---
---
You no longer need to walk an extra mile in order to design an email while using MailGet Bolt. You can select the template that suits best for your email and mould it according to your needs. If you are still not satisfied, effortlessly drag & drop the fields in the email body.
When it comes to delivering emails in the inbox of the subscribers, it is one hell of a task which can not be done without the help of this software. And you know what the best part is you don't need any external SMTP to connect with as it comes with an inbuilt SMTP
You can do a lot of things essential for email marketing like schedule the emails with the help of 'drip', respond via bonny emails instantly with autoresponders, and a lot more.
Moreover, you can also view the track records of your email marketing campaign as to know the number of receivers opened the emails or amongst them what amount of people clicked on the links mentioned in the email.
Unlocking the key features:-
Drag & Drop Email Builder

500+ Ready-to-use Templates

Custom Tags

Autoresponders

List Cleaning

List Management

Email Tracking

Import Emails

Subscription Forms

Live Chat Support
And a lot more…
How will it cost you?
MailGet Bolt is a subscription-based software that will cost as per the month or on annual basis. The pricing for the software varies on the basis of subscribers.
The Starter plan will cost you $9 per month and you can send emails up to 2500 subscribers, while the pro plan will be of $34 for sending emails to 10,000 subscribers.
You can go for higher plans if you want to send emails from 15,000 to 1,70,000 subscribers as per the plan you opt for.
---
---
You don't have to worry about creating the emails as designing is as easy as pie with the help of its drag & drop builder. Once, you are on the roll with this software, you would know how easily it does all the tasks for you.
Email automation can't get easier as all you need is to get the subscribers. Once they get into your list you can track their activity, send follow-up emails accordingly, and keep them engaged that will gradually help in converting the customers.
Besides, you can add a subscription form on your website and generate leads. Further, the list will be managed by the software itself without any hassle. Grow your audience and keep a check on the emails in the form of pie charts/graphs with the help of email tracking functionality of Benchmark.
Unlocking the key features:-
A/B Testing

Polls & Surveys

Email Automation

List Management

Drag & Drop Email Builder

Templates to choose from

Photo Editing

Email Tracking

Reports
And a lot more…
How will it cost you?
The pricing for this software is not complex at all. You can pay for the number of subscribers you want to send emails to. Plans for this software starts from $11.65 for sending unlimited emails to 600 subscribers and goes up to $25923.15 for sending 100,000,000 emails to 7,140,000 subscribers.
---
---
MailGet is yet another efficient software for carrying out your email marketing. You can effortlessly send automatic email follow-ups, remove inactive & duplicate emails from your list with the help of MX list cleaning feature.
It consists of an ingrained lead capture tool that helps in gaining more leads. With the help of email tracking functionality, it helps you in getting to know about the working of the campaign such as reports regarding the open-rates, bounce-rates, click-throughs, etc.
You can add multiple SMTP for the transmission of emails that enhances the chances of inbox placements
Furthermore, you can send auto follow-up emails to the ones who did not open your emails, this will help in increasing your open rates.
Swiftly, import your subscriber's list in the CSV format and get them managed in a better way with the help of list cleaning feature.
Unlocking the key features:-
Add Multiple SMTP

SMTP Routing

Drag & Drop Email Builder

Email Tracking

List Cleaning

List Management

Drip Automation

Autoresponders

Subscription Forms
And a lot more…
How will it cost you?
The lowest plan will cost $5 for 5000 subscribers & you can connect with a single SMTP
While the highest plan will cost you $672/ Month for 1,000,000 subscribers with unlimited SMTP connection.
---
---
Freshmail is an email marketing software that efficiently works with your HTML newsletters. You can download the templates after creating an email in order to send it to all your subscribers. Get real-time insight into subscribers activities such as their clicks, open-rates on messages sent, location, email clients, etc.
You can check which version of your email campaign will be successful before making it live by the help of inbox inspector to see how it will look in the inbox of the clients, doing spam test and much more that makes sure your emails reach the inbox of the receiver.
Apart from all this, you can simply integrate the software with the API and configure the software without any trouble.
Unlocking the key features:-
Intuitive Template Editor

Stunning And Effective Email Templates

Clever Autoresponders

Real-time Email Tracking

Targeting

Free Inbox Inspector And Spam Test

Send Time Optimization

Automatic A/B Testing

Optimized By Weekdays
Optimized By Messages

Transactional Emails

URL-based
And a lot more…
How will it cost you?
You can choose between the two broad categories of pricing namely, Unlimited & Pay As You Go!
Under the Unlimited plan, you can send unlimited emails to subscribers starting from 500 for free to 1,00,000 for $373.49 (approx.).
While for Pay As You Go, you need to pay only for the number of emails you send in a month. The pricing ranges from about $27.62 for 10,000 emails to $1196.76 for 1 000 000 emails.
---
---
iContact is a well-known software in the email marketing field for providing the features like automation of the emails, A/B split testing to check which email campaign will be more apt, and more. This software segments your list according to the division to make sure your emails reach out to the target audience.
Multiple users can access emails that makes it easy for you to manage the campaigns in a better way. With subscriber management, you can easily organize the subscriber's list as per their interests and send them automated emails.
Further, it provides with the API functionality via which you can integrate with the other software as well.
Subscriber Engagement Score allows you to know the interest of the subscriber for eg. what product he/she is viewing in your website, is he/she opening your emails, how much time he/she spends on your emails, is he/she clicking on the links o not? and other related terms for that helps in sending emails related to subscribers activities.
Unlocking the key features:-
Audience Segmentation

Performance Reporting

Salesforce Integration

Pre-built Design Template Library

Responsive Email Layouts

HTML Editor Option

Instant Spam Check

Customizable Merge Fields

Complete Send Time Control

Segment By Custom Fields

Custom Sign-up Form Creation
And a lot more…
How will it cost you?
This email marketing service displays a very decent pricing on the basis of the number of subscribers.
The pricing starts from $14 per month for 500 subscribers to $299 per month for 50000 subscribers.
Which Email Marketing Service to Choose?
We have mentioned all the best email marketing services in this weblog. These services are tried and tested by many users around the globe.
However, not everyone needs the same functionalities in their software for their email marketing campaign. What's good for one's purpose, might not fulfill the other's needs.
Haste makes waste!
So, do some analysis on your own to find out which service fits in your box of requirements else you may end up choosing the wrong software.
For any more queries, you can contact us anytime. We'll be happy to help you out.
Don't forget to share your views with us!