Car Dealership and Classified WordPress Theme Top Picks of 2018
Whether you're building a car dealership or classified listings website, picking a solid WordPress theme is crucial since 39% of your visitors will disengage if your site's design is unappealing.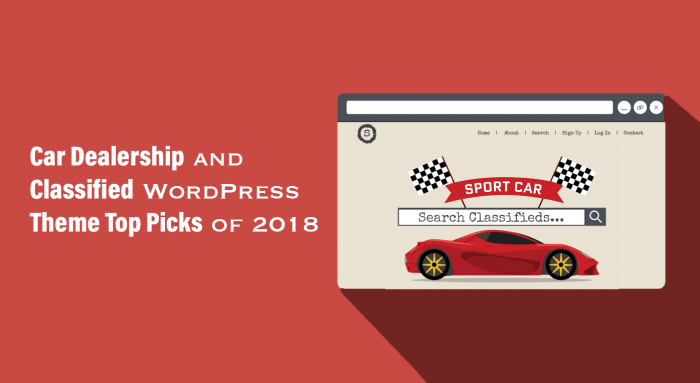 It's a frightening statistic for any website owner. Fortunately, an eye-catching theme can do wonders.
Here are six powerhouse automotive WordPress theme selections as well as six stunning classified WordPress theme top picks that are all chock-full of eCommerce goodness.
Each one of them are fully responsive and have a fantastic ease-of-use. Some specialize in high-quality appearance and killer graphics while the others focus on the user experience and plugin features.
There's definitely a theme in here calling your name so without further ado, here are the top automotive WordPress theme picks followed by the best classified WordPress theme options.
Automotive WordPress Theme Best Picks
A good car dealership theme should have its users itching to take a test-drive (or four or five).
Many of these themes have vehicle comparison options and extensive search tools as well as user-generated listings where others can sell their vehicles. Also watch out for more than just automotive WordPress themes if you're looking to branch out. Many of these themes have options for boats, bikes and repair companies as well.

The comprehensive Motors theme is one of the most flexible and versatile in the entire automotive WordPress theme marketplace.
Not only does it have layout for a car dealership, but also for car repair or mechanics service, car rental, boat dealership as well as a car magazine and motorcycle dealership.
Motors has a wealth of inventory display options and layouts as well as specific key features such as vehicle feature comparison, a finance calculator and several inventory options.
There's also an advanced search option so visitors can make a highly customized search of the site to find exactly what they're looking for in record time including search options for make, condition, year and more.
This theme is unique because it's the only theme on the list that's not only an automotive WordPress theme, but also a classified WordPress theme.
It has options to create and manage listings as well as user and dealers profiles, PayPal integration, advertising feature for users (and an extra income stream!), and a everything else you need to create a classified WordPress site for cars.
It's a highly versatile, cutting-edge automotive WordPress theme with a ton of eCommerce options, but that's also easy to use and set up.

With a 4.84 average rating on ThemeForest, Automotive is one of the most popular car themes out in the marketplace. Its custom inventory management system is designed to help you insert, filter, and sort your inventory with ease.
This automotive WordPress theme includes multiple layouts, a fully responsive Bootstrap framework, six jQuery inventory layouts, and 6 PHP contact forms that even let users schedule when they want to go for a test drive.
The theme also comes with 32 different Photoshop files to make design and customization a walk in the park.

Car Dealer is an extremely sharp automotive WordPress theme with 10 impressive layouts, a well-structured inventory management system using the WebManager data integration platform as well as unlimited vehicle comparisons.
Car Dealer has great analytics features to help you grow your business and keep your site working efficiently.
There's also a fantastic geo-fencing feature that helps you directly target customers visiting your competitors so that you can pop up a deal to make them reconsider their choice.

CarSpot is jam-packed full of exciting options and features sure to make your website stand out. No matter the vehicle you're selling whether it's cars, bikes, boats or any other option, this theme has a design for you.
It has endless opportunities to customize your site to best suit your business. There's even a nifty vehicle comparison tool that helps your users line up stats and figure out which one they want to buy.
CarSpot's versatile features include an auction bidding tool, internal messaging system to help users connect and customer feedback modules.

The Auto Showroom automotive WordPress theme is as sleek and modern as they come. It's compatible with the Pro Car Dealership WordPress plugin so it includes all the features necessary for a successful car dealership site.
Auto Showroom is also compatible with WooCommerce and includes the Visual Composer page builder and Slider Revolution at no extra cost.
There are also three different homepage designs to choose from and the option to import demo content so you can play around with the look without needing to import everything yourself.

AutoDealer is a uniquely versatile automotive WordPress theme that allows users to set up profiles, listings and more on the front-end with a submission system.
AutoDealer has a one-click automatic install to get demo content on your page as well as WooCommerce pages and some default widgets.
A core feature of the theme is its email notifications that lets an admin know when a listing has been submitted and tells the user when it has been approved. AutoDealer also comes with a favorites system, payment packages and a built-in skin editor to customize every single site color to your preference.
Classified WordPress Theme Top Picks
Maybe you don't only want to sell cars, but also pottery or antique weaponry. The internet is your oyster.
Here are a selection of themes that aren't specialized in terms of what you're selling, but are no less up for the task.

Classiads is the number one top selling Classified WordPress theme on ThemeForest and it's easy to see why. You can't take your eyes away from the sleek modern design of the 15 pre-made layouts.
There's also a free Visual Composer drag-and-drop plugin, numerous payment gateways and WooCommerce integration. They also have Google Maps integration to see the location of items as well as video ad capabilities.
Classiads puts a huge emphasis on design and typography so the layouts look sharp.

AdForest is a clean, modern classified WordPress theme with excellent front-end UI and the features to get your online business off the ground in a snap.
AdForest has both an iOS as well as Android app for swift on-the-go business and data syncs immediately between app and website.
The theme also comes with multiple customization options, a bidding feature, internal messaging and WooCommerce integration. Radius search also makes this theme a heavy hitter as you can allow users to search ads within a particular area.

Classify is a clean, flexible, feature-rich classified theme built with responsive ads in mind. This solid theme has touch-swipe capabilities, Bootstrap integration and custom fields.
The pricing features are especially notable with pricing plans as well as pay-per-post capabilities.
Classify also has social media integration so users can login from their Facebook, Twitter and Google accounts to make your site even more convenient to use.

Classiera is a professional and polished classified WordPress theme that has an exceptional amount of options, all serving to boost your website.
The theme boasts over 13 pre-made layout designs, seven unique header styles, unlimited color options and Google Maps functionality.
Classiera is also on the Redux framework, an extensible and responsive WordPress framework that is extremely flexible and customizable to fit your brand.

Listify is the "last directory theme you'll ever buy" with its extensive array of options. For the design-averse, this theme comes with style kits as well as a live drag-and-drop WordPress editor to view and play around with different layouts.
This classified WordPress theme comes with a number of Astoundify's plugins such as reviews, Regions, statistics and labels as well as WooCommerce, FacetWP and Gravity Forms capabilities.
Listify also offers a number of different ways to make money from your theme and the setup can be done in a matter of minutes so you can finally take the leap and start.

Search & Go is a powerful directory theme that's as simple and direct as its name. It requires no premium plugins, but comes with Google Maps functionality and a crisp user dashboard to let user manage their listings from a central location.
A fun unique feature of Search & Go is the claim listing and wishlist functionality for those listings that are too enticing to scroll past. Specifications and amenities for each listing are effortless to add and the theme appears inviting.
Wrapping Up
There are an extensive amount of themes to choose from in the WordPress marketplace and while themes can be configured for just about anything with a code, it's way easier to pick a theme that has been configured for your specific needs from the get-go.
Whether you're selling cars or classifieds space on the internet, every minute detail can help win over a customer and the themes above anticipate all the ways to make it happen.
Do you have a favorite car dealership or classified WordPress theme that's not listed? What features do you look for in a theme? Share your thoughts in the comments below.