20 Creative WordPress Portfolio Themes for Designers

WordPress offers some of the most diverse solutions for anyone who needs a custom website design for a specific purpose. Whether you need a design for a magazine website, a business agency, or a portfolio — WordPress can do it all. The focus of this post is going to be on portfolio themes.
A portfolio website is a place where you can promote yourself, your work, expertise, and knowledge in the field. Ask any serious professional who works on the web, and they'll gladly tell you that having a solid portfolio is one of the greatest assets.
You can promote your portfolio on social media, inside blog posts, and on platforms where you share your work. Think of it as a digital resume that's always online, and always available for other people to contact you.
And as for the specific purpose, for this roundup, we are going to focus on portfolio themes for designers. Specifically, people who work in any kind of a design-related field, whether it's web design, graphic design, architecture, or even fashion design.
Our roundup has been selectively crafted to give you the best choices available. And speaking of choices, this is not just a post about free designer portfolio themes, but we will dedicate a part of the article to include some professional designs from paid marketplaces as well.
All in all, with so many choices on the table — we know that you're going to find a design that you love!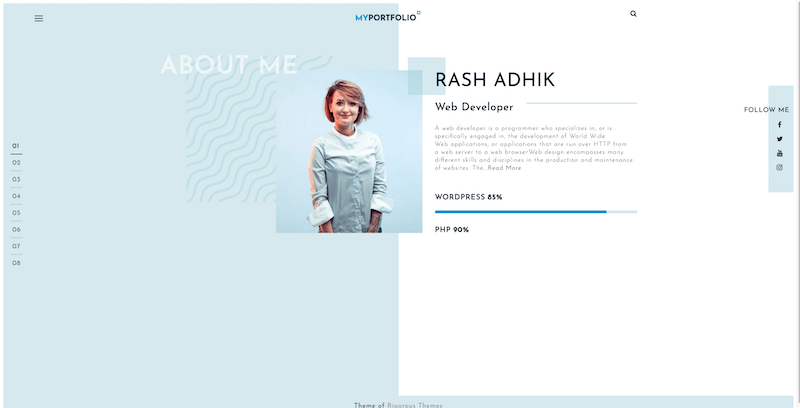 Listen, finding a free WordPress theme that's amplified with the latest front-end techniques is not an easy task. Very few developers can pull off the premium look and not charge money for it. And RT Portfolio is an absolute gem in this context.
This is a strong personal portfolio theme that's going to help you highlight yourself as an expert in your field. Each section, each element is oozing with design precision.
And since this is a portfolio theme, you are going to want to have a way to add some portfolio items, right? Fortunately, RT Portfolio makes this an easy process. Simply add new items and they'll show up directly on the homepage. Visitors can then access each item without having to reload the homepage. Wonderful stuff!
Theme Features:
Design optimized for mobile and tablet devices.
Do you like the default demo? You can import it with one click!
Unique combination of typography and graphic design to create a unique experience.

Portfolio Web boasts a simple yet elegant design scheme that's enticing and captivating all at the same time. If you have been meaning to create a portfolio site for a while, perhaps now is the time. Because with a theme like Portfolio Web — not only is the process seamless, your portfolio looks stunning by the end of it.
The best part about this theme is the direct integration with Live Customizer. A lot of the elements and sections are plugged directly inside Customizer so you can apply or revert changes very quickly. Also, you don't need a lot of knowledge about design customization as you can just rely on the provided settings to achieve the desired result.
But, since we are talking about portfolio themes for designers — you already know how designing works anyway!
A lot more features the theme offers for its users that includes Translation Ready, Layout Controls, Header Image/Video, Advanced Logo Options, Unlimited Slider, Custom Sidebar Areas, and much more.

Neptune is a fresh, stylish theme to help you start a beautiful portfolio website for your designs. The design focuses on a strict photography display. In other words, the layout is a grid-based masonry style. This helps to put your portfolio items directly into the eyes of your visitors.
Each portfolio item has a unique page, and you can add as many additional photos as you like. As a recommendation, try to use Neptune together with a page builder plugin. This way, you can customize the portfolio pages to include additional elements.

You can't deny it, Clean Portfolio has a character behind it — making the first visit a pleasant experience for everyone. This minimalistic and fully responsive theme is going to elevate your portfolio website to the next level. And we mean it.
Everything from the intro header to blog posts and portfolio items has been carefully designed and aligned together. The typography is exceptional, as is the list of features that makes this theme so appealing.
Theme Features:
A custom options panel which acts as the central dashboard for all theme customizations.
Add sections to list your Services. Useful if you are a designer who's actively looking for work.
Seamless design transition between mobile and desktop versions of the site.

Can you turn a blogging theme into a solution for a portfolio? The answer depends on what your ultimate goal is for a portfolio site. If you want to offer services, then the answer is likely no. But if you are someone who works in the field on a daily basis, then sure — using a blog-portfolio approach can have its benefits.
Namely, by writing blog posts alongside your work — you also expose yourself to free search engine traffic. As a result, you can grow your name and brand exposure organically as opposed to having to pay for CPC ads and more.
Blogasm is an excellent minimal WordPress theme that uses a very simplistic design to deliver content directly to your readers. And the reason why this theme works for portfolio sites is that there's not much else going on outside of this simplistic design.
The homepage is a grid layout that shows off your latest blog posts. Another way to see it — the grid layout works like a portfolio presentation. Readers can click on each post and experience it as an individual portfolio item.
Katib

Want to change your digital portfolio presentation but don't want to spend absurd amounts of money in the process? We got you covered, or should we say, Katib has got you covered. This elegant theme is an ideal starting place to kickstart your digital portfolio.
Whether you are a writer, an author, or a web designer — Katib is built to support the needs of professionals across a wide variety of markets. In fact, the theme author has made it absolutely clear that his goal for this theme is to ensure that readers get the most pleasant readability experience possible.
Also, you don't need to think about adding mobile support because the Katib theme is responsive by default. It's a pretty exciting template that's going to transform your digital portfolio and help you stand out from the crowd. Besides, you can use any of your favorite page builders to make further customizations.

Alright, we have looked at some incredible free WordPress portfolio themes for designers so far. We're going to wrap up the free section with Ezy — a phenomenal design to help you present yourself in the digital realm. This is a theme that's fully compatible with Gutenberg, Elementor, and other trending plugins.
Theme is mobile responsive, works on all browsers, and has many inbuilt SEO features. You can add sliders, featured posts, customize the footer, add custom sidebar widgets, and manage overall site design.
And despite the large quantities of amazing features — Ezy maintains a lightweight structure that contributes greatly to overall site performance.

Colibro is probably one of the nicest themes we have seen being released under the portfolio tag. What makes Colibro so nice is that it's using a lot of cool front-end stuff that we typically don't see in any theme whatsoever.
There are a ton of effects that invoke different animations, shadow styles, and page transitions. And yet, all the pages retain a strong design consistency. It simply feels like Colibro was created by someone who put a lot of thought both in UX and UI of the site.
On the homepage, you can display portfolio items using endless variations of layout grids. And each portfolio item can be displayed in 5 different ways using portfolio post types. Further, there are 15 blog layouts to satisfy all your content production needs!
Theme Features:
Included for free with this theme comes WP Bakery Page Builder, Revolution Slider, and WooCommerce Integration.
A perfectly designed responsive structure so that your portfolio looks pristine on any screen.
Many shortcodes to help you design pages faster!

Rolly is a lightweight, minimalistic and contemporary WordPress theme for budding artists and otherwise. It's a phenomenal theme that puts your name and works in the spotlight. You can choose from multiple variations for each section of the site.
For example, a customer Header Intro layout that uses either a slideshow or simply an introductory text. And you can customize your portfolio appearances to use either colorful schematics or more minimally-oriented design features.
It's a peerless theme for the right person with the right admiration for special design! Rolly is special!
Theme Features:
Thanks to being minimal, Rolly is a fast and well-optimized theme! Performance won't be an issue.
Also, thanks to the minimalist approach, Rolly makes it easy to promote your content with SEO features.
Install any provided demo website using a simple one-click installer.

Zien offers not just high-quality design, but also a thoughtful theme structure. Meaning, this is a theme built for modern devices (responsive) and includes stellar touch-support optimization for mobile users. Further, the clean and crisp design will keep readers engaged for longer as they navigate through your portfolio.
Ideally, you are someone who works with graphic design, photography, creative arts, and similar fields if you wish to take full advantage of what Zien has to offer. Though, you'll see that Zien adapts to creative agency needs as well.
In fact, the entire demo homepage is built in a way to highlight this fact. Besides adding portfolio items, you can add Services, Team Members, Contact Form, and a featured Hero section too.
Theme Features:
Zien is fully responsive which means it will look excellent on your desktop, laptop, tablet and smartphone.
Generate custom shortcodes on the fly as you need them. Great for quickly creating new project or landing pages.
Thorough optimization for SEO practices. Even if you're sharing only project photos — Zien ensures that your content is friendly to search engines.

Amedeo is the perfect example of the new breed of WordPress themes we're seeing come to the market. The words we're looking for here include lavish, extravagant, and bold. The Amedeo theme is tailored towards artists, creatives, but also agencies who work in the creative business. And if you're a designer, I think you are going to love what Amedeo has to offer.
First and foremost, we have to talk about the 15 unique homepage designs. That's right, not one or two, but fifteen unique ways to present yourself using this theme. And honestly, none of the designs feels quite the same. So by signing up for this theme — you're really treating yourself to something special.
Additionally, Amedeo boasts a large set of shortcodes. These shortcodes will help you quickly create new layouts and design based on your free will. Speaking of which, all those 15 unique demo designs are interconnected. You can take a little bit from each and make a homepage that truly represents your work as a designer.
Theme Features:
Included for free: Visual Composer and Slider Revolution.
Custom Post Formats: Audio, Video, Standard, Gallery, Link, Quote.
Multiple header types to fit your personality.

Mak is a delightful portfolio and resumes theme for WordPress blogs. It's built so that any designer, developer, or any other professional, can create a sturdy portfolio homepage. What stands out the most in this theme is the ease at which you can add widgets and elements to talk about yourself and your work.
You can quickly add boxes to showcase your previous experience, or you can use the portfolio module to highlight your best work. Mak's clean and fresh color scheme is easy on the eyes, ensuring that visitors can navigate from top to bottom effortlessly.
What kind of people and professionals are using the Mak theme? As of right now, Mak is most popular among those working in fields such as freelance, web design, UI/UX, web development, writing, blogging, engineering, digital marketing, and much more. Definitely a lot of people who work in the digital realm.
Theme Features:
Select from a dark or white version.
Extremely fast as it's built for best performance possible.
Redux Framework — lots of customization options.

When it comes to the Design niche per se, a large proportion of digital portfolio holders tend to go ahead with a very minimal design approach. E.g. Only use photographs or graphics images to showcase portfolio work. And that's the premise that Airko theme is leaning towards. Keep things simple, but elegant.
Ariko is fully compatible with Elementor's page builder, so you can also use this theme for creating client websites. Further, because Ariko is using Bootstrap — editing the content positioning is extremely easy.
Overall, a very compact and sleek theme bundled into a wonderful user experience. Project pages feature Parallax effects, and also tags like project date, website, and more. Lots of animation effects in this one for all you who love the modern front-end stuff!
Theme Features:
More than 40+ custom settings and options available through Customizer.
Requires zero knowledge of code, so you can use this theme for client websites easily.
Font Awesome and other icon libraries built-in. Enjoy customizing your design using fonticons.

Selfer's dark-oriented and wide template structure creates a distinct first impression. An impression worth remembering, Believe it or not, pulling off dark designs is really not that easy.
Most Internet users are not used to black/dark color schemes, so to make it work a designer must put in a lot of work. And we feel that this is definitely the case for Selfer — a lot of work has gone into making this theme as good as it is.
Right off the boat, Selfer is ideal for all kinds of portfolio sites, even landing page projects if that's what you need. We're seeing anyone from programming experts to UX designer using this theme. Built with a responsive base and a mobile-first structure; Selfer provides a seamless browsing experience for modern Web users.
With this theme, you get a native integration for plugins such as Elementor, Contact Form 7, and Grid. As a result, editing and customizing this theme is easy, painless, and fast too!
But the best feature has to be the actual in-built design elements. Everything you see on the demo homepage can be used and reused in whichever way you like. Simply apply your creative thinking and go wild with making a creative portfolio page that feels exciting to you.
Besides, as a designer, you should have a pretty good eye for detail and user experience anyway.
Theme Features:
One-Page and Multi-Page design options.
Optimized for GDPR requirements.
Posts, Page, Service, Portfolio Metabox tools.
Conclusion
WordPress can be a volatile place at times. Designers fighting with each other to create better designs. Sometimes, this 'fighting' leads to issues like repetitive designs. But, occasionally, all this hard work and effort leads to truly unique designs.
And such is the case for this special roundup of the best WordPress portfolio themes. The themes we have listed here today are going to remain relevant for years to come.
The question is, which one of these designs is going to power your website in the near future? Let us know in the comments below!