How to Automate Your Email Marketing: 10 Great Tools

Email marketing continues to remain as one of the strongest marketing channels on the market. It's easy to get started with and provides a streamlined means to connect with your audience.
Not only that, email marketing provides stellar results when it comes to selling and promoting your products. Adding a subscription box to your website is as simple as using a plugin, or any of the most popular marketing tools.
Traditionally, email marketing campaigns were managed on a per-campaign basis. Meaning, you were forced to do all the hard work manually. Work such as targeting specific subscribers, managing open rates, and sending out user-action based emails.
If you manage a smaller subset of subscribers (>1000) then manual campaign management might still prove to be viable. But as your subscriber base grows, automation makes a lot more sense. Why? Because email automation can perform email marketing tasks without the need to lift a finger on your part.
What is Email Automation?
Automated email marketing campaigns rely on the action-based data provided by your subscribers. As an example, every time someone subscribes to your newsletter – you would ideally want to send out an introductory email, welcoming the user to your community.
Now, imagine having to do this manually for every time someone new subscribes to your newsletter. It would take up an enormous amount of your time just to do this for a dozen new subscribers. Email automation, which relies on your pre-defined rules, can send out personalized welcome emails without the need for your oversight.
The same applies to categories like abandoned carts, sales follow-ups, general feedback collection, and much more. With the way that technology has advanced in the last couple of years, email automation can be configured to extremely satisfying heights.
Email Personalization: Fully automated
One of the more useful benefits of email automation is email personalization. The subscription data you have of your users/clients can be used to create precise and personalized email campaigns. Fully automated, and based on accurate data you have of your users.
A basic example of this would be the use of names in the email subject line. Rather than sending out a generic, "Hey, we have some news!", headline, you can use email automation tools to tailor personalized email headlines. E.g. "Hey Christie, here's the latest from us to you!".
Campaign Monitor found that "Emails with personalized subject lines are 26% more likely to be opened.". And this is only a fraction of an example of what you can automate. By using the data you have on your customers, you can tailor specific email experiences that feel truly authentic.
So, if you're scoping for a solid and reliable email marketing automation solution, you've come to the right place. This article will cover the top 10 email automation platforms on the market today.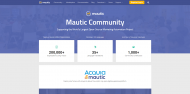 Let's begin with something that's not only popular but also free; Mautic. An open-source platform for streamlined marketing automation. Although Mautic provides several automation features, its most popular feature is undeniably the list management channel. You can automate the entire process of importing new contacts to your list and manage segmentation on the go.
The Mautic software helps you to automate the process of acquiring and managing your sales. Specifically, leads that you have generated from your sign-up forms on your website. Other than email, Mautic also helps you to automate notifications, social media management, workflows, and much more.
Furthermore, Mautic plays nice with some of your favorite marketing tools. E.g. Gmail, Salesforce, Zapier, Twitter, and many others. These are separated from the core platform as Plugins and can be added or removed from your platform as needed.
You also don't need to fully commit to the platform, since you can try it out in sandbox mode at any time. The sandbox experience gives you a solid tryout to see if you like Mautic and what it has to offer.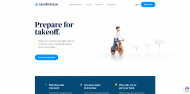 If you operate a small to medium-sized business, then Sendinblue is the right tool for you to completely overhaul your automation process. Not only does Sendinblue specialize in email automation, but also personalization, sales conversions, and customer experience.
Sending an email is one thing and tracking the open rate is another. Sendinblue takes it a step further by also providing an email heat maps feature. This lets you see a live preview of how your subscribers interacted with any given email campaign. Such data can help you tailor more optimized email templates, which naturally lead to more interaction.

At its core, Sendinblue's Email Marketing features are as solid as they get. For one, you can manage all your campaign templates using a dynamic and fluid Drag & Drop email builder. By having direct access to your subscriber's data, Sendinblue supports blocks that can personalize emails without the need for you to specify strict rules.
Last but not least, Sendinblue collects data of your subscribers over-time. This means that gradually the platform gets not only smarter but also more intelligent in ways it uses your subscriber data. An example of this would be the "send-when" feature. Any marketer will tell you that timing is everything in sending an email that will get opened.
As such, Sendinblue collects and analyzes the data of your subscriber email open-rates over time. So, that, when you do decide to send an email campaign, Sendinblue will send each email at a time that most fits the individual subscriber's email opening pattern.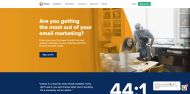 Litmus has grown from a small company that serves small business owners, to a more experienced brand that is ready for enterprise customers. In the email marketing sphere, Litmus is a household name. A strong brand that specializes in extremely detailed email automation.
One of the things that matter the most at Enterprise levels is testing and email rendering. If you're sending out a campaign to more than 1,000,000 subscribers – you want to make sure that each and every email has rendered properly. Litmus takes care of this through its pre-send feature.

In short, pre-send gives you a solid overview of what your email is going to look like on different devices. Not just desktop or mobile, but also specific browsers and email clients. The full spectrum, so to speak. In the long-term, this is going to save you countless hours of manual testing as you can preview emails before pressing the send button.
Additionally, each campaign you manage (and send!) is accompanied by detailed insights and analysis.
Identify your best campaigns to inform segmentation, design, and content decisions
Enrich customer profiles with engagement data for better-targeting
Aggregate individual-level data for more effective account-based marketing
Get a holistic view with FTP feeds integrating Litmus data with your existing platforms
This also means that you can export the said data and use it either in presentations or weekly team meetings. Overall, Litmus is a solid choice if you're managing a substantial subscriber list.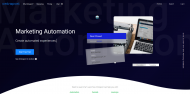 Ontraport might not be the most recognizable name at first sight, but it's a company to keep a close eye on. Especially because it specializes in visual marketing automation more than any other platform on this list. Visual meaning that most of the data that Ontraport learns about your leads and customers are gradually converted into visual graphics and maps.
Most of such learning is done through Ontraport's very own features. Namely, it's marketing tools for building forms, product pages, email sign-up forms, and more. Which, in turn, helps you solve 2 problems at once. One being general lead acquisition, and the other being consistent automation of all the acquired data.

As for the pricing of this product, it's up for discussion. The Basic plan will set you back roughly $79 per month and has a limit of 1,000 contacts. Also, the Basic plan doesn't include eCommerce features or multiple managers per campaign. If you want to go for value, then the Pro plan ($297) is your best bet.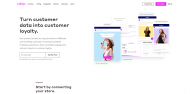 Drip is arguably the most versatile marketing automation platform for eCommerce businesses. Not only is it popular among the most recognizable brands in the world, but Drip itself also recognizes other marketing companies through its integrations feature. As such, Drip makes for a reliable and extremely professional all-in-one automation suite.
Long story short, if your customer record includes an email address, you can gather and harmonize crucial data from all of your integrations, enabling you to make smart automation happen. By leveraging each email address, gathering and harmonizing crucial data from all of your integrations, and enabling you to make smart automation happen, Drip gives you the power to communicate with your customers with meticulous, personalized context and timing.
Here are a fraction of the features provided by Drip:
Customer Insights. Every action a customer takes on your website can be used to understand your customers better. Drip takes into account practically every action performed by each individual user on your site. Gradually, this data set grows and gives you a broader understanding of your customers.
Data Scaling. Drip specializes in personalization based on user behavior. As a result, you can tailor experiences not just for a subset of users, but for each user that has become a customer on your site. Yes, this means that every user can be shown an independent leads page.
Optimizing Sales. Certain forms and certain lead pages are going to perform better than others. And Drip takes it a step further to show you exactly which ones, and why they're performing better than others.
If you're on the market for an email automation tool that comes with full-scale eCommerce integration; Drip is your number one choice.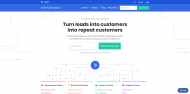 ActiveCampaign has evolved from an email marketing platform to a universal marketing automation solution. Apart from traditional email marketing features, ActiveCampaign also specializes in Sales, CRM, Messaging, Machine Learning, and of course, Marketing automation.
If using for the purpose of automating emails, then most of your time is going to be spent in the Email Segmentation feature. This is where you'll be able to set specific rules for each email campaign that you send. The rules are based on the data collected by the ActiveCampaign tracker.
The said data covers a large spectrum of user interaction both on your website and within emails themselves. Here are a few of the signals that ActiveCampaign tracks, and then lets you re-use in your targeted email campaigns:
Email open rate
Purchased products
Personal interests
Date of visiting a website or opening email
Time since last purchase
Custom-fields based data
In other words, any signal that might help to create a more strict ruleset for your email campaigns. This is definitely now a common practice among all top-performing email automation tools. The upside of ActiveCampaign is its CRM integration, and the fact that at its core its a product built for email data management.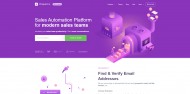 Prospect has a slightly different nature to it than any other tool mention in our article so far. Largely this is due to the fact that Prospect is more of a prospecting tool at-heart, and automation comes second as a backup feature for campaign management. Now, you could use Prospect for a traditional email marketing project. E.g. To manage the list of your subscribers.
But, for the most part, Prospect seems to be more oriented towards the business end of things. In other words, you're going to find Prospect viable in situations where you're trying to make new business connections. The platform provides a browser-extension which lets you find and collect email addresses of specific associates or interests.

Afterward, you can focus on creating email campaigns that either pitch your idea or conclude a specific goal that you're trying to achieve. Prospect can be used for scaling large-size campaigns for acquiring business partners, marketing opportunities, and anything else you're working on.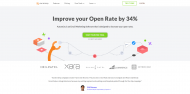 Automizy focuses on two different aspects of marketing automation: intuitive user interface, and detailed analytics. Without a solid interface, you're going to struggle to manage multiple campaigns at the same time. As such, Automizy has invested a ton of design work to make its dashboards as streamlined as possible.
And second, Automizy has custom-built analytics software that has the capacity to recommend the best course of action for your marketing campaigns. That's sort of like shooting two birds with one stone.
Everything from basic email management to grow your subscriber's list is included in the list of features. Automation is supported by visual tools to help you create pitch-perfect campaigns, targeting the exact segment of users that you're after.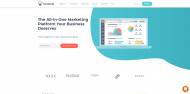 If you start going through customer reviews for Moosend, two of the phrases/words that stand out the most are affordable and easy to use.
Most of what you would want from an email management platform is a de facto feature within Moosend. Don't want to spend time building custom email templates? Simply use any of the 40 pre-built templates made readily available to you. Likewise, you won't need to spend any time weaving through customer data because Moosend renders it all automatically.
This is what most customers refer to as ease of use for the platform. You can set-up individual campaigns for certain behaviors and return to the platform whenever you wish to look at analytics and final results. All other tasks are taken care of automatically.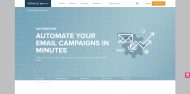 Last but not least, we have Bronto – an Oracle NetSuite product. Bronto is definitely not the tool you'll be using for your small subset of 1,000 blog subscribers.
At its core, Bronto is an Enterprise-level email marketing automation solution. And its damn good at what it does, and how it delivers on its promises on the feature page.
There are 3 unique components that make Bronto the ideal choice for large-scale Enterprises and big businesses. And those components are:
Extensive collection of customer data and behavior
State of the art sorting algorithm for building targeted campaigns
Dynamic solutions for testing email campaign variations (A/B/C, etc.)
Everything from basic click-tracking to extensive eCommerce features is included in the suite. Dive through the documentation to get an initial feel for the platform, and schedule a demo whenever you're ready.
Automating Your Email Campaigns: Conclusion
The fact of the matter is, this article highlights only a fraction of all the email automation tools on the market. Since there is so much value in automating email campaigns, a lot of startups have taken the initiative to try and solve the riddle of customer analysis and marketing automation.
And, for the most part, almost everyone gets it right the first time. The tools we have looked at in this article are perfectly suitable for small-scale as well as Enterprise use should you need it. And best of all, you can get started in minutes.