16 Must-Have WordPress Plugins for Email Marketing
Newsletters are a tough marketing channel to ignore. Every year, study after study reassures that email marketing is the bread and butter for digital selling. This roundup puts together the best email marketing plugins for WordPress users.

Email marketing remains one of the most powerful means to generate solid revenue for your business. If you are serious about taking your digital venture to the next level, then email marketing is an absolute must-have! As soon as you finalize setting up your website, add fresh and exciting content, you can start to generate subscribers by using numerous plugins built for this purpose.
If you look at it from the outside perspective, blogging has always been about the relationships that you build with each reader individually. While a blog post can communicate to thousands of people simultaneously, it's those one-to-one interactions that make all the difference. As a result, investing in email marketing is an absolute must if you wish to know your customers better.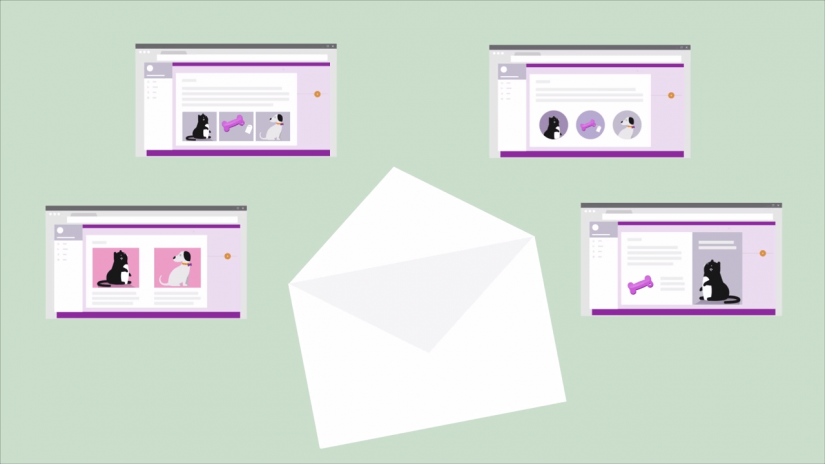 So, let's look at some of the best WordPress email marketing plugin. We won't be focusing solely on plugins that have been created by email marketing platforms alone.
Instead, our focus in this roundup is to highlight plugins such as popup makers, list builders, opt-in solutions, and also some nifty outside-of-WordPress tools that can help you craft better email designs, and write improved email copy.
If you want to get started with email marketing for WordPress then this is the post to bookmark and learn from. Every single plugin has been independently tested and verified by yours truly. Expect to grow your email list from 0 to hero in no time!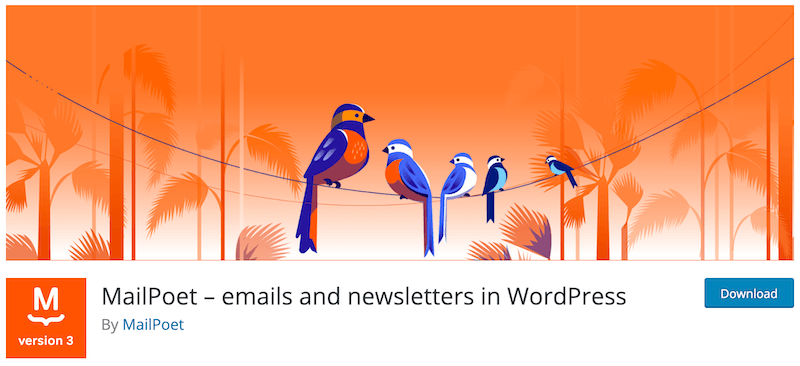 Do you want to manage and organize your email lists without having to leave your WordPress dashboard? As the cost of sending emails lessens, the interest in running self-sustained newsletter platforms grows. And MailPoet is the number one solution for all-things newsletter management within WordPress.
You can collect email addresses, organize subscriber lists, and send out fresh newsletters whenever. Further, MailPoet comes integrated with a wonderful template builder so that you can tailor each email to reflect the image of your brand. And, of course, all templates are mobile-friendly, so don't worry about responsiveness.
There are numerous great reasons why you should choose MailPoet. First and foremost, the plugin works similarly to MailChimp — you can send free emails for up to 2,000 subscribers. After that, the pricing adjusts accordingly. Also, you don't have to configure much, as everything works out of the box most of the time. And best of all, the plugin is fully GDPR compliant.
Here's a list of other critical features:
Create custom subscription forms that you can add anywhere on the site.
Full-on management functionality individual subscribers and lists.
Create, edit and style newsletters and send them from the same dashboard.
Configure and send an automated email notification whenever a new post is published to all or select few subscribers.
Create and enable an automated 'Welcome!' Email to all new registered users. This is a great opportunity to promote specific posts and/or products to your new members.
And if you sign-up for the Premium version, you can also get detailed insight into your subscriber behavior; analytics.

MailOptin is a phenomenal plugin built to help bloggers generate more leads, acquire new customers, create autoresponding emails, improve email marketing results, and to help automate tasks associated with mailing list management. It might not look much on the surface, but once you get inside the dashboard it's an entirely different ballgame.
So, what can you do with MailOptin? First of all, this plugin provides some of the most versatile opt-in widgets and tools. You can create, edit, and display custom-built CTA (Call-to-Action) forms anywhere on your site.
You can switch between Lightbox, Modal, or In-line displays. You can also use event-based triggers, such as upon scrolling or when a user tries to leave a page. A lot of high-potency tools in this plugin.
MailOptin is fully featured and comes with an easy to use form builder and a template builder. As a result, you can craft industry-grade forms/newsletters and optimize them for conversions and more.
You can use MailOptin in combination with your favorite email marketing platforms: MailChimp, Drip, GetResponse, Campaign Monitor, AWeber, and many others. This is also a fully GDPR-compliant solution.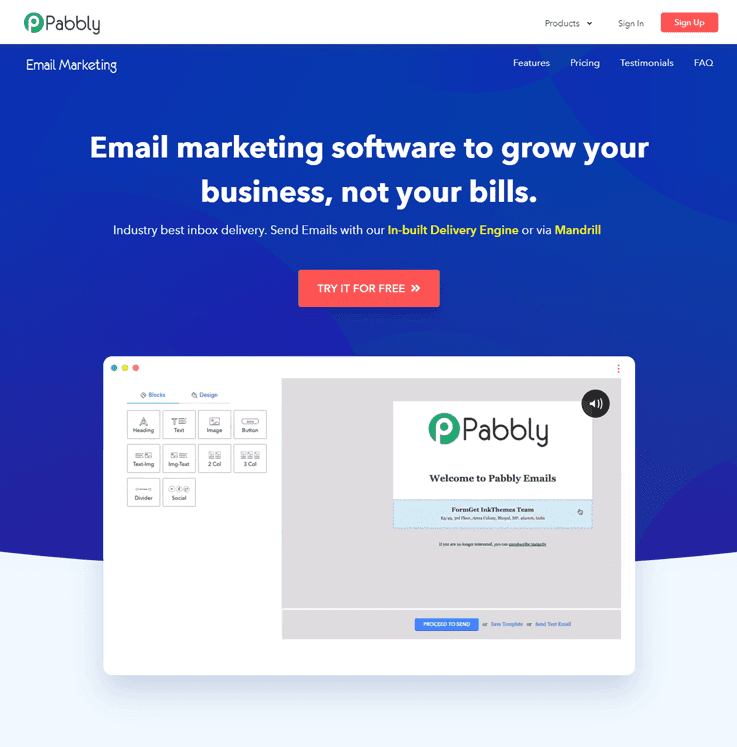 Choose Pabbly Email Marketing for sending bulk emails to all your prospective users, in just one click. With this, you can run email marketing campaigns and manage your contacts, email lists, and establish direct contact with your customers. 
Moreover, it is the most reliable email service provider that has its own in-built SMTP for sending emails via a fast and secure path. Also, it allows you to connect with different SMTP like Amazon SES, MailGun, Mandrill, & SendGrid, etc.
Some of its notable features are drag n drop email builder, supports custom tags, list management, schedule your email, Google Analytics integration, and many more to offer at cost-effective prices.
Highlighting Features of Pabbly Email Marketing includes:
Use autoresponders and interact with the users without any manual efforts. So, you can welcome your clients, apologize for the inconvenience, and much more.

With subscription forms, you can effortlessly collect leads and your business-related information.

Get free access to 500+ email templates that accept all types of customizations.

Drip emailing for sending the emails to clients at a specific time of the day.

Track your emails without any hassle and get to know about the open rate, click-through rate, sent, etc. 
Like all other best email services on this list, Pabbly Email Marketing comes with professional support and it's trusted by some of the largest companies in the world, including Cisco and Avaya. It doesn't matter whether you're an aspiring entrepreneur or the owner of a large enterprise with international presence, Pabbly Email Marketing has multiple price plans to satisfy everyone.

Digital marketing has always been about innovation and the use of clever techniques that can deliver promising growth. And the WP Optin Wheel is a prime example of this type of innovation.
This gamification-based concept Is all about encouraging your readers to exchange their email address (become a subscriber) for a chance to win something from the spinning wheel.
As the site owner, you have complete freedom for what you want to provide in return. Maybe it's a discount code, or multiple discount codes with different variations. And maybe you can offer things like the chance to win a book you have written. The possibilities are endless!
On the free version, this works only as a popup — you can control when to show it though. But, if you get the Pro then you have to use a shortcode to display the wheel anywhere. As a result, you further increase your chances of collecting email subscribers.
WP Optin Wheel will capture all new emails directly into your MailChimp account. So, even if someone doesn't win anything, you can still collect their email address. It's a win-win situation for you either way.

Everyone has seen a popup in their time, it's probably the most popular type of widget that people use when collecting new subscribers. And Popup Maker is a fully decked out plugin to give you complete control over the display of popups on your WordPress blog.
Unlike traditional popup solutions that only let you use HTML, this plugin supports pretty much all types of elements. Including but not limited to Images, Videos, Opt-ins, Facebook Pages, IFrames, Contact Forms, Google Maps, and more. In other words, you can create a popup for any kind of content and not just email subscriptions forms alone.
Here is a list of the most predominant features:
Use a pre-built template from the public directory, and then customize each template to match the look and feel that you're after.
MailChimp Popup which includes Popup configuration and an Opt-In form, all collected emails are sent straight to your 'Chimp account.
Create event-based popups that include social sharing buttons. Networks supported: Twitter, Facebook, Google+, LinkedIN, etc.
Get insightful analytical data through a seamless Google Analytics integration.
Exit-Intent technology for both Desktop and Mobile users. For Mobile Users, this plugins scans for either Tab Switching or the use of the Back Button. Very clever stuff!
And a ton of options for display rules. You can Geo-target, schedule popups, use referrers as a rule, and much more.
A ton of exciting stuff in this plugin. So, if you're after popups — this is the one to install and play around with.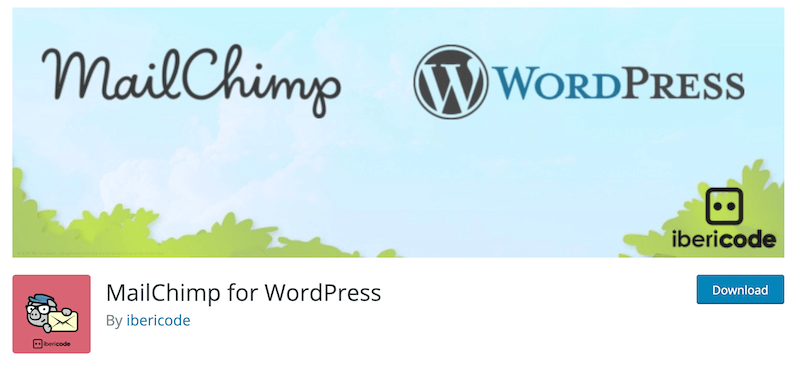 MailChimp might just be the most recognizable name in email marketing. Their platform has managed to capture the hearts of many, particularly because of an appealing starter plan (2,000 subs free), and in-built tools that provide extensive reports and other analytical data.
Surprisingly though, MailChimp does not actively develop and maintain their own WordPress Plugin. Not to worry though because Ibericode has built a MailChimp plugin that's used by millions of bloggers worldwide. It's one of the simplest ways to start adding email marketing functionality to your site.
With MailChimp for WordPress, you can create, customize, and place email signup forms across all areas of your site. Whenever a user does sign up, the email address is immediately sent to your MailChimp account through the API key that you have specified in the settings dashboard.
Hustle is an all-around marketing plugin that you can use to grow your email list, generate leads, gain exposure for your social profiles, improve conversions, and simply to grow your digital presence.
You can use Hustle to display popups, slide-in modals, opt-in form widgets, and different types of shortcodes. Each display method is tailored to the idea of helping to grow your email list and/or promote specific ads that you're trying to sell to your audience.
Using this plugin, you can connect to pretty much any email marketing service provider that there is. Namely, AWeber, ConvertKit, MailChimp, Sendy, MailerLite, and countless others.
An interesting feature of this plugin is the prevention mechanism for ad-blockers! Hustle will do its best to weave through the constraints imposed by plugins like uBlock, AdBlocker Plus, and others to continue displaying your popups and modals.
WordPress is slowly but surely getting to a point where you won't need an external developer for any other reason but to fix critical bugs. In this day and age, as far as WordPress is concerned, it would be crazy to think that you need to hire an external developer for something like contact forms, or any other type of a form.
The WPForms plugin provides exceptional Drag & Drop user interface for building forms under any kind of requirements. Whether it's a basic contact form or a full-fledged form for business submissions — WPForms can do it all.
Thanks to popularity and user feedback, this plugin can now also provide support for creating payment forms, registration pages, booking forms, and forms for accepting donations. You can stretch each of these form types out to meet your needs for a specific project.
Best of all, you are able to edit and customize each form to reflect your overall brand design. That is, of course, unless you like the provided templates. It's hard to do justice to this plugin with only a few paragraphs, so please make sure you study this one extensively.
More than a million users can't be wrong about this plugin's potency!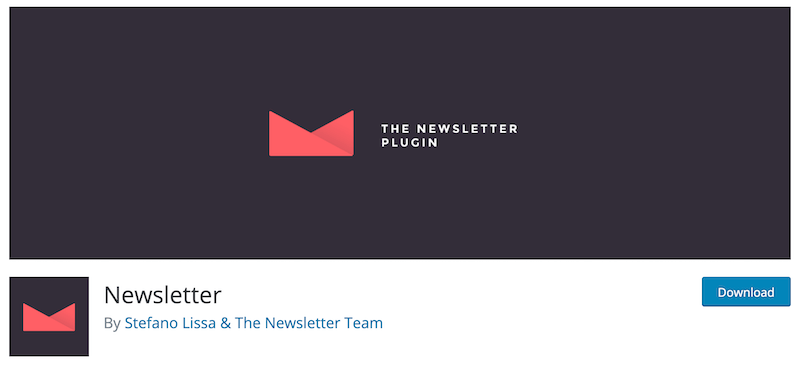 Depending on your specific needs, the Newsletter plugin might fit criteria that you're after. This is a robust system for collecting emails, managing subscribers and sending newsletters.
With this plugin, you can pretty much forget about having to leave your dashboard for any other email marketing solution.
Here are the features that make up this plugin:
Create an unlimited number of newsletters and/or add subscribers, both come with in-built analytics for tracking and general statistics overview.
Integrated spam prevention through Akismet, Captcha, and public Blacklists.
Control the number of emails you send out at any given time. E.g. You can create a limit so as not to get your SMPT server flagged for spam.
Build dynamic and responsive email templates using nothing but a drag and drop interface builder.
Supports WPML, Polylang, TranslatePress, and GDPR.
Manage your subscribers and create multiple lists if necessary. This way, you can send an email to a specific list and/or multiple lists at the same time.
Compatible with WordPress SMTP Plugins: Postman, Mail Bank, Easy SMTP, etc.
An exceptionally well-designed user interface, which in turn results in pleasant user experience.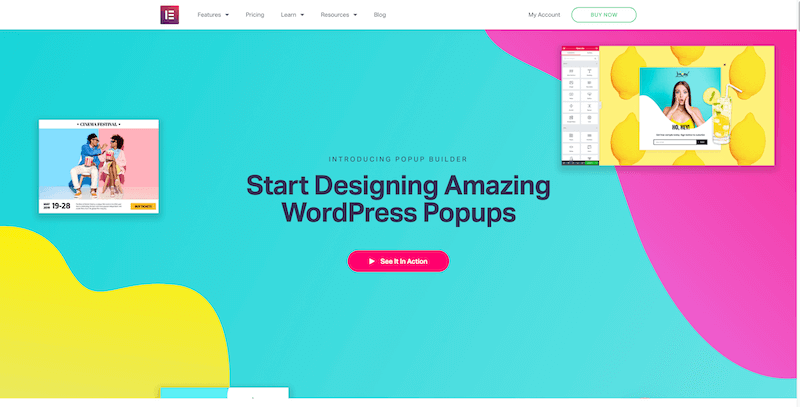 Elementor has shaken the WordPress world with its precise and exceptional website building engine. The plugin grew from a few thousand users to millions of users almost as if overnight. And there are no signs of this growth slowing any time soon.
And just as this roundup was being prepared, Elementor announced their Popup Builder as a new product release on Product Hunt. So, we thought we would give it an honorable mention.
This is basically an extension for the Elementor Pro, which adds an in-depth popup building platform directly on top of an already excellent website building interface. This new Popup Builder feature includes pretty much every single feature you would want.
Here is a list of some of those features:
Use Elementor built forms and integrate them with your preferred email marketing service of choice.
Since this is not just a Popup Builder for emails, you can do things like add 'Login Modals', which show up on pages where a user would most likely need to use their member credentials.
Capture leads using cleverly designed and positioned popups and lure in your visitors to submit their email.
Add popups based on Exit-Intent techniques — whenever a user is about to depart the site, give them an enticing offer that they cannot resist.
If you're doing a superb promotion and/or a one-time deal, why not use the 'Welcome Mat' popup, which essentially covers the entire users' screen with your proposed offer.
… And so many other solutions!
If you're an Elementor user and haven't yet considered to sign up for Pro, then this new product might just encourage you to go ahead and invest in your marketing success.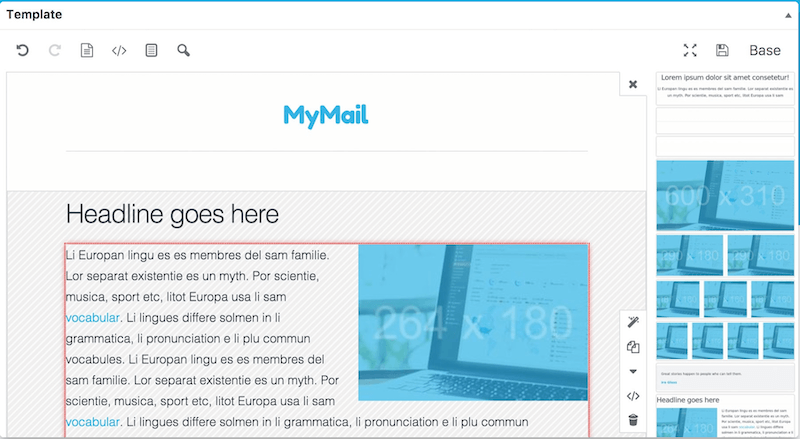 If you enjoy using premium plugins because of the support access that you get, then we cannot recommend the Mailster plugin enough. This is a full-on email marketing system designed to transform the way you collect emails and send newsletters.
With 20,000 customers to date, you can be sure that EverPress (the brand creating this plugin) are doing only the right things. Check it for yourself and explore both the available features, but also the demo preview.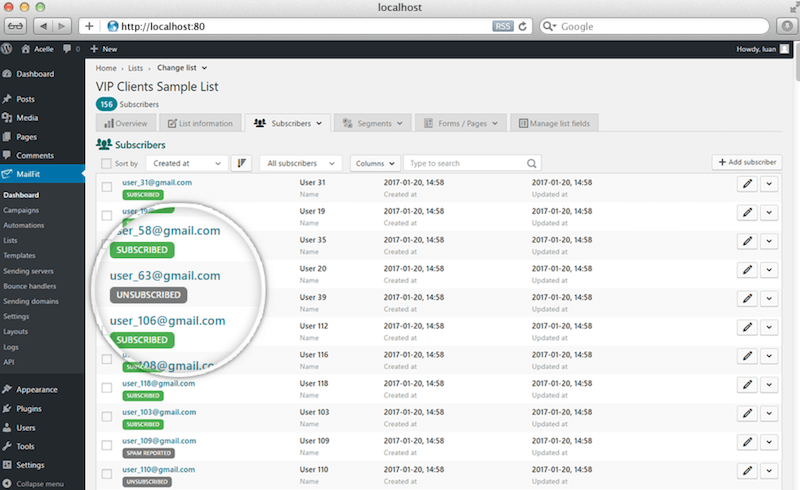 MailFit is an all-in-one email marketing plugin for WordPress which includes everything you need to create, send, track and profit from email marketing. It also comes with powerful tools to automate sending your email campaigns as well as following up once your email is opened or clicked.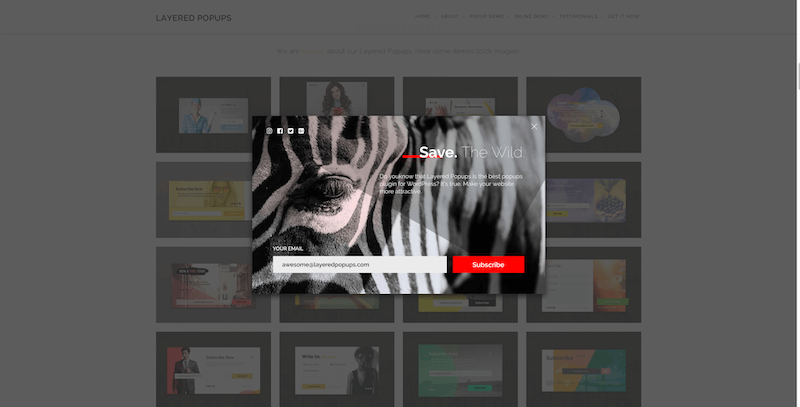 Layered Popups is trying to change the boring popups that we so often come across on the web. As a customer myself, I can say that Layered Popups have stuck to their vision — as is evident by the quality of popups from today and that from a few years ago.
With this plugin, you can either use provided templates or build forms of your own by using existing elements. My favorite way to build popups with this specific plugin is to use an existing template, and then customize it so that it matches the inner-style that I am after.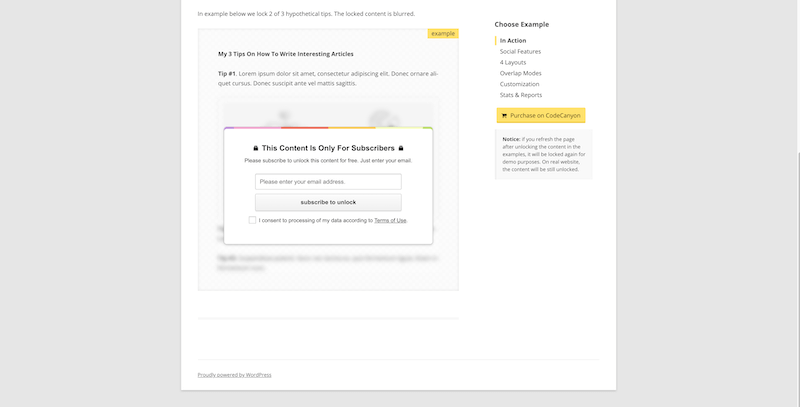 Even though we are already this deep into the list of email marketing plugins — Opt-In Panda is the first one to provide the functionality of hiding content until a user has shared his email address. This is also known as 'Content Locking', and while not a very popular technique, can still work under the right circumstances.
In short, you can protect parts of your content by adding an overlay subscription form through which users have to submit their email address in order to unlock the remaining content.

SumoMe was arguably the first email marketing widget to really make it big. At one point, it seemed like everyone was using the widget because of how effective it was.
These days, although the growth has slowed down quite a bit — Sumo still manages to offer appealing widget solutions for both collecting subscribers but also for encouraging social sharing.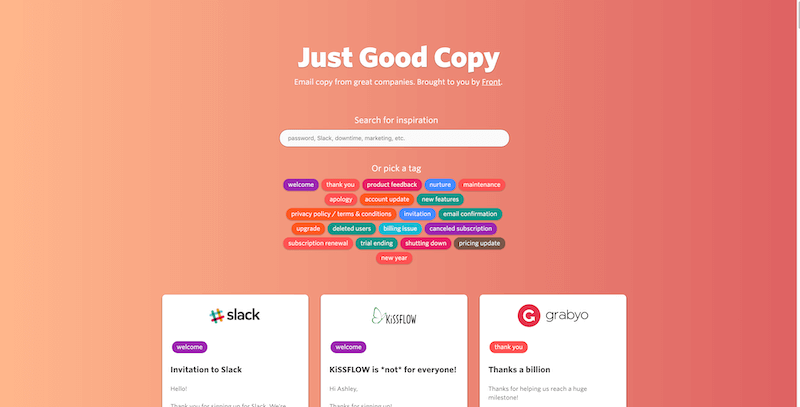 The thing about email marketing is that it's not always easy to get it right. And by this I mean — to get copywriting right. It's a tedious task to understand what your audience likes, and what captivates peoples' attention the most. Fortunately, it is possible to follow in the footsteps of other successful email campaigns, and slowly build up from those.
Just Good Copy is a website that lists hundreds of email samples from many successful brands. You can either search for specific keywords or use tags and find emails that match the style of your brand.
The site works both as a form of inspiration, but also as a way to notice patterns that other companies are using. It's not just about the titles and sub-titles, but also the body-text that lures the attention of your subscribers.
If you want to be the best, you have to learn from the best.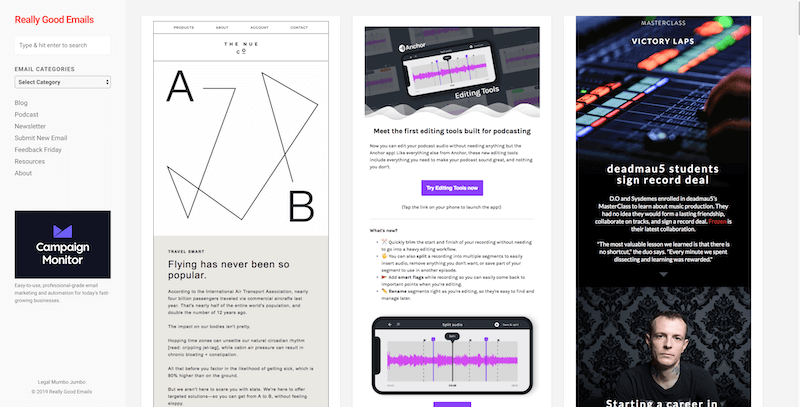 Likewise, don't expect to fully grasp the ins and outs of email design either. You need both practice and some form of inspiration to keep yourself moving forward. In this regards, I recommend checking out Really Good Emails.
It's a visual compilation of newsletters as sent out by other brands and organizations. Though, the emphasis is on the 'really good' part. There are thousands of email designs added to the site already, and you can narrow down your search to many different use cases.
For example, explore how other companies are handling 'Follow Up' emails, or take a look at samples that showcase the personalization of email design. A lot of different categories, and overall an invaluable asset to your email marketing endeavors. Even more so if you're a complete beginner.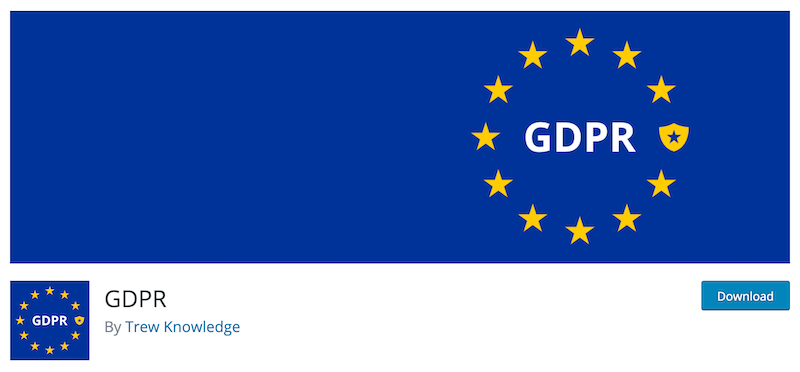 And last but not least, here is a GDPR plugin to keep you out of all the trouble associated with handling user data. While many of the plugins in our list are compliant with the GDPR rules, some might not be and with a plugin such as this you can pretty much cover everything anyway.