17 Best WordPress Support Services in 2020
Who wants to spend an extra day at the computer? Wouldn't you like to play football, relax on a beach, see the world? The professional WordPress support services will help you to restore the balance between work and life. Using the services of the pros, you free up time for rest. And you can completely focus on your business.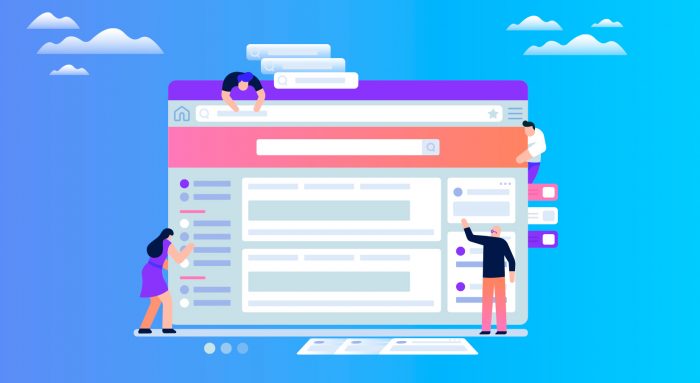 Why Do You Need the Best WordPress Support Services?
Running a site is a time-consuming task mostly because of the fact that support and maintenance of the resource takes away all of the time. You need to create content, monitor marketing activities, customize the necessary functionality, respond to customers in a timely manner.
Initially at the beginning you'll work on it with enthusiasm but then it may seem that you'll never be able to shut off, think and just rest.
If you want to free yourself from most of these tasks, consider contacting one of the WordPress support services. We have prepared an overview 17 of the best WordPress support services & maintenance providers for you.
They'll:
update themes, plugins, CMS;
improve the security of the site;
create backup copies;
help with content generation;
get busy with feature development;
repair the broken links;
make design changes of the site;
setup plugins;
solve issues with hosting;
optimize resource performance;
analyze and monitor activity.
In a word, they'll do everything necessary for the success of your online-business.
If you are an experienced user, WordPress support services won't offer anything revolutionary. You, for sure, can solve these issues yourself. However, they'll provide you with reliability, peace of mind and time savings. It will ease your workload and become a godsend for you in managing your business.
How to Choose WordPress Support Services?
Try to look for information about WordPress support services and sincerely answer the following questions:
What do they offer to help? Does this cover all your needs?
What is the cost of the services? Is it within your budget?
Look for customer feedback on the service. How do live people respond to them? Can they be trusted?
What kind of WordPress support service do they offer? Are they available 24/7 or have to wait a long time for an answer?
What are the additional benefits of partnering with them? Do they have SEO services and counseling?
To entrust the care of your website to professionals is a big step in the right direction. Therefore, it is so important to spend time looking for a reliable company. If you like the idea of having more free time and getting a healthy website, check out our review. Save time to search for a company and use this information to narrow down your choice.
So, the best WordPress support services start with:

Payment: $ 45 / hour
Target segment: small and medium business
What are you getting:
basic technical support,
making changes to the HTML / CSS / Javascript / PHP code,
WooCommerce integration and transformation of the site into a full-fledged online store,
speeding up your site in search engines like Google,
unique hosting solutions,
plugins' installation and updating,
third-party software integration (AWS, Mailchimp, Facebook, Twitter, etc.)
daily backups,
safety monitoring,
CDN, SSL.
Important:
This team has been working with WordPress since 2001. The guys professionally develop WordPress themes and plugins, are marked by the Envato team with numerous awards and have Power Elite status in the ThemeForest community.
StyleMix not only focuses on the basics of technical support but also offers additional help – hosting, themes and plugins setup, design developments – completely or partially, and most importantly – unique functionality.
The team is suitable for those who need regular support of the site and for those who need to solve a one-time task professionally and quickly. Top experts in the field of web design and development always strive to help and improve the level of your business since it will increase their level of professionalism as well. Read numerous customer testimonials and feedbacks about their service – 99% of them are positive.
СlickWP

Payment: $ 35- $ 200 / month
Target segment: blogs, small business
What are you getting:
basic technical support,
cloud daily backups,
plugins update,
safety monitoring,
e-mail support,
migration to a new hosting,
e-mail marketing setup.
Important:
This team works transparently: the site has real customer feedback. They themselves are a small business that has become known and popular among users without excessive advertising. Therefore, they do not just want to meet all the needs of small businesses but they know how to do it.
ClickWP focuses on the basics of technical support but also offers additional help – server management, Google services customization, e-mail marketing.
WP Fix Runner

Payment: $ 49 – $ 179 / month
Target segment: bloggers, small, medium and large business, online stores
What are you getting:
90 min – 4 hours support time,
e-mail / chat support,
cloud backups,
speed optimization,
WordPress core updates,
plugin and theme updates,
uptime monitoring,
security scan,
on page SEO,
faster response time,
dedicated account manager,
phone support.
Important:
The WordPress support team which works professionally within every site 24/7. Any possible issue service. But the main is the solution of personally individual tasks which others refuse even consider to start with. They include – new functionality integration, redesign of separate elements of the website, any website customization starting from the blog to an e-commerce store. You'll find live people's reviews on the website.
The biggest advantage working with the team is money back guarantee within 1 month in case you'll have any negatives. Guys are fully confident in themselves. We ourselves came to them for advice and were feedbacked within 2 hours. We find it incredibly fast!
Fixmysite.com
Payment: $39 – $199 / per task
Target segment: blogs, small and medium-size businesses
What are you getting:
Fix Issues and Errors
100% money back guarantee!
Theme Customization
Website Migration
Speed Optimization
Malware Removal
Site Audit
WordPress and Theme Installation
Important:
Fixmysite.com is on-demand technical support service for anything WordPress. We all have our trusted mechanic nearby when our car starts acting funny or breaks down on us. Likewise, you want to have someone you can rely on when your website misbehaves. Think of Fixmysite.com as your neighborhood website garage and its developers as website mechanics!
The service will repair your website, or they'll send you a full refund. Fixmysite.com can help you with theme customization, speed optimization, malware removal — it's one-stop shop for all your website worries.
FixMyWP

Payment: from $ 50 / month
Target segment: blogs, small, medium and large business
What are you getting:
WordPress updates,
plugins' update,
spam cleaning,
database optimization,
backup,
e-mail support 24/7/365
Important:
FixMyWP provides weekly WordPress support service at a high professional level which is why the prices for services are a bit high for beginners. But for those companies that need daily monitoring and analysis of the site, with subsequent elimination of errors and shortcomings, this is one of the best support options on the market.
WP Curve

Payment: from $ 79 / month
Target segment: any enterprise
What are you getting:
an unlimited number of small WordPress fixes (30-minutes doable),
an answer to any question within 10 minutes in 24/7/365 mode,
Website backup,
plugins setup,
themes, plugins and CMS active updates
CSS-settings
Important:
WP Curve is undoubtedly one of the largest WordPress support market players with an active customer base of more than 1,000 people. The popularity of WP Curve is closely related to the high competence of their specialists; their expanding support group is present on almost all continents making them an international company. The response time to any inquiry by mail is an average of 8 hours.
A more proactive service is available on a Professional subscription at $ 99 per month. If the professional subscription still does not cut your work, WP Curve also offers a VIP subscription for $ 199 per month. This reduces the average response time by double (up to four hours) and triples tasks that you can send to specialists immediately. Each performed work is also double-checked by the team for quality.
Since 2016, the company has acquired GoDaddy, so all communications are carried out through the site www.godaddy.com
Valet

Payment: from $ 300- $ 5000 / month
Target segment: medium and large business
What are you getting:
site complex check (initial audit),
regular updates,
resource security,
site relocation,
monthly reports,
code changes,
design changes according to usability requirements,
marketing activity,
SMM,
A-B testing,
SEO,
conversion increase,
traffic promotion,
changing the SEO strategy if necessary.
Important:
If you've got money, Valet is more than just a WordPress support service. This is your full business partner helping you develop all aspects of your business.
Before making you a client, Valet will conduct a comprehensive review of your site which will allow to learn more about your business and adapt to your goals and to identify any opportunity to improve your business and implement it.
They offer but not focused on basic technical support services. Their main advantage is the marketing side of the service. Depending on your budget, Valet will help you expand your site with A / B testing, social network marketing, website promotion, increased conversion and loyal customer growth.
They can even help you attract more visitors to the site by changing your SEO strategy and tactics. With Valet, you get a chance to maximize the return on your investment.
GoWP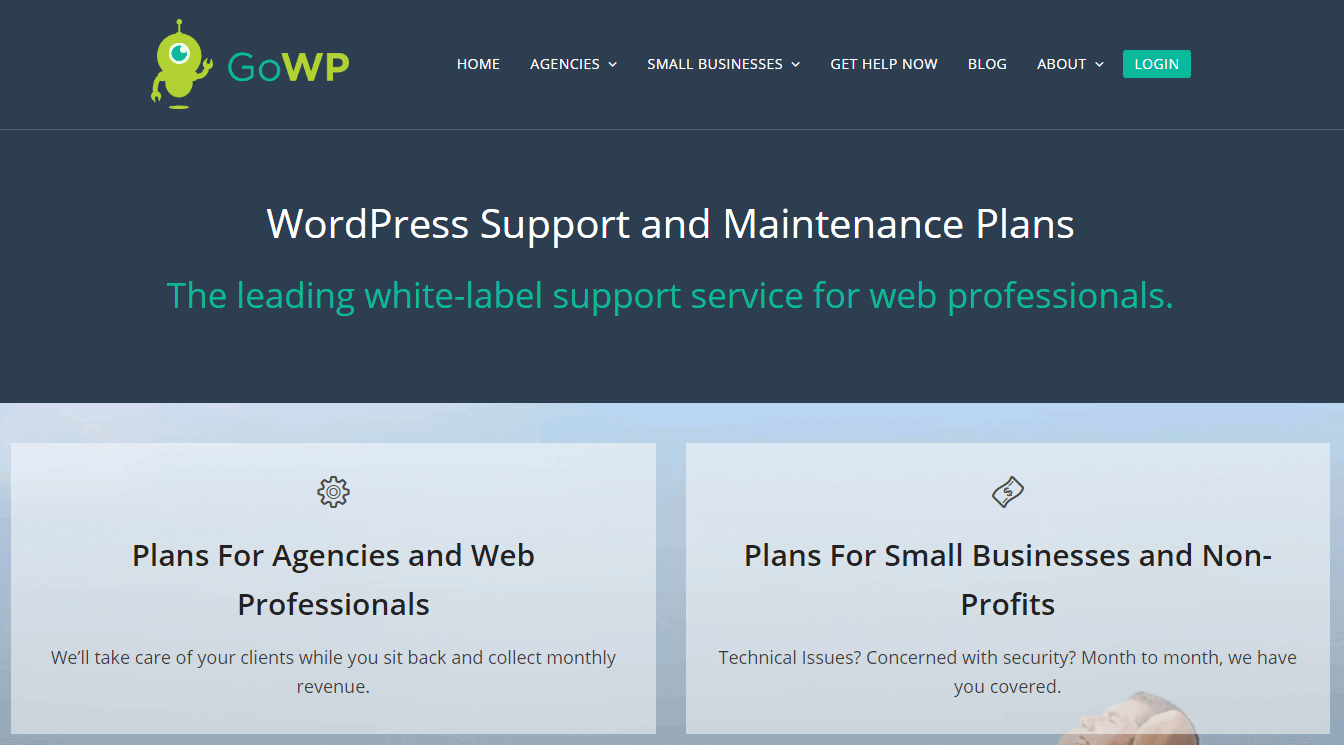 Payment: from $ 25 – $ 149 / month for small and medium-scaled businesses
Target segment: business of any scale
What are you getting:
WordPress updates,
plugins' updates,
spam cleaning,
database optimization,
backup,
24/7 e-mail support
Important:
Most subscription plans include solving an unlimited number of small tasks which take no more than 30 minutes. More complex tasks are already being solved within 2 hours.
The team makes backup copies of databases and files on a daily basis and safely stores them outside of your site. If you need a site restored from the previous version, you can just write a support.
To ensure the security of your site, it is regularly checked. If you find any problems, most of the company's tariff plans include cleaning and work to eliminate them.
GoWP has a support plan for complex and high-speed sites. Specialists of extra-class are getting involved to work with such resources.
Maintainn

Payment: from $ 49- $ 149 / month for small business
Target segment: business of any scale
What are you getting:
24/7 security monitoring,
remote server daily secure backups,
weekly updates

– WordPress,
– themes,
– active plugins

monthly maintenance reports,
30-minute response time with premium support,
simple changes to the website / content,
technical advice.
Important:
Maintainn has many amazing features: a neat site, a friendly development team, a counter of clients with whom they work. And Microsoft is among the clients of the team. It says a lot, doesn't it?
When upgrading to the Premium plan for $ 99 per month, you will get many benefits. These include a collection of online video tutorials and hourly monthly support. Premium customers receive ultra-fast responds – usually within 30 minutes making Maintainn one of the fastest WordPress support services.
WP Fix It

Payment: $ 39 – $ 57
Target segment: Web sites that require rare but important changes
What are you getting:
unlimited 24-hour support,
basic technical support,
daily backups,
stable hosting,
security,
code cleaning,
migration to a new hosting if necessary,
software updates
Important:
This team is very interesting. Its main competitive advantage is working with serious problems, mostly those that others have not coped with. The guys work with unique issues and make corrections as quickly as possible. I suggest using WP Fix It if you are more interested in one-time help than constant support.
WP Site Care

Payment: $ 79- $ 299 / month
Target segment: companies of any scale
What are you getting:
24/7 security monitoring,
daily backups,
WordPress updates,
manuals and WordPress tutorials,
Real-time activity monitoring
Important:
Founded by Ryan Sullivan in 2012, WP Site Care still remains one of the most highly valued service companies in the WordPress business for already 5 years. Service remains one of the most reliable and trustworthy. All WP Site Care support personnel are located in the US. There's no limit to the number of requests that can be submitted to their team.
At the same time WP Site Care is quite an expensive service that serves companies with a high purchasing power and who want to get a lot, almost impossible for their money. WP Site Care has a lot of bright cases, an active presence in social networks, a meaningful blog and a newsletter are all signs that these guys really know what they're doing. They are experts in their field.
The main competitive advantage of WP Site Care is the response time. It is 1 hour which makes the service the industry leader by this criterion. This became available with their unique Walkie Talkie tool. Instead of posting support questions via boring e-mail, you can communicate with WP Site Care representatives directly through the WordPress toolbar. You are no longer lost in the flow of emails.
All options are available in a plan for $ 79 per month which is enough for most developers. But for those who have a budget to pay $ 299 per month, the service offers a number of advantages. You don't just get the support of your site but also the desire to improve it. Experts optimize the loading speed of your site, improve the site itself, increase traffic, conduct an in-depth security analysis.
A more expensive plan includes up to four development tasks per month, performance monitoring, e-mail-counseling and priority access to support specialists.
WP Maintainer

Payment: $ 99 / month
Target segment: companies of any scale and web designers
What are you getting:
WordPress updates,
plugins' updates,
scheduled backups,
safety monitoring,
regular preventive checks,
migrating to a new hosting,
adjustment of the discount system on the site
Important:
WP Maintainer is very simple: one plan is one price for all. Their offer is quite interesting and covers everything you need from a support provider. We did not find information on how quickly they respond to users' requests, so, most likely, you will receive help only during their business hours.
WP Maintainer is more interesting by the fact that it focuses on helping and maintaining WordPress in the field of web design inclusive. The company, founded in 2012 by freelance WordPress developer and designer Andy Stratton, works transparently – and every WP Maintainer client receives the full range of services for an affordable fee of $ 99 per month.
WP Maintainer also has extensive experience in working with hosting providers, so all new customers of the service can get a free migration to a better host. In addition, WP Maintainer will be responsible for all of your current maintenance tasks, including regular updates, backups, monthly malware detection monitoring provided by Sucuri.
If you encounter compatibility issues caused by updating a theme or plugin, WP Maintainer will fix this problem in an hour. Additional services are provided individually at a rate of $ 99 per hour.
The WP Butler

Payment: depends on the client's needs, on average $ 65 / per month
Target segment: company of any scale
What are you getting:
website recovery,
backups,
security audit,
malicious programs scanning,
solving individual issues.
Important:
The business model of the service is different than those of the companies that were previously on our list. If other services offer predefined service packages, then with WP Butler you get a little more. Especially if your requirements differ from those indicated in the standard package. Perhaps you do not need the tasks that other services offer in your packages and you do not want to pay a fixed price.
You will definitely be interested in WP Butler when you are more interested in flexible pricing policy. The business model is so that you only pay for the features you really need. The services are provided by Dave Clements, an experienced WordPress developer with 10 years of work with WordPress sites.
All packages include a free security audit, the rest of the package is formed by you personally and depends on your individual needs. These include managing WordPress updates, backing up and scanning for malicious software. For additional peace of mind, you can also order a rapid analysis of the site – experts will quickly evaluate your site and find that it works incorrectly to eliminate it.
Pricing depends not only on the services provided but also on the frequency that you need – for a week, 2 weeks, a month. You yourself can create an excellent package at a competitive price. For example, daily backups, weekly updates, efficiency & availability monitoring and weekly malware scanning are available for just $ 65 a month – hard to beat that!
WP Matic

Payment: 3 packages, from $ 59- $ 159 / month
Target segment: companies of any scale
What are you getting:
security,
themes & plugins setup,
themes, plugins, WordPress update,
backup copies,
cleaning bugs, fixing any errors,
any third-party services integration,
SEO
Important:
WP Matic has increased its experience in developing WordPress in close collaboration with the author and premium developer TeslaThemes. As a result, the company has grown from the WordPress support service and now offers full-featured service, customization, support and development of functionality of any level of complexity for any website.
The WP Matic team starts with a detailed study of your website and makes general technical analysis. Thus, the specialists get a deep understanding of your business goals, identify the shortcomings of the site and the possibilities for future progress. And most importantly determine the vulnerabilities to work on them and improve your site. Then they offer a service plan based on these data.
With a $ 59 per month plan, you can be sure that you will have regular backups on Amazon Cloud, all WordPress updates, plugins, themes and installation & setup of effective plugins, especially for SEO. Do not worry about security, performance and clean code. Above all this is working on your request and takes 30 minutes a day.
In a business package costing $ 99 per month, you get faster website loading speed, regular scanning for malware detection, backups on third-party resources. Experts will also fix all the minor problems associated with themes and plugins on the go.
The personal assistant of your site will cost $ 159. The developers can be contacted directly at any convenient time. If you have thoughts on the migration of your project and their implementation will not take more than 2 hours, you can send your request to the developer, and also order the setting separately.
WP Matic does not use freelancers and does not outsource work, so communication between the client and the specialist is as quick as possible. Your request is also satisfied as quickly as possible. You also get guaranteed access to the support service. And it is guaranteed that you communicate with live people, not robots.
WP Buffs

Payment: from $ 40- $ 999 / month
Target segment: bloggers, small, medium, large and super-large business
What are you getting:
weekly reports,
24/7 editing and fixing bugs,
themes and plugins weekly updates,
cloud backups,
fast recovery of the site when disconnected,
Google Adwords connection,
full removal of malicious software,
speed optimization,
solution of any task on the site
Important:
WP Buffs provides WordPress support service plans for website owners of any scale and with different needs. They don't limit their customers in the number of inquiries within a month and work productively to improve the performance of your site, perform daily updates and maintenance, regularly eliminate errors and security issues.
Barrel Roll

Payment: $ 49- $ 299 / month
Target segment: bloggers, small, medium and large business, including online stores
What are you getting:
daily backups,
plugins, themes, WordPress update,
24/7 security monitoring and malicious software cleaning,
404-errors monitoring and elimination,
up to three hours of development,
site performance optimization,
SEO,
expert consultation
Important:
Pricing may really seem high a bit for support at the basic level. Nevertheless, the team has a professional website, positive feedback and a transparent presence policy on the market – by visiting the site, you will know exactly what they are doing, for how long, you can write to them, wait for a quick response. This is a good sign that the team is working professionally and responsibly to solve problems.
Cinch

Payment: $ 49- $ 99 / month
Target segment: small, medium business, online stores
What are you getting:
daily backups with easy recovery from the cloud,
daily software updates,
24/7 security monitoring,
elimination of failures,
site's performance monitoring,
error checking,
additional development cost – $ 50 / hour
Important:
Most of the support services that you have already seen offer their services to the companies of any scale. However, Cinch really knows the needs of its audience and is professionally familiar with how to meet the demands of different companies including individual wishes. They offer 3 service plans which you can get acquainted with in detail by following the link.
Which WordPress Support Service to Choose?
As you can see, our review is not a rating, there is no winner and loser. All of the above companies provide services designed to relieve you of the burden of managing a WordPress site. What is good for you can be bad for another, so be sure to take the time to make some research on all of WordPress support services in detail before entrusting your site to one of them.
Correctly set the priorities for yourself. What is more important for you? Price? Quality? Speed of service? When you find your service which will be able to take over the maintenance of your site and bring it to a new professional level, you will feel a great deal of relief.
If your outmost priority is a solution to a problem we would recommend WP Curve or Valet which offer unlimited possibilities. However, if you are largely interested in quality technical support and maintenance, you will be more comfortable with Stylemix, WP Site Care, Maintainn and WP Maintainer. But if you know exactly what you need from the WordPress support service, the best option will be the formation of your individual plan which is offered by WP Butler.
We hope this review helped you choose the best WordPress support service. You may also want to see our 'Must have WordPress plugins for every website' analysis.