20 Stunning WordPress Themes Based on Bootstrap 4.x
In 2018, Bootstrap finally achieved the long-awaited Version 4. After many years of development, the team finally updated the old version and infused it with modern web development/design principles.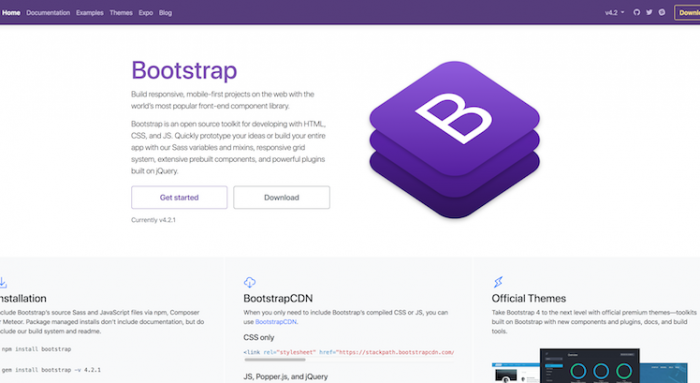 Bootstrap's popularity on the web is unmatched. This phenomenal front-end framework has turned from a small-time project into the most used framework ever built. With 16M+ websites having some form of Bootstrap functionality on them — you can count on Bootstrap's core features to make your site shine! And it's loved on GitHub as well, with more than 130,000 stars at the time of this post.
In 2018, Bootstrap finally achieved the long-awaited Version 4. After many years of development, the team finally updated the old version and infused it with modern web development/design principles. Bootstrap makes it incredibly easy to work with Flexbox and different content positioning through its Column layout structure.
If you have even a little bit of prior experience with HTML5/CSS3 then you can pick up Bootstrap 4 in as little as an hour. And the best part is that while the templating system is relatively easy, the design quality of Bootstrap remains pristine. The end-result doesn't feel like a knock-off design.
When it comes to WordPress, many theme developers love to use Bootstrap as the base for their themes. Makes sense, it's easy to customize and is cost-effective. And the pleasant Bootstrap Grid System ensures that themes can be created to reflect the layouts that WordPress is so well known for.
So, if you are like us and you love Bootstrap, then strap in as we dive deep on some awesomely looking Bootstrap themes for WordPress!

WP Bootstrap 4 is the ideal starting theme for WordPress bloggers. It's fast, lightweight, and has full Bootstrap 4 integration. Which also means that this theme is mobile responsive, and optimized for SEO standards. On top of that, the theme has had a thorough audit performed by the WP.org team to ensure top-notch quality.
In the author's own words, "Main aim while building this theme was to create a fully responsive theme that is easy to use and loads quickly.". And that's precisely what you get in return. Worth noting is that you can easily style this theme using any other Bootstrap-based snippets.
Bootstrap Blog

If you don't feel like customizing a theme from scratch, then check out Bootstrap Blog. This beauty is all about Bootstrap vibes. The classical 2-column masonry layout is amplified with a gorgeous feature post widget. Also, custom homepage 'boxes' where you can add links to your most prominent site pages.
Editing this theme is also really easy. A lot of the basic functionality is integrated inside Customizer. As a result, you can change logo image or add new Google Fonts with only a single click.
Another major feature included within the theme is native WooCommerce support. So, whenever you're ready to sell some products — a pre-designed digital store layout awaits you.

WP Bootstrap Starter is based on the "_s" theme (Automattic product), which means that you're getting some seriously flexible core foundation for your new design. Bootstrap's flexibility is well-known in the front-end community. Whether it's HTML or JavaScript that your site needs, Bootstrap can get it done.
Thanks to the elastic license (GPL) — you can use WP Bootstrap Starter for any kind of a project that you're working on. It's not mandatory to include attribution, but is going to be appreciated nonetheless. Furthermore, the theme author invites you to voice your feedback with potential new features and other improvements.
On the integrated features side you get custom page templates: full-width, left-sidebar, right-sidebar, container-only, and no-container. This many templates gives you the creative freedom to build all kinds of different WordPress posts and pages. And especially if you use any kind of a WordPress page builder: Elementor, Beaver Builder, etc,.
There are some 8,000+ active blogs using this theme so you're for sure in good hands.
Fino

Now that we got all the starter themes and blank canvases out of the way, we can focus on some more intricate designs. And to kick things off we have Fino — a free business-oriented theme built with Bootstrap. Fino's hard to overlook, it's aesthetic character meets the creative curiosity upon first moment of interaction.
With its roots in business style, Fino's appropriate for sites in niches like small business, agency, real estate, professional services, and even consultancy firms. Most of these categories are backed up with refined design features that help to present your business vision in a digital format.
Most importantly, Fino works great with modern page builders, so you can organize and reorganize your design as you wish.

BeTop is a great option for business and personal coaching purposes. Whether you are a motivational speaker, yoga instructor or fitness trainer this theme has got you covered.
It is not only the mean to broadcast your knowledge and ideas to the whole world but an effective converter of website visitors to actual customers. The reason for this is built in booking system and conversion forms.
The theme is integrated with 23 custom widgets and WooCommerce plugin. Try to use at least half of them and you'll see the transformation of you site.
BeTop has an intuitive interface. So it is easy enough to present your services and practices in a digital form.
8 impressive demos designed by StylemixThemes, Elementor builder and drag and drop features in the frontend mode – you are all set and ready to go.

We could not include the eCommerce templates on our list. At this highly competitive time and big popularity of online marketplaces the primary goal is to stand out from the crowd and provide a positive shopping experience to your customers. eLab is the solution you were looking for.
This WooCommerce theme was created especially for multi-vendor electronics stores. Stunning demos include different shop inventory pages of the most necessary layouts styles like categories, sidebar, full width, listing, and much more.
eLab is supplemented by XBuilder plugin – the drag and drop page builder developed from the ground by StylemixThemes. XBuilder is designed for both beginners and WordPress experts. It will be easy to understand the configuration for non-professional and satisfying to find the advanced feature for experienced users.
eLab is fully compatible with Dokan and WC Vendors plugins that will help you to build a professional multi-vendor e-commerce shop.

With slightly more than 1,000 active users — Ecommerce Solution is a theme to solve the mystery of selling online. Indeed, this impactful and diverse theme is built as a stronghold for professional digital stores.
And we have to emphasize the word 'stores', because this theme won't be a great fit for a single product business. Instead, Ecommerce Solution provides a complex yet dynamic environment for stores in niches like apparel, fashion, groceries, technology, fitness, and others.
Since Google mandates it now, you can rest assured this theme is built with the mobile-first principle in mind. Not that it's surprising given how responsive the Bootstrap Framework is towards mobile devices.

There are not so many convenient and well-designed listing website templates. But we found a good example of such. HomePress – a real estate WordPress theme that helps to build a professional business listing website. The core feature of HomePress is a high-powered uListing plugin.
This plugin has plenty of strengths and advantages. Among those are fully customizable form fields, drag and drop builder to create an inventory grid, list and single layouts, sorting options for categories, and lots of image options.
HomePress offers 15 demo templates of ready to use home pages, single property pages and pages for real estate agencies that are available for the live preview.
We should also mention some other features as well which objectively speaking are vital for real-estate websites. They are advanced search functionality, mortgage calculator and 360° video tour.

If you're passionate about travel and blogging, then there's a high chance you might have come across a travel website using the Trawell theme. But, perhaps you didn't think it was a WordPress theme at first. So, we're here to clear that up for you. This stunning theme for travel writers and bloggers is yet another exceptional creation from the team at MeksHQ.
Their love for WordPress is evident in all of their themes. And, their fondness for Bootstrap is just as visible. Trawell is an industry-level theme that encompasses the latest web technologies. And it's not just us throwing around buzzwords either.
For example, you can pick from a selection of 5+ custom post templates. Each template designed with a different kind of mindset, letting you focus on more intricate story types as you keep travelling the world. That's the beauty of design — it can inspire and it can deliver a wonderful user experience.

Neori has to be one of the best magazine themes released in 2018. In just a few months after its initial release, the theme had more than 500 sales and hundreds of comments. But when you look on the surface, it doesn't seem like much, does it? If anything, Neori feels like a masonry-style theme for news blogs and magazines.
But what makes Neori so exceptional is its natural design flow. From pages to posts, each transition feels authentic and without hindrance. You're not feeling like you're fighting against the design, rather — working together with it.
Another thing is the way this theme is built on the inside. Different content types are allocated in separate files to create an easier workflow editing experience. Even if you have never written a line of code, changing things around with Neori is painlessly simple.
Also, the 'Slices' feature for displaying content is a blockbuster in its own right. With Slices, you can display content anywhere in your pages with the use of a shortcode. And, adding new shortcodes (slices) is rather easy. You can even style them yourself if you have the willingness to experiment with your Bootstrap knowledge.

GutenMag continues the string of magazine and blog themes. Fully based on the Gutenberg builder, GutenMag supports its all original blocks. Flexible page builder and editor convert your ideas into a masterpiece. The theme is 100% AMP and mobile-ready, supports embeds, and allows to insert different media files.
It includes 7 outstanding demos perfectly suited for news websites, magazines, and lifestyle blogging. Beautiful demos reveal different styles. You can find here tech magazine layouts, beauty and fashion templates, as well as car magazine page sample.
GutenMag highlights your creativity and individuality and helps you to find a unique way to express yourself by using different post styles and formats.
Ideal geometrical layouts are easy to set up. No need to be a professional developer to create your custom posts and pages.

Matilda is a theme that encompasses all the things you love about WordPress but in a trendy and chic style. With a professional touch, the Matilda theme is intended for use by personal bloggers, feminine writers, and portfolio holders. Other users include travel bloggers, photography experts, and side-project owners.
The first thing to notice about this theme is the clean style, white-space usage, and aesthetically optimized typography. And this combination makes for a powerful 'blog presence'. Indeed, when designers invest their time into developing a proper color and font scheme, the design feels like its water dripping from a waterfall.
On the feature side, you get 8 homepage layouts by default. So, a lot of options to run uniquely designed blogs. Also, includes the most popular WordPress post formats: music, video, gallery, and standard.
The custom widgets include an About Me snippet (with a photo), a Facebook widget to display your FB page, and a social media widget for adding buttons/links to your social stuff.
Above all, Matild is a fast theme with an optimized codebase. Content loads extremely fast even without having caching or other optimization plugins installed.

First and foremost, Eskimo is a theme for personal blogs. What this means is that this theme is best suited for sites that revolve around topics such as writing, lifestyle, travel, photography, tech, and others. But also online stores, because this theme supports the WooCommerce plugin. So, if you want to create a beautifully optimized eCommerce store then you can do so by enabling the eCommerce option in the Eskimo settings dashboard.
On the design side of things, this theme takes great advantage of the features found in Bootstrap 4. But also goes above and beyond. For example, on each posts page there is a sticky menu widget that includes quick access to author info, search bar, store page, and personal account page.
Also, footer area for posts is designed to support elements like tags, social media buttons, and related posts. With precise alignment for each element, the design flows beautifully together to provide a modern user experience.

Ofelia is going to make a great home for any travel blogger out there. It's the perfect theme to write and tell your most exciting stories. And by tell we mean that Ofelia is fully compatible with Gutenberg, so you can make your posts look amazing. Overall, this theme's design scheme leans towards compact, crisp, with a clean structure.
Released just about a year ago from writing this, the theme hasn't seen as much love as one would expect. But I think this is totally to your advantage. Simply because when a theme hasn't sold THAT many copies, you can capitalize on having this one unique design almost all by yourself. The chances of you running into a website using the Ofelia theme are very low.
The homepage is featuring a gallery-style post navigation. With each Card having a photo, and necessary meta-data put inside as an overlay. That said, there are 6 different variations for the homepage, so finding something you like isn't going to be hard.

We want to break down stereotypes that website themes are mostly used for blogging and entertainment purposes. For example, Manufacturer works specifically for manufacturing and industrial companies and finds favor in this niche.
The theme is a practical and innovative solution for such business areas as industrial equipment and machinery, science, fabric textile, or food factory. You can check the full demo list to look through the available options and find the best that suits your needs.
All Manufacturer's features are focused on your real business need and expertise. WooCommerce based, this theme delivers a smooth shopping experience for your customers and wholesale. It provides unlimited customization options, header and footer builder, easy-to-use interface requiring only a few clicks to be done.
Faculty

Faculty theme has been in the rotation for more than 4 years and is consistently kept up to date. As such, it's arguably the best WordPress theme for academics. And 2,000+ sales should be good enough of of an indicator for that. So, what exactly is an academic theme anyway?
It's definitely not a common topic for WordPress themes, but someone figured out there might be a market for it. In short, Faculty provides a portfolio environment for academics. Whether you're a student or a teacher it doesn't really matter. The theme gives you concrete tools to help you highlight your academic experience.
E.g. You can create a simple bio by including all the necessities about yourself. And once you start to build a portfolio, you can use additional tools like adding research papers you have written, or including the publications in which you're published. Additionally, with Faculty you can also create project pages and have other people to get involved with your work.
It's a comprehensive theme to help academics to publish their portfolio online. And best of all, it's completely supported by the Bootstrap framework.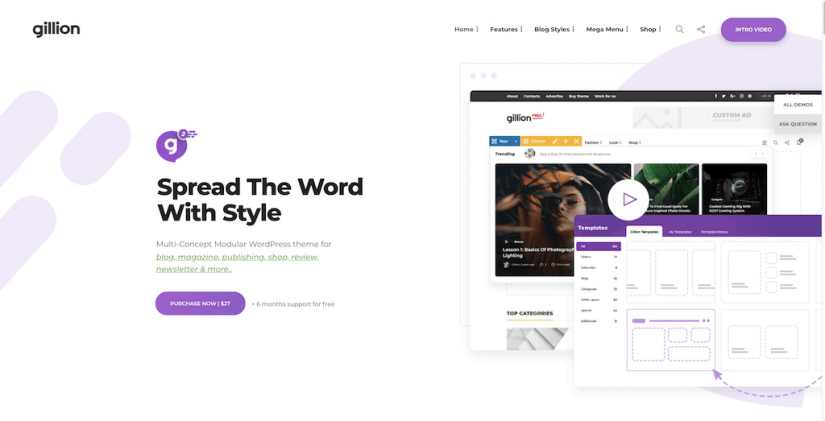 Gillion is a WordPress theme created to be used in multiple niches. That's right, it's not just a multi-purpose theme but a multi-concept theme. And there's a lot of concepts to explore here, so we'll list a few of them to give you an idea.
Fashion blog. This concept takes into the account a modern approach to fashion, and so the colors and fonts reflect the specified concept. You can use this demo to run a full-on editorial platform, or simply a personal blog. It's easy either way.
Personal blog. This concept is all about making sure that your content gets the most exposure. With a powerful and eloquent design scheme, the Personal Blog gives you features like homepage sliders, author picks, and widgets for displaying the latest content.
Other concepts included in the Gillion theme are for technology experts, foodies, lifestyle bloggers, and those who love a clean design.
It's hard to put it all in words without encouraging you to check out the demo. It's going to be worth your while, and the features we mentioned are only a fraction of what you're going to find in this theme.

Well-designed fashion themes isn't easy to come by. And that's mostly because fashion is such a diverse niche, and generally the designs are built to be unique and original. Fortunately, Applique theme manages to capture the essence of modern fashion, and the themes' many demo options prove just that.
Best of all, Applique theme requires zero knowledge of WordPress customization or editing. The options panel is specifically made for entry-level users so that you can create big changes with little to no effort. In short, this theme is made to feel intuitive and easy to understand.
From all the demo sites (10+) my favorite ones had to be Menswear, Craft, Food, and Fashion. There's so much attention to detail and other design coverage that's happening on the design level. Don't miss this theme if you want to create a blog with some unique vibes to it.

Sparkle's been around for 4 years, and still manages to go strong. In the author's' own words, "This is an outstanding WordPress theme for news blogs, editorials, and magazines.". Sparkle focuses on putting the content in places where it counts.
You can divide the homepage into multiple category-based sections to highlight only your best content. Furthermore, you're going to love having so many unique sidebar placements available. Magazines tend to have multiple columns (sidebars) to help replicate the feeling of reading an actual magazine. And Sparkle achieves this result fairly effortlessly.

And the last theme in our roundup for the best Bootstrap WordPress themes is going to be SugarBlog. Sounds sweet? Well, it's because it is. SugarBlog's design is leaning towards the fashionable and intricate. It's a combination of modern structure, infused with clean design patterns that translate into a pleasant user experience.
Features like related posts are thoughtfully placed on the hompage after every few posts. And the design detail is absolutely mesmerizing. Buttons have custom-designed border structure which makes them stand out. The sidebar elements feel silky smooth, and integrate with the overall design scheme flawlessly.
There's no other way about it, because this theme's going to impress your audience!
Conclusion
Bootstrap offers enormous potential for creating beautiful and responsive websites with WordPress and without it. In this post we looked at the leading WordPress themes using Bootstrap as their core development framework. And quite frankly, the results are nothing short of amazing.
We would love to hear and see how you have built your own site with a Bootstrap-powered theme. Are you going to download any of the themes in this post? Maybe you're already using a theme that we reviewed, and if that is the case — please don't hesitate to leave your feedback in the comment section.