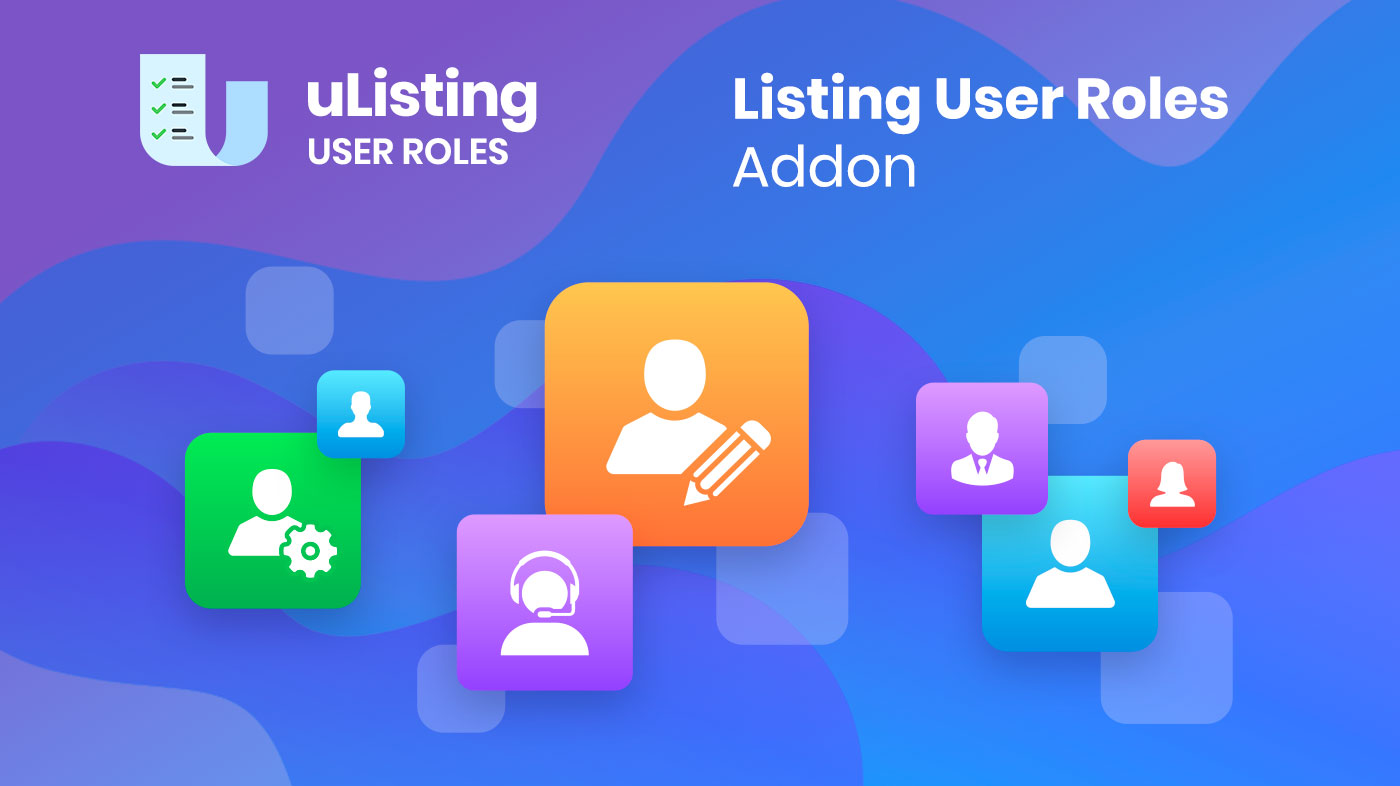 Watch video
uListing User Roles is a second addon to our free powerful uListing plugin that ads a feature to create different User Roles and attach each of them a different amount of available listings. You can give each role a custom name and amount of available listings:

You also can add as much user roles as you want. User Roles simple but powerful features:
Create unlimited WordPress User Roles
Custom Fields for each User Role
Listing amount limits
Listing Moderation
uListing User Roles gives You the power to prevent listing chaos. For example if you have created two user roles "Home User" and "Realtor" and attached first one to 10 free listings and second to 5 listings, then when a user will proceed through registration, he will be able to choose a user role that more fits him, but he won't be able to see it's free listing limitation. Let's say he is a real estate agent and chooses a Realtor role. After registration, he will see that he has only 5 free listings available and after that, he will need to but a paid plan or subscription (needs uListing Subscription).

So this is a truly amazing feature that makes your listing business even more flexible!
What's new
Version 1.0
March 16, 2019
FAQ
How to download the plugin?
After purchasing a product, you will be sent 2 emails. The first will provide you with a link to download the plugin, along with your license key.
The second email, which you'll receive after the payment is successfully processed, will provide a receipt, as well as a secure link to download your PDF invoice.
If you purchased a lifetime license you'll only receive a single email combining the secure download link, license key, receipt, and PDF invoice.
Before downloading the product, if you are using Apple's Safari as your browser, disable its default ZIP auto extraction setting:
Upload the paid product to WordPress
Now that you've downloaded the premium zip file, you are ready to upload it to your WordPress website.
How to upload and activate a plugin/add-on?
Activate the product with your License Key
If you've purchased the product directly within the WP Admin dashboard you are already good to go since the license key is automatically activated right after the upgrade. Otherwise, after activating the product, you will be redirected to a license activation screen.
Simply enter the key provided in your email and click . Your product will now be activated and you'll be ready to begin setting it up.