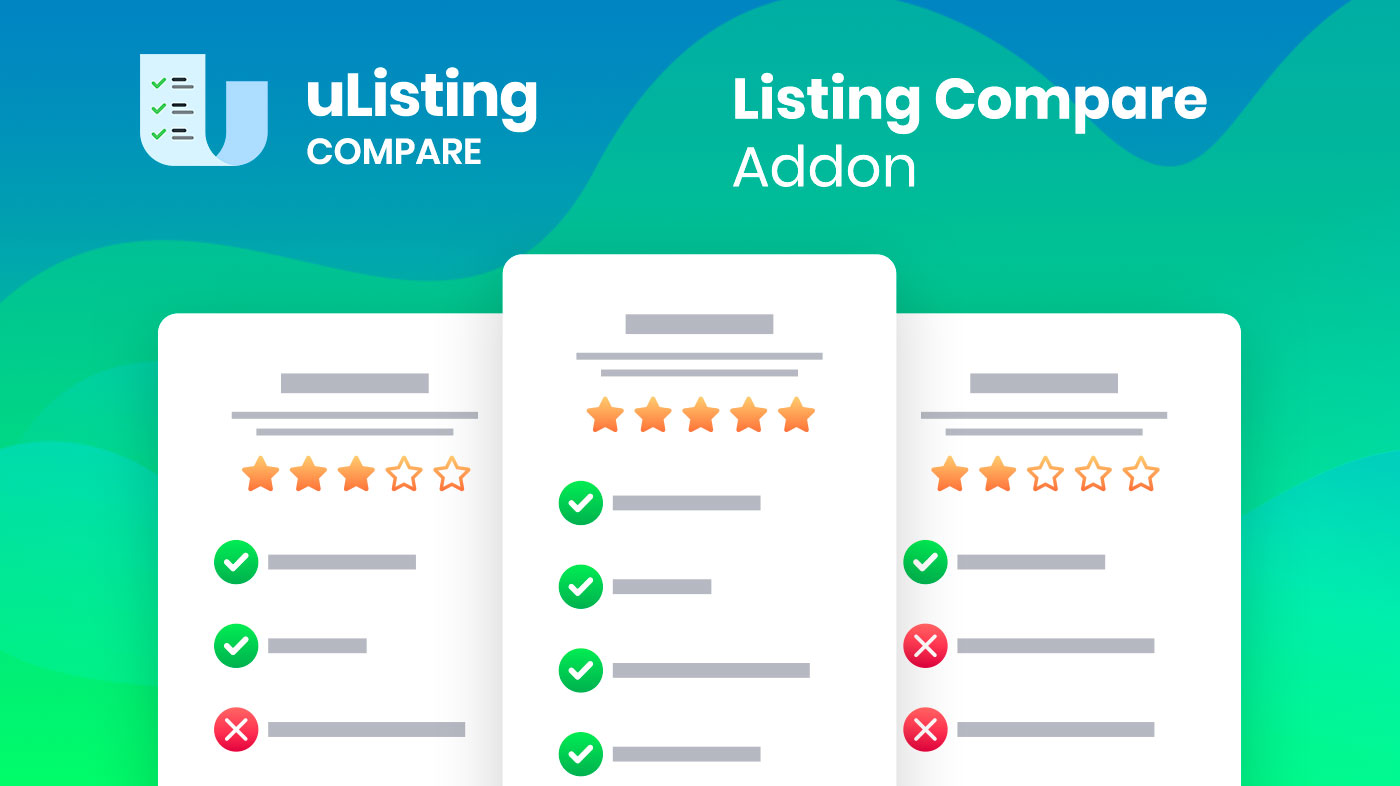 Watch video
uListing Compare is a paid addon to our free powerful plugin for creating a business listing site. This addon allows creating a compare between two or more different listings. For example, if user is in need of a new apartment and he can't choose between two similar ones, he can choose both of them and compare their price, area, number of bedrooms and more.

uListing Compare gives you big flexibility on comparing attributes:

uListing itself is a very powerful and free plugin! But Compare gives you a trully great addition to it's features!
What's new
Version 1.1.1
February 13, 2020
Version 1.0.9
December 26, 2019
Version 1.0.8
August 8, 2019
Version 1.0.7
July 29, 2019
Version 1.0.4
July 8, 2019
New Shortcode added
Minor bug fixes
Version 1.0.3
July 5, 2019
Version 1.0.1
May 1, 2019
Version 1.0
March 14, 2019
FAQ
How to download the plugin?
After purchasing a product, you will be sent 2 emails. The first will provide you with a link to download the plugin, along with your license key.
The second email, which you'll receive after the payment is successfully processed, will provide a receipt, as well as a secure link to download your PDF invoice.
If you purchased a lifetime license you'll only receive a single email combining the secure download link, license key, receipt, and PDF invoice.
Before downloading the product, if you are using Apple's Safari as your browser, disable its default ZIP auto extraction setting:
Upload the paid product to WordPress
Now that you've downloaded the premium zip file, you are ready to upload it to your WordPress website.
How to upload and activate a plugin/add-on?
Activate the product with your License Key
If you've purchased the product directly within the WP Admin dashboard you are already good to go since the license key is automatically activated right after the upgrade. Otherwise, after activating the product, you will be redirected to a license activation screen.
Simply enter the key provided in your email and click . Your product will now be activated and you'll be ready to begin setting it up.