What's Next for Web Design in 2020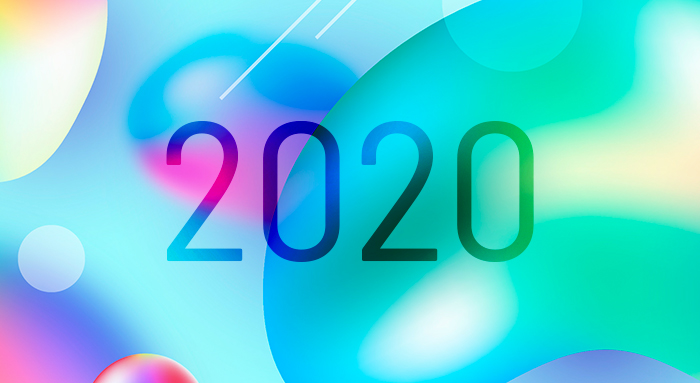 Every last quarter of any given year, content creators all across the globe rejoice. And they do so because it is a time of reflection. A full year has gone by which means that there is a lot to reflect on, a lot to learn from, and most importantly, a lot to look forward to. This is particularly true for industries such as web design and web development. Both are in a constant flux of change, adaptation, and of course, innovation.
One of the great things about web design specifically is that there isn't one set index by which all creators are enforced to follow. Rather, new trends and design approaches emerge generally from individuals themselves. Someone experiments with a new design style, and quickly it attracts attention as it proves itself to be viable in the broader spectrum of designing for the masses.
For 2019, we saw trends like illustrations, interaction animations, chatbots, gradients and much more. A lot of these trends are definitely going to carry over to 2020, but rest assured there is a lot more you can learn and adapt to your current web design practices. If you'd like to go over once more the last year's trends, please make sure to read our article for the most popular web design trends in 2019.
What makes a web design trending?
Anything and everything can become a trend in web design. In this day and age, trends tend to emerge whenever a designer publishes their work for the approval of a larger audience. E.g. Illustrations began as a simple practice to try and incorporate more color into design layouts. Gradually, such illustrations began to take shape and form into what they are today. An illustration can tell a story as much as it can help a user navigate a website.
And this is precisely what makes trends to successful. If it helps the user to reach the end-goal quicker, it is worthwhile to learn more about the specific trend and perhaps even incorporate it in your day to day design tasks.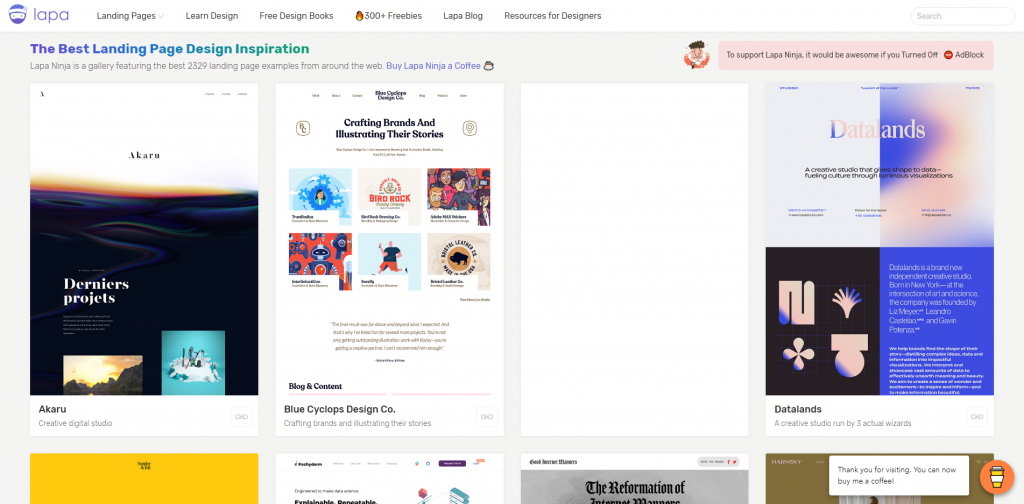 Looking back on the last several submissions on the Lapa Ninja website, we see that brands are integrating more and more complexity in their designs, whilst retaining a certain fluidity in the navigation experience so that users don't get lost. Another easy to spot a trend is the brightness of typography, something that is oftentimes overlooked.
With thousands of professional typefaces on the market, it's a shame that most people settle for the norm, otherwise known as Google Fonts. A font itself can convey emotion, mood, and general feel for the brand. And I feel like it is a fitting first trend to mention for the upcoming year of 2020.
#1: Fonts are getting more creative; meaningful.
You could theoretically come up with the most incredible solution to providing the planet with free energy. But, if your not name is not known within the industry, and your website design is a simple blank page, most people will simply steer away just because it doesn't provide any interest to them. So, to solve this dilemma, think about the ways in which fonts (typography) can enrich your website design.
At the end of the day, much of what you see on websites these days is based around text. Whether it hints for navigation or full-on brand messages; fonts play a major role in how a user interprets your website and its design.

I love this example from Jules Forrest's website. It's an exceptional showcase for how fonts should be used to both captivate user's attention, but also to entice readership.
The first segment (headline) uses a stylish "Value" serif style font which gives a brief introduction about the author. Afterward, you have the sub-heading paragraph which shares more details about the kind of work that the author does.
But the magic is hidden in the details. And those details are:
The correct choice of font styles, sizing, and attribution.
Appropriately designed backgrounds and font colors so that they feel easy to navigate and read.
Sections divided using Grid elements and Font Icons where appropriate.
From this relatively small homepage, I'm quickly able to understand what Jules does, what her passions are, and also see the kind of projects she's working on. Now, in comparison to having all this on a blank HTML page. Well, I think you already know the answer to that.
So, to summarize, expect fonts to be a much bigger web design trend in 2020 than they have been ever before. Expect new font styles and new ways to implement fonts to promote a brand message and other important factors.
On that note as well, how are you using fonts right now to promote a sleek and professional feel of your website or blog? Let us know in the comments!
#2: The web is getting darker
But certainly not the type of dark that instills fear or anxiety. Rather, it seems that most major companies and independent web designers are starting to agree that a Dark Mode is mandatory for any new website built today. Just look at sites like Reddit, Instagram, and Apple iOS to name a few.
Of course, the dark mode itself is a user preference. But web design has always been about pleasing the needs of the user. In essence, dark mode provides a slightly more focused reading experience for those who enjoy focusing solely on the text rather than anything else.
Besides, who likes to sit at their computer at midnight with their monitor glaring back at them with blazing light.
From a development point of view, achieving dark mode is relatively easy. Sandoche Adittane has specifically built a JavaScript library for this sole purpose. Add the library to your site and users will have a simple choice to choose between a light and dark mode version of the site. It's a lot more cost-effective to do it this way, even if it presents a few bugs here and there.
Other alternatives to providing a dark mode for your users include using browser extensions. Which we might add, have exploded in popularity for the past year or so.


If you feel like your particular project would take a substantial amount of resources to convert into a dark mode, then recommend for your users to use this specific Chrome extension. It is also available for browsers such as Mozilla. Dark Mode will take any website and automatically turn it into a "dark". No coding required either on your part or on the part of the user.
#3: Adapting your design to all devices
Everyone has heard about "responsive" design, which in simple terms means that your desktop version of the design will also work on mobile phones. But, generally, there is a caveat with this. Responsive (media-queries) design generally requires quite a bit to make it work just right for mobile or tablet devices. And this is why "adaptive design" is starting to come into play.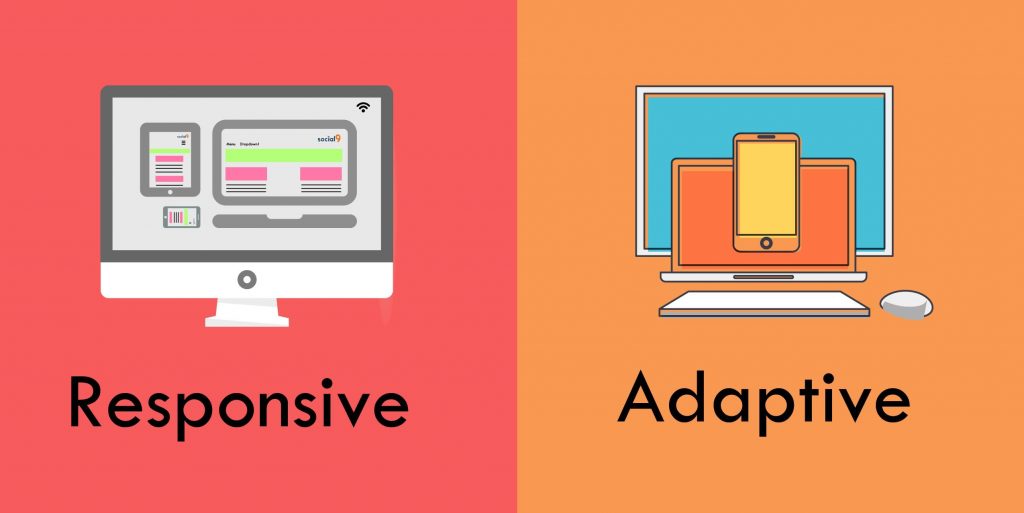 Albeit, this requires more rigorous design practices such as using libraries like React.js, the concept of the adaptive design means that users will have to see the same exact version of design despite the device which they are browsing from. This is also wonderful news for brands that specialize in applications and Software as Service tools. Simply put, if you don't adapt your design for all devices simultaneously, you're losing out on a large proportion of your potential customers.
There's definitely a lot to explore on this topic, so I will quote what Interaction Design Foundation has said on the matter,
Responsive design is easier and takes less work to implement. It affords less control over your design on each screen size, but it's by far the preferred method for creating new sites at this moment. This may also have something to do with the large number of cheap templates available for the majority of Content Management Systems (CMS) such as WordPress, Joomla, etc. — after all, who wants to reinvent the wheel?
In short, using adaptive design for a WordPress website might be cumbersome, to say the least. As such, keeping with the tradition of responsive web design is absolutely fine.
Those who will be affected by adaptive design the most are brands and individuals that specialize in software design. Like said, giving users access to software tools from their mobile devices is a step forward to generating more revenue and brand exposure.
And as far as WordPress blogging goes, or any other content management system, you're mostly dealing with written content. Having that content properly aligned and displayed on mobile devices is more than enough for the time being.
#4: The art of asymmetry
An asymmetrical graphic design is typically off-center or is created with an odd or mismatched number of disparate elements. An asymmetrical design is not unbalanced, it just doesn't create neatly divided or identical page halves. You can have an interesting design without perfect symmetry.

Asymmetry in web design is all about pushing the boundaries of creativity. In comparison to the year 2018, we're seeing a far greater number of brand and personal websites that implement the concept of asymmetry in their web design layouts.
In short, asymmetry allows for boundless creativity while not comprising things like user experience and navigation.
One of the things that make an asymmetrical design so appealing is its unusual style. A person is guaranteed to be enticed by a properly aligned asymmetrical design because it looks good. Think of it like Japanese Origami. A piece of paper might not look like much at first, but once a master of the craft has a go at it — it becomes something to inspire oneself with.
This is a subject I've been keeping a close eye on for the last couple of months, not only because it's interesting, but also because I expect the next generation of WordPress themes to start implementing asymmetrical concepts in their core designs.
Here are some interesting resources you can read to further learn about this topic:
#4: The future of website (page) builders
One can only imagine the type of discussions happening at major design agencies. Call after all call, clients are canceling their projects because they have found a much cheaper (and easier to manage) solution known as a website builder. There's no shortage of those on the market these days. Almost every big hosting and WordPress development brand are now providing some kind of a page building solution to their users.
Even here at StylemixThemes, we have been busy to work on something special for our customers. While developing the eLab eCommerce theme, we completely revamped one of our in-house page builders known as X-Builder. This builder enables for our customers to instantly create and design world-class web layouts without the need to write a single line of code. Best of all, the interface is intuitive and automatically renders each of your designs readily available for mobile and tablet devices.


But this isn't just about us, personally. I think there's a real change happening in how the average person designs their business page or a simple homepage. I feel like major projects for big brands will always remain within the reach of professional agencies. But for smaller purposes, it does seem like page/website builders are the future.
As a designer, you can scale 20, 50, even 100 layouts to pick from in a matter of hours if you have previous design experience. And who is going to complain about 100 unique layouts for a nominal price of a few dollars per year?
With that said, I think all designers should not resent this change in direction. Rather, think of ways that your design expertise can help these page building solutions flourish. For example, you can offer services to provide one-of-a-kind layouts to premium customers. You can offer your services to design unique icon sets or headers and footers that no other brand is offering.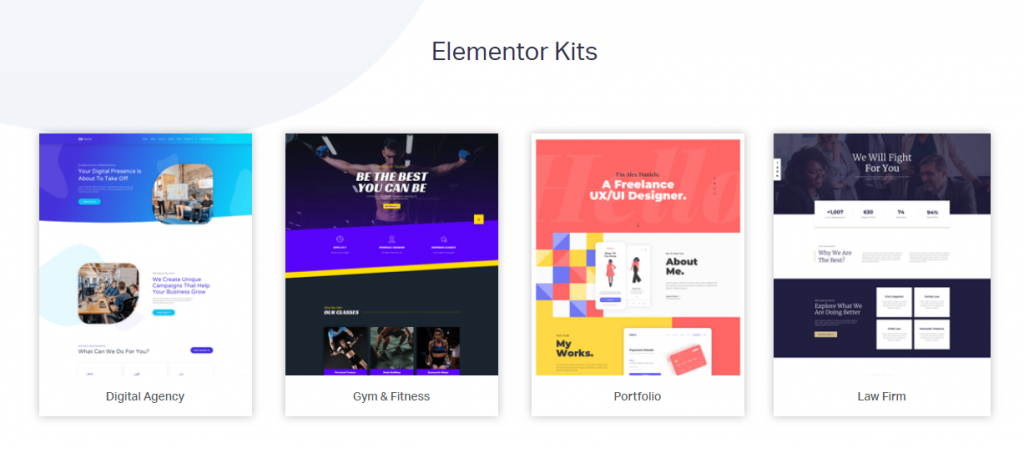 When I look at brands like Elementor and what they're doing, I'm truly blown away by the trendsetting attitude these guys have. More often than not, you can't tell the difference whether one of their templates is auto-generated or maybe it has been independently designed by a professional designer.
#5: Trends that continue to gain momentum
Apart from design-specific trends that focus on layout, there is another aspect of web design trends that have and will continue to gain momentum as the years go by. These trends are something you can neither avoid neither you should avoid.
They are:
Website Speed — load times being an important factor for user experience and search engine results is nothing new. Keep in mind that the more complex your design gets, the more important it is to think back on usability and the impact that your design is going to have on SEO. Always have these two at the back of your mind when working on a new project.
Designing for Mobile Devices — although we touched on this with the adaptive design segment, it's still safe to say that mobile-first is the way to go. Whichever way you design your new website or product, always think back on how a mobile user is going to interact with it. In fact, just test it yourself in a real-world setting and see if you're happy about the end result.
Secure Websites — SSL certification is now available for free in more places than just Lets Encrypt. Although, I love using Lets Encrypt because it's so easy to set it up, and renewing a certificate takes less than 20 seconds of my time. The lesson here: remember to use SSL on all your sites!
Final words
We have to individually align our purpose with the future trends that are emerging. Blindly following something that looks 'nice' might backfire as your users find it hard to navigate and browse. But, experimentation is always key. If you find something that you truly like and resonate with, there should be no issue in making it work for your audience, too.
My best advice is to keep an ear open on the latest UX/UI articles and see what new information you can learn. Even WordPress users who might feel slightly limited can learn a lot from designers with previous experience. A small little tweak could make the difference in making two sales per day opposed to one.
So, what do you think about the future of web design in 2020? Are you already practicing any new design techniques you haven't tried before? We're all ears when it comes to learning new stuff. Use the comments below to share your thoughts and revelations and we'll make sure to give them proper attention if required.