Web Design Trends for 2019
The possibilities of creative and inspiring Web Design are growing at an unprecedented rate. To keep you up to date, here is a rundown of the hottest trends in Web Design for the year 2019.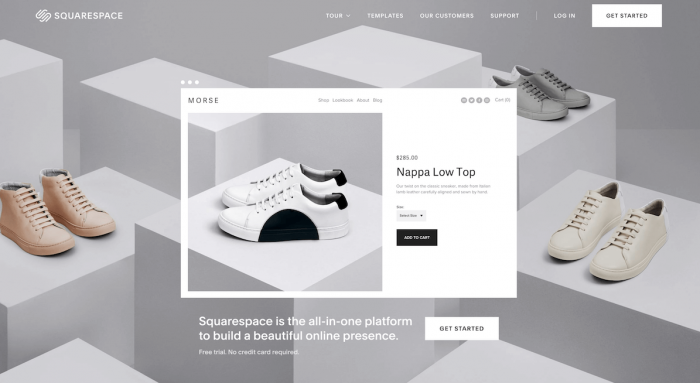 It has been a massive year for web design, to the point where a large majority of modern websites have completely adapted to modern design principles.
Last years web design trends were all about adoptation for mobile devices, using grid layouts, and being bold with typography. And as we move into 2019 — it's becoming evident that the web is moving in a direction of smart mobile technology, illustrated design bases, and colorful minimalist user experiences.
WordPress, which is leading the CMS market by a large margin, has also undergone some drastic changes this year. Specifically, the introduction of Gutenberg; a new way to edit and design content.
The page builder market has seen a steady growth over the last couple of years, and now WordPress is trying to get a piece of the pie, so to speak.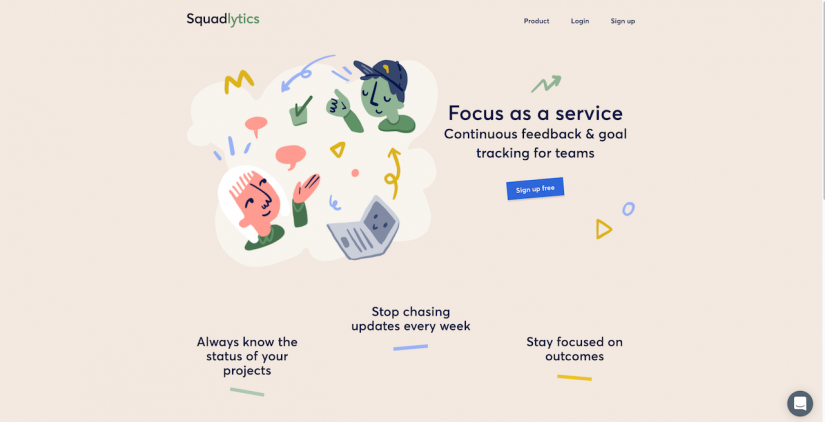 Since Gutenberg is based on JavaScript (React), we can expect to see some major quality of life improvements in the customization department. It's only a matter of time before you can customize WordPress from the ground up.
But, it's not just the WordPress platform that's starting to embrace JavaScript. Over the span of 2018, a lot more web designs are implementing JavaScript functionality in their base to provide a truly dynamic user experience.
In this article, you will find a concise summarization of the hottest web design trends for 2019.
#1: Colorful illustrations

Vectors in web design have commonly been associated with adding an element of the colorful presentation. Fast forward to this day and age, and illustrations are one of the most commonly used elements in designing web pages. The creative possibilities of illustrations mean that you can emphasize a strong brand presence using only visual elements.

As can be seen above, Slab is using illustrations to create aesthetically pleasing use cases for their product. One thing to consider here, in terms of web design, is that using actual real-life photos might make the presentation feel rigid, implying an overly-serious brand image.
Illustration is a powerful and important tool for enhancing user experience and making interface both attractive and efficient. While there's no hard or fast rule on using illustration in your design, it's important to keep in mind one thing: keep illustrations useful. Ultimately, any illustration should provide a deeper understanding of your product or brand. — Nick Babich
Another reason why illustrations are becoming so popular in web design has to do with performance. Vectors are commonly saved as SVG files, and SVG is best known for its small file size, and the ability to scale infinitely with user screen size. As a result, front-end designers can use a lot of visually-based elements to create rich and powerful user experiences.
Where to find free vector illustrations?
Even though we recommend that any earnest brand do their best to hire an in-house creative designer, there's a good amount of sites that provide vector illustrations at no cost. Using the following sites can be a good starting point to experiment with using illustrations in your personal web design projects.
unDraw — This open-source project provides a collection of frequently updated SVG illustrations. You can browse the library manually, or use keywords to find specific illustrations that match your brand. Most of all, you can select a custom color scheme to apply for any image that you wish to use. Since the project is open-source, there's no need to worry about licensing.
Icons8 — The Icons8 platform is fueled by more than 85,000 unique free icons. You can scale, recolor, and optimize each icon individually. Best of all, these icons can be used to create custom illustrations using software like Adobe or Sketch.
Dropicons — Dropicons is a library of more than 170 stylish illustration-based icons. Use these icons to add inspiring and creative elements for your sites and apps.
Vecteezy — Anyone who has done work in web design before will surely know about Vecteezy. Their free vector directory has been operating for over a decade. And there are a lot of inspiring graphics to choose from that you can add to your future designs.
#2: Interactive animations
Natural browser evolution means that designers can utilize their creative freedom to a greater extent. In contrast to low-scale vector animations, using product-defining animtations create a compelling and engaging user experience.
If your visitors can experience a product in real-time, then how effective is this going to be for increasing your sales?
Take mobile apps for example. The vast majority of brands throughout 2018 added some form of an animated preview for their product. Pinto is using not only product-based animations, but also a variety of illustrations to truly embrace the latest trends in web design.

The widespread adoption for WebM video format has led to brands embracing the idea of using animations in their web designs. WebM files lean towards file-size effectiveness, meaning that you won't cause performance issues by using one or two animations per page.
In short, animations create a truly personalized user experience. Users can get a real sense of your product without feeling like they're forced to signup. And even if it's something small like a rolling sidebar, that little moment of interactivity can make all the difference.
You can visit Awwwards to check on the highest-reated web designs that implement modern animations.
#3: Magnetic gradients

Looking back on the last couple of years for design trends, gradients haven't seen all that much use. Whereas in 2018, gradients have become the go-to design feature to create engaging and stunning visual experiences. A lot of designers are also going with gradient wave patterns, angled backgrounds, and the more traditional two-color gradients.
Gradients can infuse a simple design with cutting-edge visuals that give a new meaning to professional photos. A simple container can be styled in a way that truly captivates the essence of the parent element. This comeback has spurred quite a bit of buzz in the designer community, with mostly positive feedback all around.
Where to find trending gradient inspiration?
While tools like Sketch and Adobe Illustrator can no doubt suffice in gradient generation, there's also a good amount of web-based platforms for generating gradients on the go. Most importantly, each platform provides a custom CSS code that you can apply to your website design instantly.
Gradient Hunt — This library is a collection of popular and trending gradients across the web. Visitors can vote on the styles they like the most, and you can sort results based on popularity.
CSS Gradient — CSS Gradient is a web-based gradient generator. You can use numerous CSS3 features to generate a gradient that matches your design. Further, CSS Gradient supports adding your own images, color angles, and radial-style gradients. Check their resources page to read up on some amazing tutorials for CSS3 usage in web design.
WebGradients — At the moment, WebGradients has about 200 unique (linear) gradients to pick from. CSS code can be instantly copied and pasted into your existing design workflow. Clicking on a gradient will apply your pick so that you can see it in real-time. Lastly, there's two download packs available, one for Sketch and one for Photoshop.
#4: Smart chatbots

There's no denying the fact that designers will embrace technologies like Machine Learning and Artificial Intelligence in order to further personalize each users experience. Although still highly undeveloped, chatbots are for sure beginning to enter the web design space.
Take for example Hipmunk, a well-known service providing affordable solutions to flights and hotels. But, in order to stay above the competition, Hipmunk is developing a custom chatbot experience for Skype, Slack, and Facebook Messenger. Users can signup for the respective chatting channel and use Hipmunks robots to get advice for trips, find out critical information, and get notified on best deals.

What's truly unique for such chatbot experiences is that users can take this chatting experience with them anywhere. As a result, your business can retain incredibly rounded user engagement rates, whilst still having users interact with your core business services.
Duolingo, MongoDB, LeadPages, and so many other established brands are beginning to provide smart chatbot experiences.
#5: Cohesive videos

There's a time when a video is appropriate, and a time when it's not. Agencies and the like don't really have to strain themselves to create self-explanatory videos. In most cases, the design will be enough to get the point across.
However, a trend that's starting to emerge amongst more intricate brands, the likes of SaaS products, is the use of videos for explaining product functionality. You can still host a video on YouTube, and simply style the wrapper to match your design scheme. Just like HolaBrief has done it, which shows in the image above.
The combination of bold statements and an immediate video promotion can help to quickly get your business vision understood by potential clients. Worth noting is that Google has begun to experiment with mixed search result pages. And quite often, a website using video introduction sees much more clickthroughs than their counterparts.
Last but not least, take a look at brands like Muller. Their entire design structure revolves around deep video interaction. A real-time video background in combination with different product choices creates a timeless user experience.
#6: Time-tested minimalism

Minimalism is the classic flavor of web design and is without a doubt going to remain as an enduring choice for many. Minimal design makes room to emphasize what's truly important, especially when trying to portray a strong brand image.
In 2018, we have seen a noticable increase in minimalist designs that utilize stylish effects, fade-in animations, font customization, and scrolling patterns meant to keep users engaged. Libraries like Vue.js and AngularJS continiously keep making it easier to utilize the full spectrum of front-end technology for website development.

Kickpush (image above) are using a solid red background throughout their entire homepage. However, a lot of the content areas whilst minimal, still take advantage of hot trends like animations, gradients, and interesting box-shadow modifications. The final result is a clean browsing experience, with easy access to understanding their brand image.
#7: Mobile-first experiences

Google has been extremely vocal about penalizing sites that are not optimized for mobile-first experiences.
To recap, our crawling, indexing, and ranking systems have typically used the desktop version of a page's content, which may cause issues for mobile searchers when that version is vastly different from the mobile version. Mobile-first indexing means that we'll use the mobile version of the page for indexing and ranking, to better help our – primarily mobile – users find what they're looking for.
This is simply a clarification that webmasters have to prioritize their designs for mobile users. Since most people now use the web through a mobile device, it makes sense that the browsing experience is flawless on mobile.
The premise for this trend is to build sites with mobile-first optimization in mind. Meaning, you build your mobile site first and then scale back to the desktop. There's an amplitude of new responsive multimedia formats like WebM and SVG to help you scale elements automatically.
#8: Page builders are evolving

The world of page builders is changing, and changing fast! So much so that a lot of people might find themselves out of a job because how simple it is becoming to build custom sites using page builders.
It's not just simplicity that's a massive appeal towards page building platforms. More and more brands are pushing the limits of what kind of design can be done directly from the browser; without ever writing a single line of code. Expect to see major improvements in how page builders can tackle animated design, video implementations, and even dynamic real-time experiences.
A few brands have really pushed their technological capacity to the limit this year, and will surely continue to do so come 2019.
Squarespace

Squarespace is gaining substantial market share each passing year and continues to evolve their platform towards the modern standard. Whether you are a small business owner or a photographer; Squarespace can make your website feel authentic, fresh, and professional.
Above all, users can quickly integrate an online store inside their website with automated payment systems.
Prices range from $140 to $500 per year for the most advanced plans. This is peanuts considering you get unlimited hosting, hundreds of templates, 24/7 support, and consistent platform updates. Compare that to a custom web design, and you're saving yourself thousands of $$'s that can be used for advertising or brand development.
It's not just a trend to consider using website builders, but a harsh fact that the soon a builder will be replicate much of dynamic functionality that a developer can.
Elementor

The WordPress market for page builders is also growing rapidly. One such example is Elementor, a seemingly innocent page builder that has skyrocketed to millions of active users. Elementor's selling point is its sophisticated front-end customization dashboard. Want to change a font? Just click on the text and it's done.
What's more, you can drag and drop website elements in real-time. The back-end code optimization makes this the fastest page building plugin to date. Unique to Elementor is the modernization that we talked about earlier. Specifically, you can add features like shadows, overlays, custom effects, animations, gradients, and other trending elements. Many of the elements we talked about in this web design trends post already.
Overall, the WordPress community seems to love this plugin. But, it's certainly not the only one out there. There are at least a dozen successful page building plugins on the market, with a combined total of more than 10+ million active users.
Closing: Where are web design trends headed in 2019?
Everyone has their preferences for style and usability. Perhaps what looks like an emerging trend to one, might seem like a fading fad to another. All in all, there's a lot of shape and object customization to look forward to. Needless to say, we have to constantly monitor any new advances in browser technology. At the end of the day, it's the browser that governs what can or cannot be displayed on a web page.
Our recommendation is to keep an eye out for new CSS3 strings and possibilities. Experiment with basic JavaScript and see what you can up with. Likewise, monitor exciting landing page designs and see if you can replicate some of the harder design elements. Learning and experimenting is the very blood of web design.