How to Create a Website for Your Podcast using WordPress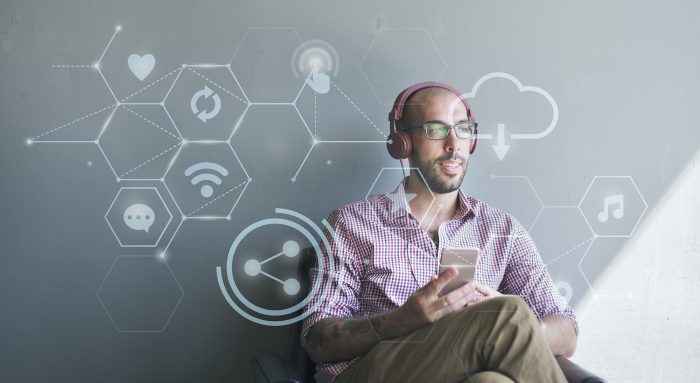 It's hard to overlook the fact that podcasting is becoming the next big thing. So many bloggers, business owners, marketers, and other folks have started their own podcasts not only to gain exposure but also to bring together communities. Big names like Joe Rogan have redefined what it means to use a podcast as a platform for healthy discussion and information exposure.
People love to consume content in the form of audio. And especially during activities such as driving to work, going to the gym, or simply enjoying a nice Sunday afternoon. The growth is there, so are you ready to challenge yourself with something new and take a leap of faith?
This article will take a look at why podcasting might be for you. Also, we'll explore popular tools to create your first show, and we'll look at some great WordPress themes to help you create your first website. For the closing chapter, I'm going a couple of the most popular podcasting directories so that you can start attracting viewers as soon as possible.
Why starting a podcast is a good idea.
First, let's look at the many reasons as to why starting a podcast might benefit you and your brand. There are certain challenges to overcome, but I feel that the overall benefits greatly exceed those challenges.
Get exposure.
The first reason is exposure. Nothing brings together people more like a good argument or a good conversation on a hot topic. Chances are, if you have a brilliant podcast, people from all over the world will be interested to hear it. And if so, then you're ripe for cultivating free exposure.
Usually, this comes in the form of social media mentions. But oftentimes will also result in you getting direct backlinks to your site. This is more the reason to see podcasting as a means of boosting your SEO potential.
A sense of community.
A podcast brings people together unlike anything else. The great thing about podcasts is that you generally have to set a theme. And that means that more people can relate to you on that one specific level. For example, if you're known for being a "Vue.js developer", then naturally, other Vue.js developers will want to hear about your latest findings.
On top of that, people will feel much more comfortable to leave feedback, recommend additional content, and sometimes even ask you to host them on your show. It's a true win-win situation for you and your community.
Connect with influencers.
This is arguably the most important benefit. As a podcast host, you can reach out to influential and important figures in your field and ask them to come on as a guest. If you do things right, such as prepare properly, you're almost always guaranteed to expand your network exponentially.
Not to mention, having have had a conversation with a smart mind in your industry might get you invited to events and elsewhere. Not to mention, you can always be creative and invite guests that might help you further grow your show. The possibilities are truly endless.
Advertising.
Sponsorships are a fairly common form of podcast advertising. And most listeners are okay with it since it helps to bring out more content. As a host, you can enjoy the benefits of working with brands that value your time and reward you appropriately. There are endless stories of podcasters landing life-changing deals thanks to their efforts and relentless commitment.
Software for Recording Podcasts
This is essentially the software you're going to use to record your shows. A few choices here, so examine each and go with the one that feels most appropriate for your needs. As with any new thing, it's going to take some time to learn and master. So, expect hiccups amongst other things.
Nonetheless, this is also the software that's used by many of the world's leading podcasters. It's time-tested, which should be a good enough of a review in of itself.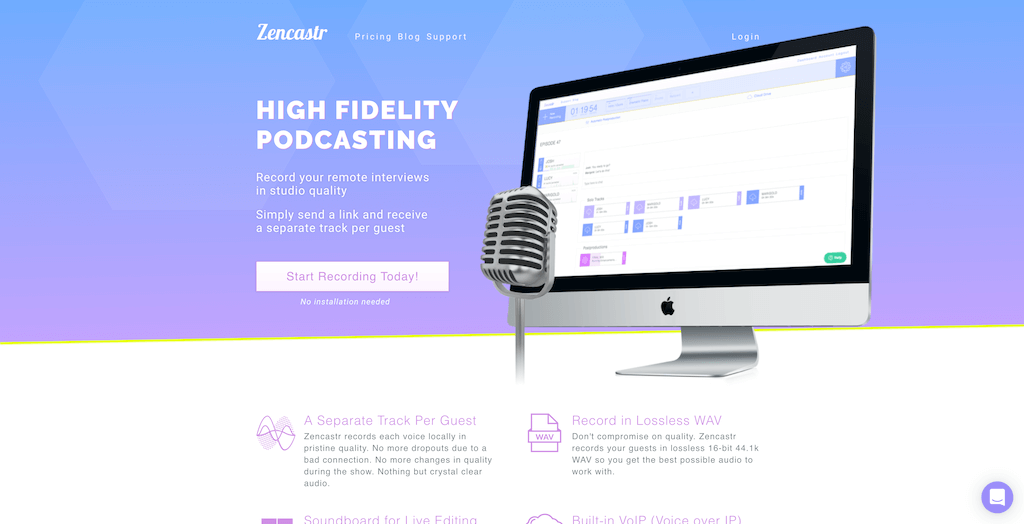 Zencastr is a simple podcasting software which simplifies the entire process of talking to your guests. It works like this, you create a new show, get a Zencastr link for the show, then you send it to your guest(s). Your audio is recorded through your browser, which is then uploaded to Zencastr and processed locally. That's it. You can do post-processing later on as you need, but for the most part, the platform itself will take care of everything.
The highlight is definitely the audio recording system. Since the platform processes everything locally, both you and your guests will always have the same clean audio quality. On top of that, Zencastr will record in the highest quality possible. You can, of course, use the soundboard to do live edits, such as do promotions or simply add snippets of audio you wish to present.
It is free to use for up to two guests, however, you'll be limited to only 8 hours of podcasting time per month, and quality won't go above MP3. If you do decide to take it more seriously, then the next pricing plan starts at 20$ per month. This includes pretty much everything unlimited, except for postproduction which is limited to 10 hours.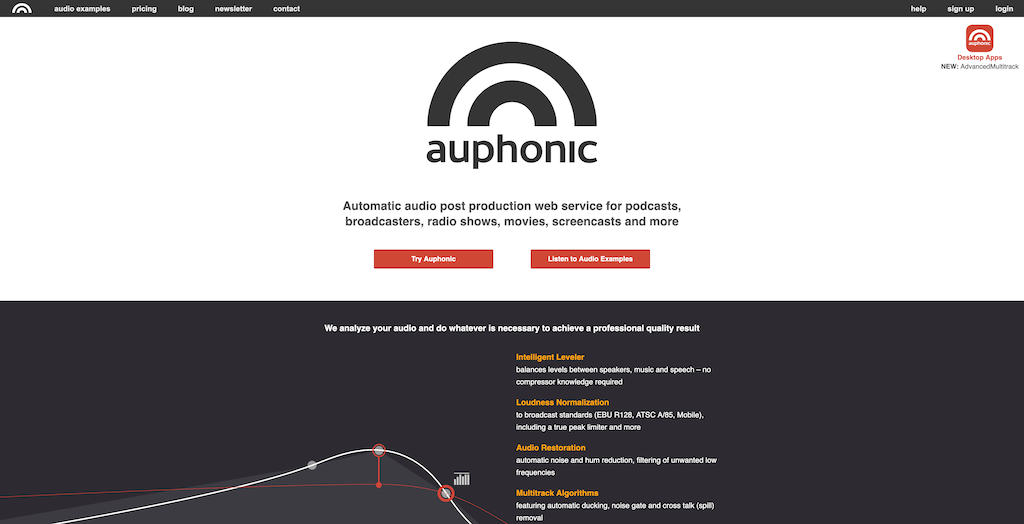 Auphonic is a more niche software, actually. Rather than giving you the tools to record a podcast, it is built to help you improve the audio quality of your podcasts. So, for example, if you record everything in-house, you can use Auphonic's software to boost the quality of your audio across the board.
It has some neat features like automated transcripts in more than 80 languages. It's also suitable for managing audio that is to be used within a video. And lastly, you can deploy your finalized audio files to services like SoundCloud, Podlove, Blubrry, and many others.
To summarize, if you're not happy with your audio quality or don't want to manually type out transcripts, then this software is for you.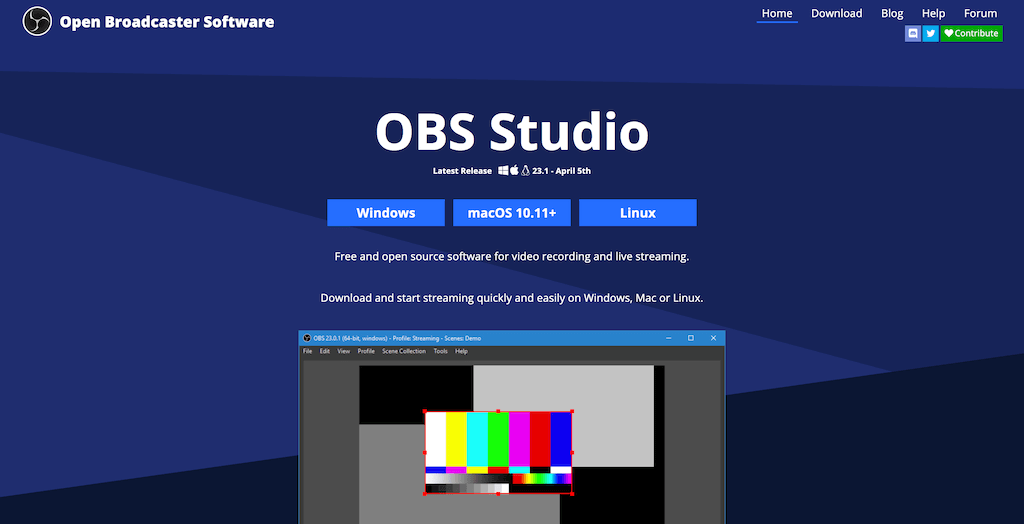 OBS has been around for many years. But that's not the only thing going for it. As an open-source project, OBS has grown to be one of the most popular broadcasting tools used by most Twitch streamers and many YouTube livestreamers.
The beauty of it all is that OBS is perfectly suitable for podcasting. Whether you'll be using it for video podcasts or audio-only is entirely up to you.
To help people new to OBS understand how it works, Dusty starts by explaining some key terms. In OBS, a scene pulls together all of the sources you want to share. Within a scene, you can include a number of what OBS calls sources, which are what people see and hear. Your sources can include a webcam, mic audio, computer audio, your computer screen, text, images, and more.

SME
You might have to tinker around with this one for a while to fully understand it. But, it's worth every hour you invest in it. Many famous streamers and podcasters swear by OBS.
WordPress Themes for Podcast Websites
Once you have all your podcasting software in place, it's time to think about creating a website. While some people prefer to host their communities entirely on YouTube or other platforms, it's generally a good idea to have a website, too. A website which lists all your episodes makes it easy for people to find the content they need whenever they need it.
And on top of that, it also adds a sense of community. Since we're so adamant of WordPress, we thought we'd list some of the best WordPress podcast themes. These ones are focused strictly on helping you list your podcast episodes, and do so in an eloquent manner.
As for custom plugins and other software, this you'll have to look into individually. Although, some themes come prepackaged with unique plugins already. If you can't find a design you truly like, make sure you continue your search on sites like ThemeForest or elsewhere.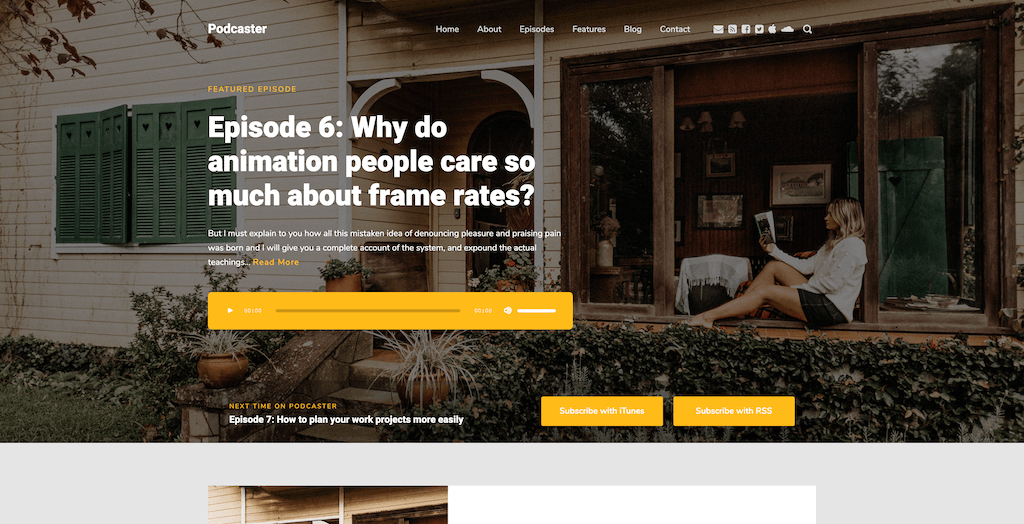 The first theme we're looking at is Podcaster. It's both eloquent and versatile, and provides just enough flexibility to start your podcast website. If you think about the needs of the design for a podcast site, the number one thing on the list is going to be simplicity. At the end of the day, you're dealing with audio files and presenting them in the form of a "blog post".
And I feel like Podcaster's choice of design elements fits this narrative really well. But on top of that, you can actually switch between different variations of the same design, or even customize it yourself using in-built support for design management. If you wish to include a transcript, for example, you can do so by writing the transcript out just like a blog post.
The added plus is that you're going to benefit from SEO since the content gets naturally indexed alongside your podcast audio. Also, it's easy to add buttons for external websites, such as RSS and iTunes — two places where you'll want to publish your podcast anyway.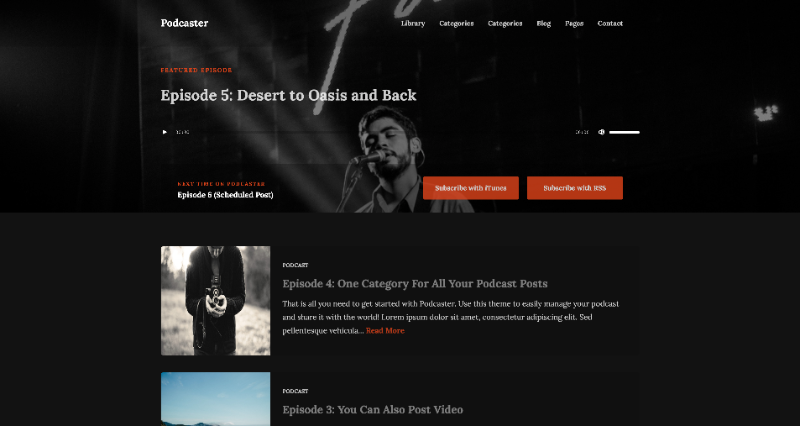 In terms of supporting podcast functionality, Podcaster implements two WordPress plugins. First, Seriously Simple Podcasting — an easy-to-use podcasting solution for WordPress that is as powerful as it is simple. It uses a native WordPress interface and has minimal settings so as not to distract you from what you really need to do – publish your content.
And second, Blubrry — which is a powerful podcasting suite for hosting, analytics, publishing, and podcast promotion. You'll be able to use this plugin to add things like advertisements to your podcasts.
Themestation have managed to sell 2,200+ copies of this theme, so it's not only very flexible but also a best-seller.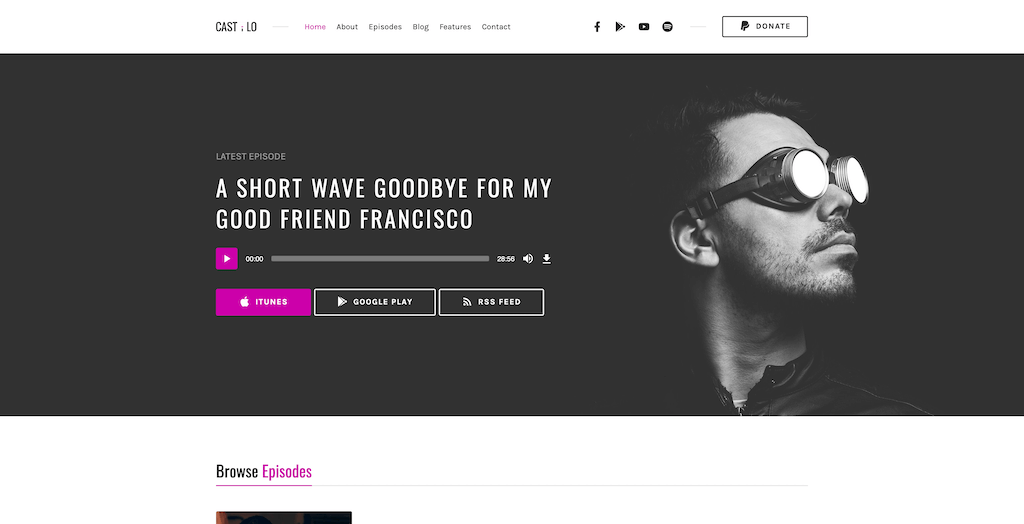 Castilo is yet another excellent podcasting theme for WordPress sites. It is designed from the ground up as a theme that integrates the most necessary podcasting features. The theme layout and functionality is created in a way that allows you to easily submit your podcast to sites like iTunes, Google Play, and Feed-based websites. All in all, you're in charge of how you publish the podcast. The theme will simply make sure that your content is compliant with modern podcasting services.
Further, it is possible to import your podcasts from external resources such as RSS feeds. All you have to do is specify the link to your podcast, and the theme will do the rest. Publishing new episodes can also be scheduled for a later time. So, in reality, Castilo actually saves you time if you don't wish to publish new episodes manually.


As a podcaster, you're going to want to know who is listening to your podcasts. Fortunately, Castilo comes equipped with tools to help you understand just that. The statistics include details for all your listeners, including where people are listening from. You can get quite a lot of audience details this way, and perhaps use this data to attract more niche advertisers.
Last but not least, it's still a website and it's still built with WordPress. So, performance is on your mind. But fear not, because this theme is optimized not only for mobile-friendly devices but also for amazing performance scores. The fortunate part is that Castilo doesn't overflow your site with extra elements. Most of the design is kept on-point to ensure seamless user experience.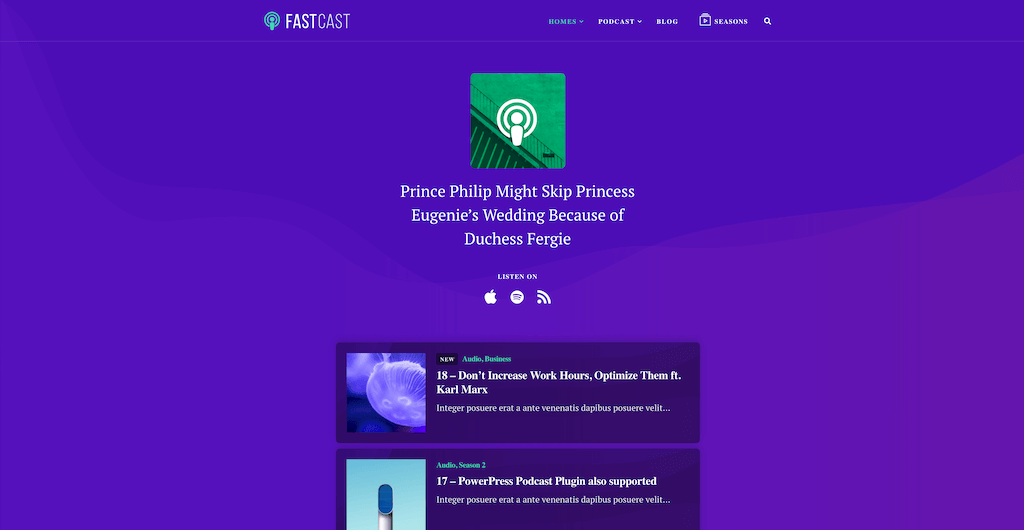 Fastcast will be an excellent addition to all of you looking for portfolio-style podcasting themes. It is essentially a portfolio of your latest episodes, which combines elements such as blogging and community all-in-one. Once you publish an episode, you can decorate your page by adding blog-style content, and enabling comments so people can voice their feedback long after the episode has finished.
It's also fairly colorful, using the blue color scheme as a default. If you're not a fan, then head over to Customizer to apply custom changes. I still think that the minimal design is worth the necessary time investment to customize this theme for your individual linking.

You can set up things like "go-to timestamp" and add it within the podcast page. This feature helps your listeners quickly jump to important bits and pieces for your podcast. But also, it works great to write blog posts around your podcast and link to specific times.
Further, Fastcast also adds a "Seasons" popup. This popup can help new listeners to quickly find episodes that resonate with them the most.
All this and much more in this very polished and minimalistic podcasting theme.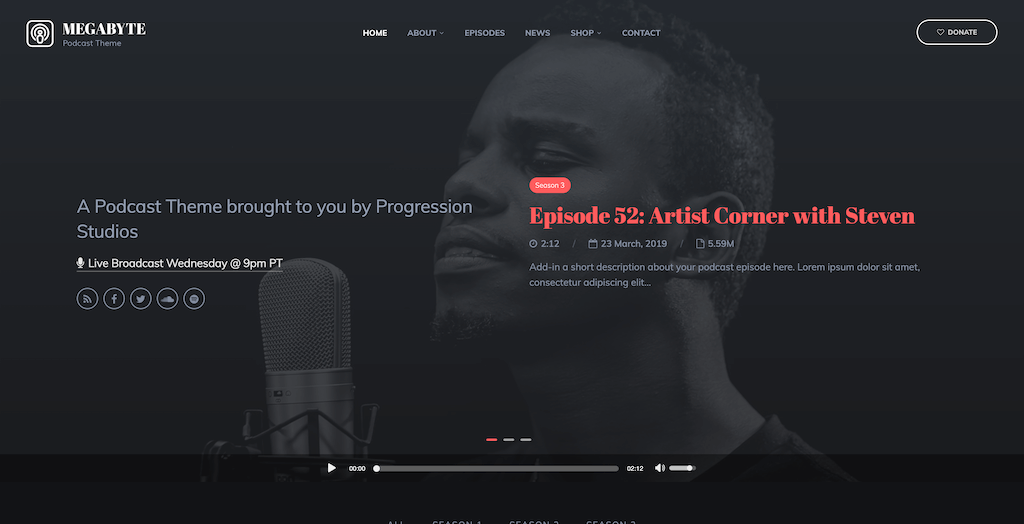 ProgressionStudios have built Megabyte — a strong WordPress theme to give your podcasts the light they deserve. It's a theme built entirely on the principle of a page builder. So, you'll be able to edit any site element or manage any section without needing to write code. This includes managing element size, colors, and other customization options.
Further, Megabyte comes with the Boosted Elements plugin. This plugin covers several content areas, such as Sliders, Popups, Google Maps, and more. For the most part, you can simply import an existing demo design and either use it out of the box or add customizations as you feel.
Each podcast you publish you can populate with a description, add relevant video files, and even include podcast notes. Like we learned earlier, podcast notes are extremely helpful to help listeners find important bits and pieces quickly.
Where to Promote Your Podcast
You can't talk about podcasting without bringing up the topic of promotion. So, how can you promote your newly created podcast? Is there some recipe to it all or is it simply based on luck? For the most part, it's a mixture of both, with the former being truer than the latter.
Here are the top places to publish your podcast on day one:
iTunes. The OG of podcast publishing, iTunes can provide you with an enormous audience boost granted you get some exposure first. Podcasts published on iTunes frequently get promoted but are also automatically published in podcasting directories through RSS.
Spotify. Since Spotify no longer requires a premium membership to use, many have started to publish their podcasts there. And with great results. Spotify's recommendation engine makes it easy for others to discover your content, either by chance or by searching.
YouTube. Even if you only record audio files, it's still a great idea to publish your podcast on YouTube. Simply use a cover image as the last resort if you don't have any video footage. YouTube videos are much easier to link to by other websites, and will often be natively discovered by users anyway.
Stitcher. Stitcher is an on-demand Internet radio service that focuses on news and information radio and podcasts. It provides free online streaming through the website and via native mobile applications such as the Android, BlackBerry, iPhone, and Palm webOS.
Closing words
So, there you have it. A thorough guide on how to start a podcasting website using WordPress. In most cases, besides finding good software, all you really need is a solid WordPress theme to get the job done. Fortunately, we chose to cover both areas extensively for this post.
Let us know in the comments if you need help or clarification. Starting a podcast can definitely be a frightening thing. But it won't take long before you get a hang of it all.