Content Marketing Guide for WordPress Bloggers
Content marketing is not easy, but not all hope is lost. With the right approach, and tools, you can make your WordPress content work for you! This content marketing guide covers the intricate details of producing high-quality content.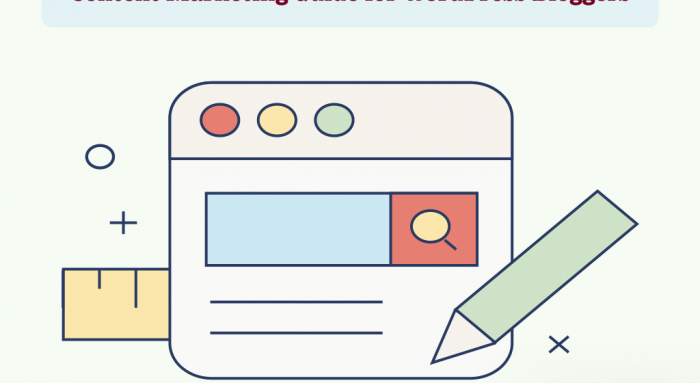 Content marketing isn't going to get any easier, and not for the reasons you might think. As the global publishing community continues to grow, so does the demand for high-quality content. And as more writers focus on perfecting their content, the edge of competition becomes sharp as a blade.
These days, we know that content marketing is more than just a means to an end. Good content pieces can accumulate immense recognition, and in turn, help to boost your brand presence in a given industry. Furthermore, content marketing is great for collecting leads to your email list, or simply to get more eyes on the services that your business is providing. In an age where content saturation is at an all-time high, it goes a long way to craft truly great content.

For example, WordPress does not provide tools to improve your SEO or tools that help you create custom forms for capturing leads. Additionally, there's no in-built analytics system, despite the fact that content marketing is all about understanding your audience's behavior. From this viewpoint, it's evident that WordPress serves more like a native writing platform, and in order to market your content, you have to think outside the box.
In this article, the content marketing guide for WordPress, we will break down the principles of good content, what tools to use to improve content quality, and how to boost your overall website performance through marketing-oriented solutions.
This article assumes that you have little to no prior experience in content marketing, but doesn't discriminate against experienced bloggers as we discuss industry-leading tips and tricks.
Definition: What is Content Marketing
Content marketing is a process that involves crafting and publishing captivating content. Types of content marketing include blog posts, video presentations, podcasts, and social media publications.
This content either educates or entertains your audience. Brands must ensure that they are being consistent with their content marketing efforts in order to stay ahead of the curve. In addition, it's pivotal that content is optimized for search engine receptivity.
The major aspect of content marketing is that it's not a direct sales method as many would like to believe. Writing content solely about your product alone can prove futile in terms of engagement, whereas being smart about your content will deliver lasting results in the long-term.
Let's take Slack as an example. It's the most popular team collaboration tool amongst developers, but their content strategy is far from casual tips about making the chatting experience more interesting.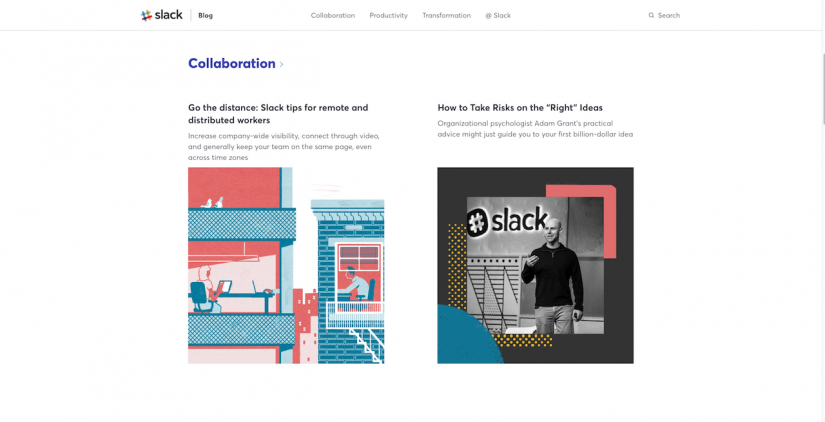 Their content is far-reaching, spread throughout categories like collaboration, inspiration, productivity, and business transformation. The message here is that Slack sees its users more than just developers, but actual people who work on real things.
As a result, their content is driven by the voice of reason. Whether that reason is to educate or entertain, that's entirely up to you.
What Is Content Marketing Used For?
Everything!
Content is a form of thoughts and experiences, so you can tailor your content to virtually any demanding situation. As a result, you can be flexible about the things that you write about, and what you wish for each individual content piece to achieve.
The major uses of content marketing are lead generation, promoting brand awareness, and establishing an influencer status in a specific field.
Further, brands use content marketing to acquire new customers, generate website traffic, and establish a deeper connection with their audience.
Another way in which brands use content marketing is to help users understand the ways in which a product can be used.
So, for example, if your product is about front-end development, can you create guides (articles and videos) that help to deepen your customers understanding?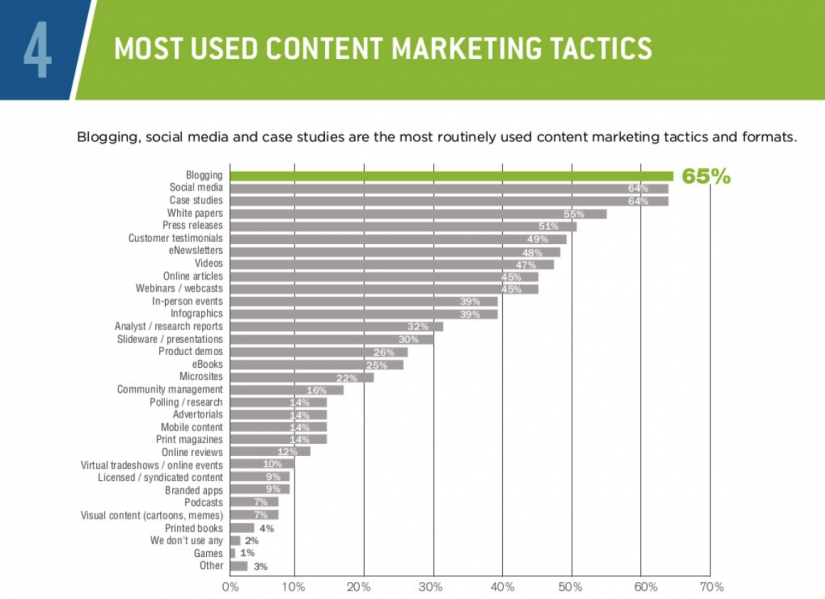 Amongst the leading tactics used for content marketing; blogging remains a definitive winner. And this is good news for WordPress users because WordPress is all about blogging!
Let's take a look at different strategies for improving the WordPress content marketing experience.
Design: Great User Experience is Essential
Prior to talking about software and plugins, it's essential to understand how big of a role post-design plays in delivering a great user experience. Back in the early days of blogging — blog posts were mere walls of text, with the exception of a few images here and there.
These days, a lot of content designing revolves around the idea of readability and search engine compatibility. After all, search engines drive the most organic traffic.

And now with the imminent release of the Gutenberg Editor — creating exciting and compelling content with WordPress is going to be extremely easy.
Nevertheless, as a blogger, you must develop a framework for producing content. A mindset if you will. Once you understand how different content design aspects affect your bottom line, it's only a matter of practice before all your posts are going to look exceptional.
Design Tips for Blog Posts
You can use the following tips to better understand modern requirements for writing the best content possible!
Clear typography. — Fonts and paragraph allocation affect your reader's experience. Large blocks of text are hard to read and readers can lose interest quickly. Whereas the use of confusing font-types can distract readers attention from what's important.
Relevant visuals. — Images speak for themselves. Whether it's a small photo to complement a paragraph or a full-blown data graph — adding relevant visual images to your content helps to enrich the depth of what you're writing about. Ask yourself, do you enjoy reading large walls of text and nothing but text?
Checklists. — You are reading a checklist right now. These things are useful. They're scannable and easy to digest. Use checklists!
Research data. — Making a bold claim? Add relevant sources so that readers don't feel like something's out of context. This is also known to be appreciated by search engines.
SEO optimization. — Finding balance in SEO optimization is key. Never write your content solely for search engines. If there's an opportunity to add a keyword, use that opportunity wisely. Also, use your existing content to promote other topics and pages on your blog.
Quality above all. — If you have the choice between explaining something in 50 words or 250 words — always go with the former option. The less text you use to explain something, the more engaged your readers are going to be.
Another way to learn is to study blogs and platforms in your niche. Explore their content and try to notice their design choices. Successful content pieces don't just fall from the sky, so don't feel too awkward about studying your competition. Takes notes and implement new ideas whenever you can.
If you plan to market your content, it's to your advantage to market content that looks presentable. Don't hesitate to hold back on hitting the Publish button if you know, for example, that there's a nice visual you want to create and add to the post.
Chances are, that nice visual could end up being your most shared resource across all marketing channels.
SEO: Effortless Content Optimization with Yoast
SEO (Search Engine Optimization) is all about organic traffic, arguably the best non-paid source of traffic for your content. Thoughtfully crafted content can easily attract visitors that are going to convert into customers. When it comes to WordPress, the most acclaimed SEO plugin is Yoast.

This nifty plugin takes care of optimizing page titles and also provides a separate Yoast SEO Dashboard within each new post you create. The dashboard analyzes your written content in real-time to check for potential issues with readability and keyword placement.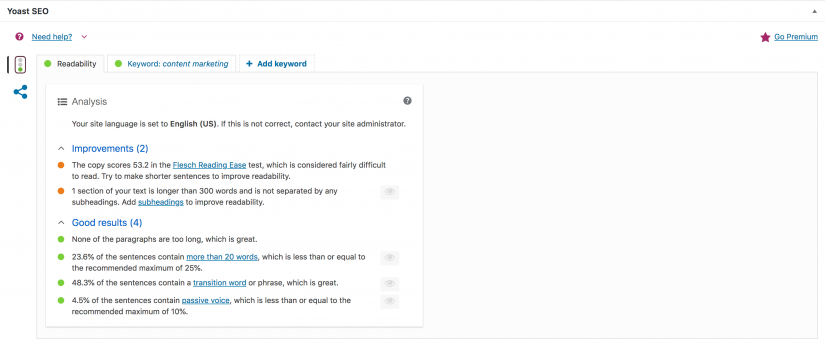 The great thing about Yoast is that it shows up on every post. As a result, you can go back to your older publications and check their status in terms of SEO requirements.
Once you add a specific keyword for your post, Yoast will analyze the placement of the said keyword. The plugin also checks for things like keyword density, text length, amongst other critical content optimization aspects.
If something isn't right, the plugin will mark the issues with red color and you can adjust accordingly.
Overall, Yoast is the easiest to use but also one of the most complete SEO plugins for WordPress! You can rest assured that millions of bloggers are using this SEO plugin to improve their content marketing results.
Analysis: Google Analytics Will Suffice

So far, we have covered what is content marketing, the essential design tips for blog posts, and also the best SEO plugin on the market. At this point, you should be well on your way to publishing great content, and hopefully, start seeing some results.
And in order to track results, you need a reliable website analysis tool. There's really no one else out there that does it like Google Analytics. For a free analytics tool, GA does more than enough to help you understand how well your content is doing.
You can inspect User Behavior, and specifically, Site Content. The Site Content data shows which pages are most popular on your site so that you can continue developing your content strategy around those topics.
A couple of years ago, you could even monitor the most popular keywords, but Google had to remove this feature due to the implementation of secure search.

Worth mentioning here is the MonsterInsights plugin — a Google Analytics dashboard for WordPress.
MonsterInsights lets you connect your WordPress site with your Google Analytics account, and all the data gets streamlined directly to your admin dashboard. The plugin simplifies the native GA interface to something more concise.
However, MonsterInsight still supports features like Tracking, Optimization, and Real-Time data.
You can setup custom events to track specific advertisements, or how many times a certain file has been downloaded.
Further, you can set up trackers to check views for specific pages and forms. It's a powerhouse of a plugin that takes out all the technical difficulties out of using Google Analytics to its full potential.
Social: Give Readers a Reason to Share
It's no secret that outstanding content generates social media attention organically. But, that doesn't mean that you can't encourage your readers to share your content on social media. As the web adapts to unique JavaScript techniques, developers are busy creating niche plugins that amplify certain aspects of your content.
One such plugin is Click to Tweet.

This plugin adds a simple shortcode to your editor that you can use to wrap a single sentence. Ideally, something concise and clever to invoke curiosity in readers. After you have wrapped the sentence, this plugin will automatically present a clean widget on the post page that readers can click to send your post directly to Twitter.
Even though it's a simple concept, you might surprise yourself with the results! Besides, using this plugin gives you more the reason to try and come up with witty oneliners to include in your posts.
Adding Social Sharing to Your Images
Another lesser utilized marketing technique is adding social sharing buttons directly to your images. Sites like Pinterest are strictly image based, so there's quite a bit of potential there to have readers share an image they like directly from their viewing screen.
Share This Image is a plugin that does just this, and more.

This plugin appends your content images with custom social sharing buttons. At the moment, there's support for social platforms like Facebook, Pinterest, Reddit, Twitter, and a few others. The plugin is built to share exactly the image that a reader decides to share.
Because the plugin works out of the box, all you have to do is activate and the plugin does the rest automatically.
There's so much in-depth research available on the effects of visual content marketing, and one would be a fool not to try it out for themselves.
Schedule Your Content on Social Media
If you are present on social networks like Twitter, Facebook, Pinterest, and others, then you're spending a lot of time manually publishing content to the said platforms. And that's the time that you're not going to get back.
Fortunately, social media posting can be automated! And we have written about this extensively in our post about WordPress task automation. Other great platforms for social media management are Buffer and Hootsuite.
Repurpose Your Existing Content
It's not called content marketing for nothing! Content repurposing means that you take an existing content piece and repurpose it in a new format. Which includes trying out content formats that you might have overlooked or never even heard about.

Here's a list of different formats you ought to consider:
eBooks. Convert some of your larger pieces of content into downloadable PDF (eBooks) files. Offer the said files as part of your email list growth strategy.
Slideshows. You can use Google Slides or Desktop-based software to create slideshow presentations using only your blog posts.
Videos. There's an increasing demand for video content, and very few people have the resources to get on this hype train! You don't have to worry about a professional camera if what you have to offer is of value.
Infographics. Sites like Piktochart offer a painless way to create stunning infographics. On top of being visually appealing, infographics tend to get all the attention on social media platforms.
Of course, these are just a few suggestions to consider. Repurposing content can provide you with new ideas and ways of looking at things. Who knows, you might discover a completely new marketing channel for your brand, one that drives more sales than your actual blog posts.
Over To You
Content marketing with WordPress is fun and straightforward. Once you understand the basic principles of writing high-quality content, then the rest is history. You might think that writing more is the way to go, but even that belief gets shattered when you realize that your posts are getting hardly any exposure. So, it pays to invest the right amount of time to ensure that whatever content you're producing — it won't go stale after a couple of weeks.
There's no doubt in my mind that once you start applying the techniques and solutions found in this post, your content marketing efforts are going to look much brighter than before. Afterward, you're free to explore additional channels and methods. Remember, because it's free content marketing (not using paid ads) — you are going to get back whatever you invest. In this business, being determined and persistent are the two key qualities for success.
We sincerely hope that this article shed some light on the different ways that WordPress bloggers can improve their content marketing efforts. If you have feedback or wish to share additional tips, please do so in the comment section below.