8 Push Notifications Tools and How to Build a Subscriber Base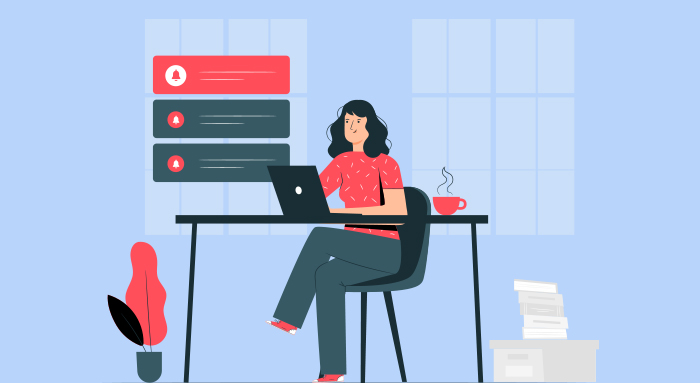 Unlike email newsletters that have been around for more than a decade, push notifications are a fairly new system in this regard. Nonetheless, most of you will have already seen how push notifications work or have had an interaction with them. More so if you are an avid user of your smartphone. Most mobile apps implement push notifications in some form or another.
As an example, if you book an Uber ride for yourself, eventually you're going to get a push notification that tells you that your driver is nearby. Whereas on the web, push notifications are largely used as a means to collect readership and subscribers.
Of course, due to the nature of push notifications, not everyone is a huge fan of using them or encouraging the use of them. There's a certain drawback that many call it "annoying" or intrusive to user experience. To an extent, I agree with this. If you open up a new page and all you see are 5 different popups telling you to subscribe, I am instantly going to leave your site. And I think I speak for many of you in this regard.

That said, it's important to understand the difference between Web and Mobile push notifications. Although both have similarities, there are certain things that both types either can or cannot do. So, here's a quick rundown.
Web Push Notifications
These are mostly used to collect new subscribers to your site through the user's web browser of choice. As an example, when you enter a new website, you'll see a small popup show up in the left-hand side corner asking you to subscribe to push notifications.

You always have the choice to either Allow or Deny the subscription. By Allowing, you will be signed up on what's called a subscriber list. From thereon, the site owner can send you individual news and updates that will pop-up directly in your browser. No need to open an email or anything else.
Furthermore, push notifications are limited in the sense that you cannot push a full-fledged email, but only a link to your latest news or announcements. So, in a sense, it's a more convenient method of announcing news than sending out emails which many people can eventually overlook and ignore.
Mobile Push Notifications
If you use platforms like Instagram, Amazon, Twitter, or similar services, then you're already familiar with push notifications. Whenever someone "likes" your content, you're going to get an update sent to your phone. Likewise, if something becomes discounted that you have on your shopping watchlist, then also, you'll get a push notification for that, too.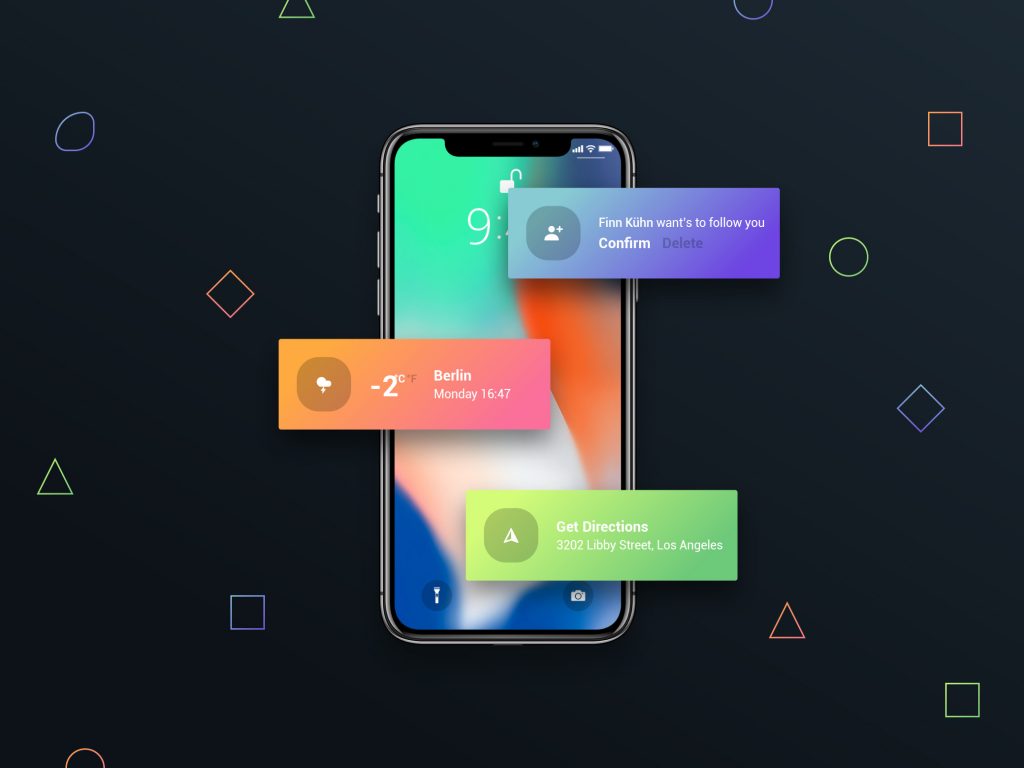 Mobile push notifications provide enormous flexibility in the sense that you can work with data and different user interactions. Whereas, for the most part, web push notifications are used to build a subscriber base to which you can send out regular news.
This also brings us to the core idea for this article. We're going to be showcasing some amazing and advanced push notification tools that you can implement in seconds. This goes out to all of our WordPress users, too. Some platforms cater specifically to the blogger-type systems, while others might take some time to learn. And, maybe, even a developer to help you handle all the different interactions you wish to achieve.
In short, wouldn't it be nice if your readers could wake up, check their phone, and see what you have published yet another great article or blog post? Traditionally, this would only be possible through email newsletters. Which, of course, have their place and purpose in the marketing sphere.
Here are our best picks for the most modern and advanced push notification tools on the market. If we've missed one, feel free to leave a comment and we will take a closer look. Most of these are, in fact, targeted for people who use some form of a content management system.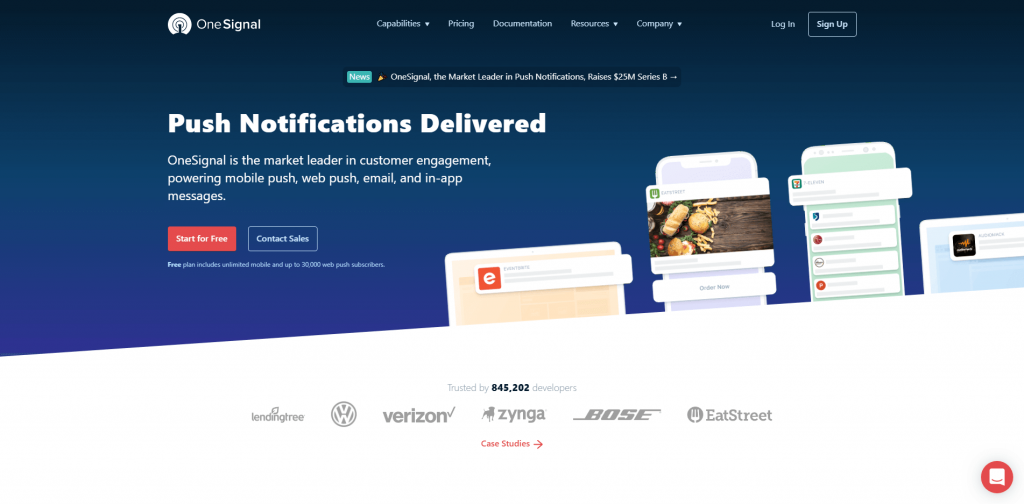 Having worked with OneSignal on a freelance basis as well as using their product, I have nothing but good things to say. It's truly one of the more advanced push notifications tools out there. And their entry into the market has also been spectacular. Frequent updates, tools and plugins for popular CMS systems, and so much more good stuff.
Looking at the OneSignal WordPress plugin specifically, we see that it's a reliable means of gather subscribers in a new and exciting way. All it takes to get going is signing up for OneSignal (after you have installed the plugin), and enabling the web push notification feature.

This will then automatically add the push notification bar to all new visitors who come to your site. Giving them a choice to either accept or deny a subscription. You'll be able to monitor just how many subscribers you have, as well as their engagement rate.
Furthermore, OneSignal provides a lot of flexibility in sending out specific campaigns. Whether it's a new product you're launching or a blog post you just published, notifying all your subscribers takes only a single click.
And I think that one of the most extraordinary features of this tool is that you can enjoy for free for up to 30,000 unique subscribers. That is far more than a lot of the other competitors are offering. And, not everyone can even dream of reaching that high numbers.
Granted, becoming a premium user will give you access to more segmentation features, additional templates, and an unlimited number of messages you can send. The free version is limited to only 1 message per push notification.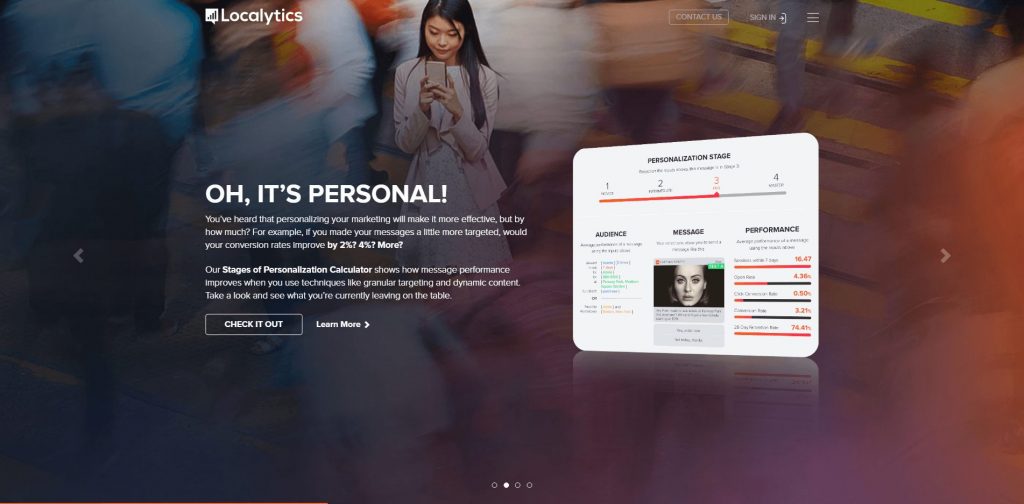 Localytics is one of the leading marketing platforms specializing in data analysis specifically on the mobile side of things. Although their push notifications implementation is revered, even more so is their dedication towards analysis and data depiction.
If you ever look up data about push notifications, it's almost guaranteed that there's going to be some kind of mention of Localytics in the article or write-up.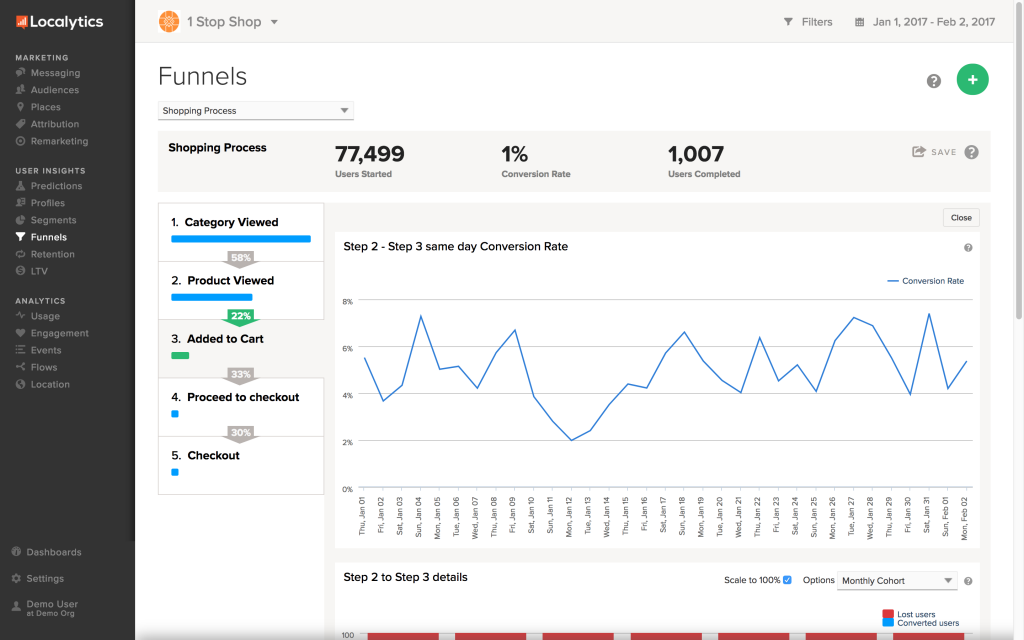 Now, in terms of getting Localytics to work with WordPress, you'd have to rely on platforms like Tray Tray will do all the heavy lifting to ensure that your WordPress users get your notifications and that you can track their individual performance.
But, if you're a mobile app developer, well, let us tell you no more. This is the prime choice for the majority of brands and corporations who consider push notifications a serious aspect of their business. With countless awards behind their name, these guys will transform the way you interact with your users (on mobile) using push notifications.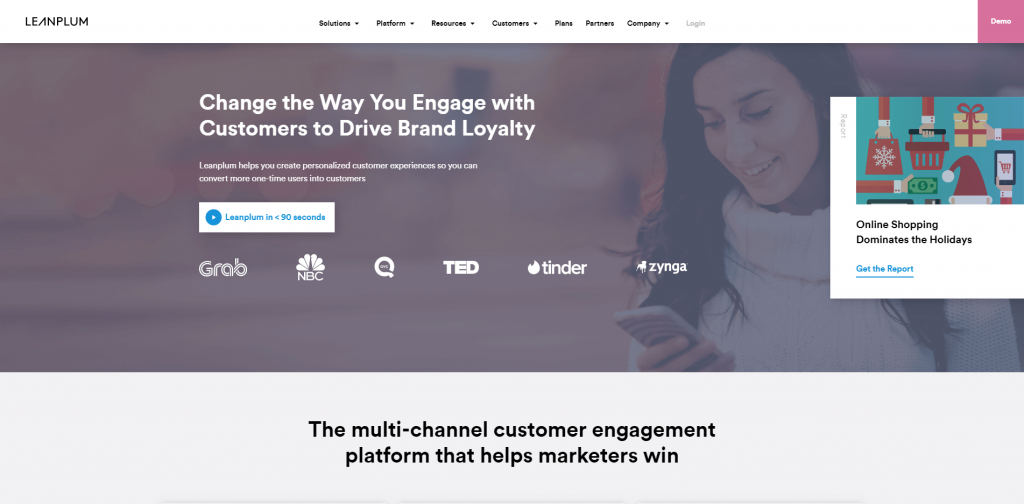 Leanplum is a mobile-first platform built to serve as a catalyst for driving pure user engagement. As a mobile-first platform, it is built from the ground up to integrate seamlessly with mobile systems. Furthermore, this approach ensures that Leanplum stays on top of its game whenever iOS, Android or other MOS updates their system.
Next, there's the marketing aspect. Leanplum doesn't just resolve push notifications, it greatly enhances them. This is done through features that allow for in-depth user analysis, segmentation, and campaign structuring unlike anything else. Furthermore, you're able to modify your campaigns for needs like A/B testing, niche targeting, and more.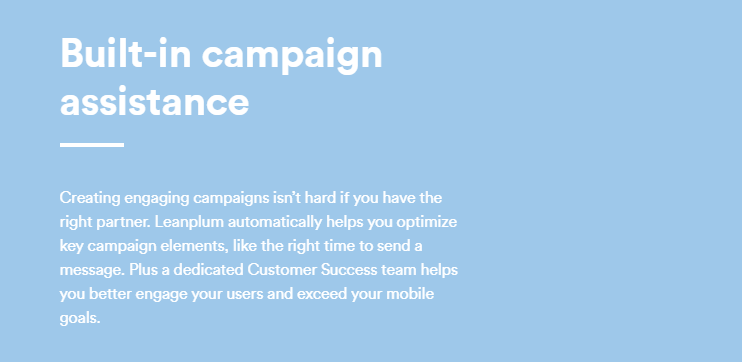 When it comes to using Leanplum with Web-based platforms, it can be a bit of a hustle and bustle. Whereas mobile integration is one of the best on the market. You can get started from the moment you publish your mobile app on any given app store.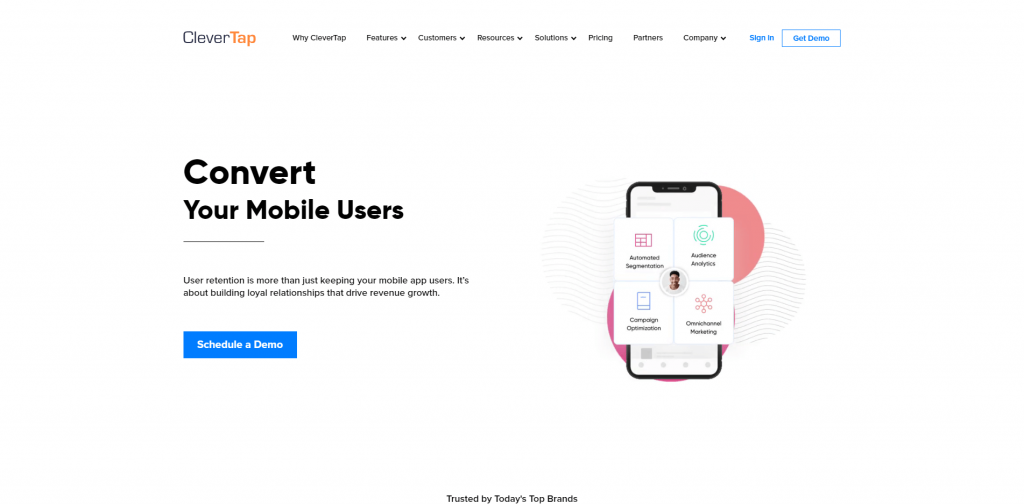 CleverTap is a relatively new push notifications system that enables marketers to target their users based on different types of segmentation criteria. It also specializes in application analytics, helping you understand your users even more. Which, of course, is essential if you wish to send out messages that make sense to your users.
This is also the best part of push notifications in general. You can, over time, understand your audience better. And, in turn, send out more specific messages. Much like you would with email marketing. The only difference is that your users will see the messages you push out directly on their Desktop or Mobile screens.


CleverTap enables you to create segments, which are a group of users whose actions or user profile properties match a set of criteria you've defined. Once you've created a segment, you can target them with a campaign or create a report to analyze them. CleverTap campaigns enable you to communicate with your users at scale. CleverTap offers nine different messaging channels to reach your users on the optimal channel.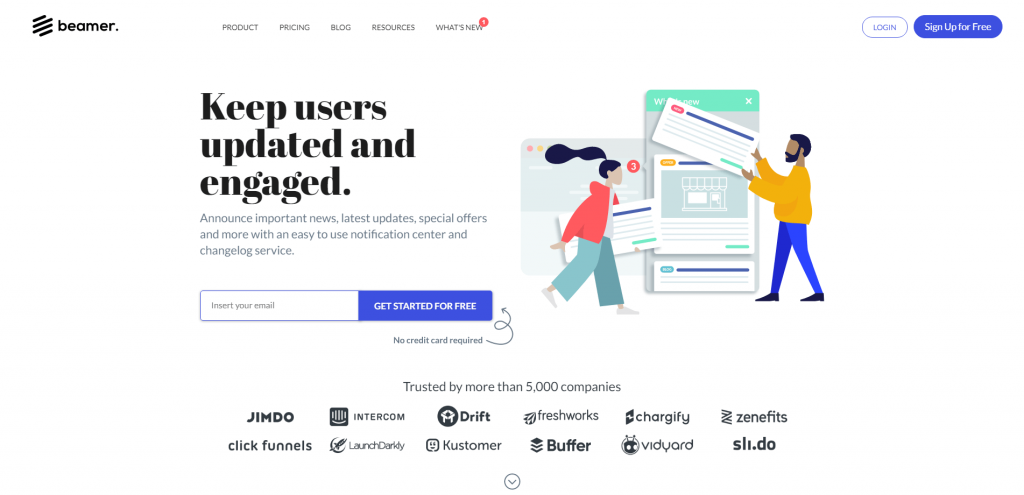 Understandably, a lot of the push notification tools in this article are intended for professional use. OneSignal, which we mentioned as the first tool, definitely tries to cater to all types of audiences. But, I can understand the frustration of trying to implement an advanced tool into your existing WordPress, Joomla, or Drupal website. It can be a tedious process.
So, having said that, here is Beamer. A relatively new tool on the market that is also trying to make push notifications accessible to everyone. Their business motto is also quite straightforward, "Create news. Collect subscribers. Announce said news. Rinse and repeat!". It doesn't get any simpler than that.


Getting started is as simple as installing an embeddable code in your website's Header.php file. Everything else will be automatically managed from your Beamer dashboard. And the same goes for all the popular website creation and content management tools.
In fact, Beamer works with most websites quite seamlessly. It does have specific tutorials for getting Beamer to work on:
WordPress
Squarespace
Simvoly
Zapier
In return, you get to collect new subscribers and send out notifications whenever you please.
As for pricing, the free plan includes up to 1,000 monthly users with watermarked notifications. The Enterprise plan ($249 a month) will give you unlimited of everything. But, also, access to advanced analytics, segmentation, and even user feedback.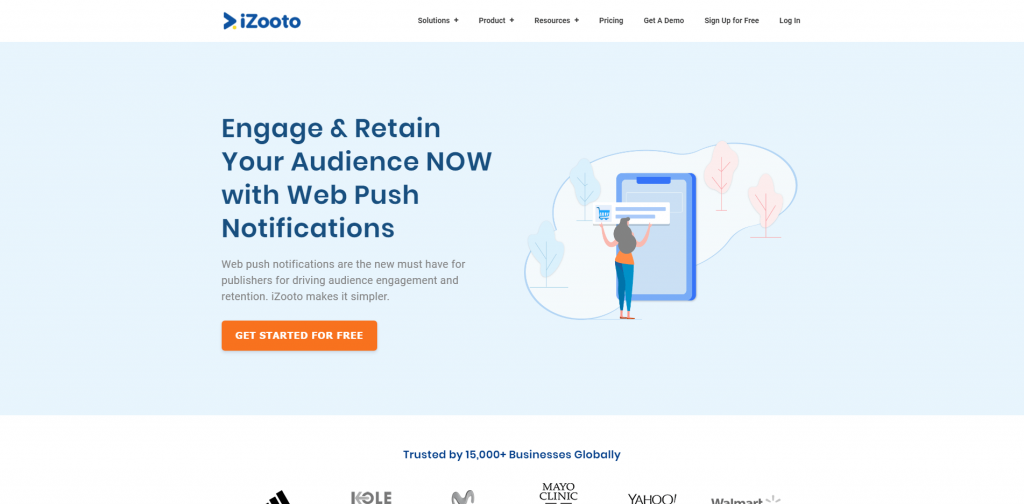 iZooto is a specifically developed platform that aims to help eCommerce business owners to better manage their subscriber base. It integrates with your favorite tools like Shopify, WordPress, Magento, BigCommerce, HubSpot, and a ton of other content management tools.
At its core, iZooto aims to help you gather and retain subscribers through web push notifications. The notifications can then be sent out either to Desktop or Mobile users, and you get access to plenty of customization options, too.
Here are some of the most prominent features:
Install with one click by activating the WordPress (or another platform) plugin. Requires an iZooto account.
Fully supports AMP websites so that you don't lose out on potential subscribers.
Customize and create drip-based notifications. E.g. Send a notification after a user performs a certain action.
Publish your notifications without leaving your WordPress site. Likewise, you can automate the process for blog posts so you don't have to send out a blog post announcement manually each time.
If you want to learn more about what iZooto can do for you, check out either their official website or the WordPress plugin page which is quite detailed.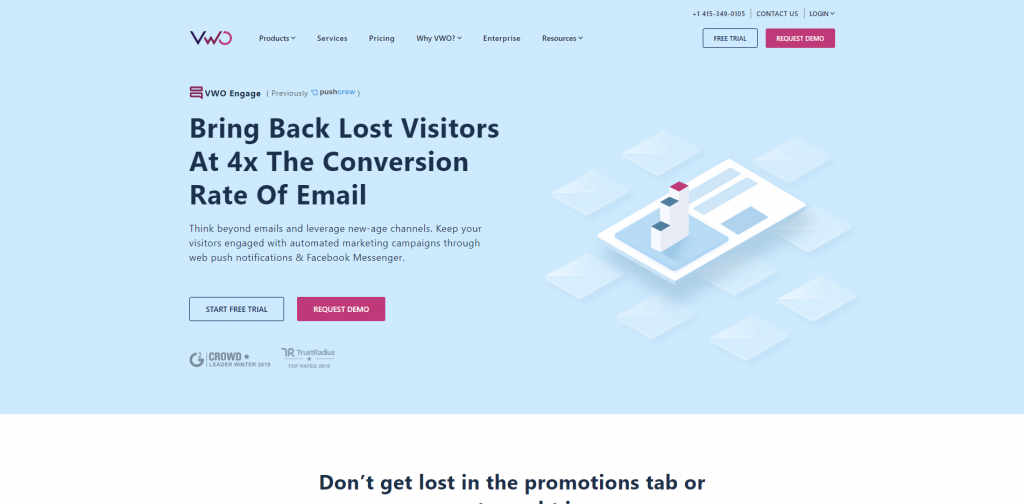 Previously known as PushCrew, the new and exciting VWO Engage platform is going to transform your digital marketing efforts. In individual studies, VWO found that push notifications provide as much as 4 times the conversion rates that of email. Any business-sound person will acknowledge that it's a tremendous improvement in sales.
One of the features that VWO is pushing with its acquisition is Facebook Messenger integration. This basically allows you to not only announce news directly but also have real interactions with your audience. Although you might not be fond of using Facebook itself, Messenger is still a relatively popular messaging tool in any type of social circle.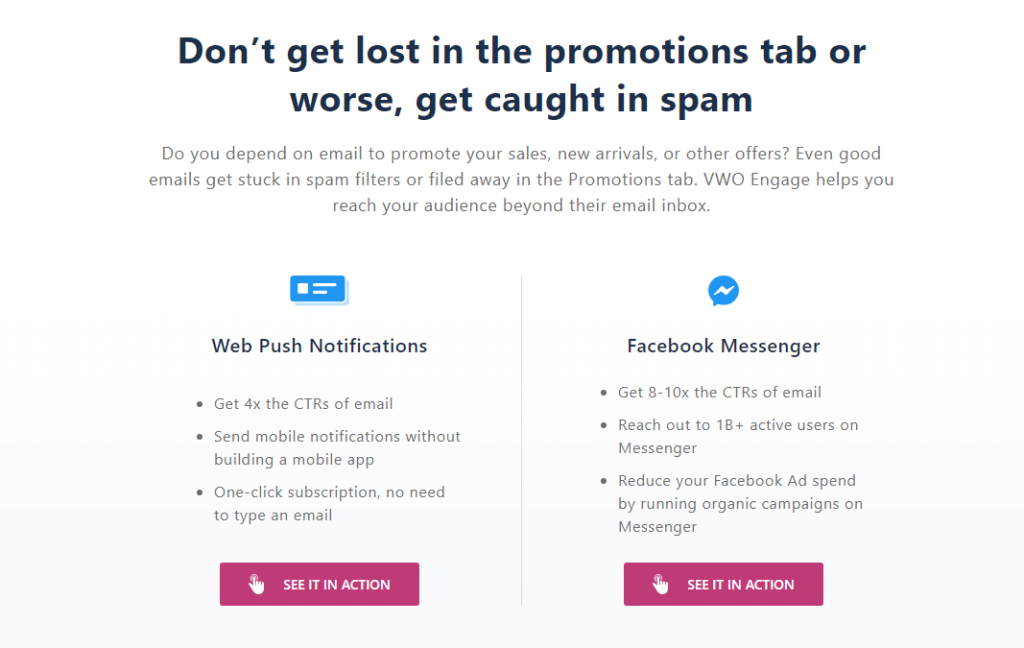 Facebook Messenger integration will be particularly popular with mobile users. Since most mobile users are already logged-in, having a popup show up asking for a subscription takes only a single click. Whereas email might prove to be more tedious as you have to be checking your email for a confirmation link and so forth.
Overall, it's something worth exploring and looking into. If the majority of your userbase is mobile-based, then having access to these tools can transform your entire marketing strategy. Not to mention, VWO makes it effortless for you to analyze your audience data and send them out notifications just at the right time.
At this time, it seems that VWO has decided not to update the original WordPress plugin. Nonetheless, you can still use VWO with any site effortlessly due to its JavaScript-code based integration into your site. That also makes this specific tool accessible for free websites and such.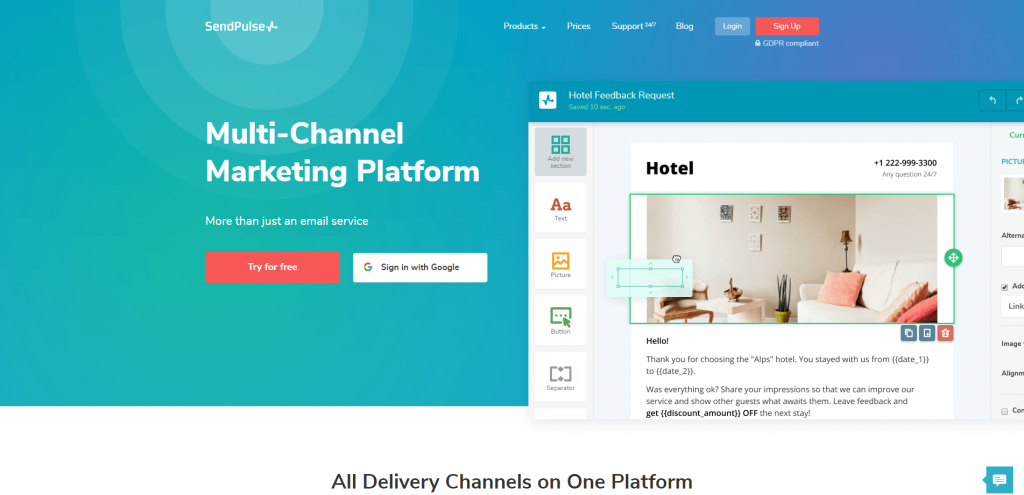 SendPulse is the jack of all trades when it comes to digital marketing automation. Not only do they specialize in Web Push Notifications, but also in areas like Email Marketing, Facebook Chatbots, Bulk SMS Services, and more!
You're going to love the simplicity of building a new notification and sending out to your subscribers. Every step from installing to using the tool is powered by some form of a pre-built installation process. This makes SendPulse accessible even to the most novice of web users.


Need segmentation? Not a problem. SendPulse will let you pick from segmentation options like browser language, region, subscription page, date, and more! Just the kind of features to give you peace of mind when it comes to sending out notifications to the right audience.
Last but not least, this tool is free to use for up to 10,000 subscribers. And that's a significant number. You won't get access to tools like segmentation, branding removal, or A/B testing, but it's a good start nonetheless. Whereas if you do desire those features, it's roughly $15 per month for 30,000 subscribers.
Closing words
As you saw throughout this article, the diversity in this kind of tooling is massive. You have choices for simple blogging needs, but also flexible eCommerce projects where you want to attract more sales.
Likewise, many of the mentioned push notification tools cater to large developer environments. This, in turn, provides a dynamic way of managing all of the information you have gathered about your readers, customers, etc.
Do let us know your success (or horror!) stories about push notifications. It's certainly a relatively fresh trend, but one that's showing a lot of promise on the Web side of things.