What Is The Best Instagram Wall for WP Websites?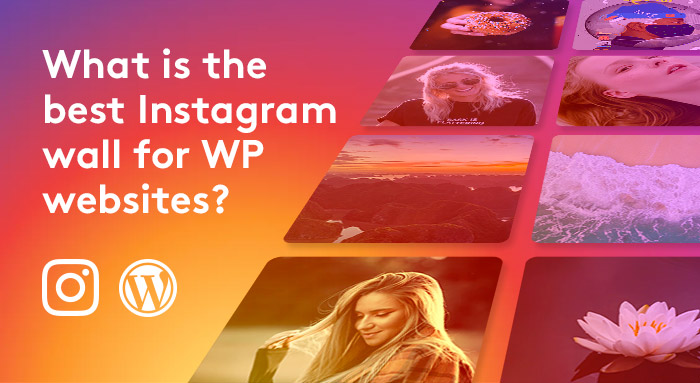 In the past few years, Instagram has become one of the most popular social media websites all over the globe. It seems like it is equally important to link Instagram to websites just like we do it on other social media networks like Facebook, Twitter, Youtube, etc.
In this way, most of the websites out there are based on WordPress because it is literally easy to use and there are so many amazing features to let us become a professional blogger.
So, in this article, we want to discuss the best Instagram wall for WordPress websites which are also free to use and let you perform a better version of Instagram marketing, derive traffic to both your websites, Instagram, and much more than this. So, stay tuned and choose the best one for your requirements.
1. Feed Them Social

Well, one of the best plugins to be used as an Instagram wall for WordPress websites is "Feed Them Social". Actually, this plugin is not just for Instagram and supports other social media networks as well. Hence, using it you can display the feed from Instagram, Facebook, Twitter, YouTube, and Pinterest. One of the best features of this plugin is that it lets you add as many feeds as you want and also, include follow, like and other buttons related to each social media website. Additionally, you can make sure that galleries created by this wall are totally responsive.
Best Features as an Instagram wall for WordPress websites:
Include Instagram feeds via shortcodes and widgets;
Shows follow and like buttons;
Display social feeds on any post, page, or sidebars;
Responsive galleries;
Customize Font Colors.
2. AccessPress iFeeds

When talking about an Instagram wall for WordPress websites, we mostly mean to integrate our website with Instagram to display posts shared on feeds. Fortunately, AccessPress iFeeds is a great choice to do so. Using this plugin, you can include Instagram post feeds to any posts and pages on your website, using widgets and shortcodes. Moreover, it has some amazing layouts that let you display the intended feed in an amazing way.
Key Features:
Display feeds in normal mode or slider mode or lightbox mode;
Compatible with mobile devices and fully responsive;
Fetch Instagram feed on any accounts using Instagram API;
Different layouts.
3. Social Slider Widget

Apart from including the Instagram feed on our websites in a regular way, sometimes we may need to install an Instagram wall for WordPress websites to be able to create a responsive widget displaying the latest posts on our Instagram account and encourage people to follow us.
This is exactly what Social Slider Widget does. Using it, you can include a widget showing the last 20 posts on your Instagram in a slider or grid layout.
Best Features as an Instagram wall for WordPress websites:
Doesn't need an API key;
Can set an interval to check for new posts;
Flexible layout settings;
Sort images Randomly, by popularity, or by date.
4. Social Photo Feed

One of the best plugins available is Social Photo Feed that lets you include Instagram feeds in your website pages. Actually, there are many free Instagram plugins that can be used. However, by using this one and paying just 19$ you can have really greater performance with your Instagram integration.
Using Social Photo Feed, you can decide to choose which content you want to display on Instagram. Also, you can make a decision about usernames, hashtags, and locations. Moreover, using this plugin, you can display multiple images on a single post with a slider format. All in all, it has so many advanced extensions and features that makes you become an intellectual blogger. Additionally, using these plugins and best unfollow apps for Instagram, you can literally increase your Instagram engagement rate.
Top Features:
Display photos from multiple Instagram account in single or multiple posts;
Completely customizable;
Display feeds in thumbnail, medium or full-size photos;
Includes a Follow on Instagram button.
5. 10Web Social Photo Feed

Like other Instagram walls for WordPress websites that we have introduced in this article, 10Web Social Photo Feed enables you to create a customized Instagram widget for your website. Luckily, this plugin supports old-school and classical shortcodes as well as widgets. Also, using it you can provide several layouts for your feed. Here are some of the best feature of it:
Key Features as an Instagram wall for WordPress websites:
Display individual and mixed feeds;
Add scroll and pagination features;
Skip specific pictures from your Instagram feed;
Use customizable layouts.
6. Social Feed Gallery

Another strong Instagram wall for WordPress websites is the Social Feed Gallery which can be known as the easiest-to-use plugin out there. Actually, this one is one of the simplest ones out there and only offers a couple of customization options. However, using the best WordPress themes for technology bloggers and this plugin, you can still increase your Instagram views and become a professional blogger.
Also, since it has limited customization, you can freely have your feed set up and run it in a couple of minutes which is really beneficial.
Best Features:
Easy to sync up and configure how to display Instagram feed images;
Customizable lightbox;
API use optimized.
7. WPZOOM Social Feed Widget

Formerly known as Instagram Widget by WPZOOM, WPZOOM Social Feed Widget is a fully customizable widget to display Instagram feeds on your WordPress website. Using this Instagram wall for WordPress websites, you can even display Instagram accounts including the number of followers, followings, posts, bio, and usernames. So, this can be a great choice for you especially if you want to introduce Instagram accounts in your blog posts.
Top Features:
Display a public feed limited to 12 photos;
You can fully customize it;
It can be placed anywhere you want.
8. Blog2Social

Actually, the most complete Instagram wall for WordPress Websites that can be found and used is Blog2Social. This plugin has so many amazing features that none of the ones introduced above have. However, as you may guess, it has to be purchased after a 30-days free premium trial. For a single basic license, you need to pay 5 Euros per month which supports up to three social media accounts and two users. Some of the most amazing features of this tool are as follows:
Switch your social media marketing on auto-pilot;
Monitor and measure your marketing success in Google Analytics;
Re-share and reschedule old posts automatically;
Supports different languages;
Automatically generates social media hashtags from post tags.
9. InstaLink

Another good plugin to be used as an Instagram wall for WordPress websites is InstaLink. Actually, using this one, you can choose to display feeds in a more customized way by changing colors, layouts, etc. So, getting benefits from this plugin and using the best WordPress plugins for creating a modern landing page, you can skyrocket engagements on your website and Instagram simultaneously,
Key Features:
Display photos by usernames or hashtags;
Fully responsive;
Flexible and user-friendly.
10. Instagram Journal

Finally, the last option on our list is Instagram Journal. This responsive WordPress plugin is a complete package of customizable options that lets you include and display Instagram feeds on your websites the way you prefer. Also, it has a premium plan offering you some amazing WP themes with captivating effects.
Best Features:
Display your photos, photos you have liked, friends, particular hashtags, locations, etc.;
Classic, collage carousel, section carousel, large carousel, and infinity view;
Fully responsive.
Final Thoughts
To sum it up, it is essential to include Instagram feeds in your WordPress websites. Because this has so many benefits. For instance, this increases your Instagram views in a short period of time and boosts your engagement rate. So, check out the mentioned Instagram walls and choose the best one for your needs.