Tips for Creating a Travel Blog with WordPress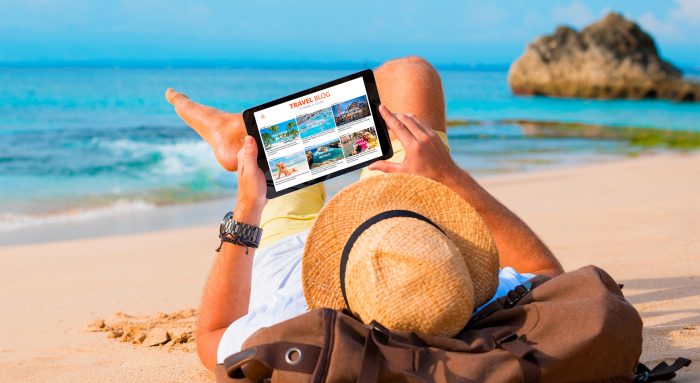 Travel is one of the fastest-growing industries in the world. Not only has travel become extremely accessible, but it's also growing in popularity on social media. People are learning how to make a living from their Instagram profiles alone, all based on travel diaries and stories.
So, for this post, we're going to look at the essential components for creating a travel blog.
To do this, we're going to use the WordPress blogging system. And to help you get started faster, we'll show you both the theme performing WordPress travel themes, as well as plugins related to travel tasks.
Before we get to all that, let's first examine the concept of travel blogs.
What makes a good travel blog?
Unquestionably, one of the things that makes a great travel blog is personality. Every person has their own personality and way of living. And, as such, each person experiences the world in a unique way. In order to stand out, successful travel bloggers incorporate a lot of their style into their travel journeys as well as their writing.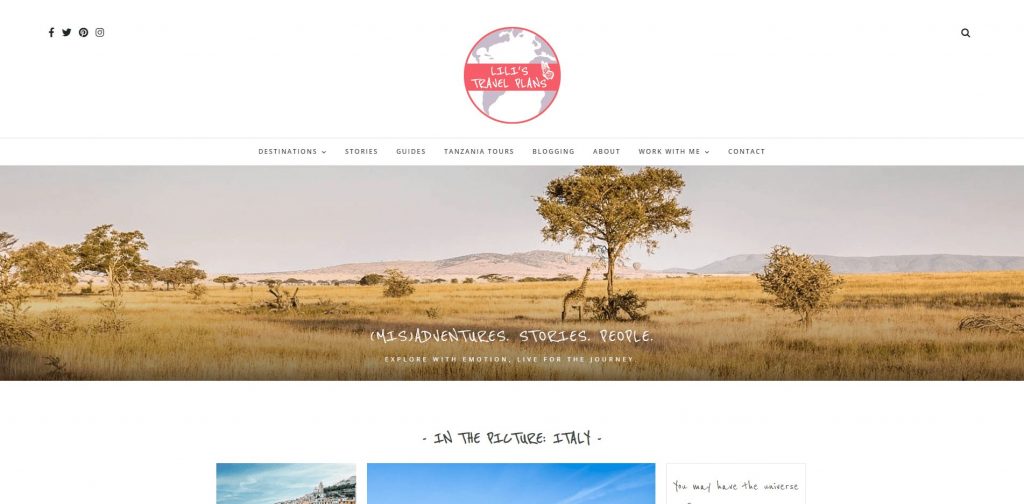 Take Lisa's Travel Plans as an example. It's a superb travel blog not only on the personality side but also on the community. And there are 3 reasons why Lisa has found the success she has.

A custom blog design with unique fonts. Immediately you can tell that this is a blog with a personal style attached to it.
Stories are based on personal experience. Everything from advice to guides stems from the author's personal travel journey.
Customized site navigation makes it easy for readers to quickly jump from post to post or from one category to the next.
You can do a similar analysis with any other travel blog, whether it's a personal one or a more branched out site that deals with a wide variety of topics.
Decide on your area of expertise.
At the end of the day, you'll feel most comfortable sharing on a topic that really speaks to you. Some people enjoy traveling Asia for its religious side, while others love to visit Africa because of the safari and so much more.
Finding your voice and style early will help you define your audience. And as you do, you'll find it much easier to promote products or other things as a means to earn revenue in the long run.
Why WordPress for Your Travel Blog?
Without a doubt, there's no shortage of choices for building a website these days. So, why WordPress, and why use it for your travel blog? I think that the number one reason would have to be accessibility. WordPress makes it easy to scale your website from nothing to everything.
Your site will work great across mobile devices, first and foremost. Then, you have the option of using eCommerce plugins like WooCommerce. All that makes it so easy to sell whatever you like online. And, WordPress has one of the best content management interfaces ever built.
Publishing new posts is easy, and can be enhanced through numerous plugins which give you more customization options.
Choosing a Travel Theme for WordPress.
It's hard not to have fun when designing your WordPress blog. Over the years, the availability of great designs has grown exponentially. On the WordPress Theme Directory, there are more than 7,000+ unique themes alone. And that's not counting all the free themes shared elsewhere on the web.
But, for this specific post on creating a travel blog with WordPress, we're going to focus on premium themes. Not all of them, but a select few that we feel will give you a solid headstart in starting your travel blog. These are hand-picked themes, so we can vouch both for their usability and their usefulness in running a successful online blog.
Let's take a look, shall we?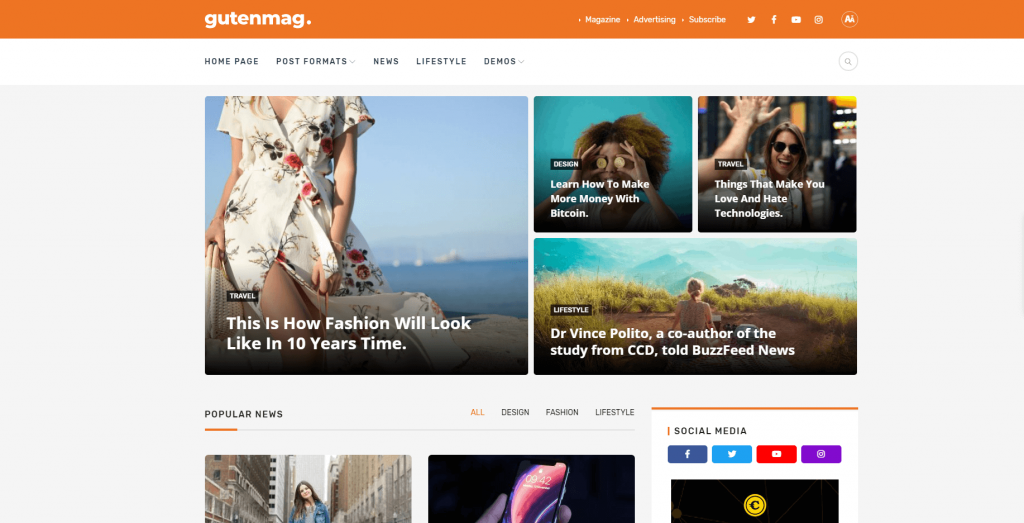 One of the safest bets for picking a travel theme is to go with something magazine or news related. Although specific themes exist for different travel categories, a magazine is usually the easiest way to get things started. You can share articles, write guides, and do so while retaining a nice and readable user interface. And for this reason, our first recommendation is GutenMag.
This is an in-house built WordPress theme specifically for lifestyle, travel, and magazine blogs. We've implemented all the latest Gutenberg technology in this theme, to make it both extremely fast but also very easy to work with. You can activate any of the demo designs with a single click. And adding new content can be done through blocks and other WordPress tools.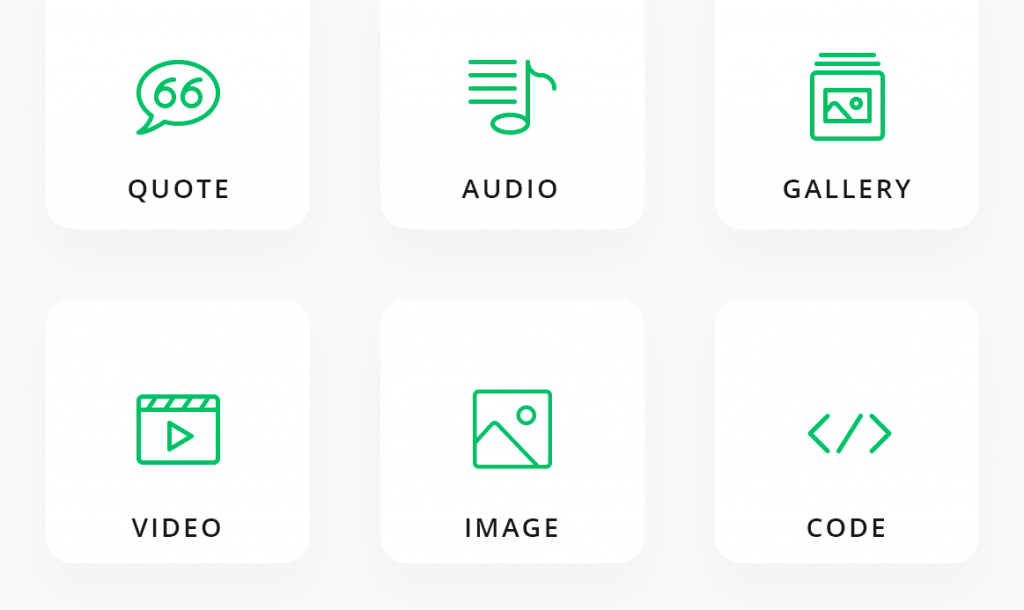 You can also take advantage of the many different post formats added to this theme. Specifically, galleries, videos, lists, quotes, and even audio content. With this large of a variety of post formats, you'll be able to expand on your travel stories with true depth.
Lastly, you'll get access to some phenomenal (free) tools. For example, a lazy loading effect for all your content. This will ensure that all your posts load without any delays. Further, you can use the Header Builder tool to create an entirely custom header for your own travel blog. This is great if you want to create a strong brand presence from day one.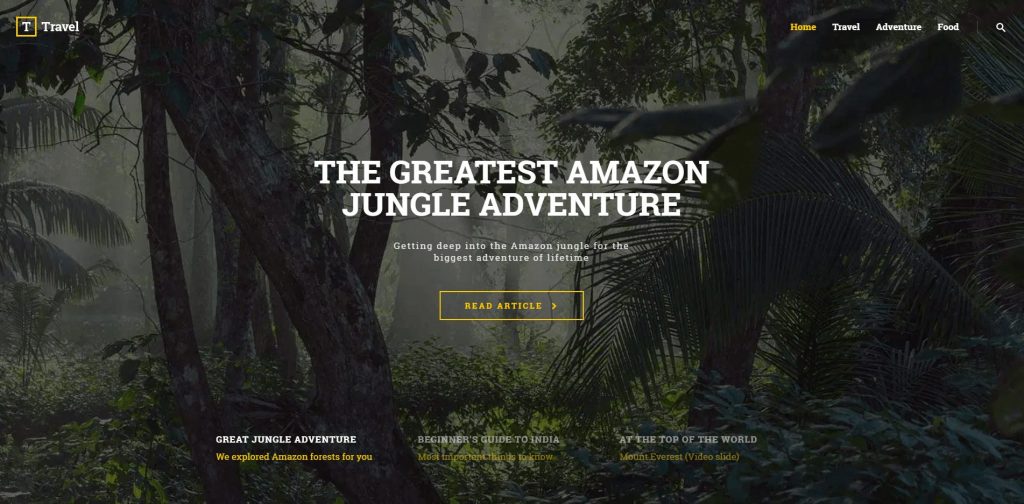 This multi-concept theme is all about publishing and editorial stories. If you want to go ahead and become a travel news story publisher, this is a theme to keep an eye on. Telling has a distinct design, which resembles high-quality contrasts and easy to use content navigation.
With Telling, you'll have access to the latest and greatest tools in publishing. As such, you'll be insured for years to come in terms of content management options, and post organizing tools. The best publishers provide multiple story types and formats, and the Telling theme has got you covered in this area.
One of the ways you're going to make most of your revenue is through advertising. Fortunately, the Telling travel theme implements custom advertising spots and widgets. And best of all, they're automatically rendered for mobile users, so you don't miss out on mobile revenue.
The color scheme is fresh, with easy to read font styles and coloring. It resembles a little bit of the National Geographic blog, which is well-known for its top-quality user interface. It wouldn't surprise me if the designers of this theme yielded a lot of inspiration from that specific design.
One thing's for sure, your travel blog is going to look fantastic with a theme such as this one.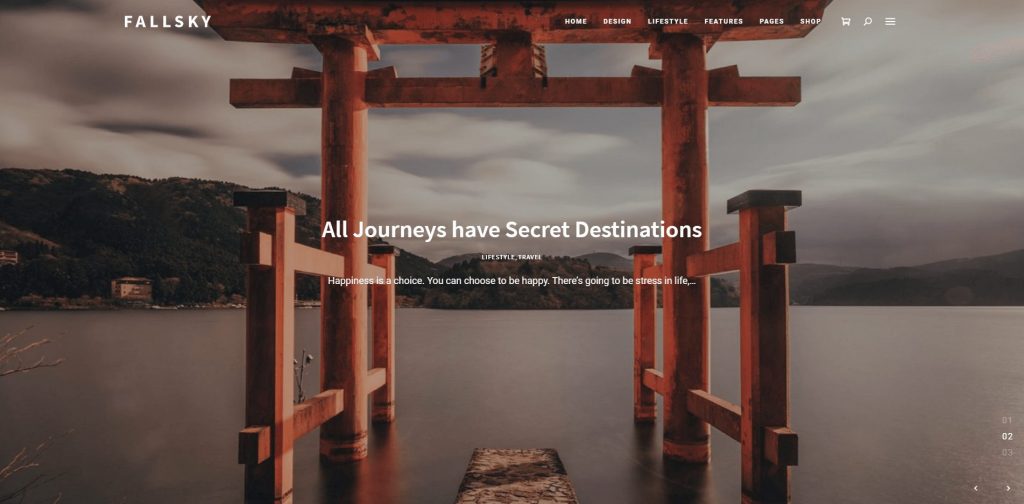 If you love to express your stories using large photos and extensive typography, then take a look at Fallsky. This phenomenal lifestyle-themed magazine theme has all the chops to satisfy your needs. The core focus on this theme is the visual aspect; photography.
From the homepage to post pages themselves, you're constantly surrounded by large visuals which will help to bring any story to light.
Not to mention, you can pick and choose from multiple pre-designed demo layouts. These include both lifestyle-style demos, but also specific layouts for travel blogs and travel agencies. Most importantly, each design is themed towards sharing stories and helping you promote your services.
Single posts have up to 7 different variations. This will ensure that you can give different stories a unique look each time. And using the Customizer, you can further customize individual colors and styles of website elements. Not only does it look great, but Fallsky also gives you ample opportunity to customize the web design further.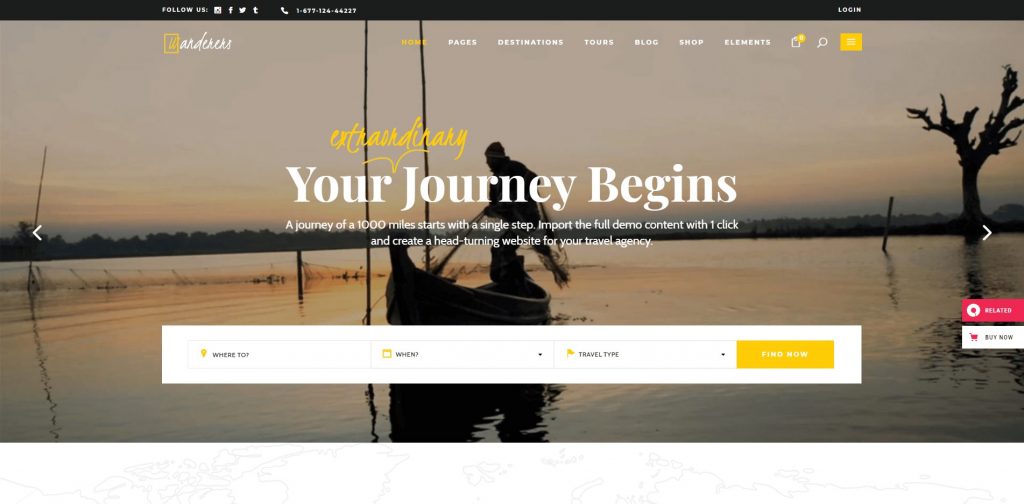 Looking past magazine-only type of themes, we understand that some of you might be interested in something more tourism-oriented. It makes sense, many travel business owners tend to steer away from content eventually. Or vice-versa, start with content and then transition to tourism services. And with the Wanderers theme, you can choose whichever way you wish to start, even if that means taking both routes at the same time.
The theme is designed to help you create both travel stories, but also travel packages. As an experienced guide, you can offer individual travel packages and showcase your experience with any given location. Users, on the other hand, can visit your site and look up your individual offers straight away.
On the homepage, there is a widget that helps users select their preferred travel dates and the country of interest. Afterward, the theme will output any matching results that you've yourself submitted inside the WordPress dashboard.
For listing pages, such as destination countries, you can provide ample amounts of information about the tour style and type. Most importantly, you can do this very quickly by using a pre-designed page type. Simply add new details, descriptions, photos, and you're good to go. The eCommerce side of things is automatically taken care of as soon as you add your billing requisites.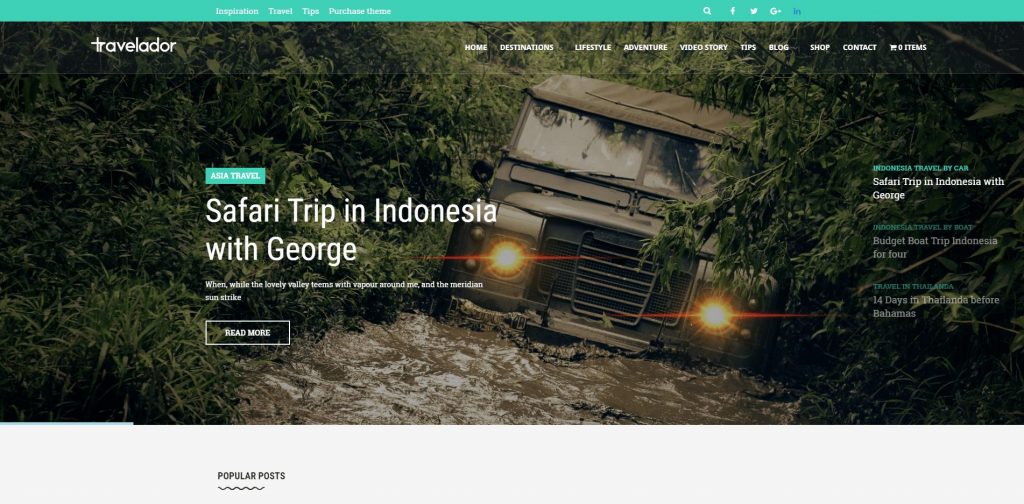 Lastly, we have Travelador. A theme focused on travel stories and guides. And it comes with WooCommerce integration as well, so you can sell souvenirs, t-shirts, and other travel merchandise. What makes Travelador so appealing is its smooth and native design style. Information is easy to access, and you can choose to highlight specific post types using specifically designed promotion widgets.
Since it is using the SiteOrigin plugin, designing new pages or layouts will be as easy as dragging and dropping widgets in your WordPress dashboard. SiteOrigin has one of the easiest drag and drop interfaces in the entire WordPress sphere, so expect fantastic results without needing to learn any design concepts or programming.
Other than that, the theme feels effortless and pleasant to browse. It's entirely content-focused, so if you were to add things like travel packages or otherwise, you'd have to look into alternative plugins.
Speaking of which, the following section is dedicated entirely to must-have WordPress plugins for any new travel blog or travel website.
Must-have plugins for travel blogs.
After you're done with picking a solid theme for your travel site, it's time to pick some good plugins to ago alongside with it. This is one of the areas in which WordPress truly shines. Plugins will give you the functionality to really take advantage of your traffic, your readership, and much more.


If you do decide to go for a theme that's more magazine oriented, then you'll surely want to get the Travel Engine plugin. What this does is that it adds full-on travel package functionality to your website. You can create tour packages, implement payment processing, and manage user bookings all from a single dashboard.
Everything from trip types, facts, destinations, and activities is included in this plugin. You can create an unlimited number of packages and customize each one with specific details about your offer. Payment gateways include PayPal, Stripe, PayU, Authorize and others.
The plugin supports every aspect of explaining individual travel details. Including costs, important information, and other facts about your tours. Lastly, Travel Engine works just fine with any kind of a WordPress theme. This is thanks to a shortcode approach that you can add to any page, and the shortcode will render your individual listings on that page.


As far as making money goes with your travel blog, you're going to be relying on both advertising and affiliate revenue. As the biggest name in hotel bookings, the Booking.com website is an invaluable asset to your efforts in generating affiliate revenue. You can even partner up with individual hotels to gain special discount codes and much more.
The plugin is a way to embed Booking.com offers into your blog without breaking your site. You can customize it so that each specific hotel or hostel shows up as specified by you. This works best when you can vouch for the hotel you're recommending yourself. E.g. You have stayed there yourself, and have both tips and advice to offer to your readers.


As a travel blogger, you're going to be sharing a ton of images with your readers. And that means that images will take up a significant amount of your average page size. One thing to know about this is that page size is a major factor in website performance. The bigger the page size, the slower your pages are going to load. And this isn't great for people who are either on limited connections or accessing your site from remote locations.
So, one of the first plugins you'll want to install and use all the time is Smush or any other image optimization plugin. Smush helps you compress your images without comprising photo quality. On average, you can expect to shed off up to 40-50% of image size without ruining the photo quality.
It takes seconds to install and you never need to touch it again. Any new images you upload to your site will automatically be optimized and compressed. If you publish a lot of photos, then you might have to look into a premium subscription since these plugins do tend to impose limitations for how much images a user can compress on a monthly basis.

Although most WordPress themes these days tend to come with this feature already, it's never a bad idea to make sure you're set. Social icons provide a way for your readers to share your story further on social media. Generally, you'll be adding these at the end of your posts.
Also, social sharing buttons with count numbers tend to act as a social signal. And social signals are great for building trust with your growing community.
This is one of the many social media share button plugins out there. If you don't like the specific styling on this one, keep searching until you find something that satisfies your design cravings. Otherwise, customizing the buttons yourself isn't that hard using some basic CSS3 and HTML5.


And lastly, a plugin you can't live without is Yoast SEO. This is a search engine optimization powerhouse. Yoast's plugin supercharges your WordPress site with the right tools and settings to make sure your content is fully understood by search engines. Eventually, organic traffic from search engines will contribute a great deal to your overall readership.
So, it makes sense to prepare your site in advance for all the influx of organic traffic. A notable feature of Yoast is the SEO Recommendations widget underneath each new post you write.
This widget tells you about potential problems with your post, as well as recommends the right course of action to make sure your blog posts are up to part with the latest SEO regulations. Tens of millions of bloggers are using this plugin already, you don't want to miss out!
Conclusion
So, do you still think it's hard to start a travel blog with WordPress? I think this article exemplifies the ease at which you can get started. All you need is a plan in mind, a solid WordPress design, and a few plugins to get you started.
But, what you need most importantly is a passion for travel and exploring the world. In the end, that's what matters the most. It's the stories that you share with others that will drive your growth. As such, don't get caught up with the technicalities, and enjoy your passion for travel.
Great stories often promote themselves.