Off-Page SEO: Everything You Need to Know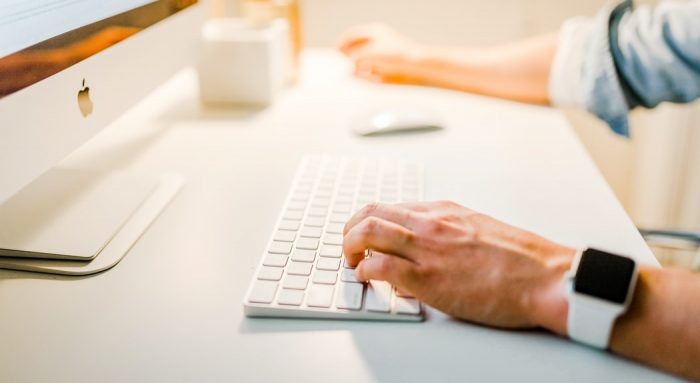 Just like there are different types of marketing (inbound vs. outbound), there are also different types of search engine optimization. The most popular ones being on-page and off-page SEO.
One focuses on SEO within your website, and the other focuses on SEO signals outside of your website. Hence the names, on-page, and off-page.
For this article, we'd like to take a look at off-page SEO: what it is, how it works, and how you can strengthen your search rankings through off-page SEO techniques. Chances are, some of these techniques you're already using or have used in the past. While others might be entirely new to you.
Off-Page SEO: What is it?
First and foremost, let's clear the air on the terminology. When it comes to On-Page SEO — you're focusing on tidying up the aspects of your internal website. Whether it's title management, content optimization, etc.
However, with Off-Page SEO — you're focusing on things outside of your website. Think in terms of link building, influencer marketing, case study production, content marketing, and much more.
As an example, if you ask another blogger to include a link to a PDF document of yours in their article: this is considered off-page SEO.
Likewise, when you run a social media promotion, that's also considered as SEO that you're doing off-page. Most importantly, there are guidelines to follow to ensure that your off-page SEO campaigns are successful. This guide will look at those guidelines carefully so that you can also implement them into your off-page SEO strategy.
Backlinks: The Core of Off-Page SEO
Link building is a fundamental form of external SEO. And, I imagine that most of you are already familiar with building links. But there is always more to learn, more to understand, and more opportunities to unravel.
If you can manage to attract a high volume of authoritative backlinks, your site will naturally flourish in organic search engine results. Furthermore, getting your links to be do-follow will further enhance that growth
So, just to clarify, here are the primary backlink types you'll want to build over the course of your marketing efforts:
Organic: These are links that happen by themselves. E.g. Someone is writing an article on software tips, and an article of yours came up as part of their research. Whenever they include your article in their piece, this is considered an organic link. No action necessary on your part.
Manual: Such links are generated by your own personal efforts. For example, you're doing guest posting campaigns, reaching out to influencers, or asking people to include a link to your article in their content.
Web 3.0: Lastly, we have the "Web" based links. These counts as links that you get back from online forums, social media sites, directories, comments, etc. They're not always the highest quality, but can be useful in attracting both readership and some Google attention as well.
In the end, the links that will yield the greatest results are from pages that have an already established authority status. But, how do you check that status? There are many great tools to do this task on your behalf, although many of them are priced at a premium.
So, for the sake of an example, we will use Ubersuggest. This is a free tool made available to the marketing community by Neil Patel. In the last year alone, Neil has pushed out some amazing (and free!) updates, which make Ubersuggest a serious competitor to paid alternatives.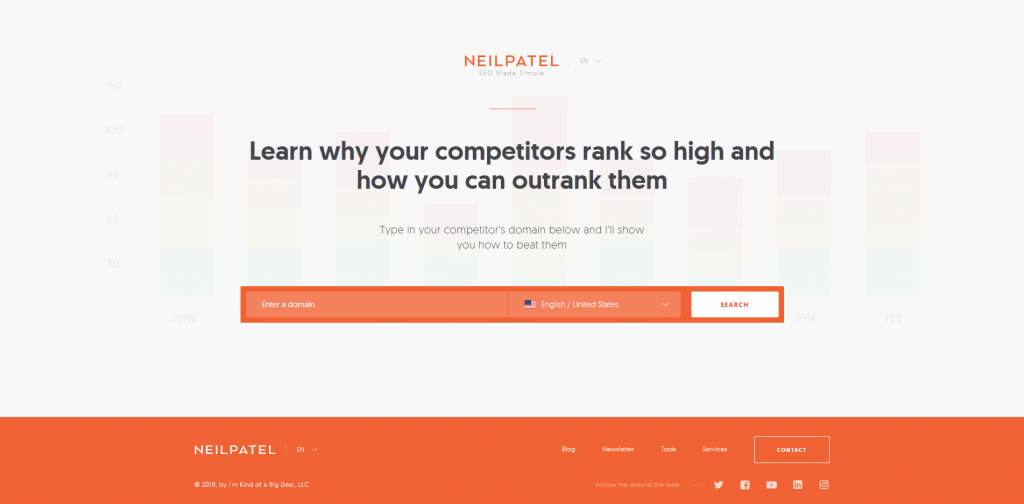 On this website, you can type in any website URL and get a condensed overview of its authority and keyword ranking status. As an example, I have typed in the address of Refind.com — a website specializing in aggregating news.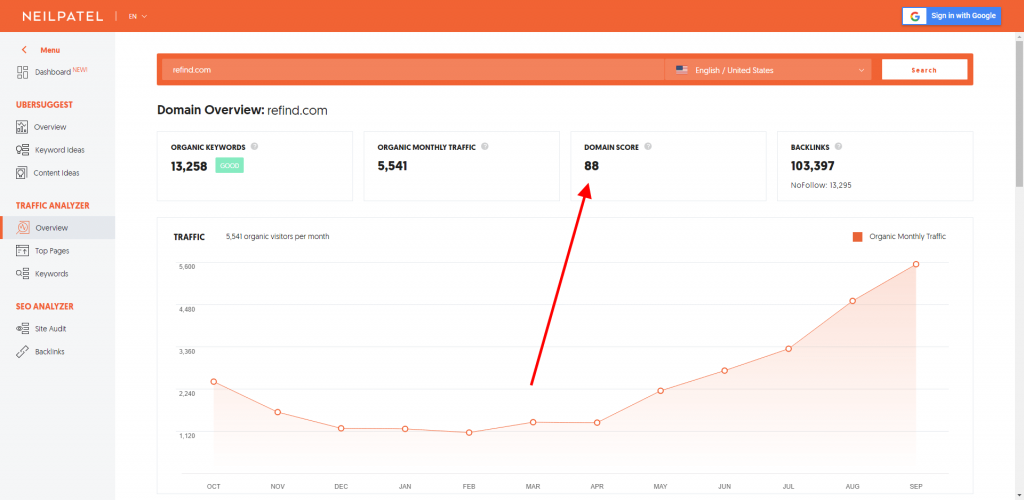 As you can see, Refind has a whopping 88 (out of 100) domain score in terms of its authority. Compare this to a random website and you'll quickly understand the difference.
Understanding the authority of each individual website is important because it helps to boost your own personal SEO efforts. It's far more lucrative to get 10 backlinks from authoritative sites than it is to get 100 links from spammy sites.
Last but not least, you want to make sure that the sites you do get backlinks from are relevant to your personal niche or industry. Here's a list of things I recommend to keep in mind always when building links:
How popular is the site you're getting the backlink from?
How relevant is the content for this site in comparison to yours?
Are you getting a new link (through a guest post) or a mention in an older article?
Is the editor/blogger going to let you get a "do-follow" link?
What is the domain authority for the site you're targetting?
This list of questions will generally help you weed out any rotten apples in the mix. And, instead, help you focus on opportunities that provide a long-term benefit for your SEO efforts.
Web 3.0: An Alternative to Off-Page SEO
There has always been the "Web" type of exposure-building tactics. These tactics are generally originating from links and mentions across the many web platforms we have available today. As briefly mentioned earlier, think of Web 3.0 links as comment mentions, forum posts, influencer outreach, and even newsletter campaigns.
Let's try and understand this technique a little better. First and foremost, it is not the most reliable method for building authority for your pages. However, it is a very good method for attracting real readership to your content. This is so because you're going to be putting your pages in front of a real audience.
As an example, LinkedIn is one of the most popular social media platforms in the world. And it certainly is in the business and marketing industry. Links by themselves coming from LinkedIn won't have much value.
But, there is a but here. If you can craft engaging and attractive content to publish on your news feed, it becomes the perfect opportunity to insert a link for everyone to visit and share with their friends.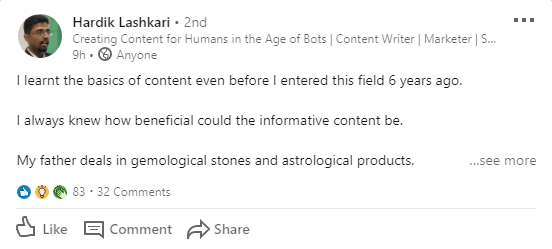 Take for example the above shown LinkedIn post. It's not much, as it is a personal story shared by someone who is passionate about content marketing. It showcases reflection as it does understanding of something. But most importantly, it shows emotions and empathy.
And people love that. In a few hours, the post had almost 100 likes and more than 30 comments. It's the perfect opportunity to comment, or even turn the entire thing into a separate blog post. You don't need to expect results, simply understand the fundamentals of what drove the engagement for such a post. Do you have a similar story to share? Then share it.
Commenting on Blog Posts
Is there any point in commenting any more when social media is taking over the world? Absolutely! Many great platforms on the web still employ comment forms, especially those using WordPress for their back-end.
WordPress comments let you specify an address back to your website, as you can see here in this example: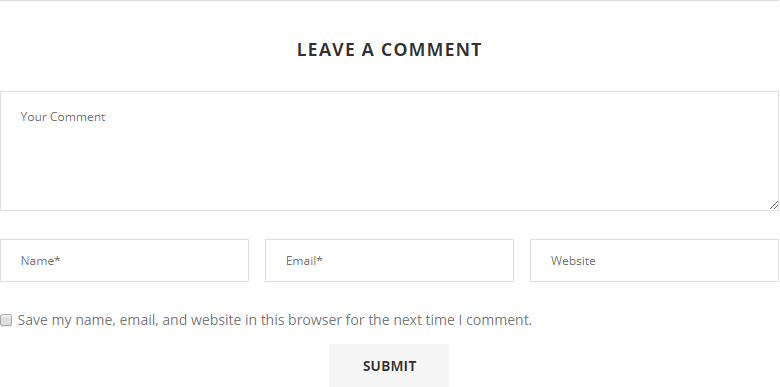 Similarly to other methods outlined in this post, the key here is to be mindful and proactive. Of course, anyone can go ahead and comment on a thousand blogs at a time. But, that makes you look like a spammer. And people generally dislike spammers, as do search engines.
So, my recommendation is quite simply — focus on what you know, and watch your audience grow! Simply put, write comments on sites where you feel you have a particular experience or expertise. If you're a foodie; comment on food blogs. If you're a WordPress developer; comment on WordPress blogs. And so on and on.
You can apply this strategy to many other types of discussion forms:
Online communities. Especially Forums and Q&A sites. They provide a great medium for engaging in discussions with like-minded individuals.
Directories. Get your site listed in the most popular website and blog directories across the world. BOTW, About Us, and Spoke are just a few of the more popular ones.
Social media. Get talking on social media websites! And don't wait around for discussions to happen either. Be the one to initiate thought-provocative conversations and watch all eyes fall on you.
Events. Get involved with events, whether it's conferences or small coffee talks. Get talking about important topics and you'll naturally attract attention to yourself. Plus, you can sometimes get your brand name mentioned on the event website. Even better!
Believe it or not, many people won't go out of their way to be creative with the off-page SEO process. And this is exactly where you can capitalize. Become the type of a marketer who is willing to take risks and engage areas that others won't bother with. Least of all, you'll make strong connections with real people which is always a tremendous plus.
Off-Page SEO Link Building: A Summary
So, to summarize the last couple of chapters here is a rundown of the things we learned about link building as an off-page SEO practice.
Link building from authoritative websites helps to build authority for your own website at a faster pace.
Doing research prior to pitching an idea helps you choose professional and reliable people to work with.
Numerous tools help you to identify opportunities that would otherwise be impossible to find.
Link building isn't always about set in stone links. Sometimes, you have to build a readership to later cultivate links as part of your influencer status.
Any kind of SEO practice is a marathon. Take your time. Make small but incremental changes and enjoy the results.
Once you start putting this into practice, it's going to feel a lot less daunting to continue further. You must first understand for yourself how a certain thing works to further automate the process.
For this last segment, I wanted to bring your attention to a couple of useful tools that I think will help you out greatly. We already looked at Ubersuggest, which is not only a free tool but also very efficient.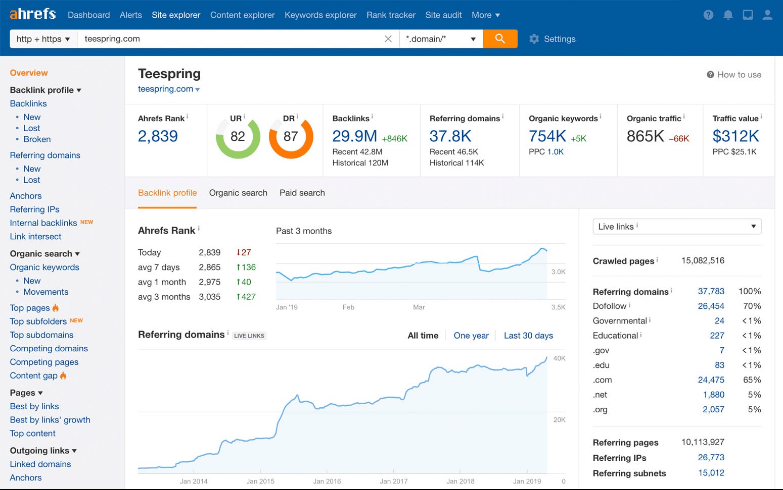 Ahrefs is without a doubt the golden goose of SEO tools for this modern-day and age. The platform has evolved to become an industry standard of high-level professional search engine marketing tools. And for good reasons. Ahrefs provides real-time data about any website in the world, whenever you need it.
Data such as keyword performance, backlink profiles, domain authority, social media mentions, and plethora more. Although Ahrefs requires a substantial investment (about $99 per month) it will quickly pay itself back as you realize your SEO game has been upped by 100 levels overnight.
I cannot stress enough how important this tool is to get a substantial SEO advantage. And if you do your research, you'll see that every single SEO expert out there agrees on this — Ahrefs means business.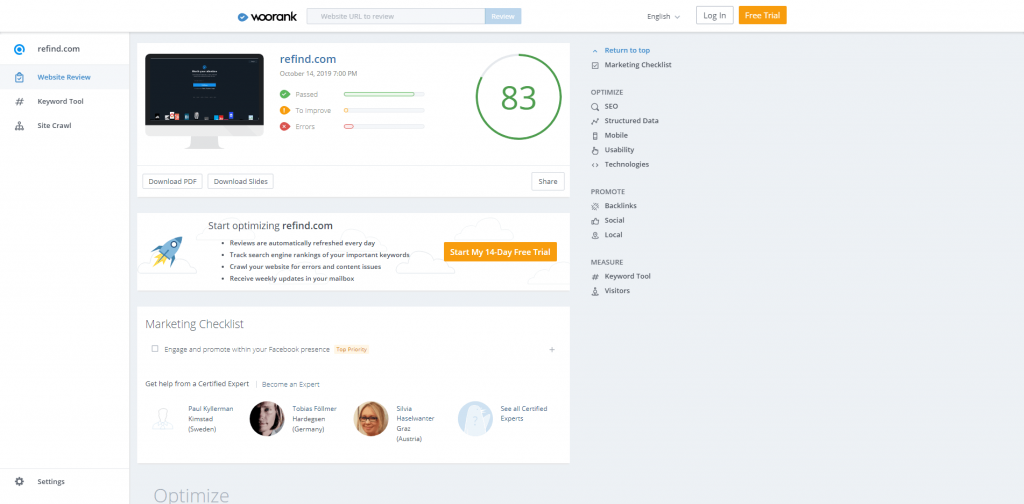 WooRank automates a huge portion of tasks that you would otherwise have to perform manually. Namely, WooRank can check your website and its pages against common SEO pitfalls. E.g. You might be using content titles that are too long, or you don't have enough internal links.
Best of all, it is available as a Google Chrome browser extension. This means that you can check out every page you visit in real-time. And this is wonderful if you're scouting for new off-page SEO opportunities. WooRank will give you critical details (including authority) without needing to close your browser tab.
Data analyzed by the extension include:
Search engine optimization
Structured data
Mobile-friendliness
Usability
Website technologies
Backlinks
Social media
Website traffic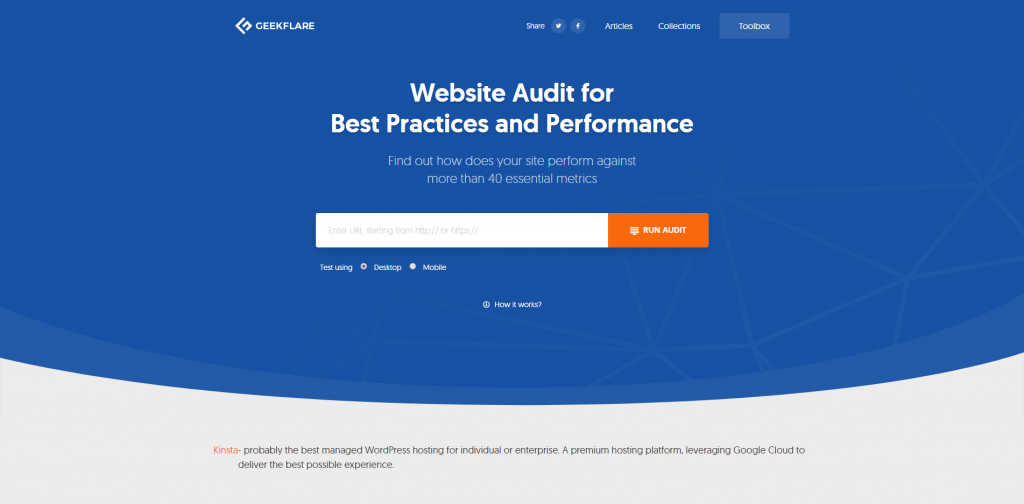 And lastly, we have the Geekflare Website Audit tool. You'll want to make sure that your site performance is up to the latest standards because website performance is a well-known ranking factor.
The tool itself is easy to use. Type in your website address (or that of your competition) and wait a few seconds to get a full report. In the report, you'll find information about load times, rendering, performance issues, and much more. Best of all, you can run two different tests — one for desktop and one for mobile. So, in the end, neither website version gets left out.
Conclusion
Although the term "Off-Page SEO" might sound complex, it is not so once fully understood. And hopefully, this article covers enough ground to give you that understanding. Ultimately, when thinking of off-page SEO, think in terms of backlinks and other forms of external mentions.
While building links is always a top priority, so is building an audience. And modern-day platforms such as social networks provide you with ample opportunities to do just that. Last but not least, learn to use a few tools along the way. Tools exist for a reason, which is often to simplify certain tasks, and they can shed a tremendous load off of your shoulders.
Let us know how you tackle your off-page SEO and whether you use techniques different than mentioned in this guide. We'd love to hear them and potentially include in this article going forward.