How the BeTop WordPress Theme Helps You Inspire Others
The ability to help others is a gift. When you can inspire and motivate someone to achieve their dreams, you are making a difference. But in order to have the opportunity, you need a website that shows the world who you are and what you do.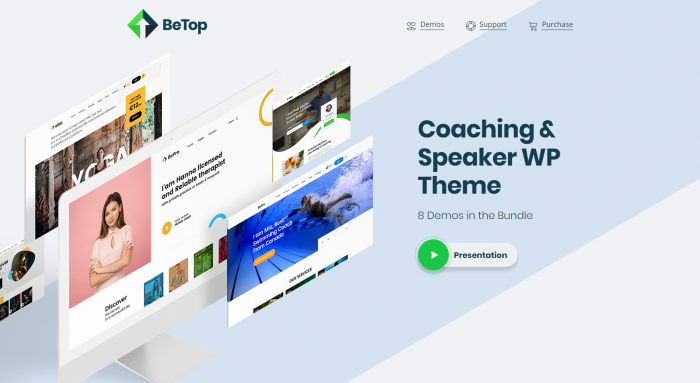 The BeTop WordPress theme offers the perfect way to showcase your talents. Built especially for those in the coaching, public speaking, fitness, and therapy fields, it has all the features you need to turn visitors into clients.
Let's take a look at how BeTop can help you put your best foot forward towards online success.
Powerful Features for Professionals
BeTop includes the tools to you need to power your business. Theme author StylemixThemes has taken great care to include both the features you expect in a premium WordPress theme, along with industry-specific elements to get you up and running in no time.

8 Beautiful Demos
The included demo themes cover a wide variety of specialties. Choose from niches such as Yoga, Therapist, Health Coach, Motivation and more. Each one supports a unique look and layout, enabling you to choose the best fit for your business. Even better, you can install the demo of your choice with a single click.
A Complete Booking System
No need to shop around for online booking plugins – BeTop has you covered! A fully-functional booking system and appointment calendar are included, so you can start filling out your schedule immediately. You'll be able to process online payments and receive email notification of new bookings.
Elementor Page Builder with 20+ Custom Modules
Elementor makes it easy to create custom page layouts. You'll be able to build layouts while seeing the results in real-time – it's a true WYSIWYG experience. And, the 20+ custom modules included with BeTop enable you to take advantage of all the key features of the theme right within the page builder.

23 Custom Widgets
Add top-notch custom features to your website without ever touching code! The included custom widgets put a variety of functionality right at your fingertips.
Works Beautifully with WooCommerce
If you're selling online with WooCommerce, you'll love the custom features and styles that come with BeTop. You get the functionality and stability of WooCommerce, along with a professional look that helps you stand out.

Create Custom Headers and Footers
Your website should be as unique as you are. BeTop's header and footer builder puts you in control, allowing for fully-custom creations. Build an attractive custom header or footer – just the way you want it.
Built with You in Mind
As someone who has a passion for working with others, your business is different. It's not about just selling a product. Rather, it's a matter of sharing your personality, processes and success stories. BeTop is here to help you make that personal connection with prospective clients.
A Home Page That's Uniquely Your Own
Your home page is where you make that critical first impression. BeTop's demo themes include styles and layouts that enable you to introduce yourself to the world. Add photos, videos and list services with ease. Or share your latest blog posts to increase engagement.

A Portfolio That Showcases Your Success
BeTop offers various portfolio layouts that help you put your success stories in the best possible light. Choose from a grid, masonry or tile layout. From there, users can click on your entries to get all the details in a clean, easy-to-read format.
An Easy Way to Create and Display Events
BeTop includes two methods for sharing your events. First, the weekly schedule calendar allows you to publish a time-based listing of daily happenings. It's great for situations when you have a recurring schedule that doesn't need a lot of changes. Then, there is a full-on events calendar that both provides further detail and enables users to RSVP. No matter your needs, BeTop can accommodate your business.

A Website That Looks Great on Every Device
Having a mobile-friendly website is no longer optional. With BeTop, you won't miss out on potential clients who are visiting from a smartphone or tablet. The theme is 100% responsive and is pixel-perfect on all screen sizes.
A Respect for User Privacy
BeTop takes privacy seriously and is GDPR compliant. Visitors to your site will find an opt-in checkbox on appointment booking and event RSVP forms.
Shine Online with BeTop
[youtube https://www.youtube.com/watch?v=BqI0Q7e4kbk]
Your website is an integral part of building a great reputation. That's why you shouldn't settle for a one-size-fits-all WordPress theme. BeTop understands the needs of your industry and is here to help you make your mark online.
And, you can be confident that StylemixThemes will be there for you every step of the way. They offer free, 24/7 professional support to ensure that you get the most out of the theme.
What are you waiting for? Download your copy of BeTop and start building for success!