3 Best Free WordPress Hosting Providers Reviews

You are getting ready to build and launch your own website using WordPress. Everything is coming together quite well, but you still have not found a host for your site. You want to have a quality host that is reliable, but you also want to save as much money as possible. Fortunately, your search is nearly over. We've compiled a list of the three best free WordPress hosting providers you could use in 2018. You can learn more about what each of these can offer and then choose the one that's right for you.
000WebHost
This is one of the top names in free WordPress hosting, and with good reason. They offer a one-click WordPress auto installer, which should make it nice and easy for you to get your site up and running with them. One of the very best features offered by this company is the fact that even though it is a free service, they do not run ads on your site. You will find that many of the hosting companies offering free services will run ads, so they can offset their cost. Not having ads run on the site can help to give it a more professional appearance.
This hosting plan includes 1.5GB of storage, along with 100GB of bandwidth. They also have free domain hosting, and five free email accounts for your site. It offers five MySQL databases and five FTP accounts. You will also find a free website builder, but this is not likely necessary if you have a quality template ready to go from WordPress.
AwardSpace
Another top choice for free WordPress hosting is AwardSpace. This company has been around for more than a decade, so you do not have to worry about them suddenly closing up shop and vanishing. They make getting started with WordPress through their hosting services nice and easy thanks to the installer. It will take just a few clicks and then you should be up and running with your site.
This company offers 1GB of storage space, along with 5GB of bandwidth. They provide one free domain and three subdomains. You will have one free email account and a spam filter, along with one MySQL database and one FTP account. This company does not offer a site builder, but you have so many options with WordPress that this should not be an issue for you at all.
Even though this company night not offer as much space as 000WebHost, they are included here because they are also ad free. You do not have to worry about advertisements cropping up on your page and distracting your visitors.
Byet.host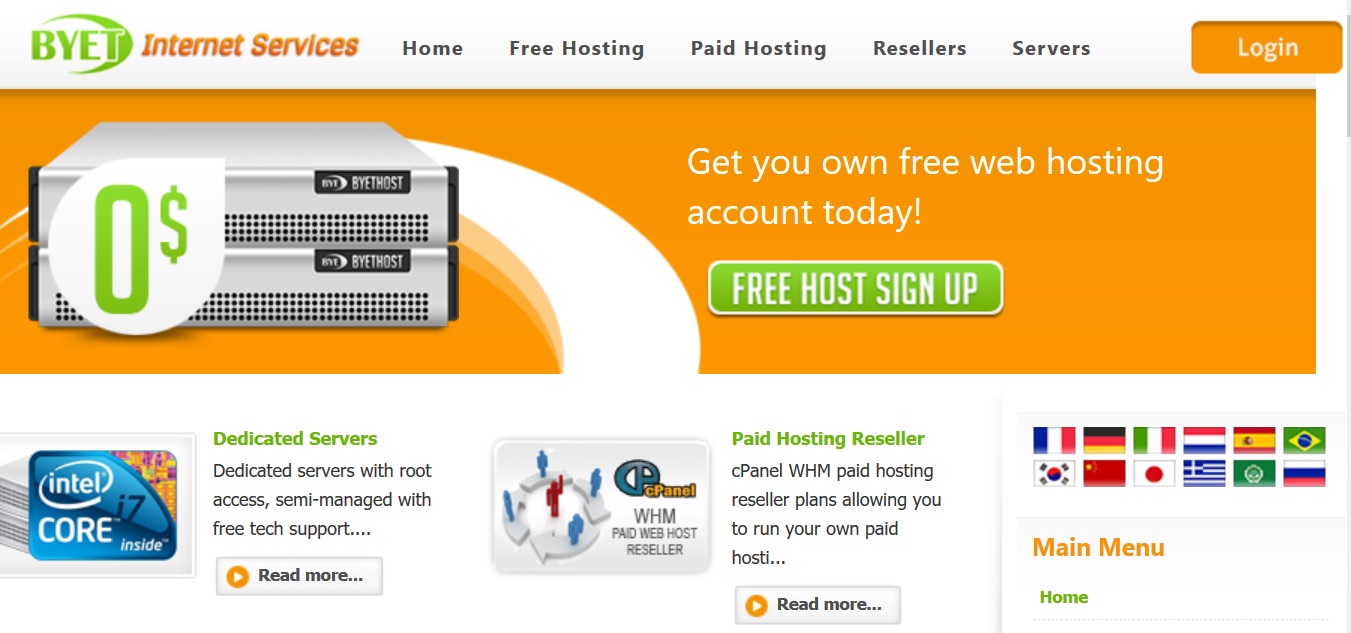 This company is well-known for providing free WordPress hosting, and they have some nice benefits and features that are often only available with much larger, paid hosts. The hosting tends to be very fast through their servers, and they have a quality auto installer that will take care of your WordPress installation quickly.
They have 1GB of storage, along with 50GB of bandwidth. Byet.host offers five add on domains, five parked domains and subdomains, five free email accounts, an FPT account and five MySQL databases. This site does come with a site builder if needed, but if you are going to be using WordPress, you will probably already have a quality template that you want to use and that will only need a little tweaking to work for your needs.
As with the other options in this article, this company does not place advertisements on the site, so you can be sure it has a professional look for your visitors.
Now that you have a better idea of what options are available with free WordPress hosting, you can choose from one of these three fine options. They have a lot going for them, and it can help you to save quite a bit on the cost of running your site. Just make sure that free hosting will offer you everything you need. You might find that you want to go ahead and find a paid service.
Are There Downsides to Free Hosting?
While getting something for free is always nice, it is important to remember that with paid services, you do tend to get more. We chose the very best free WordPress hosting services here, so you do not have to deal with ads on your site, and you still have plenty of features and options.
To prevent overpaying for something you don't need it is very important to know what kind of WordPress project you run. When you'll know that, it will be much easier to decide what kind of a WordPress hosting package should you be looking for. And, those who want to expand their site and have more space will likely want to find a paid host at some point.
For those who do not need to have as much space for their site, though, this can be a very good option when it comes to getting a host without spending out of pocket for their services.