5 Free and Best WordPress Backup Plugins: The Definitive List
Why wait until you need one? Backup plugins provide peace of mind. If your site breaks, you have a backup to get your site, well, back up.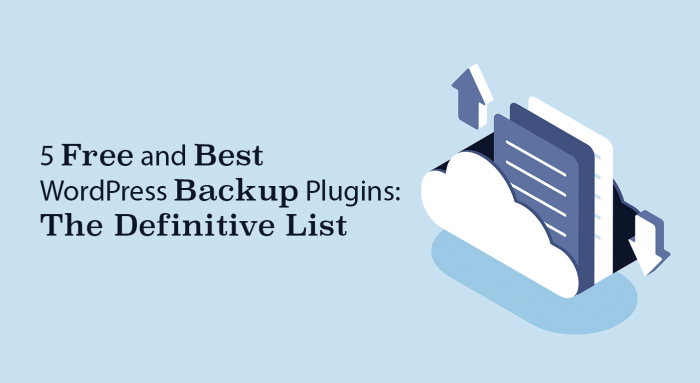 Backing up your WordPress website is a task that many site owners undertake because they have at least one horror story of the time they didn't.
All they ended up with is a pit in their stomach wishing they had backed up their site when they had the chance and no website to boot.
Fortunately, you can save yourself from future heartbreak and back up your website with this list of five free, feature-packed and best WordPress backup plugins.
What to Look for in a Backup Plugin
While it would seem like all free WordPress backup plugins have the same functionality, there's actually a decent amount of variance in each plugin's capabilities.
When looking for the best WordPress backup plugin for you, it's a good idea to think about what you really use your site for as well as what you need the plugin to accomplish.
Here are a few points to consider:
How easy does it need to be to use or can you navigate your way through some semi-complicated database options settings?
Will you need frequent automated backups or will manual be sufficient?
Along with backups, do you need migration functionality that lets you move your site from a localhost to a server?
Do you need cloud storage because your computer can't hold the large files?
Will you need a hefty amount of support from the plugin author?
Figuring out what you need before looking for the best WordPress backup plugin can help with clarity among all the options.
The ultimate goal is to have peace of mind and assurance that your site is taken care of in the event of an emergency.
The Best WordPress Backup Plugins
Here is the best WordPress backup plugins that are all free, updated frequently, extraordinarily reviewed on the WordPress plugin directory and have been used by hundreds of thousands of website owners.

UpdraftPlus is an extremely popular free and one of the best WordPress backup plugins that has over a million active installs and is definitely a fan favorite due to its feature-packed capabilities.
Top Features
Restore your site directly from the WordPress admin
On-demand and scheduled backup functionality
Scheduled backup possibilities are every 4, 8 or 12 hours as well as daily, weekly, fortnightly or monthly
Vast array of cloud storage options: Dropbox, Google Drive, Amazon S3, UpdraftPlus Vault, Rackspace Cloud, FTP, DreamObjects, Openstack Swift and email
Automatically resumes and retries failed uploads
Proven to back up sites of over 100 GB
Ease of Use
UpdraftPlus has an intuitive interface with all the necessary buttons right in the WordPress admin. You can backup and restore without ever leaving your website.
Pros, Cons and the Bottom Line
Pro: It has extremely reliable manual and scheduled backups with restoration direction from the control panel.
Con: The free UpdraftPlus plugin doesn't have cloning or migration functionality, personal support or automatic backups before WordPress updates.
Bottom line: UpdraftPlus is a reliable feature-packed option that's definitely in the upper tier of the best WordPress backup plugins.

With over 10 million downloads and a million active installations, Duplicator is quite beloved by the WordPress community as one of the best WordPress backup plugins.
Besides being an excellent backup tool, Duplicator has the ability to migrate, copy, move or clone a site from one location to another, making it a really useful tool for developers who want to work on a local server.
Top Features
Backup, clone, migrate and restore sites easily
Uses a package ZIP file system for effortless migration that doesn't call for WordPress installation
Easily duplication pre-configured sites for developer use
Excellent documentation and tutorials for support in the process
Ease of Use
Duplicator's main system is decently straightforward and its Resource Section contains any questions a user may encounter.
Duplicator does require some technical knowledge and can require delving into files if issues occur so that should be noted when choosing a plugin.
If you're not interested in potentially being required to use some technical skills, finding a more user-friendly plugin may be a better fit.
Pros, Cons and the Bottom Line
Pro: Not all free plugins have migration and cloning capabilities so Duplicator stands out for versatility.
Con: The free version of Duplicator doesn't have the functionality for scheduled, automated backups. It also can require some technical knowledge to deal with potential problems.
Bottom line: If you need more than just a backup plugin and don't mind initiating your own backups, Duplicator is a solid option.

It's not hard to determine the core functionality of this plugin – the title says it all.
BackUpWordPress has 200 thousand active installations and this free WordPress backup plugin creates backups of your files and database, and can do it on a schedule that suits you.
Top Features
Backs up everything in the root, database, and all non-WordPress folders and files in the root
Stores up to 10 backups in a directory for easy access if you need to do a restore
Operates well in low-memory environments
Backup customization with user-selected files
Multiple backup schedules
ZIP and MySQLDump file capabilities
Ease of Use
The BackUpWordPress plugin is super simple to use, which makes it an excellent option for beginners.
Also, no setup is required.
Pros, Cons and the Bottom Line
Pro: It's a cinch to use and get working right out of the gate.
Con: BackUpWordPress has only two storage options: hard drive or email, but you can get cloud storage options by purchasing premium extensions.
Bottom line: If you're in a rush to choose and want a plugin that's standard yet reliable, you can't go wrong with BackUpWordPress.

BackWPup is another excellent option with 600,000 active installations and 5 million downloads.
It's also super straightforward and simple to use.
Top Features
Complete database and file backups
Backup file management
Multisite support
Backup archive management
WP-CLI support
Log reports via email
Ease of Use
Not only is BackWPup super low-maintenance and intuitive, it's lightning-fast.
When you back up your WordPress site, BackWPup makes it a cinch to push it to an external storage service such as Dropbox, S3, or FTP as well as a variety of other options.
When you need to restore the backup, you need to pull the ZIP file out of the cloud. Everything is in a single file which makes it ultra efficient to get your site back up and running.
Pros, Cons and the Bottom Line
Pro: When a plugin has too many settings, things can get confusing. BackWPup is straightforward and gets the job done.
Con: The free plugin doesn't have backup encryption for extra security or the premium support that BackWPup Pro includes.
Bottom line: If you want a lean, functional plugin with cloud storage capabilities, BackWPup is well worth considering.

The first thing to note about WP-DB-Backup is that this free WordPress backup plugin only backs up databases.
Regardless of that, it has 300,000 active installs so it's still a popular plugin as well as a useful one.
WP-DB-Backup is a great plugin to have if you don't really update your site or make customizations since your database would be the only thing you would need to backup.
Top Features
Creating and restoring backups is simple
Select individual tables for customizable backups
Automatic scheduled backups
Core database files backed up by default
Storage options are your computer or email
Ease of Use
If you're a WordPress beginner unfamiliar with table listings, the interface can be a little overwhelming when trying to decide which tables you want backed up.
Pros, Cons and the Bottom Line
Pro: When you're only backing up the database, the files stay lean and don't affect site speed or storage space.
Con: This one may be obvious: it has no file backups so you'll have to do those manually.
Bottom line: If you don't have a lot of images on your site or don't do frequent updates, WP-DB-Backup could definitely be your main backup plugin.
Wrapping Up
Backing up your site is in incredibly crucial task, and with all the options available, it's difficult to know who to trust and if it's possible to accomplish it on a budget.
With these five free WordPress backup plugins, you should be able to find a system that works for you that also gives you the peace of mind that comes with knowing your WordPress site is safely backed up.
What's your favorite free WordPress backup plugin? Is it on the list? What do you look for in a backup plugin? Share your thoughts in the comments below.