Robots-Marketers: How Neural Networks Will Change the World of Internet Marketing
The time that we live in entertainingly caching up to us where technological progress slowly but surely pushes us into bizarre flicks' world. A domain in which artificial intelligence exists among us and executes a massive bunch of everyday jobs.

The latest tendency of an artificial intelligence – neural networks. They can study, remember and process information and then perform some operations on the basis of the got experience. In the same way as people. Almost.

These machines are quiet distant, nonetheless they will sooner or later appear
Scientific research of neural networks is executed by Google, Microsoft and also hundreds of institutions around the world. Something cool appears nearly every month.
First, let's look at what robots already learned to do by the end 2016 and brings a benefit to us, to Internet marketing specialists, and what might occur from this.
Data Examination by Neural Networks
The following consists of not only getting the meaning of a title but the whole content.
This changes the approach to record of texts and contents in general. We have to think less and less of keywords more and more about the meaning, full value and probably the interest of contents.
Image Recognition by Neural Networks
Actually, Google's AIs (Artificial Intelligence) been working in image search for a long time. The robot defines what is on the image and stores this information. When you enter a request, the network compares it to your notes and displays the most appropriate images and photos.
Clarifai service practices similar process. Neural network determines what is displayed on a photo or picture you specified and generates tags. Color scheme could be shown as well by it.
Google Photo does the same stuff – you upload your pictures for storage and the service examines them and assists you find the ones you want. Perhaps, you can view photos taken in the foothills, or those that have your colleague Max on it.
Okay, Google, show me my winter pictures in the mountains – and SHAZZAM – a whole bunch of pictures.
And now new remarkable service – FindFace. You load somebody's snapshot and artificial intelligence catches his/her profile in social networks. Space for freaks!
Profit: search of contacts from photographs from events to show them the current posters. A delight for targetologists.
Speech Recognition by Neural Networks
Let's see – Okay, Google, do you understand what I'm saying? Jog my memory tomorrow to complete this editorial. My smartphone understands me well. Not perfect, but good. Obviously, it is better, than the sleeping shop assistants on the market.
Do not forget about speech input. English-speaking Google Docs writes well in case of dictation. And it also begins to understand when "Delete" a command and when it is simply a word which shall be entered.
Another amazing article about the neural LipNet network which lip read. In laboratory voice recognition accuracy was 93.4%. It is 93.4% more than mine. This is clear that in real life it is more difficult to get the meaning but LipNet will correspondingly grow more.
The video messenger Tribe does not just diagnose your speech but comprehends it. It can create and include automatically subtitles or find information on a spoken subject. As soon as the partner mentioned that he reads "Texture", the Tribe will find directly the reference and will show you. Nice, don't you think?
Profit: automatic creation of normal subtitles to video and a record of a dialog.
Text Translation by Neural Networks
Google translate does not amuse anybody no more. But it has not freed itself yet form complete mess sometimes. But Google themselves developed a new NMTS system on the basis of neural networks and put it into life.
Quiet so far NMTS only works with two pairs of languages: English-Spanish and English-Chinese. Results do not reach the level of professional of living interpreters yet, but they are already much closer to them.

Blue – the old algorithm, red – the neural network, orange – the person
Profit: the translation, the appropriate communication with colleagues and clients from other countries.
Neural Networks Speak
Google presented the new neural WaveNet network in September which models the human speech. Great copies. If it would have called me on the phone, I would not understand that it is not a human being. Check out the samples on the site.
WaveNet can speak English and Chinese and also models different female and male voices.
Profit: automation of Call-centers, voice-over of video clips.
Neural Networks Evaluate Images
Laboratory of Computer Science and Artificial Intelligence at the Massachusetts Institute of Technology has developed the MemNet system which determines the image recall index.

0.805 out of 1.000. Excellent result
Amazingly but the machine has already learned to go ahead the function of peoples' memory and can point out which photo human mind will remember for a long time and about which will forget almost instantly. Emphasizing the most notable areas in that picture.
Profit: selecting the unforgettable images for ads & distribution, social networks and articles of the blog.
Emotion Recognition by Neural Networks
The service from Microsoft is capable to distinguish feelings of the humans showed in the photo. You upload the image, and the neural network catches faces on it and examines what emotions they express.
The list contains:
Anger;
Contempt;
Disgust;
Fear;
Happiness;
Neutral;
Sadness;
Surprise.

It seems he is happy for a 100%
The comparable mechanism was made in the Massachusetts Institute of Technology (MIT). The service Affectiva identifies emotions of individuals on video broadcastings on the webcam.
In that writing time the website of service was still, thus, I leave the link to Wikipedia. Just in case.
Neural networks are intelligent enough to spot sarcasm in communications as well. The robot analyzes the text of the message, the image, the previous messages of the user and defines whether it is really "Wow, cool!" or still sarcasm.
Profit: search of the negative comments and feedbacks on the Internet. A study of response of users to different contents and ads.
Neural Networks Determine Whether You're Drunk or Not
A lot of guys just love to write something and publish right after the bar night! The robot will find you! In the University of Rochester, the neural network was build which distinguishes messages which people write in state of intoxication.
Network works with Twitter only.
Drawings by Neural Networks
Thus, we reached the most interesting – to content creation. During summer neural networks made a boom on the Internet – they began to process images. You show to the robot the photo and any picture and it redraws the photo in style of the picture.
The style can only be selected from some services from the specified list. In others – upload your own and guarantee complete freedom of creativity of the machine.

Computers at this point already capable of creating content. No, not as this. They are able to create cool content. I would not be able to pull it off myself.
If you want to play with a neural network, here several services to select from:
Deepart.io – cool standard styles and you can upload your own. I even made a portrait of buckwheat. Minus – the neural network draws pictures for 10-20 minutes.
Deepart Turbo – a faster version of the previous service. Paints quickly and coolly, does not put watermarks. But you cannot upload your styles – only 39 standard ones. Also there are in the form of Android and iOS applications.
Ostagram – allows you to upload your styles and adjust the intensity of their application. But the quality of the paintings is worse than that of Deepart.
Here is another cool neural network – Neutral Doodle. It draws on your excises and sketches. Draft something in the Paint, indicat the style in which you want to get a picture – the robot draws. Web services are not yet available but you can download the code from Gitkhab and compile the neural network on your computer.

Profit: creating interesting unique content. For example, you can process all pictures to an article in one style.
Neural Networks Finish-up Images
British company Magic Pony Technology has created a neural network that improves images: increases the resolution of the image, sharpens the video and draws the texture.
Before and after
Music by Neural Networks
WaveNet, about which I spoke above, can write music. Examples are in the same article. Melodies to be honest are so-so. As if a cat on a piano trampled. But the neural network was created not for these purposes.
For several years, the most music has been bought and shared online. A website isn't just a step to advertise a musical band – it's also a way to maintain an online presence, and make money on art. In short, having a band website is a must. Luckily, it's never been easier to make one. And we've got an excellent guide helped you learn how to create a website for a musical band.
Neural Networks Create Encryption Protocols
In addition to works of art, neural networks create more serious things. For example, new ways of data encryption. The network, developed in Google Brain, came up with its own SSL protocol.
The essence of the experiment is quite amusing. Researchers have created 3 neural networks. Two of them had to learn to communicate with each other so that the third could not understand them. When the third was able to decipher something, they quickly changed the algorithm. As a result, a protocol was obtained, according to which the robots transmitted messages. And only they could understand each other.
Tweets by Neural Networks
Music, pictures, protocols of encryption. That everyone can! And what about tweets? That's where the real brains are needed.
Microsoft created a self-learning bot Tau, who (yes, it's a bot-girl) had her own channel on Twitter. In theory, Tau had to communicate with people, learn something new and form as a person.
So she formed – grew into an ardent misanthrope and neo-Nazi. Bot admired Hitler, despised Negroes and Jews and also wrote about her hatred of people. Because of this the channel had to be closed.

Another neural network Char-rnn writes tweets, parodying US President Donald Trump. The creators of the project Deepdrumpf trained the network on the speeches of the politician.
Content by Neural Networks
Copywriters, rejoice and confess, weren't you looking forward to this idea? When artificial intelligence will become our helpers as well as competitors also.
Its already a part of SEO-marketing.
Profit: Nobody even has to clarify. Machines themselves write SEO-content for sites. An exceptional substitute to stock exchange authors.
Neural Networks Interact
It is the most interesting part if you ask me. Images and descriptions of goods – it, of course, is interesting. But complete communication is really tough.
Until recently chat bots we were silly as logs. Yes, they studied something but all of them still interacted too clumsily. Neuronets corrected this question.
The Google Inbox application has a Smart Reply function – smart responses. The machine reads the message which came to you and offers 3 short responses. Without even thinking about it you select correct one and send writing nothing. Type of semi-automation.

Smart answers – at the very bottom
But I found examples and more abruptly.
Service Digitalgenius allows you to automate customer support in instant messengers, social networks and email. First the bot follows the managers and learns. Then it tries to answer itself. Employees can correct the answers and the neural network will remember the edits and will take them into account next time.

On the first question the neural network answered itself but on the second called the manager already
First question was replied by the neural network itself but on the second called the supervisor already.
As a result, would you be able to replace the technical support department and sales managers with one robot? So far, obviously, no. But you would soon. By the way, the service is already applied by BMW and Panasonic. Possibly, when picking the right camera, you already talked with the bot.
Luka developed the Replica neural network which makes a "digital copy" of a person, interacting with him/her and reviewing the messages. The creators assure that in the future the Replica will be able to search for info itself, completely able to converse with public and even become a trainer.
As far as you could've seen for yourself the Replica itself is not available right now. But you can already sigh-up and reserve a name for the bot. The minute application appears – you will start to raise your duplicate.

Book your Replica name
Ghostbot is a resembling service developed in demand to dispose of irritating followers. Precisely – originally you coach the bot to converse like you. And then it talks to your spouse while you work.
All right, we are joking. Actually it speaks with your fans and former ones which you feel guilty to send off. Seriously, the robot was created only for this purpose.

Full automation of the friend zone
Profit: yes, just huge! Automation of customer support, feedbacks to comments in social networks, interaction with customers, quick mail answers and loads of other ways to make your natural life relaxed.
An impressive list, isn't it? Pay attention that I selected only the stuff which are anyway superimposed with Internet marketing. However, machines can even play Lego and drive. Troublemakers are beaten by electric shock by them and cats are being scared off of lawns.
Prospects for The Near Future
I warn you right away, now there will be my unscientific forecasts. I cannot guarantee anything. Just guess what technologies will soon appear and how they will change the lives of Internet marketers.
Rewriting and Copywriting
The rewriting will vanish. In about ten years or so SEO rewriters and copywriters will not be necessary. Cheap content will be written by machines.
Outline a subject and quantity of characters and the neural network will write the text within 2 minutes which will be guaranteed by search engines. And the thematic pictures will also be taken into consideration, why not. In fact, even will be able to post it on the website. Specified the text – the bot changed. Beauty and nothing else!
As an alternative to going to the copywriting marketplaces, developers will buy an annual subscription of some Skynet and crank out the web sites by hundreds.

Rewriters of the near future
Social networks got the same pattern. Instead of administrators who copy content of each other and spreading it in their communities of 50 a day, there will be machines. It will find theme content, delete water marks, abolish and post.
Can you conceive what kind of crap will leak to users? Marketing specialists shall try to interest people. For example, this is very cool and stimulating to write. Also do not display stuff which will become hundreds of times larger.
Together with replication such profession as the proofreader easily will disappear. If robots write correctly, they can correct errors. Also build this feature into some kind of Google Docs. All will be competent.
Illustration and Design
Artificial Intelligence very well prove to be good with images. You provide the photo – you get a cool picture in return. And it is still raw algorithms, they are even not year old.
Now let's fantasize. Robots can draw a portrait or the landscape in style of the selected drawing. They can draw the image on the simple sketch. And what hinders them to begin to draw the project for banners and landings?
We do a prototype, we find good lending and submit both to a neural network. It takes the design of the landing and clings it to our prototype. Well, you can select the color scheme, why not. That's it, the layout is ready, you can begin to build.
Stop! What for? Neural network takes a layout and makes a page on it. Now, for certain, you can launch pouring traffic.
Sounds like a fantasy? But we took and tried using a neural network to make an illustration for the article. Drew a prototype in Illustrator and gave it to Deepart.io service.

The world's first design from a neural network
Some posters puffed outside recognition. Others stayed fairly understandable. Service which is not developed to create a design, made the it for the promotional post. Yes, miserable. Yes, a curve. But it did.
We are self-assured that in the following 5 years we will see the service described.
One more cool thing that can appear is a service for evaluating design and artworks. Found a picture – the neural network said how good it is. Is it appropriate for the subject of the post, what kind of reaction will people have, how to edit it so that it would look cool.
Oh, yes, neural networks can gaze for pictures themselves. Then it's even cooler. You wrote a post – the robot found illustrations for it, adjusted them to a single style, and removed the watermarks. And offered several options. Like, take it, if you want to make people laugh and collect a lot of comments. And this will please your boss – he will give you a bonus.
By the way, nearly all the tools pronounced in my example already real. But independently. Artificial intelligence is already able:
Search for images;
Remove watermarks and inscriptions;
Increase the resolution;
Edit, change style and colors;
Anticipate the reaction of people;
Assess the memorability.
The only thing remains is to gather them together and teach the robot to comprehend the meaning of the content.
And a few other guesses. Recall the neural network which draws pictures by sketches? So, sooner or later there will be an application that will do this.
You are writing an article and you urgently need a picture where the robot Bender walks along the beach in an embrace with Monica Bellucci. Describe the task to a neural network and download an illustration. Given the speed of computer processing power development, in 5 years you will receive Full HD-images with awesome detail.
Customer Support and Social Networks
The most importantly is that robots will solve problems of users round the clock. And in chats, mail, and by phone. Tell how this monitor is better than that one; explain how to use a VR helmet and so on. Also call the repair team when the Internet suddenly disappears. Will take orders, etc.
"We will respond within 24 seconds" will disappear from being something sharp. Neural networks will answer immediately.
Furthermore, artificial intelligence will substitute administrators on social networks. Respond to comments, look for references of a brand on the Internet, advise doubters. Well, display and post content in due time, of course. And if the machine does not succeed in customer satisfaction, it will call the SMM guy to the rescue – and he will explain how to behave in such cases.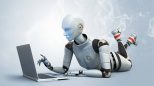 It is nostalgically sad but yet newly exciting to observe and live in this unescapably changing realm. Of course a lot of profession and occupation's will disappear since they are going to be performed by neural networks and machines faster, cheaper and better. New advanced tools will rise up to solve the problems and increase efficiency and tasks will differ. Eventually, neural networks will be used not only by marketing specialists but also all others.
PS: if you are more curios on this subject, I strongly advise you to read the book The Rise of the Robots by Martin Ford.
Are you ready for transformation? Write in the comments what you think of this.