15 WordPress Themes for Online Courses & eLearning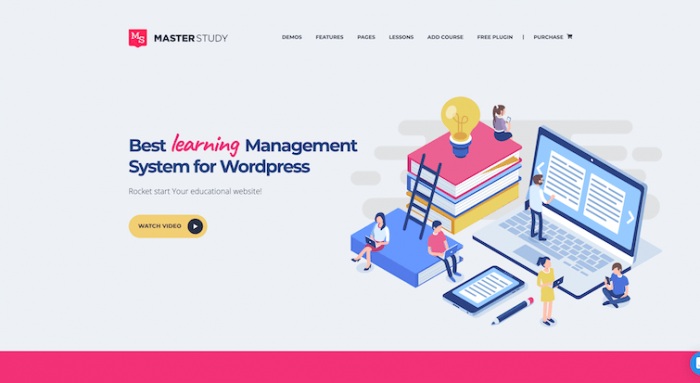 It's pretty crazy to think that you can get a university-level degree by never having to sit in a class. This is something that many are now capitalizing on, whether it's in the form of online courses, general learning materials, or studies for specific subjects. Sites like Udemy, edX, Udacity, Khan Academy, Coursera, and many others have revolutionized the eLearning system.
Even as little as 10 years ago, marketers would offer their materials in the form of portable DVDs. Whereas nowadays, anyone with a little bit of experience and knowledge can sell an online course in a matter of hours. And this is the angle that we are focusing on for this post.
You have something offer to an audience, but what you don't have is a helpful selling platform to do it through.
Is WordPress Suitable for Selling Online Courses and Learning Materials?
The answer is always going to be yes. WordPress makes it fairly simple to create landing pages, and you can find plenty of membership plugins as well. This would be considered the "long approach" since you do have to make a lot of customizations, and moreso on the web design side.
In recent years however there has been an influx of WordPress themes which provide such capabilities out of the box. So, for example, if you are a yoga instructor and wanted to sell your classes online, all you really need these days is a professional theme that enables this functionality.
As for this roundup, expect some of the themes to be full-blown Learning Management Systems (LMS), while others will be more niche and focusing on independent teachers, authors, sellers, etc.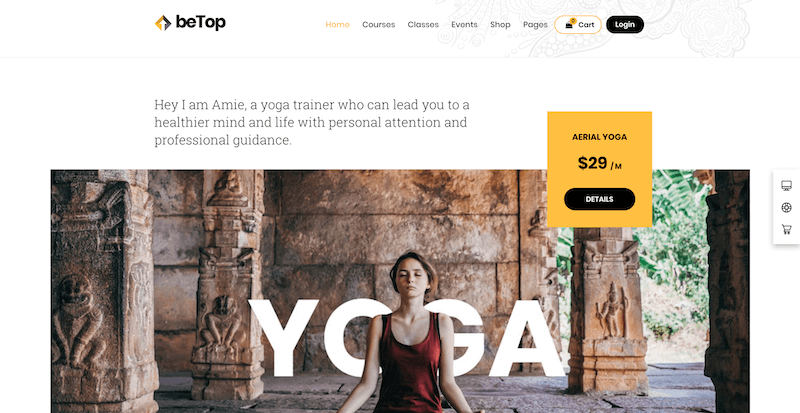 BeTop is a fully decked out theme for both coaches and speakers alike. The overall goal for this theme is to give you — the coach, the speaker, etc. — enough freedom to talk about yourself, but also to promote your learning materials. You'll find the diverse selection of designs both modernly enticing, but also highly functional for your needs.
For example, in the Yoga homepage demo — there's a clear emphasis on helping you outline the type of services you provide. E.g. Classes, events, but also details on how your experience can help others. And, of course, there's plenty of room to talk about yourself, too!
Great features combined with exceptional design
You can't help but feel inspired by the many different design schemes that BeTop brings to the table. But, most importantly, it's the features that make BeTop as successful of a theme as it is.
Whether you want to offer a special course, digital learning materials, or simply advertise your services — this is a theme you have to take a closer look at. Here are the core features powering this theme:
Elementor. Powered by Elementor's highly successful Page Builder. Enjoy managing sections, homepage layouts, and the smallest of details with ease.
Custom headers and footers. Enjoy building your own set of Footer and Header designs. Guaranteed to give your design that special touch of uniqueness!
Dozens of widgets. BeTop excels in the widgets department, offering more than 20+ unique widgets you can place anywhere on your site.
Reservations. Are you offering a live event? You'll want to make sure people have a way to reserve their spot. And with BeTop, this becomes extremely easy as the theme includes a dedicated reservations system.
Make sure you check out all demos in full. And remember that you can combine elements from different demos into one unique web design.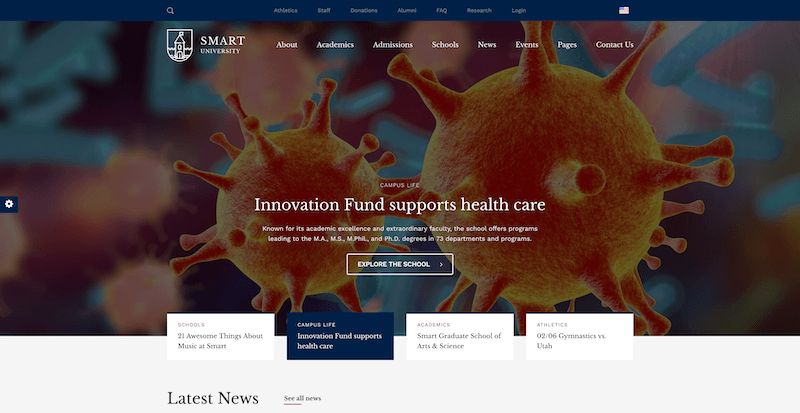 With nearly 2,000 customers and hundreds of reviews across the community — Smarty redefines what it's like to run a learning platform using WordPress as the backbone of it all.
The theme was designed from the ground up with the intention to be used by learning communities. So, think Schools, Kindergartens, Universities, and other Institutions that provide learning materials.
For teachers and students alike
Smarty isn't just a theme that's convenient to publish class timetables. It is, in fact, a full-fledged solution for bringing together teachers, students, and also parents. Any given learning facility can use the theme to publish event details, timetables, important notices, and much more.
Teachers can also create their personal profiles, and use their profiles to manage assignments, list classes, and offer specific programs to their students.
As a teacher, you are able to use Smarty to upload learning materials in the form of videos, audio, photography, and more. Everything that Smarty does, it does it so to improve the user experience of digital learning. The theme supports fundraisers and raising money for specific goals.
Overall a solid choice
Whichever way you look at it, Smarty is designed in a way that doesn't expose that your site is built on WordPress. Pages have a unique feeling to them, whilst having a design that's optimized for User Experience.
Smarty's technological stack includes a SASS back-end, WPBakery Page Builder, FontAwesome, SVG Icons, WPML, and much more.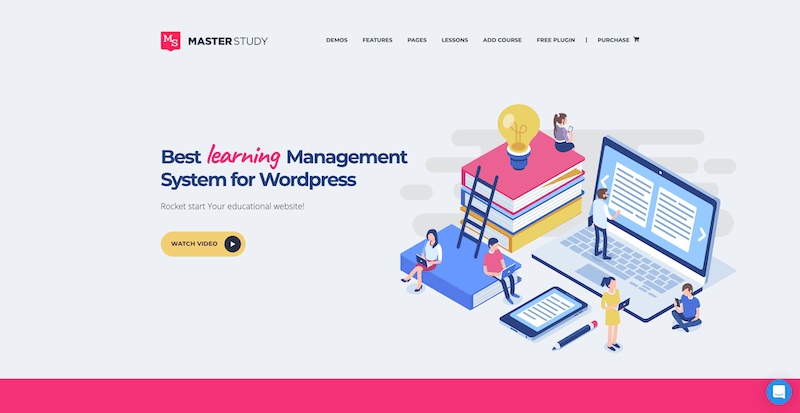 We at StylemixThemes love to work on themes that captivate the essence of a specific niche. And in the case of Masterstudy, it's the essence of learning management that we're capturing. And so far, it looks like more than 4,800 customers are enjoying using this theme to power their digital LMS enterprise.
The back-end for this theme is powered exclusively by the Pro version of our MasterStudy LMS plugin. The theme functionality is directly integrated with the plugin to ensure smooth functionality and the best possible user experience.
Packs a hefty punch
You might surprise yourself by realizing just how refined this entire theme suite is altogether. Every demo has a very distinguished feel to it on top of being diverse in demo availability. Have you ever wanted to create an Udemy clone site but didn't know how? With Masterstudy, you can launch a course platform similar to Udemy and still maintain a level of uniqueness.
Here's the full list of demo sites available:
Take for example the course pages. Each page is packed to the brim with descriptive features and CTA elements to make for an easy onboarding experience. Easily provide free video previews or add FAQ sections to answer the most pressing questions.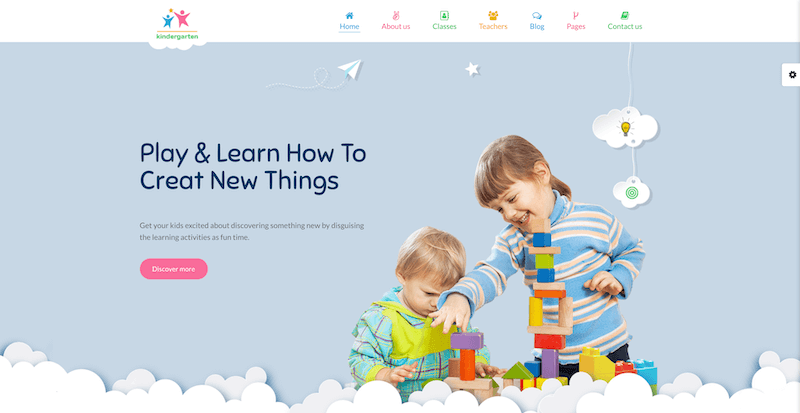 If your online course and/or eLearning projects relate to kids and children in general, you're going to want a website that reflects those values. And StarKid is one of the newest themes on the block providing this kind of a spectrum.
The theme is focused on outlining the type of a institution that you are operating. Whether it's a kindergarten, pre-school, or a public school. StarKid includes features and design elements which make it easy for you to explain what you're all about.
However, seeing as how we are on the topic of digital learning, there has to be more to this theme, right? Exactly. StarKid does include some nifty features like a courses page and a general courses listing environment.
As a teacher, or as a school, you can list the available courses, and parents can use the website to either enroll their kids or have a direct discussion with the school staff.
Best of both worlds
Having one page builder is already amazing, but what if you could have two? Seeing as how WPBakery and Elementor have a combined of more than 20 million users, it only makes sense that you'd be able to use both.
So, every demo layout, every demo section and pre-configured template, you'll be able to edit and customize to your liking using either of those page builders. That's an immense combined set of customization tools at your disposal.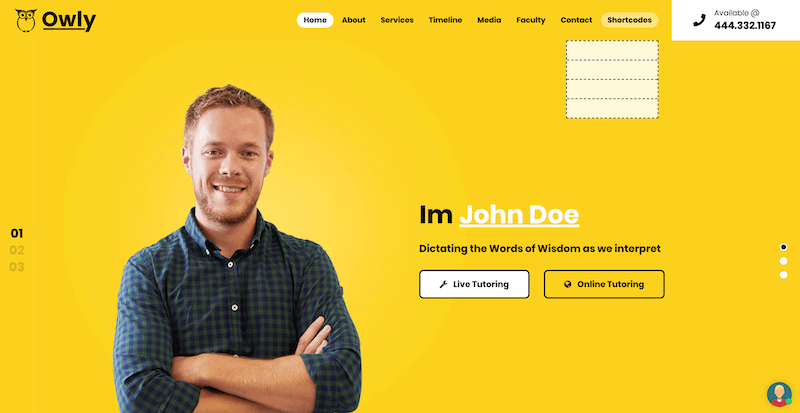 Owly is a new WordPress theme intended for people working in the education field. It is targeted specifically towards tutors, private teachers, but also schools and academic institutions in general. Owly integrates many unique features but will take your breath away with its distinct and creative design.
Each template is carefully hand-woven to ensure that site visitors feel pleasantly surprised and enticed to participate in what you have to offer. Should you want to add extra languages to your Owly site, you can do so using a native WPML integration.
Further, design management is made easy thanks to pre-built shortcodes and seamless integration with the WPBakery Page Builder. Last but not least, put your photos and visuals in the spotlight with the Revolution Slider plugin. This is a premium plugin that's included in this theme at no extra cost. A phenomenal offer that's going to be hard to resist!
Visual composer (WPBakery) makes your life easier
As with any design, the "outside" elements definitely play a large role in making a design seem and feel fit for its cause. One of the great things about Owly theme is that it makes it super easy to switch things around. And it does so with the help of WPBakery's page building plugin.
With powerful Visual Composer page builder, you will no need strive to create any page or content of your cafe and restaurant website. Because Owly is fully compatible with Visual Composer and developed with a large collection easy to use drag & drop design elements, so you can take full control over your website. As well as, it saves your huge time consuming on working sites and contents.
So, remember, whatever you see in the demo, you'll most likely be able to edit fully using the in-built page building capabilities.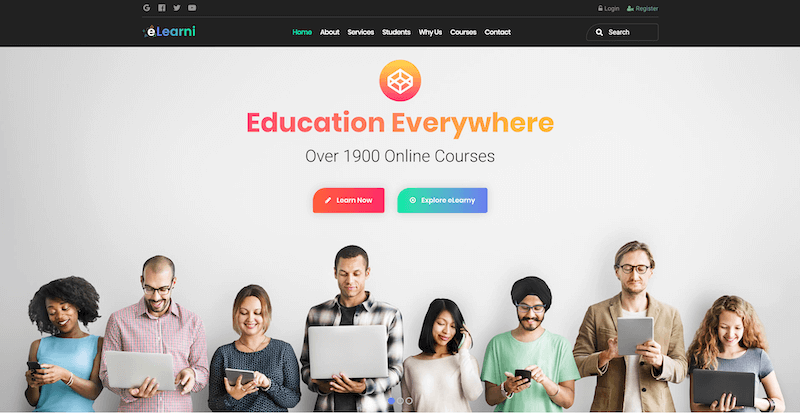 Elearni is a newly published eLearning theme that provides some of the most diverse features we've seen so far. The fully decked out features set includes the ability to publish courses, class curriciulums, individual lessones, test quizzes, and much more. Also, students will be able to process payments directly through your Elearni powered website.
Optimized for modern devices, Elearni will work across tablets, smartphones, and desktops equally as well. Your users will have the ability to switch between different browsing modes without losing the user experience. Further, theme authors have ensured that all pages are optimized for SEO and performance. So, if you publish a lot of learning material, you can reap the benefits of optimized search engine rankings.
Chances are, you're going to want to make some personal modifications to your site. The good news here is that it won't be a hassle at all. Thanks to seamless Visual Composer (WPBakery) integration, you can edit pages and posts with absolute ease. All in all, this is not a theme that makes your site look like a copycat. It's a unique and modern design which offers the uniqueness that is necessary to make your eLearning platform stand out.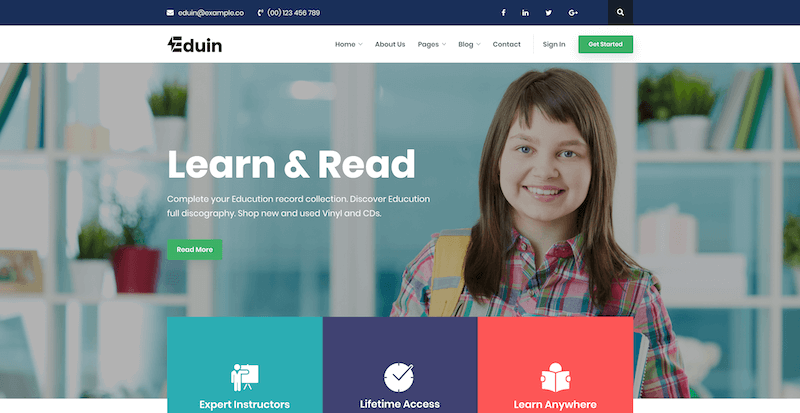 A lot of creators go out of their way to attempt creating a site that's both a blog and a course platform. In my experience, this rarely works out, as the blog usually takes over. So, BanyanTeme have taken a slightly different approach. The primary focus is given to the online course platform. But, you can still write blog posts and publish articles if you wish.
Other than courses, it's also possible to publish event pages, and details about your platform. Speaking of courses, Eduin as an incredibly well-designed course page template. The course pages feel like individual landing pages, with a lot of emphasis for the benefits that students can reap. It's possible to publish both free and paid courses, which is a decision entirely up to you.
Instructors can create personal profiles, which will enlist their available courses and other publications. This makes it extremely enticing for new instructors to come and share their courses on your platform specifically.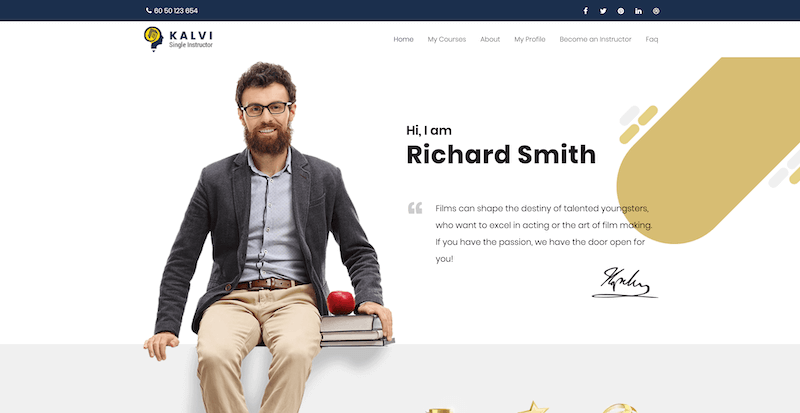 So far, every single LMS theme we have covered is carrying a strong design character. And Kalvi is no exception to this trend. As a full-on LMS theme, Kalvi will get your digital learning platform up and running in no time. And best of all, you get to choose from nearly a dozen of uniquely designed homepages.
Here's the full list:
Online Learning
Private Instructor
Singular Course
Kalvi Academy
Kindergarten
Kalvi University
Dance School
Point System
While each of the designs share a lot of the same functionality, most have unique design styles and features. For example, if you are a private instructor, you can use Kalvi to really explain yourself and your teachings in-depth. This way, students will be able to interpret you as a refined and established brand identity. After all, design is the thing that oftentimes does all the talking.
Unique LMS Addon
So, the actual theme is designed by the DesignThemes agency. And, after having worked on several eLearning themes, they built their very own LMS Addon. Basically, this is a plugin (DesignThemes LMS) that incorporates thorough learning management system functonality inside your WordPress site.
You can publish courses, assign learning matterials, and develop individual lessons. It's everything you ever wanted and much more. And thanks to native page builder support, changing up the UI is only a matter of preferrence.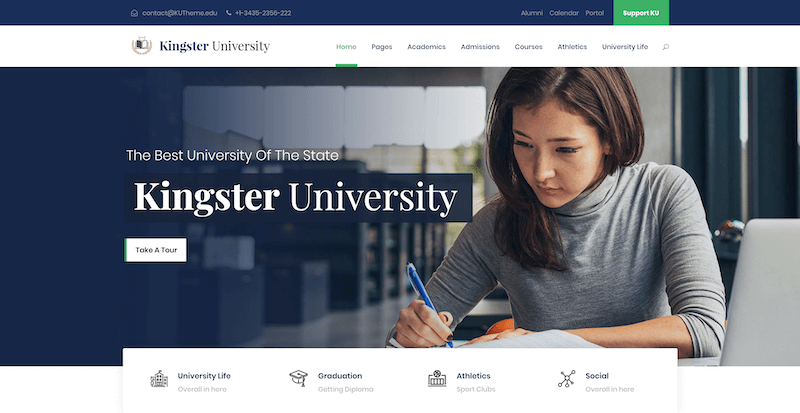 GoodLayers are a reputable WordPress development agency. And they have managed to publish tens of unique WordPress-related themes and plugins. As a result, their experience is extensive, and as such, their themes tend to carry that "unique" spark. In the case of Kingster, this is yet another exceptional WordPress theme for education-learning projects.
Kingster comes with the 3rd version of super powerful & customizable framework by GoodLayers. We have been developed our theme's core, gathered every feedbacks from customers and put everything into this framework. It also comes with the most powerful drag drop page builder.
At the moment, the two demos that GoodLayers have created are focused on Universities. But it won't be hard to convert these designs in say websites intended for schools or academic institutions. You can still post courses either way, and that's the most important thing if you plan to sell online learning.
Education Institute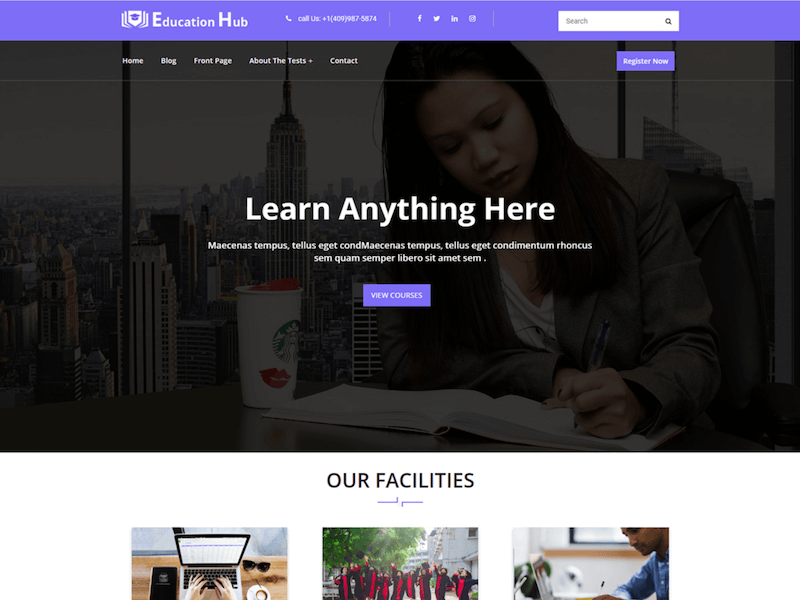 We started this roundup with mostly premium themes, so to close things off, here are a few free themes you can download right away.
Starting things off, we have Education Institute. A minimalistic, design-focused theme that's good for universities, colleges, workshops, and more.
The theme boasts business-like features that you can use to talk about your offerings. And, with the help of third-party plugins, you can also manage payments directly.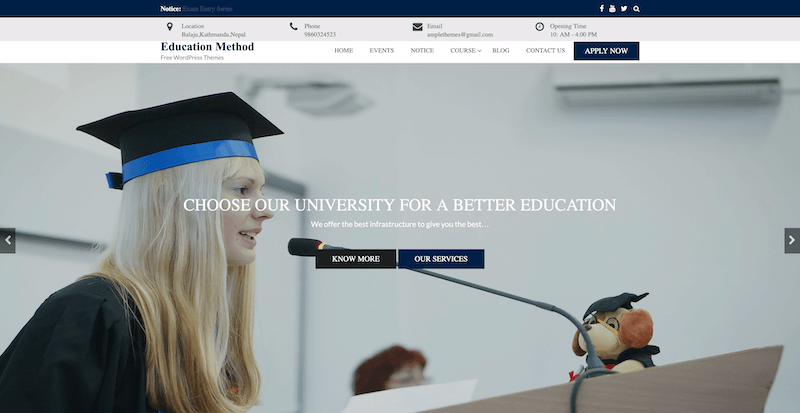 Education Method has a more unified design structure, making it feel especially modern and refined. The theme feels compact but at the same time provides a lot of ways to talk about your services.
Courses each have a separate page, albeit much less feature-rich than some of the counterparts we've seen in this post. This sort of a theme would be ideal for academic purposes where you need to cover a lot of ground on specific subjects. And, of course, being able to publish blog posts in a stylish blog design is also a huge plus.
If you regularly run events, you can get the timetables and other details published using custom post types. Most of the sections and pages in this theme use specific post types. And that makes it easy to publish exactly what you need, whenever you need it.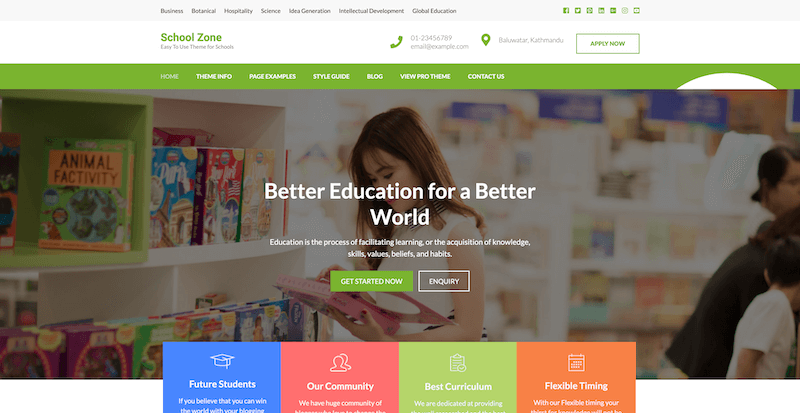 Rara Theme are quite the artists when it comes to niche designs. And School Zone is a beautifully arranged theme for all your education and learning needs. While ideal for schools of any type, School Zone includes a convenient course publishing process.
So, you could technically use this theme as a discrete instructor, or even a small business. The possibilities are endless as long as you're willing to tinker around a little. Speaking of tinkering, many features are integrated inside the Customizer dashboard. As a result, changing colors or fonts is extremely fast and effortless.
My overall verdict would be that School Zone has a unique user interface, built to be intuitive and easy to navigate. The modern color scheme makes your site feel fresh and clean.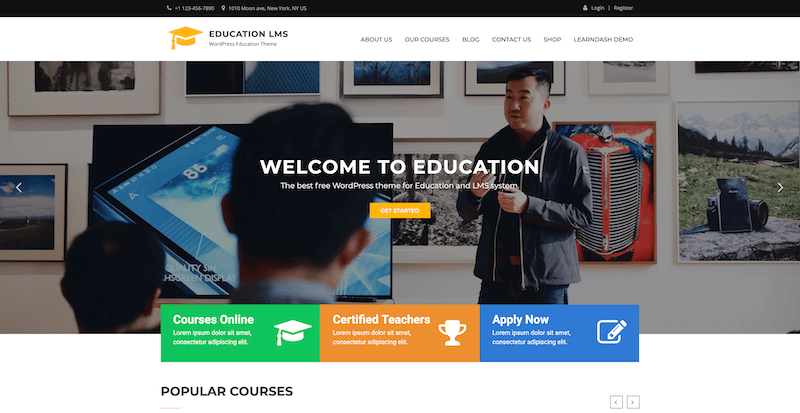 And lastly, here is Education LMS from FilaThemes. A clean, and free, theme designed for all your Learning Management needs. Colleges, universities, and schools, in general, can improve their website experience by using Education LMS.
Theme is fully customizable, and offers easy settings for changing icons, adding logos, managing sliders, and more. Most importantly, you can use Elementor to take full control of the design.
Elementor offers immense flexibility when it comes to individual section management. And in combination with the already pre-built sections, you'll have a very pleasing workflow to manage your site with.
Closing words
As is evident from this roundup of the best online course and eLearning themes: WordPress continues to provide seamless support. The premium designs in particular are some of the best we've seen. What seemed like a difficult task many years ago, is now something that everyone can benefit from.
Not to mention that either of these themes works wonderfully both for affiliate marketers who wish to resell courses, but actual world-class school systems and universities. We hope you enjoyed this selection as much as we enjoyed putting it together.
Let us know in the comments down below about which theme you decided to go with. We'd love to see the final design on your live site!