15 BuddyPress Themes to Create a Community Site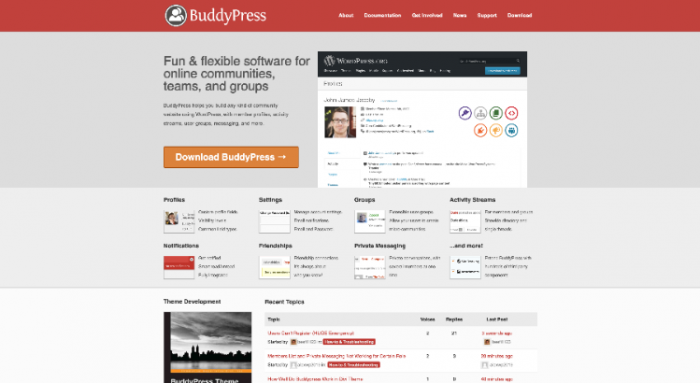 In a world of inconsistent social networks, it pays to invest in your own community site. After all, even Facebook fails to make its Groups feature feel like an actual digital forum. There are no real ways to keep up with content, and moderation is oftentimes an issue as well.
Sites like Pinterest, Twitter, and Instagram, while certainly popular — simply fail to capture the essence of communication and community. And the world could do with a lot more of that, for sure. This post is going to look at an alternative way to run a digital community. Namely, we'll be looking at the best BuddyPress themes you can find.
BuddyPress is WordPress on steroids, kind of. It's an extension to WordPress that enables many unique community-based features. Namely, user profiles, groups, friendships, private messaging, notifications, and much more.
Further, each theme is likely to provide its own set of unique features as well. And by the looks of it, some of these themes are truly ready to tackle large communities with millions of members.
While we haven't set a specific subject for this roundup, we do know that the themes range from dating to more socially-oriented all-around platforms. Whatever you have on your mind, if it involves building a social community, then we believe the following BuddyPress themes will not take long to impress you!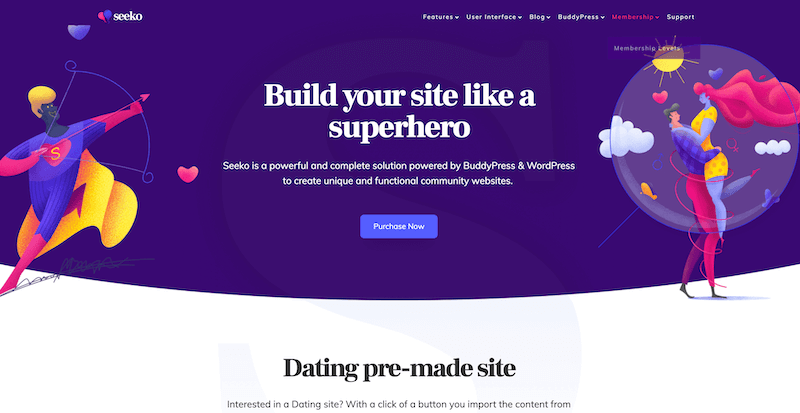 Seeko is a performance-optimized BuddyPress theme to help you launch social community platforms. You can go all out with design management since Seeko works flawlessly with the Elementor plugin. And you're able to adjust the Header of your site manually using a front-end editor. And with a native Customizer integration, you can preview design changes in real-time.
One of the things that make Seeko so popular is its optimized search engine. With this engine, you can look up individual people and their profile details. Further, the search extends to groups and different content posted under specific tags.
Do you want to make your community private? E.g. A Dating site with paid membership options? Seeko integrates Paid Memberships Pro which you can use to sell and manage premium memberships. Create different types of levels and give users access to unique features based on their subscription type.
This feature also extends to the default registration page, so you can lock down your community entirely.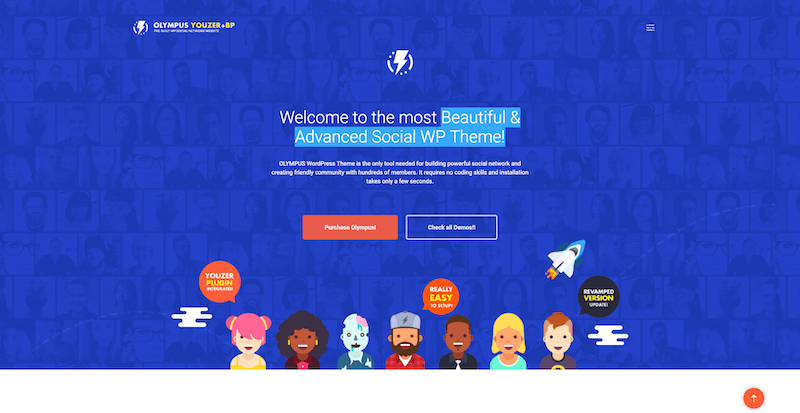 Olympus comes with an extremely versatile selection of design templates, making this theme appealing to anyone who loves to customize their designs. But, I think the aspect that really makes this theme is the social features.
Here's a glimpse of what you can expect:
Friendships. Members can befriend one another and as such gain access to features like private messaging.
Notifications. Get notified of new posts, comments, and any profile activity.
Groups and forums. Enjoy having both an open forum, and also specific groups for specific interests.
Directories. Groups and users can be looked up using the directories feature.
Extensive user profiles. The members' page is usually what makes the social network come all together. And with Olympus, your social community is going to kick-ass thanks to its beautifully designed user profiles.
eCommerce enabled. Don't waste any time to sell merchandise. Olympus supports WooCommerce integration for many different purposes.
The sleek designed with features like custom likes for posts, really makes it feel like you're part of a community. The sticky sidebars help to position content in a way that makes the user experience fluid and enjoyable. Overall, a fantastic theme!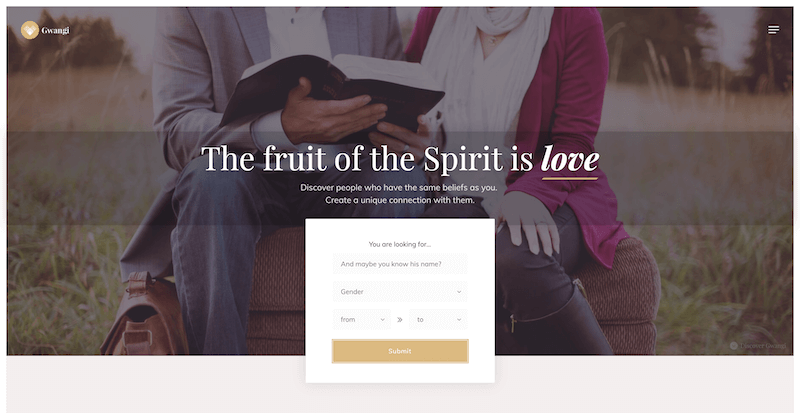 A lot of people show interest in starting a unique dating website. But, usually what stops them is the cost of development for a dating site. Hiring a professional developer might rake up a bill that's simply unfeasible. Fortunately, as years have gone by, it has become much easier to launch such a website. All because WordPress developers have put in the work to create themes like Gwangi.
Gwangi is a BuddyPress-based theme which enables you to launch a stunning dating and/or matchmaking website. It provides multiple styles right off the bat, and you can create a personalized design without much hassle.
In comparison to other BuddyPress styles, it feels like Gwangi is tackling the dating niche with absolute precision. Every feature, every section, and the user interface element feels appropriately placed and designed.
It's more than likely that you'll be looking to monetize your dating site. And the best way to do it would be through user subscriptions. Let members subscribe on a monthly or a yearly basis, and enable advanced features for those who have.
Gwangi integrates seamlessly with WooCommerce, which opens the door to refined user-level management. Another way to monetize your dating site would be through adverts.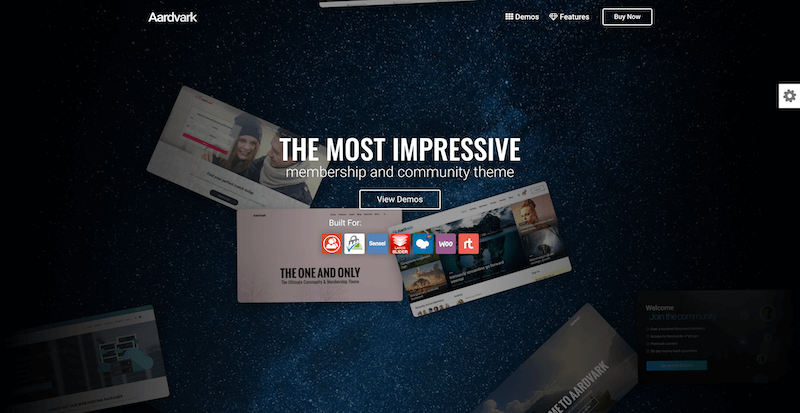 GhostPool is behind a few excellent BuddyPress themes already. So, it's not surprising that his Aardvark theme got more than 1,400 sales in less than a year. The theme is absolutely PACKED to the brim with design options for different types of communities.
Here's the full list of demos:
Original
Dating
Hosting
Courses
Members Directory
Community
News
Store
eLearn
Social
Review Bold
Dark
Network
As you can tell, this is not your average "two design" theme. And the best part is that each design has a strong feel to it. It's not one of those themes where each demo looks and feels the same.
On the feature side of things, Aardvark is stacked with modern yet useful and on-point features. Let's take a closer look at what those features are.
External integrations. Further enhance the community experience by adding plugins like bbPress, WooCommerce, Sensei, and Paid Memberships Pro.
Custom elements for page builders. Aardvark includes more than a dozen elements that you can further modify using a page builder. Also, the said elements are available in shortcode format.
One-click demo import. As we already highlighted, this theme is packed with demo designs. The good news is that you can import any of the demos with a single click of a button!
Hundreds of theme options. That's right! Take control of your site appearance and apply custom settings to virtually any site element.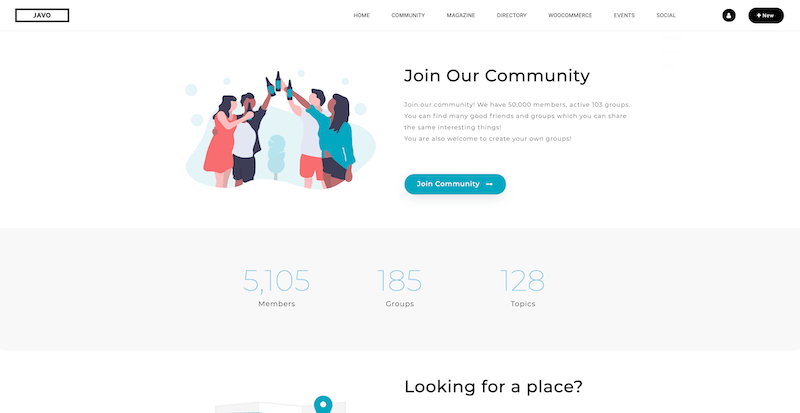 Lynk is a powerful theme that works for social networking platforms, and community sites. It is primarily demo-oriented, meaning that you can start a unique community site right away.
The strongest selling point for Lynk seems to be its varied social features. It's flexible enough that you can start a magazine platform with it, but just as easily you could launch a directory site.
Here are the core use cases:
Community. This version supports the integration of bbPress so that you can maintain an active forum community.
Directory. Let users list their business details and other eCommerce related listings.
Magazine. Don't just publish traditional news stories. With Lynk, you can build an entire community around your publishing efforts.
Events. Your entire members base can contribute to publishing events and important happenings.
Shop. Want to sell brand items? Lynk makes it easy to open a store using WooCommerce compatibility.
And don't let the massive size of this theme scare you either. You'll be able to install this theme through a pre-configured setup wizard. Much like you would install a new program on your computer. The setup wizard will set up the site exactly how you want it to be.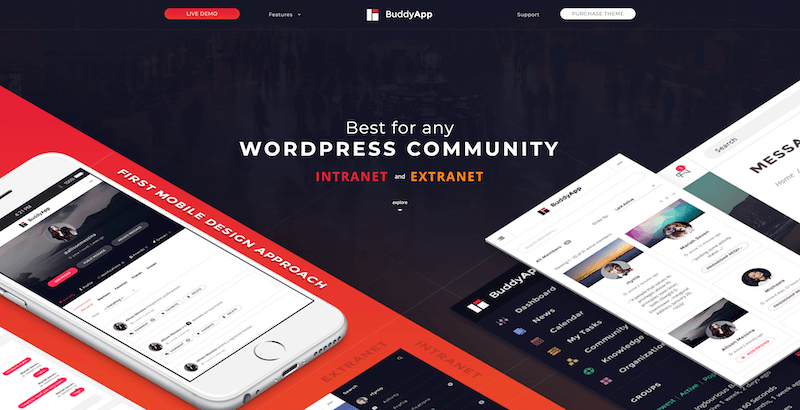 More than 3 years in the making, with 2,000+ active customers. It just doesn't get any better than this. BuddyApp is a mobile-first centered community theme for all you social geeks out there.
Other than the beautiful design, BuddyApp stands out with prominent features and usability patterns.
Live notifications. Interactions between users and different site pages are wired directly into notifications. So, whenever new activity spurs, users will always get notified in a timely manner.
Customizer. Lots of configuration and site management features are weaved inside the Live Customizer. Optimize your site and preview changes in real-time.
Optimized Search. AJAX-based search feature makes it easy to look up content and preview it right away.
Live chat. Users can chat with other members of the community using a live chat feature. This is a fully-enabled messaging feature.
Knowledge base. Answer the most important and most frequently asked questions using the Knowledge Base.
Networking. Members can fully customize their profile pages to reflect values and personality interests. Everyone on the network can see one another's profiles.
It's clear that SeventhQueen have put in a good amount of effort in this theme. If you plan on starting a mobile-first community, I'd wager that BuddyApp is all you'll ever need.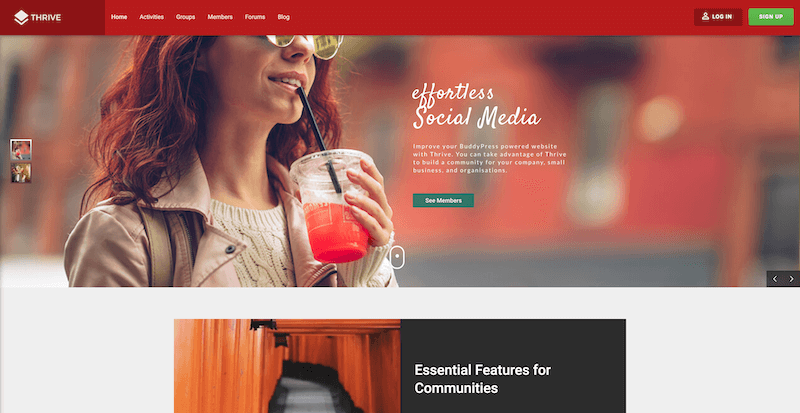 Thrive is a theme that thrives on hundreds of positive reviews. And has thousands of active paid members. If you want to establish a strong community from day one, then Thrive is an excellent pick to get you started. It integrates features like networking, messaging, projects, eCommerce, forums, and events.
All these features combined make for a powerful way to run and manage a digital community. Members can befriend one another, send messages, exchange files, and utilize custom forms for different social tasks. You can even lock the site down, and make it an exclusive invite-only private community.
And if you're new to create online communities, Thrive has got you covered. Just use the installation wizard to configure your site in the most efficient way. Add or remove features that you feel are most important to you.
Also, managing the design of your Thrive-based site will be simple and straightforward. This is possible thanks to Visual Composer — the world-standard of page builder plugins.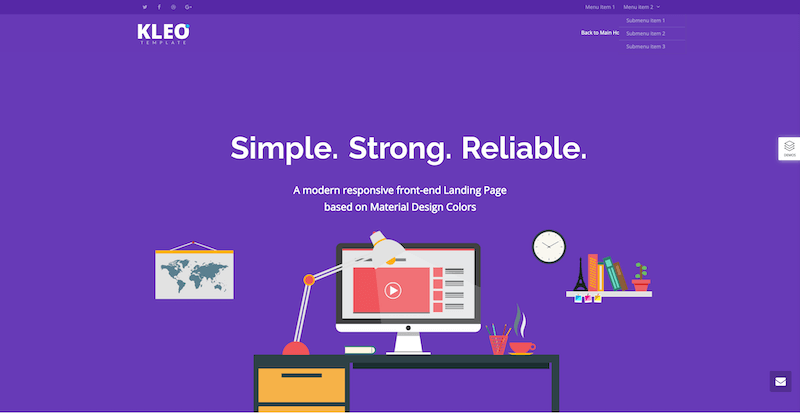 Out of all the BuddyPress themes in this roundup — KLEO is likely the most popular. Sitting at 19,000 sales on ThemeForest, this is a phenomenal theme to kickstart your professional community with. KLEO goes above and beyond to ensure your community runs smoothly every step of the way.
Want to know the best part? KLEO is pre-built with some 20+ amazing demo designs. And each design is focused on the idea of running a community. To name a few of the demos, you'll get: Pinterest Style, Material Design, Resume, Mobile App, News Magazine, eLearning, Portfolio, and more!
The main purpose for this theme is to make it easy to build a digital community website. And in order to make the process simple, KLEO focuses on specific features. Live notifications will keep your members up to date whenever something new happens. Those same notifications can be sent to mobile users using the Push Notification module.
Also, KLEO supports PaidMembershipsPro plugin. This is a plugin that enables you to collect money for paid memberships. And as such, allows you to convert your community into a paid endavor. A wonderful technique to use if you plan on launching a dating site or similar.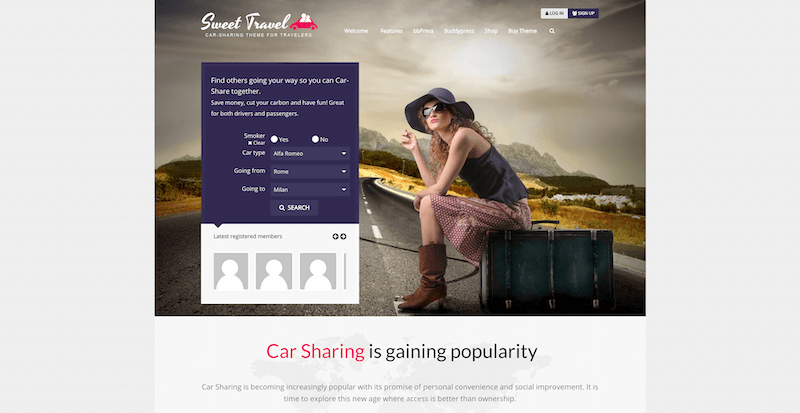 This is yet another SeventhQueen creation. These guys have immense experience in the BuddyPress theme development. So, expect high-quality and robust features. Which is precisely what Sweet Date offers. This 100% dating-focused theme will help you get a dating site up and running in no time. Enjoy onboarding new members as they polish their profiles and get ready to meet new dates.
The author has said that you don't necessarily have to use Sweet Date for a dating site only. In essence, it can just as easily be converted into a community website. At the end of the day, it depends on the likability that you feel for the design overall. On the feature end, it's packing a lot of nifty features and customization options.
Sweet Date works flawlessly with the Paid Memberships Pro plugin. This ensures that you can generate revenue by charging people for signing up on your site. And this is actually a fairly common practice amongst most dating websites today. By purchasing a membership, your users can gain access to better features as specified by you.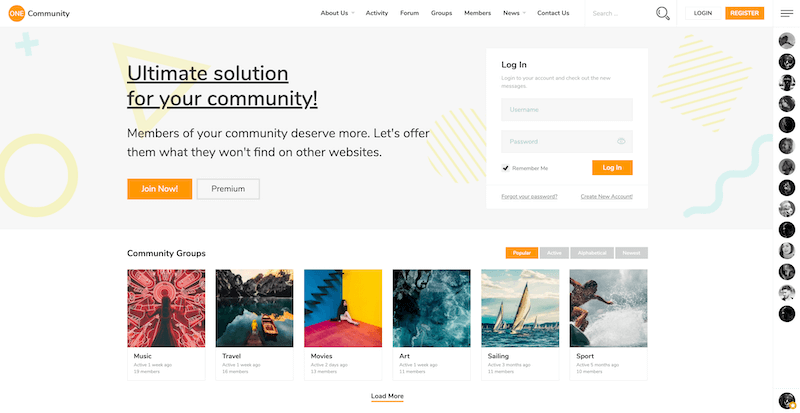 OneCommunity will elevate your BuddyPress site to an entirely new level. What's more, the stylish and modern design structure is hard to resist! At first glance, it's clear that OneCommunity emphasizes a content-oriented social community. This is largely thanks to users being able to submit articles and blog posts.
You can then index those articles and display them throughout your community site in many different ways. All registered members can participate in discussion and voice their opinions alongside everyone else.
A dedicated forum section ensures that everyone can participate in longer and more niche-based discussions. Likewise, the Groups feature brings together all aspects of specific interests. For example, if you create a group for "Music" — then this group page will index all relevant content that's been marked as "Music". This includes members, events, and forum pages.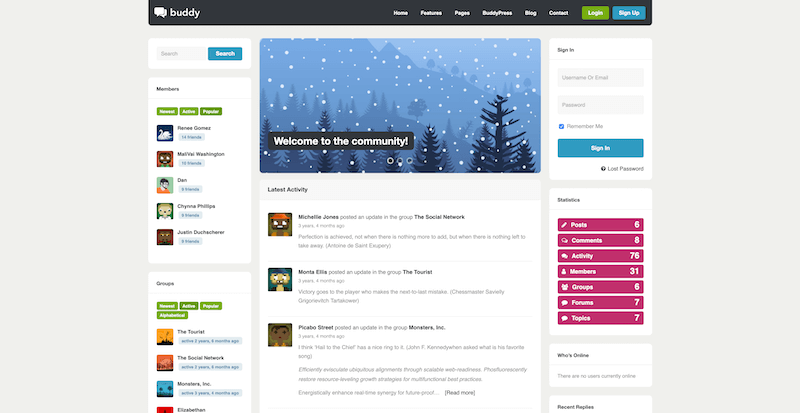 Buddy was my first ever BuddyPress theme purchase. And while I'm not entirely biased towards it, I do think it's a phenomenal theme. The more traditional design style makes the theme feel familiar and easy to navigate. Also, it promotes community-wide content sharing, which is one of the reasons I got the theme in the first place.
Performance was another factor I took into the account. And Buddy proved to deliver on every aspect of it. With little of unnecessary code lying around, Buddy loads pages extremely fast.
Buddy conforms to the best coding practices when it comes to HTML, CSS, PHP and JavaScript. We hate clutter and all our code is simple, clean and easy to read. This is especially important if you want to edit the code yourself.
Members can quickly access site content because of the two widgetized sidebars. You can place content-based widgets within each sidebar, so that members are always a click away from the latest happenings.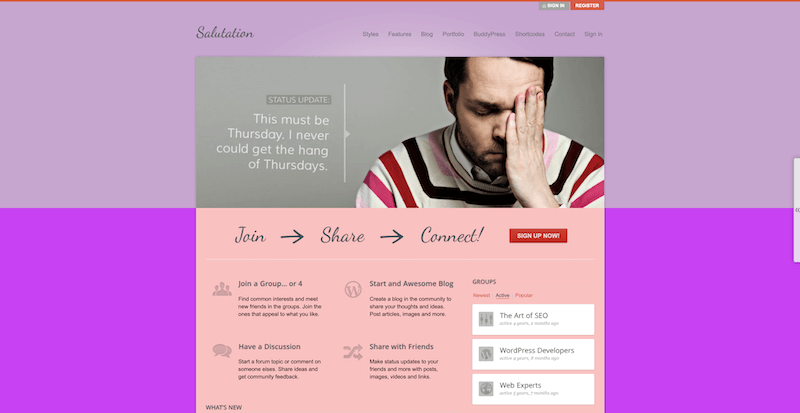 Would you believe us if we said that this theme was first released in 2011? That's full 8 years since this theme has been in the circulation. But, Parallelus have done an impeccable job at maintaining this theme over the years.
There have been updates and major improvements as recently as few months ago. And rightfully so, Salutation has 5,500+ clients so it makes sense to keep this theme in the loop of modern features and adaptability.
Layout managment is based on drag and drop elements. Simply choose whichever elements you need, and arrange them in the most convinient structure. This applies to footers and headers, both of which can be modified individually.
Should you run into bottlenecks or other issues with the theme, just hit up the support forums and you'll get it sorted within hours. A lot of the public reviews left by customers implies that Parallelus are exceptional in providing solid support.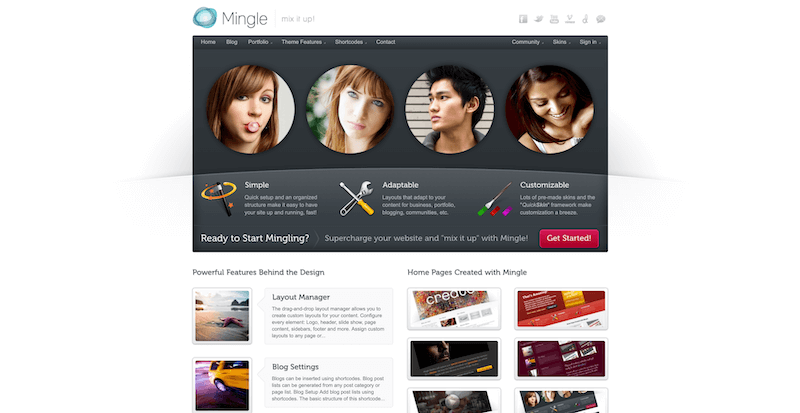 Mingle is a fantastic theme ready to tackle all your BuddyPress needs! It's fast, it's robust, and it uses a more traditional design structure. For sure, Mingle is dated and perhaps too "classic" for many of you. But Classic isn't always a bad thing.
I can't say that Mingle lacks in features, either. Need extra Sidebars? Simply generate them on the fly. Need to manage the layout without writing code? That's also easy to do, an in-built Layout Manager takes cares of this effortlessly.
Conclusion
Yes, there is real shortage of free BuddyPress themes. Unfortunately, many developers abandoned their free projects many years ago. And because of this, you'll most likely have to settle for a premium theme. I'd argue that the investment you have to make is nothing in comparison for what you get in return.
As you saw in this roundup, many themes come packaged with multiple designs. And on top of that, customization is made easy because of different strategic layout management options. BuddyPress is still alive and kicking, and if you wish to build a community at the back-end of WordPress: there's nothing else on the market that comes even close.
We'd love to hear your individual opinions for these themes. Maybe you are aware of some great free BuddyPress designs that we didn't get a chance to cover? Let us know in the comments and we'll take a look.