How to Create a Membership Site with WordPress (2019)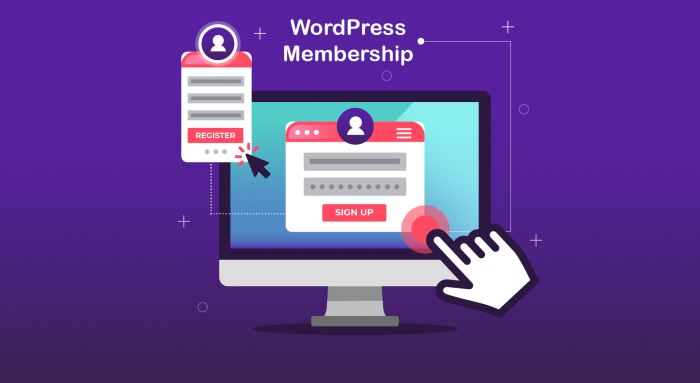 There will always be room for free content on the Web. It's the bread and butter of day to day experience. But, because such freedom also means deep saturation, many are trying to turn their exclusive content into paid opportunities. Indeed, if you have something unique to say — there are people out there who are willing to pay you for it.
Finding reliable, concise, and thoroughly optimized information can sometimes be hard. The same goes for products that far too often are cheaply designed and put together. A membership website allows you to earn money while focusing on doing what you love.
In this post, we are going to look at the most prominent WordPress plugins for creating a membership website. Our focus is going to be on effective, reliable, and robust plugins so that you can start a new members platform the very same day.
What is a Membership website?
A membership site is focused on one thing and one thing only — getting people to register as subscribers to your site. So, ideally, you would create a membership site because you are trying to sell something unique. These days, something unique counts as online courses, article access, product subscriptions, and other digital media.
The benefits of a membership site are that you can create a tight-knight community around anything that you have to offer. Most membership plugins and tools provide just the right features to turn your idea into a full-blown community.
Who needs a Membership site?
Anyone who wishes to sell private access to exclusive content or products needs to consider creating a membership site. Sure, there are many platforms out there that provide the services of selling digital courses and so forth. But the caveat with such services is that most of the time, you have to pay a hefty processing fee to a 3rd party.
When you build your own membership site, you get to keep all the money. So, in that sense, anyone looking to save on external fees definitely needs to consider creating his own membership platform.
What are some examples of successful Membership websites?
Perhaps you already know what you want to create, so you can skip this section altogether. If not, check out the following membership sites to understand how other people are generating business by selling their content/products online.
Zen Habits

Leo Babauta is a great inspiration to anyone who thinks it's impossible to achieve your dream life through hard work. Leo has invested many years of his time to provide hundreds of insightful articles, numerous books, and an online course to help people develop better habits.
Gigi Guides

Gigi Guides is a membership platform with a focus on helping people to travel all across Italy. The guides focus on in-depth experience and commentary to help travel enthusiasts to experience the real Italy.
As it turns out, there is a lot of demand for such information, and so Gigi Guides was born. As you can tell, sometimes even the most simple of ideas can be turned into lucrative business platforms.
Basic Bananas

Basic Bananas is all about helping other business owners to understand the inner workings of marketing. On this platform, members can find exclusive videos, talks, articles, and other types of content. Further, Basic Bananas run several workshops in "real life", and often use their digital platform as a means to attract attendees.
Why choose WordPress and not another platform?
WordPress is an amazing platform used by millions across the globe. Billions of people have interacted with a WordPress site at least once in their lives. But, most importantly, WordPress has a refined structure that's easy to use, is robust, and has tens of thousands of options for customization.
But, perhaps the most important factor, is the fact that using WordPress ensures that you get to collect all of your revenue. You see, third-party sites such as Teachable, Skillshare, and Udemy — they love to charge enormous fees if you publish your exclusive content with them.
Of course, by publishing with big publishers — you do get the benefit of "free marketing". But, if thinking in long-term revenue; you are going to be better off by managing everything yourself.
WordPress Membership Plugins: Start Your Community Today
Alright, now that you know the fundamentals of membership sites, it's time to look at the options you have. And honestly, there are some good ones on this list. Many of the following plugins have been around for several years, which means their "core structured" is incredibly robust.
Expect great features, easy to use interfaces, and tools to help you sell more.

Ultimate Member serves more than 100,000 users, and as is considered one of the top plugins in this niche. With this plugin, starting your new membership platform will take a maximum of an hour.
The installation process takes you through the necessary steps to set up the foundational settings. Afterward, you can focus on adding content, setting up subscription models, and other settings.
Best of all, the Ultimate Member is forthcoming to help you create a site that reflects what you wish to sell. You can add social login options, enable MailChimp, and allow members to create extensive personal profiles. Furthermore, if you want to change the design (theme), you can do so using either Elementor or Beaver Builder.
Here are the main features to expect from this plugin:
Front-end functionality for registration, login, and profile management.
Add custom fields to different types of forms, including custom ones you create yourself.
Build forms using a Drag and Drop interface.
A separate page where users can go to manage their account.
Create and assign specific roles for different users. Great for multi-layered memberships.
Render a directory of all member profiles.
Restrict content based on specific user roles.
Integrate user profiles directly with WordPress, so that when a user contributes something — it shows up on their profile.
Optimized for easy third-party development. So, if you have a developer on your team — Ultimate Member won't be hard to customize.

WP-Members can quickly turn an ordinary WordPress blog into a full-blown membership solution. Use this plugin to create restricted content areas, build registration forms, and integrate with plugins such as ADF, BuddyPress, and others.
Keep in mind that membership sites aren't always about charging money. You can simply restrict content and require users to register to view it. This is definitely a popular membership technique used by tens of thousands of sites. One of the biggest benefits of this approach is that you can collect real user information. As a result, you can send out promotions and other deals that are relevant to the overall services that you provide.
With WP-Members, you can specify the EXACT piece of content that you want to restrict. And in order for others to view it, they need to register on your site.
With that said, WP-Members works entirely in the background. You don't have to modify your theme at all, and you can keep it as it is. Nevertheless, this plugin does work on subscription-based principles and you can implement payment gateways to charge for your most exclusive content. Up to you!
Here are the top features:
Apply content restrictions to posts, pages, and any other post types you are using. This also applies to hide content from non-registered members.
Member registration options are implemented inside your theme automatically.
Create custom registration and profile fields
Notify admin of new user registrations
Hold new registrations for admin approval
Create post excerpt teaser content automatically
Shortcodes for login, registration, content restriction, and more
Create powerful customizations with more than 120 action and filter hooks

Do you want to work with an amazing plugin that's simple to use and provides exceptional modern features? I am sure that you do! And as it happens, ARMember provides all this and much more.
This entirely new plugin is slowly gaining traction, but will surely accumulate a large following over the coming year or so.
And the reason is simple: ARMember provides premium-like features at no cost. E.g. You get features like Content Restriction, Subscription Payments, Member Directory, Email Notifications, Form Builder, and more!

With 80,000+ active users — Paid Memberships Pro has every right to say it's the most complete plugin on the market. The plugin emphasizes both user memberships and also membership management. So, you can use this plugin for both managing your community and also for creating revenue from your content.
Out of the box, PMP lets you create endless amounts of subscriptions levels. Users can pay using 6 of the most prominent payment gateways. Further, you can extensively customize how and where you restrict your content for non-subscribers.
And to top it off, PMP comes with 60+ add-ons and extensions to help you create just the right membership site.

Looking for something and flexible towards your needs? Simple Membership offers a dynamic solution that's easy to learn, yet manages to implement all the modern features you see premium plugins. E.g. You can protect your content easily, and request for users to subscribe to your site in order to unlock the content.
You can configure numerous 'levels' for memberships, and set pricing values accordingly. In combination with some education plugin, you could easily turn your online courses into a premium subscription service.
When you write new WordPress posts, you'll have the option to mask certain parts of your content and mark it as 'members only'. Users who view the protected content will instead see a simple notification that they have to create an account.
And depending on your goals, you can offer both free and premium memberships simultaneously. Ideal if you want to entice new visitors to sign up, and then use their email address for potential drip campaigns.

Paid Member Subscriptions makes it simple for you to collect payments and otherwise manage the subscriptions of your site. Use the plugin to hide content and ask for new visitors to sign-up as members to see it.
Further, add this plugin to your WooCommerce store in order to "block" out specific products from the general public.
To get this plugin going you can simply create a new WordPress page and add the specified shortcode. That easy!

More than 20,000 WordPress bloggers are trusting WP User Frontend with their "membership" needs. The plugin is tailored towards front-end management of content publication, profile management, publishing, and dashboard access.
You can create forms that users can then use to submit content directly from the homepage. Further, you can give users access to modify their profile in a certain way. As a result, new members don't need to go inside the 'boring' WP dashboard, and can instead manage their profile from the front-end.
As the site administrator, you have access to build new forms using a Drag and Drop forms builder. There's live preview added for each form that you create, so you are never falling out of the loop. Also, all the forms you create can be added to any part of your site through a shortcode!
A number of the 20,000 users are utilizing WP User Frontend to enable guest post submissions on their site. You can ask for people to leave their name/email so that you can create an account on their behalf. This will allow for guest posters to also leave comments on the posts that they have submitted.
So, in a sense, this plugin has a lot to do with form creations, and how those forms let your users perform certain tasks. Nonetheless, WP User Frontend is based on user profiles, and you can still add features such as payment options and subscription modules.

I am going to go out on a limb and say that s2Member is likely the "oldest" plugin in this list. This specific add-on has been around for so long that more than a million WordPress websites have used this plugin. It is specifically built to help you protect content from "unauthorized" access, and instead, encourage visitors to become members. Similar to other plugins — s2Member works for both free and premium membership sites.
You can add restrictions to posts, pages, snippets within content, taxonomies, specific URL's, and much more. It's easy to set everything up, and you can further optimize the plugin by adding extensions and external add-ons. s2Member works with audio, videos, and other multimedia files.
The plugin uses a lot of shortcodes to achieve many different things. As a result, you can create dynamic membership sites very quickly, without having to overwrite certain parts of your site. For subscriptions, you can sell one-time or recurring. Best of all, readers can buy access to single posts and pages only. This opens up the door to experiment with membership modules where you sell exclusive access to specific content pieces only.
With 1000's of customers, an intelligent open-community, comprehensive documentation, video tutorials, APIs, the s2Member Codex, KB articles, and over 50,000 forum posts; s2Member just can't be beaten!

Ultimate Membership Pro is an insanely popular premium plugin with more than 15,000 sales to date. It is built as a complete solution for protecting and charging for your unique content. You can protect posts, pages, products, specific content, photos, menu items, and much more.
As a membership solution, Ultimate Pro integrates seamlessly with WooCommerce. This means that you can create paid memberships alongside free ones. Also, with this plugin, you can configure different levels of payments.
E.g. Do you want to charge on a weekly or a monthly basis? Users can select from a range of different payment methods, as approved by you.
If you create courses or other long-form content like ebooks, etc. then you can offer a trial account which will end at a time specified by you. Further, you can generate coupon codes and offer them special deals on social media. Features like these make this plugin extremely versatile, and well-suited for large-scale membership sites.
More interesting features:
Sync your existing WordPress users with the new subscriber platform.
Member directory so that anyone can look up specific users.
Allow new users only through invitations; similar to how Dribbble works.
Restrict every single post with a simple dashboard switch.
Social Login: let users create new accounts using their favorite social network.
Push notifications using the Pushover service.
Limit access to specific areas/content by enabling user-based permissions.
Refined features to help you make both a Free and Premium membership website.
Closing statement
With such a copious amount of membership plugins, it won't take you long before you can start collecting payments from your new subscribers.
Always remember to start with a plan, as that will make it easier for you to select a plugin that matches your long-term plans.