28 Best ICO and Cryptocurrency WordPress Themes & Whitelisted ICO
More than 380 billion US dollars. That's the total cryptocurrency market capitalization as of today. So it's not surprising that blockchain industry is attracting many companies, startups, and entrepreneurs from all over the world.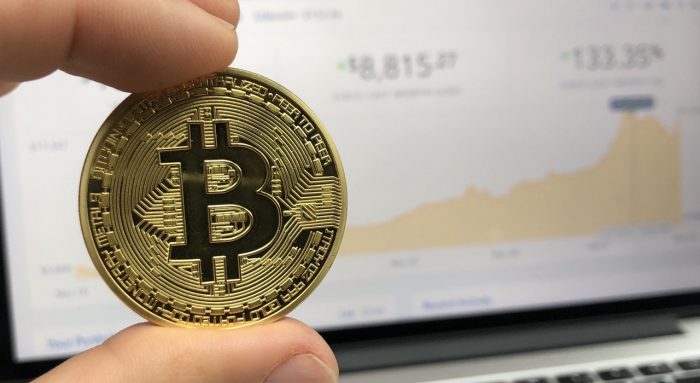 In case you are also about to launch your own cryptocurrency business and need a website to present your product or service, ICO & Cryptocurrency WordPress themes may be the optimal solution for you. Of course, you can spend a decent amount of time and money to develop your own website from scratch. But if you don't want to spend time and effort on website design and development for your crypto-project and solely dedicate yourself to the refinement of your product, check out the following multipurpose WordPress themes that may perfectly match your business needs.
No matter whether you are starting cryptocurrency blog, consulting services, online shop, or even launching your unique initial coin offering (ICO), these easily customizable cryptocurrency WordPress themes will help your website be up and running in no time. In addition, we have included a complete solution for launching an ICO as a bonus at the end of the list.
Crypterio

Crypterio is a compelling cryptocurrency-specific WordPress theme suitable for many industry-related purposes. The first thing you notice when you land on Crypterio's demo page is its sleek, modern, one-page, responsive design and smooth animations that give the page a premium look and feel.
Visual Composer page builder, Slider Revolution, and Virtual Coin Widgets premium plugins are included in the theme, and hence no coding skill is required to create your custom design. ICO Landing page layouts support countdown timer, email opt-in form, real-time exchange rates, animated stats, history timeline and other important features and widgets for the successful launch of your website.
ICO Listing / Database
ICO Directory demo allows you to create a listing website and publish ongoing, upcoming, and ended ICOs or token sales data.
Receive submissions from ICO startups and list ICOs by category and status. Engage your visitors via subscription and build a customer database to share ICO insights and updates.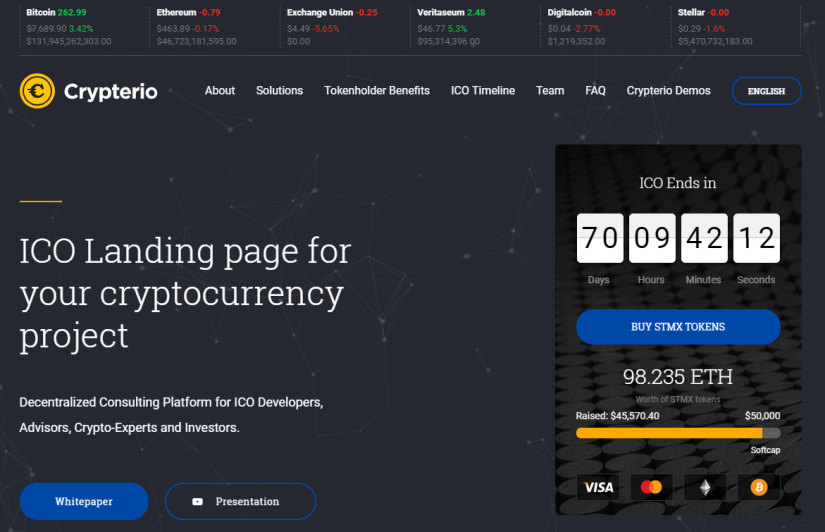 ICO Whitelist Pre-Signup and Smart Contract Integration
Crypterio is ready for a Smart Contract and an ICO Whitelist Pre-Signup integration through CSV/XML compatible standard to manage token distribution.
A genuine whitelisting implies that ICO participants can effortlessly and securely register, pass KYC/AML check, get approved, and get listed on a ICO Pre-Signup Whitelist to purchase tokens during the Initial Coin Offering.
Great solution for:
ICO Landing Page
Cryptocurrency Blog/News
Cryptocurrency Consulting
Cryptocurrency Company's Corporate Website
Crypton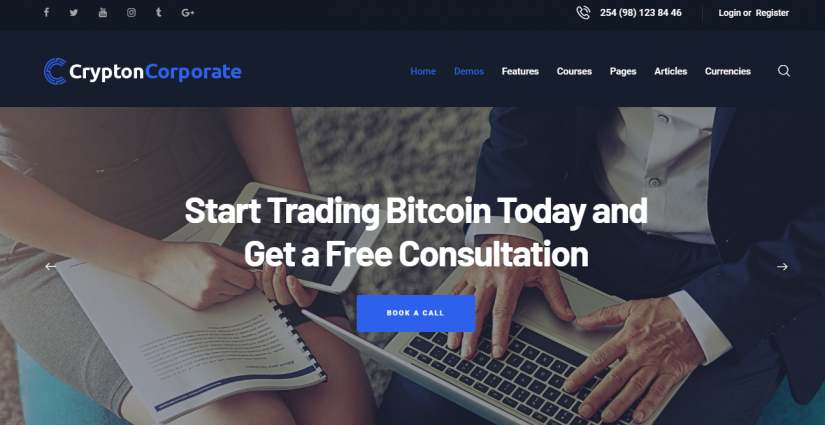 Crypton theme immediately catches the attention of visitors with its remarkable design and engaging animations. Notably, it's an excellent solution for cryptocurrency blog or online magazine as it provides six different layouts specifically for this purpose.
It is compatible with all the necessary plugins like WPBakery Page Builder, WooCommerce, WPML, Slider Revolution, and Cryptocurrency All-in-One. All of these features will help you build a website that perfectly fits your expectations.
Great solution for:
Cryptocurrency Blog/News
Cryptocurrency Consulting
Cryptocurrency Equipment Shop
---
Cryptronick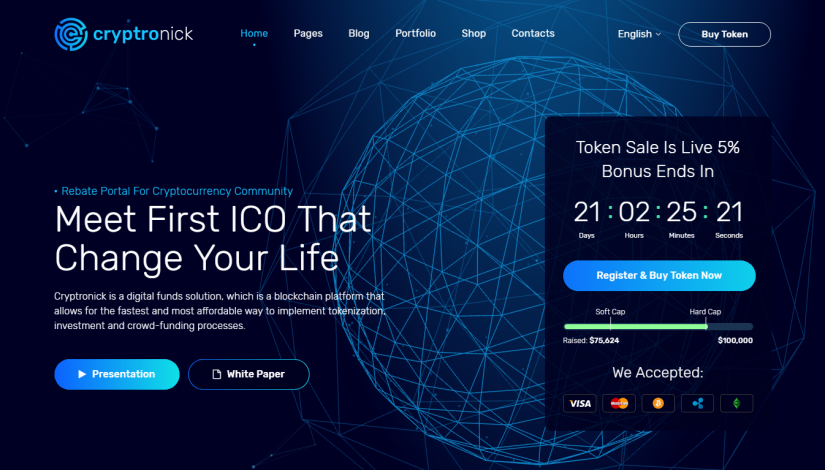 Cryptronick – fully responsive WordPress theme to any types of devices, suitable for ICO business and the crypto currency site. The theme adapts to different screen sizes which will make your site compatible with any device such as smartphones, tablets or desktop computers. The package includes templates for ICO landing pages, compatibility with WooCommerce (for implementing an online store), a widget for crypto currency courses, Parallax effects and much more that can be talked about for a long time.
If you are looking for an innovative, modern and clean crypto-theme, using WordPress as a CMS, then Cryptronick is one of the best solutions for you! Check out the demos and see for yourself.
Great solution for:
---
Cryptonite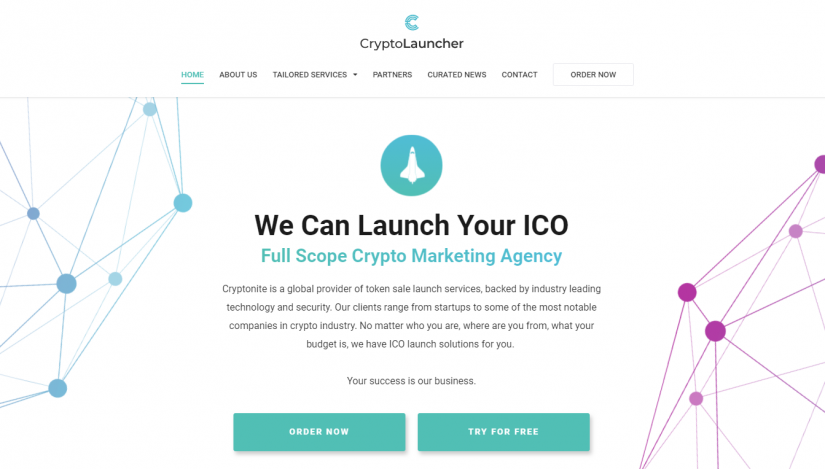 Cryptonite is a rich multifunctional WordPress theme on crypto-currencies which comes in 6 basic demos. The theme has a completely modern design and an extensive set of features. If you look at the demos of this theme, you'll notice that there are 6 designs to choose from with the option of importing one of them to your WordPress site in just one click.
Among the page layouts you will find projects for services, case studies and blog sections of your site. In some cases, you will find several projects to choose from, for example, three different page templates and a good selection of blog post templates. You can also add charts of crypto currency and news. Displaying tables for currency conversion with a change in the exchange rate is easy to set up.
If you want to create almost any type of site about crypto-currency using WordPress, a powerful Cryptonite theme should be on your list.
Great solution for:
Magazine
Blog
Mining
Marketing
The landing page for the token sale
---
Cryption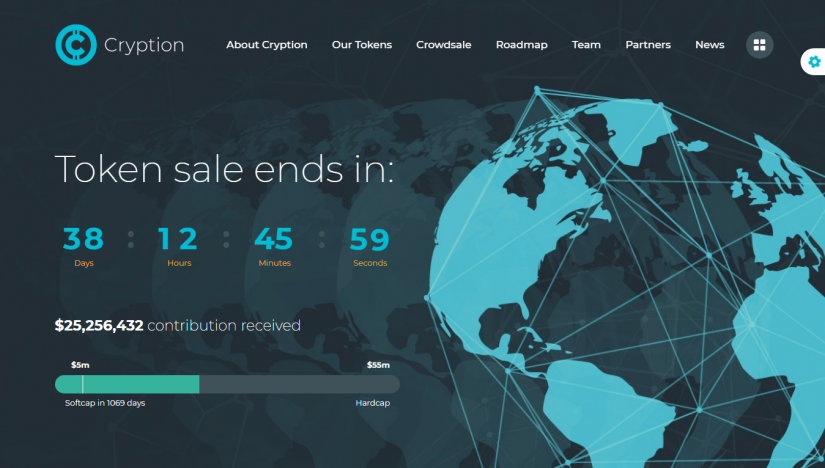 This theme offers 6 stunningly stylish demos that you can import for instant start of the site. Simply select the one you like, add ICO start countdown timers, show the distribution of tokens, integrate the portfolio to show investment strategies and build a beautiful blog about cryptography forecasts. The theme is translated and comes with RTL support. You can easily target your local language.
Great solution for:
Blogs
ICO
Mining
The landing page for the token sale
---
CryptICO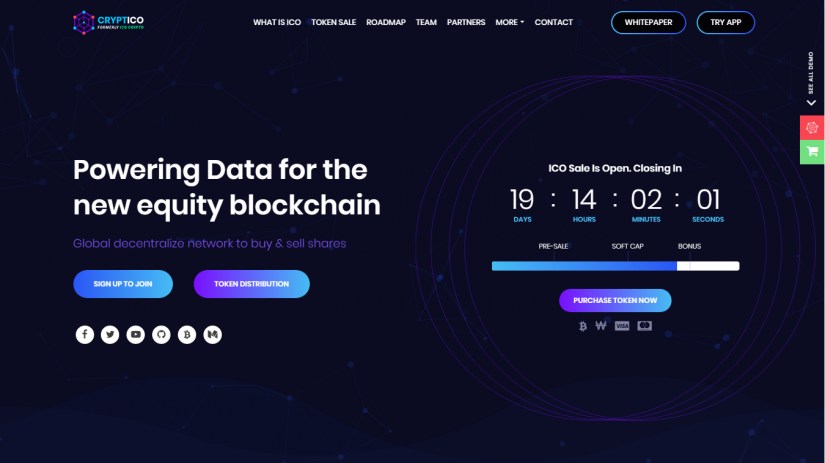 CryptICO is a WordPress theme, business-oriented, which is ideal for crypto-currencies and ICO-related websites. The theme has a professional design that makes it an excellent choice for creating business websites. The default layout has many features that make CryptICO one of the leading WordPress themes. In addition, you get 10 demos with a unique design.
One of the important features is the currency exchange rate tool which gives you an easy way to display the latest exchange rates in a spreadsheet format on your website. These tables can be generated to reflect exchange rates in ascending order which gives your visitors an easy way to see the changing of exchange-rates in a convenient format.
If your site needs a highly professional design, you should take a closer look at the CryptICO demos.
Great solution for:
Magazine / Blog
Mining
Marketing
The landing page for the token sale
---
BitMin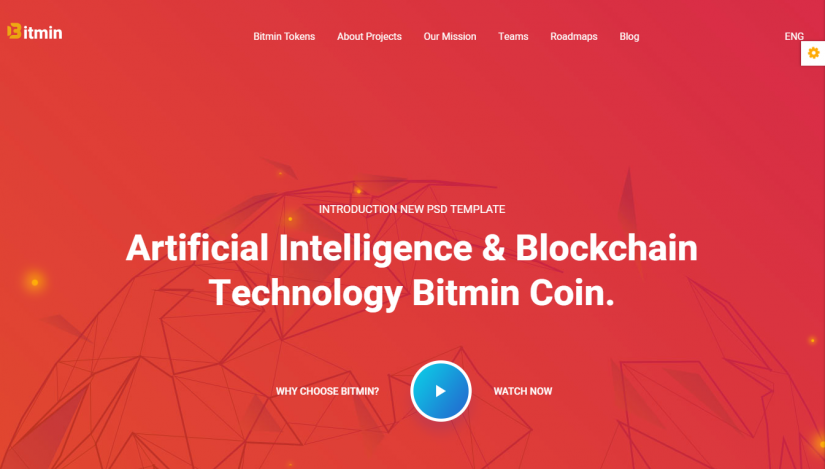 BitMin is a multipurpose crypt WordPress theme. This is an excellent choice for the main categories: ICO, crypto-coach, magazine, calendar of events. BitMin uses popular plugins for convenient creation and efficient display of content, among which WPBakery Page Builder, Slider Revolution stand out with a lot of customizable elements, which will help you build your own website, without coding experience. The theme is based on technologies that are mobile-friendly such as Boostrap, which allows your site to be as responsive and equally good to work with smartphones, tablets and other devices. Look at the 3 ready demos below and assure yourself that the theme is worth your attention.
Great solution for:
Blogs
Magazines
ICO
Agencies
---
Cryptex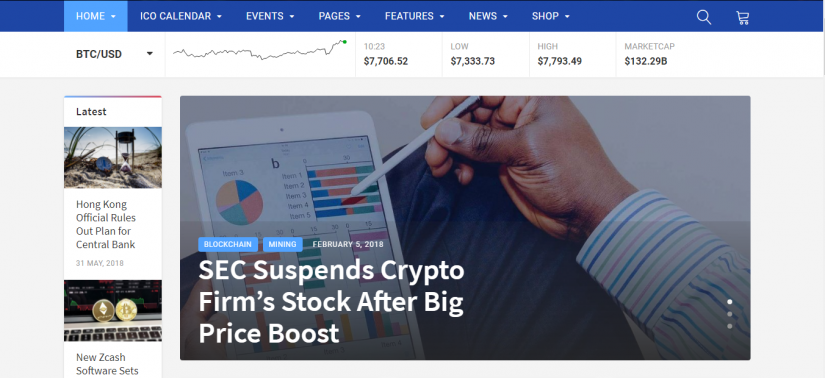 The professional design of this theme makes it an excellent choice for projects that challenge a serious altitude to themselves. However, with Cryptex, you are not limited to using pre-designed demos. By enabling the Premium WPBakery Page Builder plugin, you can configure all Cryptex layouts quickly by drag and drop feature. Because WPBakery Page Builder also includes an impressive gallery of modules, you can quickly add any additional features that your website might require.
In addition to third-party premium tools in the Cryptex package, you also get access to some special features for crypto currency. Among these, we highlight the calculator, so that your audience can check the latest exchange rates and stakes. You also have the option to add an ICO calendar to your site and use the event manager tool to promote the upcoming important dates in the world of crypto currency. All of these useful features should give your visitors an excuse to return to your site.
Another application of Cryptex is the creation of an online store, thanks to the support of the WooCommerce plugin. You can build a complete product card, organize payments, manage delivery and all this from your WordPress admin. In addition, if you want to publish content in several languages, Cryptex fully supports the leading WPML plugin.
Great solution for:
Corporate sites
Blog
Online stores
---
LymCoin

Lymcoin is a WordPress theme designed for cryptography, cryptomining agencies and ICO websites. It has a modern and unique design. On the home page, you can display information about ICO opportunities, benefits, timelines for rates of crypto-currencies, give information to partners and consultants, talk about crypto-wallets, display diagrams, important news and current events.
Great solution for:
Blog
Online-Shop
Crypto coach
Financial consultant
Mining-Blog
ICO agencies
---
CoinzFactory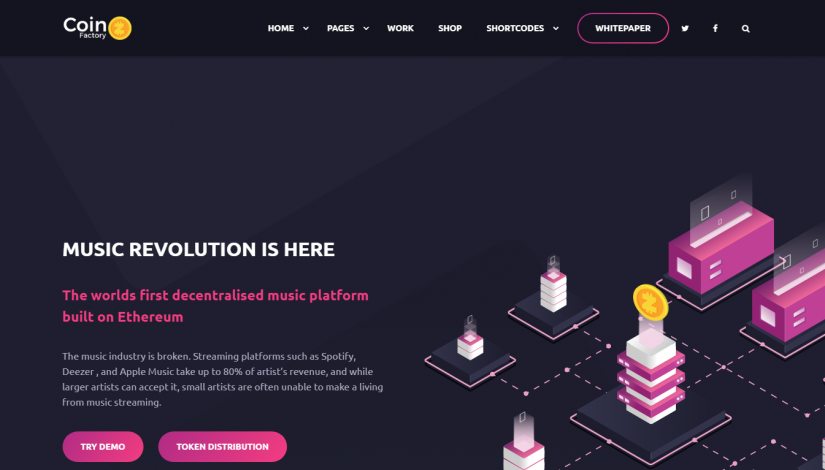 CoinzFactory – a multifunctional WordPress theme with many options for business built on crypto-currencies and ICO. Various demos allow you to start a new project immediately. For example, with CoinzFactory you can launch the ICO landing page, the site of the financial and technological company, a cryptocurrency wallet or even a crypto-currencies blog. In addition, the theme has many other internal pages for services or online stores. CoinzFactory is WooCommerce compatible.
Other fantastic features of CoinzFactory is an ICO countdown timer, demo-import with one click, a coin exchange calculator. In the kit you also get premium plugins such as Slider Revolution, LayerSlider, WPBakery page builder and ten Virtual Coin widgets.
Start a crypto business and show the world what you are capable of with CoinzFactory.
Great solution for:
---
ProCoin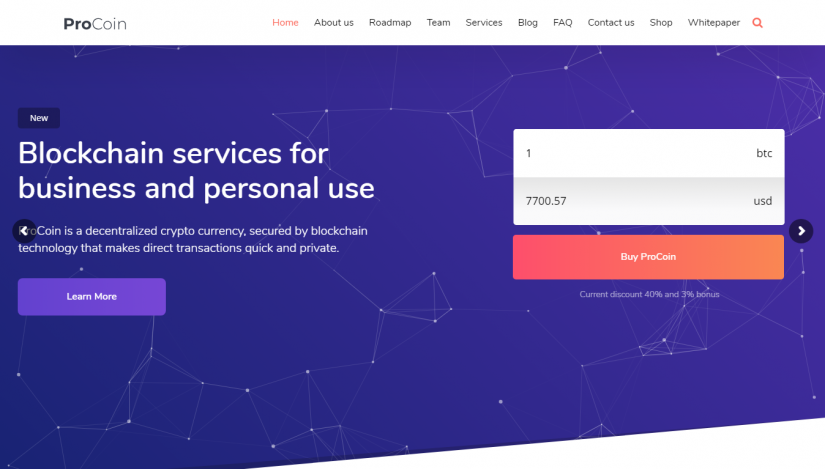 ProCoin is a ICO WordPress theme which has proven itself for any type of digital currency websites. The ProCoin theme pack contains 4 demos. All have a professional look that will help your website earn user confidence. In addition to choosing from four pre-developed demos, this interesting WordPress theme also opens up other options for you to quickly set up your own website. Examples of this are the choice of the header layouts, the menu for convenient navigation on the site, the choice of colors, the integration of fonts.
In addition to the above parameters, ProCoin also includes a powerful WPBakery Page Builder plugin. This bestseller WordPress add-on gives you complete creative control over the design of your website. You can also use the WordPress Customizer interface to make your site unique. The Premium Slider Revolution plugin is included to publish slideshows and other presentations on your WordPress site.
To help you make your new website, the ProCoin developers have created a series of video tutorials. When you purchase ProCoin, you automatically get access to the six-month support of the Anps team. It is worth noting that the creators of ProCoin released 24 WordPress themes and have the Power Elite status on the ThemeForest market. This is a good sign in favor of the fact that you can trust them to create your site.
Great solution for:
---
Hoverex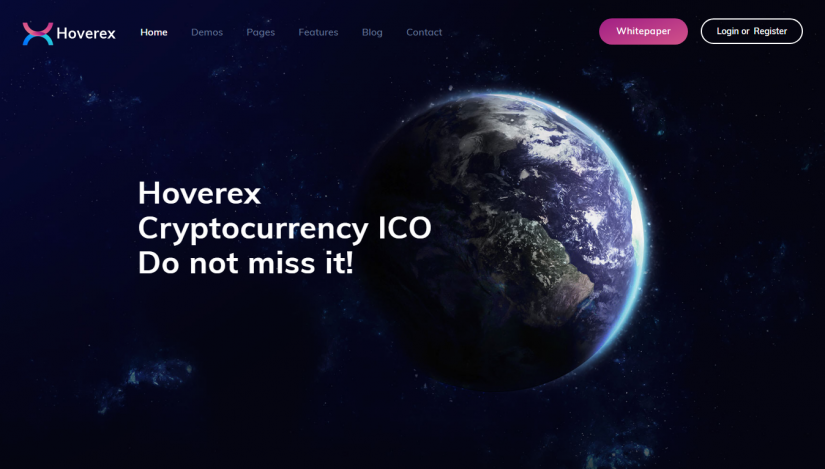 Hoverex is a flexible multipurpose theme that can be used for ICO websites, magazines, specialists and coaches, exchange of crypto-currencies, blog, ICO consultant, ICO agencies. It has 8 unique website options, 20 custom internal pages, 21 headers layouts, 150 special items and a variety of customization options and features that will help you create a unique and professional looking website ICO.
Great solution for:
Magazine / Blog
Coaches
ICO agencies
---
Itok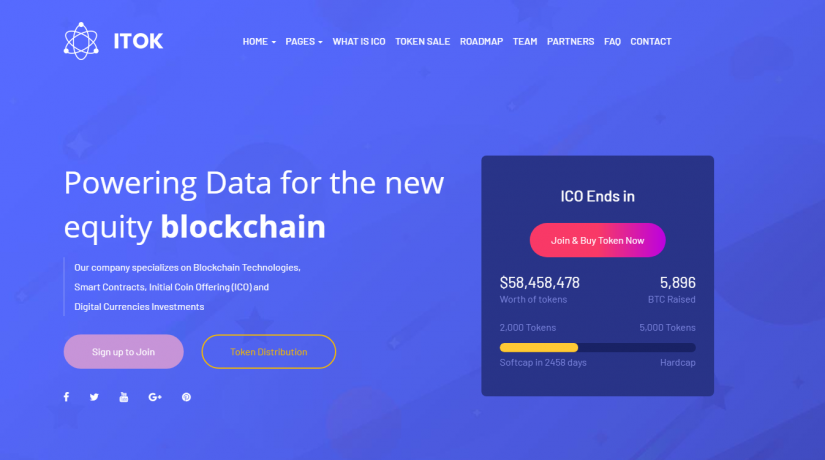 ITok is the ICO WordPress theme. It has a modern one-page design that allows you to display all information about your ICO on the main page. You can display information about your ICO and the sale of tokens, team, partners, frequently asked questions, display a schedule of exchange rates. The product contains everything you need for a professional resource so that you can run a successful ICO site right away.
Great solution for:
Blog
Crypto specialist
The landing page for the token sale
---
Ceres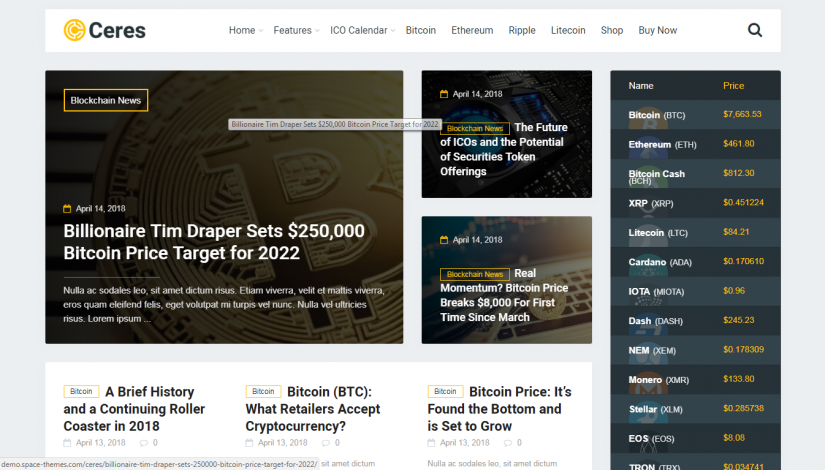 The Ceres theme is intended for blocking and crypto-currencies magazines and blogs. It has a modern professional design and comes with the ability to implement the ICO catalog as one of the best features of the product. It has 6 options for displaying content, custom widgets, fully responsive design, mega-menu, fixed sidebar, crypto currency widget list.
Great solution for:
---
DigiBit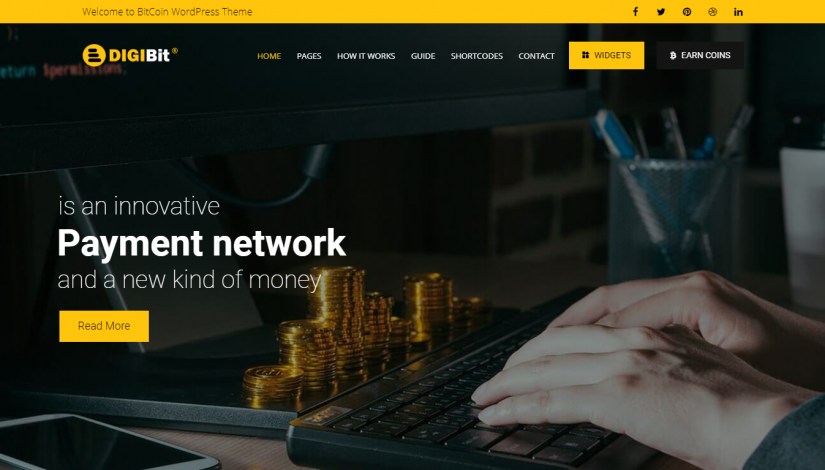 DigiBit is a WordPress theme designed for news on crypto-currencies, blogs and ICO websites. Thanks to the Bitcoin-style color scheme and the technical style, this theme repeats the general design trend of many other major blogs and news sites but looks very stylish and strict. It has numerous design options and layouts, design styles of the main and internal pages.
Great solution for:
Financial consultants sites
Blogs
Magazines
---
Blokco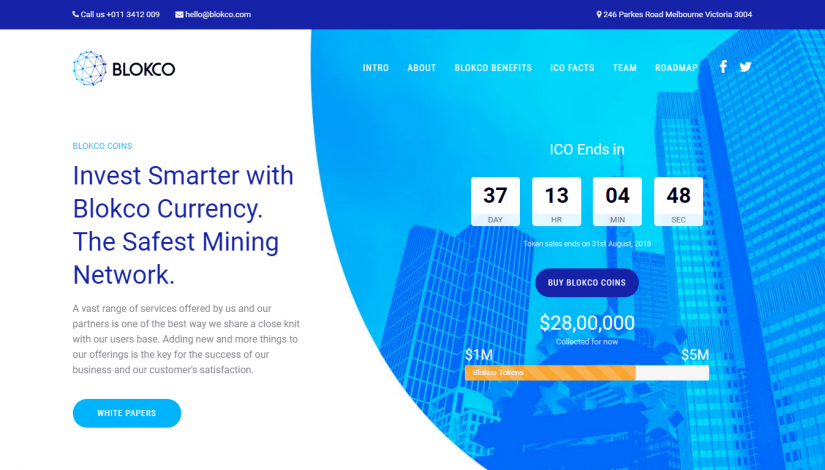 Blokco is a powerful WordPress theme designed specifically for crypt sites, ICO landing pages, finance, consulting, corporate and other business websites. You can choose one of the four presented demos and even create an online store based on the premium WooCommerce plugin which is included in the theme.
Great solution for:
ICO-Agencies
ICO-consultant
Blockchain-consulting
---
Pursuit

Pursuit is an elegant theme designed explicitly for cryptocurrency and blockchain technology companies. Its unique and simplistic design will surely attract the people of aesthetics. It offers 25+ page templates with different layout options for various business purposes.
It incorporates remarkable plugins such as Elementor drag-and-drop builder with 40+ widgets and Master Slider Pro giving you the freedom to customize the theme without the knowledge of coding. It helps you create a countdown timer for token sale, include your whitepaper, show history of your crypto-project in a timeline, collect email addresses from opt-in form, and promote your business fast and efficiently.
Great solution for:
ICO Landing Page
Cryptocurrency Exchange
Cryptocurrency Blog/News
Cryptocurrency Consulting
Cryptocurrency Wallet
Cryptocurrency Equipment Shop
---
Cryptic

Cryptic is a responsive, feature-rich WordPress theme suitable for many crypto business purposes. Its contemporary, polished, and retina-ready design perfectly harmonizes with impressively high performance. It comes with 10+ demo layouts, each of which is tailored to a specific purpose in cryptocurrency business.
No coding skill is required to customize the site as it comes with WPBakery Page Builder, Slider Revolution, Video & Parallax plugins included in the price. All the essential features like cryptocurrency price converter, ticker, whitepaper page, history timeline, and statistics are in the bundle of the theme.
Great solution for:
ICO Landing Page
Cryptocurrency Exchange
Cryptocurrency Blog/News
Cryptocurrency Consulting
ICOs Listing Directory
Cryptocurrency Wallet
---
Kryptex

Kryptex offers a simple, clean design with many features. According to its developers, Kryptex is focused on cryptocurrencies and their mining. The theme includes ready-to-use shortcodes, widgets, and plugins for a blog or online magazine with charts, graphs, tables and diagrams on the topics of cryptocurrency. It also can be used for selling cryptocurrency and mining equipment. So you can set up an online shop in a matter of minutes.
Great solution for:
Cryptocurrency Blog/News
Cryptocurrency Consulting
Cryptocurrency Equipment Shop
---
Uommo

Uommo is a cryptocurrency-specific WordPress theme with vibrant colors, animations, icons, and widgets. It's translation ready which means you can cover more audience from many foreign countries. There are many choices for header styles of the website.
Like any other major customizable WordPress theme, it comes with essential plugins such as Visual Composer and Slider Revolution. One of the distinctions of this theme is its vast number of shortcodes which allow you to create a truly unique website befitting your expectations.
Great solution for:
Cryptocurrency Exchange
Cryptocurrency Blog/News
Bitcoin Mining System
Cryptocurrency Equipment Shop
---
Coinster

Coinster is distinctive with its smooth, vibrant, and simplistic layout where all elements perfectly harmonize with each other. It's an excellent choice for those who want to launch cryptocurrency blog or cryptocurrency equipment shop.
Coinster's bundle includes amazing plugins like Unyson Page Builder, MailChimp, Contact Form 7, AccessPress, and WooCommerce. Also, plenty of custom widgets, predefined colors, fonts, and icons make it possible to build a unique design and layout without any hassle.
Great solution for:
Cryptocurrency Blog/News
Cryptocurrency Exchange
Cryptocurrency Equipment Shop
---
Crypico

Crypico catches eyes with its striking color balances and impressive animations. This theme surely worths considering as an option for your crypto business website. WordPress page builder and Slider Revolution plugins are included at the cost of the theme. Three homepage layouts and cryptocurrency rate converter are built-in, and WooCommerce plugin is there for you to help you start an online shop.
Great solution for:
Cryptocurrency Exchange
Cryptocurrency Blog/News
Cryptocurrency Equipment Shop
---
Bryte

Although Bryte is a multipurpose WordPress theme with 14+ demo layouts for various industries, it does have a cryptocurrency-focused template as it keeps up with the latest trends.
As it's powered by Cherry Framework, the theme comes with awesome built-in Cherry plugins that give you full control over the functionality of the website. Elementor drag-and-drop page builder, 7 header styles, and 4 blog layout styles unleash the opportunity to fully customize the theme according to your needs.
Great solution for:
Cryptocurrency Consulting
Cryptocurrency Blog/News
Cryptocurrency Equipment Shop
---
Tolarcek

Tolarcek is a WordPress theme with a simplistic, clean, and elegant design that mainly fits for bitcoin and cryptocurrency blog purposes. It has six different pre-built responsive and retina-ready demo layouts.
Its built-in animated graphs, charts, and tickers will help you share all the relevant information with your audience instantly. Moreover, Slider Revolution and Essential Grids plugins come as a bonus to the theme.
Great solution for:
Cryptocurrency Blog/News
Cryptocurrency Exchange
---
Jannah News

Jannah News is actually a comprehensive solution for an online magazine, news, and blog websites. It comprises 20+ demo layouts for different industries. Following the bizarre increase in popularity of crypto-industry, not surprisingly, a new demo layout for cryptocurrency topic was added to its bundle. Jannah News has fantastic features such as built-in drag-and-drop builder, AMP integration, WooCommerce, BuddyPress, bbPress, WPML support and many more.
Great solution for:
---
Creptaam

Creptaam is a new player in the field of cryptocurrency themes but it already looks promising. It has four uniquely designed demo homepage layouts for various industry-related purposes filled with rich content and features perfectly harmonizes with high performance and SEO-friendliness.
Real-time exchange rates and market data, cryptocurrency exchange calculator, different shortcodes, a drag-and-drop builder, and multiple layouts and styles for header, footer, and navigation will give you an immense opportunity to build your niche-specific website.
Great solution for:
ICO Landing Page
Cryptocurrency Consulting
Cryptocurrency Mining Service
---
Bonus: MYICO

MYICO is a complete solution developed with PHP for ICO launch purposes. It comes with all the essential features which are needed for a fully functioning ICO website such as a countdown timer, ICO calendar, future roadmap, whitepaper section, user authentication system, 7 different payment methods, email and SMS notifications, etc. Admin panel includes dashboard statistics, users and subscribers management, email broadcasting system, email template customization, SMS API, payment gateway options and many more settings that will enable you to control your ICO campaign efficiently.
We hope our hand-picked collection of cryptocurrency WordPress themes will help you to build your own website. Find out of our list the best corporate and business WordPress themes.
For other feedback and questions, please leave a comment below.