20+ Best Multi-Vendor Marketplace WordPress Themes in 2020

Looking to build your own multi-vendor marketplace but not quite sure where to start? There are a ton of pre-built WordPress themes out there that you can easily purchase, but some will be a better fit for your needs than others.
To help, here's a list of over 20 of the best multi-vendor marketplace WordPress themes available for 2020.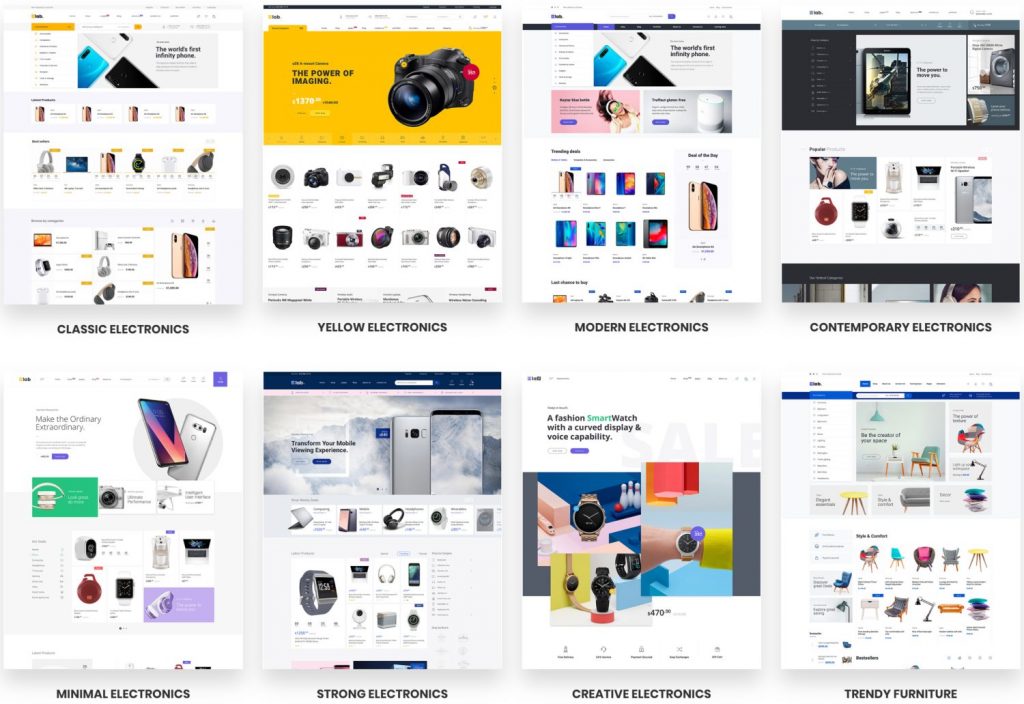 Coming in at the number one spot is eLab by StylemixThemes – The Envato Power Elite Author.
Multi-vendor option is compatible with both WC Vendors as well as Dokan plugins.
With the exclusive Stylemix Themes Page Builder "X Builder", you are free to design any type of webpage you want without the need to do any coding. If you'd rather have something pre-made, there are also four unique, built-in layouts that have been optimized for conversion.
This WooCommerce marketplace theme has 8 unique templates:
eLab includes lifetime updates. Free 24/7 chat, forum, and ticket support. Video and text documentation and manuals.
Priced at only $39, this option is affordable, dependable, and very professional.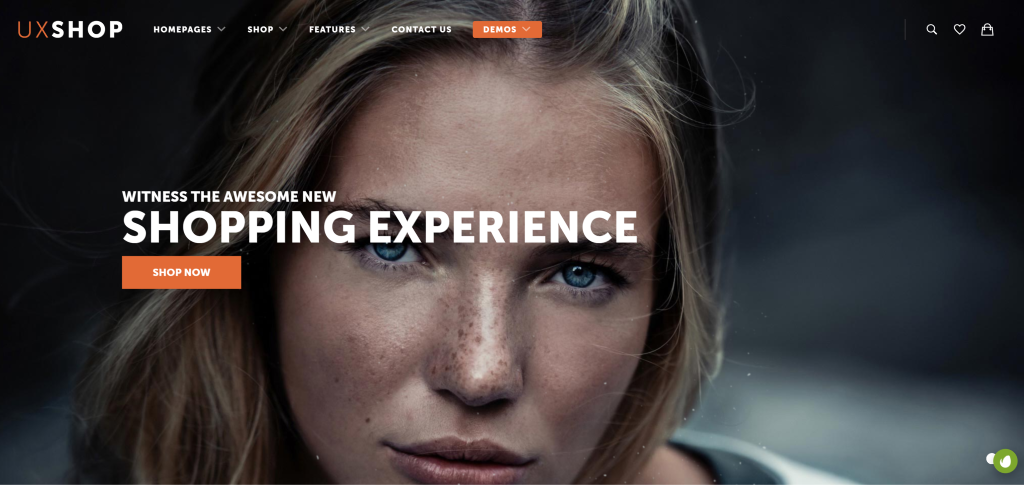 Priced at a more expensive $135, UX Shop by ioDSGN is compatible with the WC Vendors plugin. As a top theme that is well-designed, UX Shop will help you create a marketplace that is modern, professional, and sophisticated.
Also 100% responsive and optimized for smartphones, tablets, and desktop, you will never have to worry about which type of device your website visitors are using. This option is also highly customizable and can be used with an unlimited number of fonts and colors.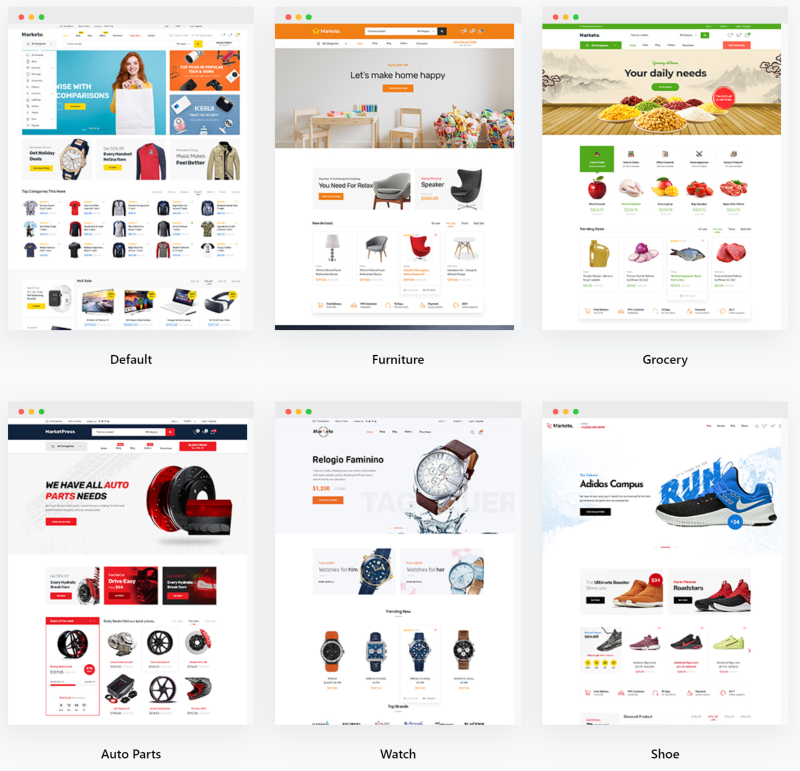 Marketo by XpeedStudio is WordPress 5.0 compatible and features a fully responsive design, slider revolution, and free support/updates.
This theme can be easily customizable to fit any industry and niche, and is already compatible with Dokan. Editing and customizing your site is also very easy and requires no coding, which is great if you are a beginner!
Available to buy for only $29 from ThemeForest, Marketo is one of the most well-designed and supported multi-vendor marketplace themes for 2020.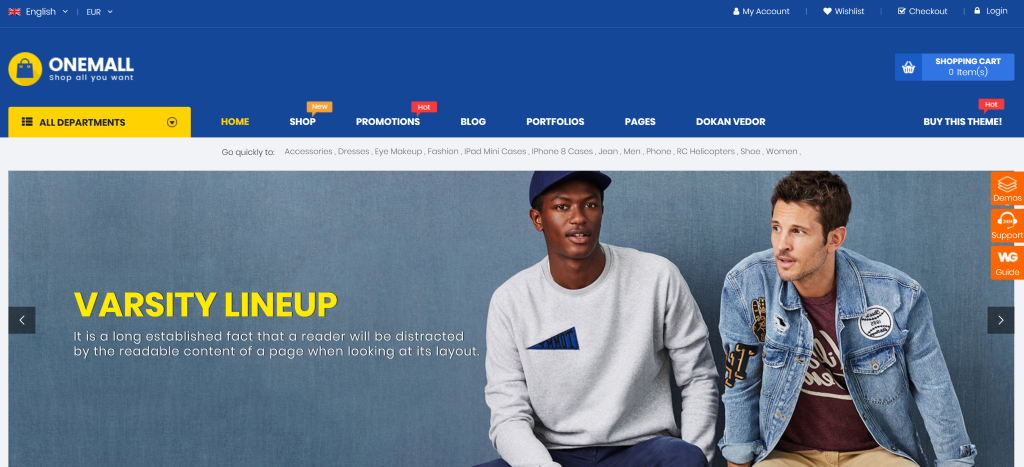 Coming in fourth place is OneMall by Magentech. Priced at $63, this multi-vendor WordPress theme comes with free lifetime updates, a ticket support system, and one-click installation.
This modern option is highly customizable and comes with a number of different options for layouts, fonts, colors, and pop-ups. Additionally, it is very easy to use and there is no coding required when you work with this theme.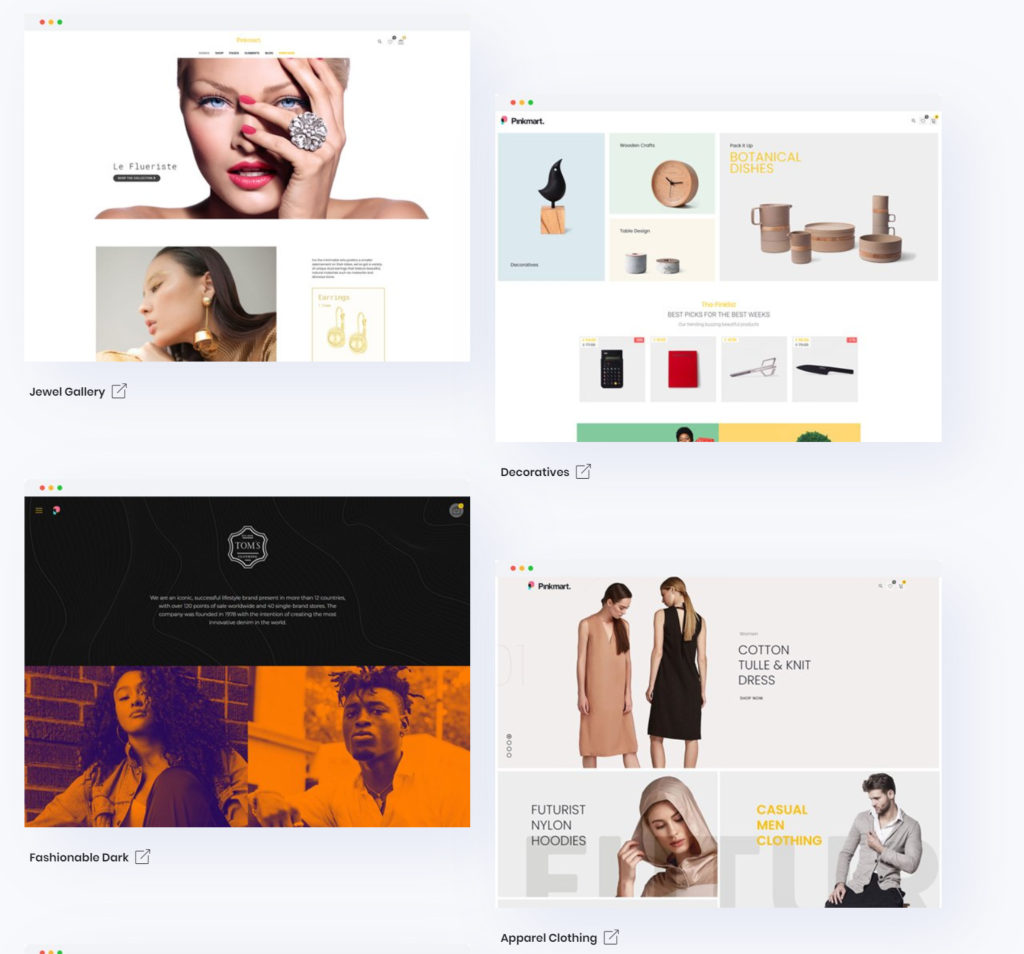 PinkMart by Kite Studio is the perfect multi-vendor marketplace solution if your marketplace is in the beauty, fashion, or lifestyle sectors.
Its fully responsive design is minimalist, sophisticated, and very easy for beginners to use. Also built with SEO best practices in mind, this option is more than just a WordPress theme – it will help you run your business.
Available for only $39 for a regular license and $2200 for the extended license, PinkMart is a great fit for those looking to get their retail, affiliate, or marketplace store off the ground.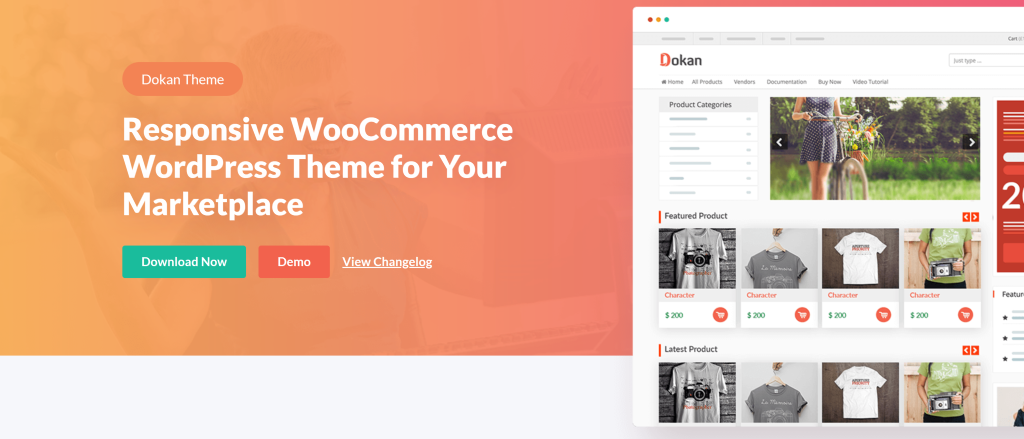 Dokan by Wedevs is one of the top multi-vendor marketplace themes for WordPress. With its most basic version available open-source and totally free, Dokan is a wonderful option if you are looking for something easy on the budget.
You can have an unlimited number of vendors even with the free version, and it also comes with free support from WordPress. For those willing to pay a bit more, you can also get several advanced features including social logins, ticket-based support, site licensing, geolocation, and auctions.
These prices can range from $149 to $999 per year though, depending on how many functionalities you need.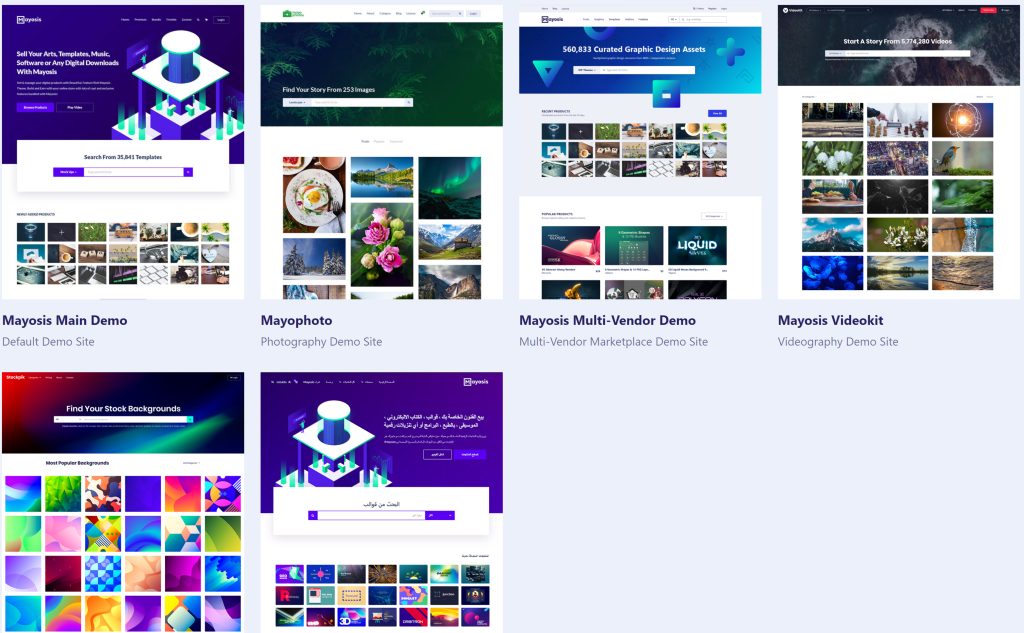 Available to buy for $64 from Teconce, Mayosis is another great WordPress theme that is primarily suited for those wanting to create a marketplace for selling templates, ebooks, stock photography, software, or any other digital service.
With over 20 page-building elements and a modern blog function, Mayosis is sleek, well-designed, and fully responsive. For creating multi-vendor marketplaces, an added Front-End Submission extension is required at an additional cost.

Developed by Model Theme, iBid is a multi-vendor marketplace built for auctions. So, if you are looking to create a marketplace similar to eBay or eBid, this theme would definitely be the one to go with.
It has a clean, modern design along with great support in Europe and the U.S. While it is not as customizable as others on this list, it is still a well-built theme for those wanting to get their auction site up and running quickly and efficiently.
Available to buy for $59, this is the go-to choice for auction-style marketplaces.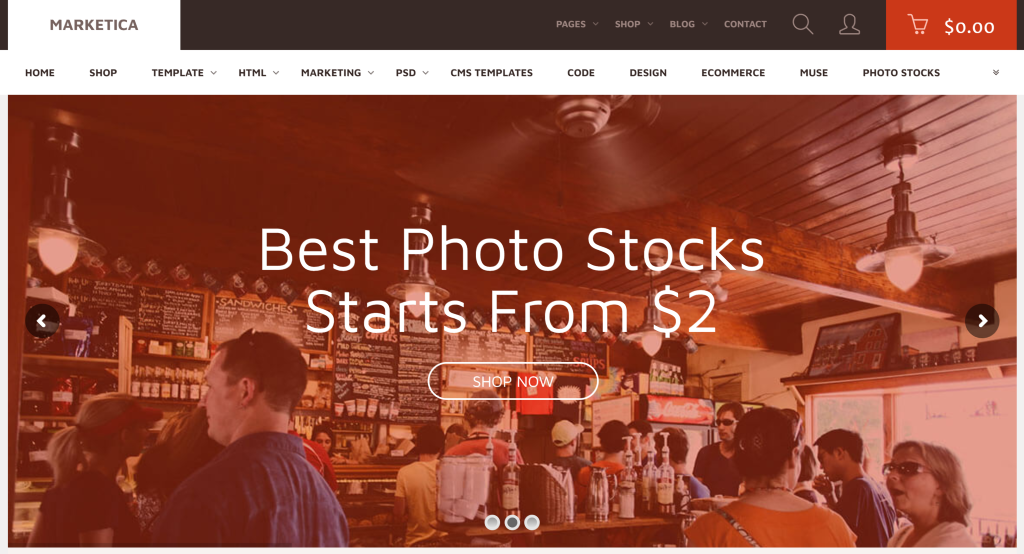 Marketica by Tokopress is another great WordPress theme option for 2020. Compatible with WordPress software versions 5.3.x, 5.2.x, 5.1.x, and 5.0.x, this is a simple, responsive theme with a variety of templates and a built-in blogging platform.
Marketica is also "translation-ready", meaning you can set up your website to serve an audience anywhere in the world. Additionally, this theme is also compatible and ready to use with the popular Revolution Slider plugin.
Priced at an affordable $29, this theme would be well-suited for those on a tighter budget.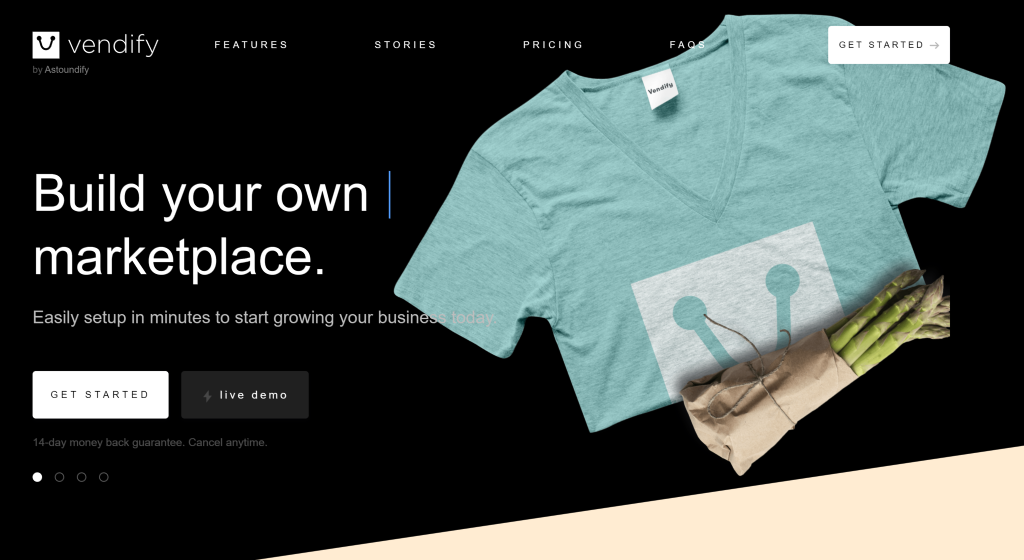 Ranking in the top ten is Vendify by Astoundify. This high-quality WordPress theme is not only easy to set up and use for beginners, it can also adapt to any niche.
Some of Vendify's key features include a live product management function for vendors, easy shipment and payment integration with WooCommerce, and a ton of advanced analytics so that you can always know how your marketplace is performing.
As one of the pricier options, this theme is $79 for standard 6-months support and $104 for a one-year support plan.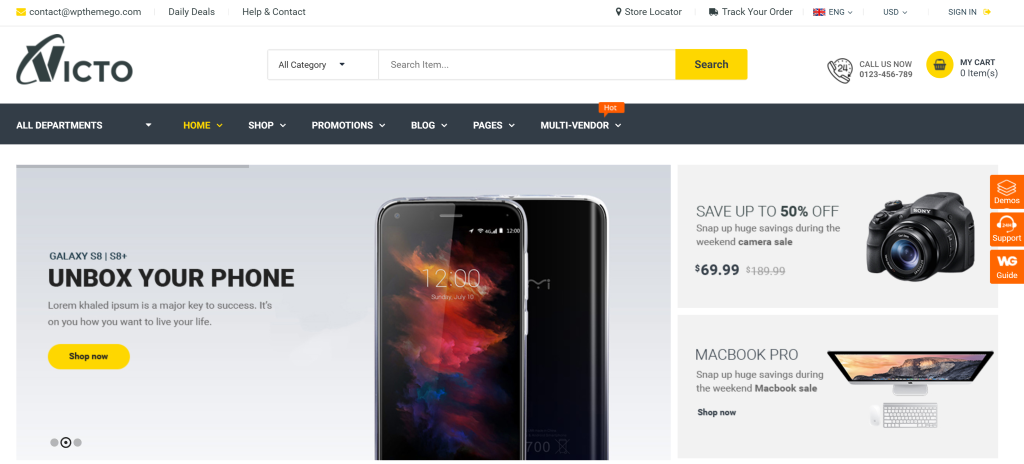 Another option from Magentech, Victo is priced at an introductory rate of $63 and comes with an additional theme for free. With a number of marketplace features including multiple shop layouts, extra extensions, and a responsive design, Victo is a solid theme suitable for any type of online retailer.
You can also use an unlimited number of colors, which is great if you already have an established brand identity. Additionally, all Google fonts are built-in as well.
As previously mentioned, Magentech always has a great support community that can help you solve any problem you may encounter.

Martfury by DrFuri is another great option that can be purchased for under $60. With an easy to design and customize page builder, Martfury can be the perfect fit for any brand. This well thought out option was created with the end-user in mind and was built to help you get conversions quickly.
With built-in SEO optimization, unlimited color schemes, AJAX filter, and language translation capability, Martfury will definitely be the perfect base to kickstart your international marketplace business in 2020.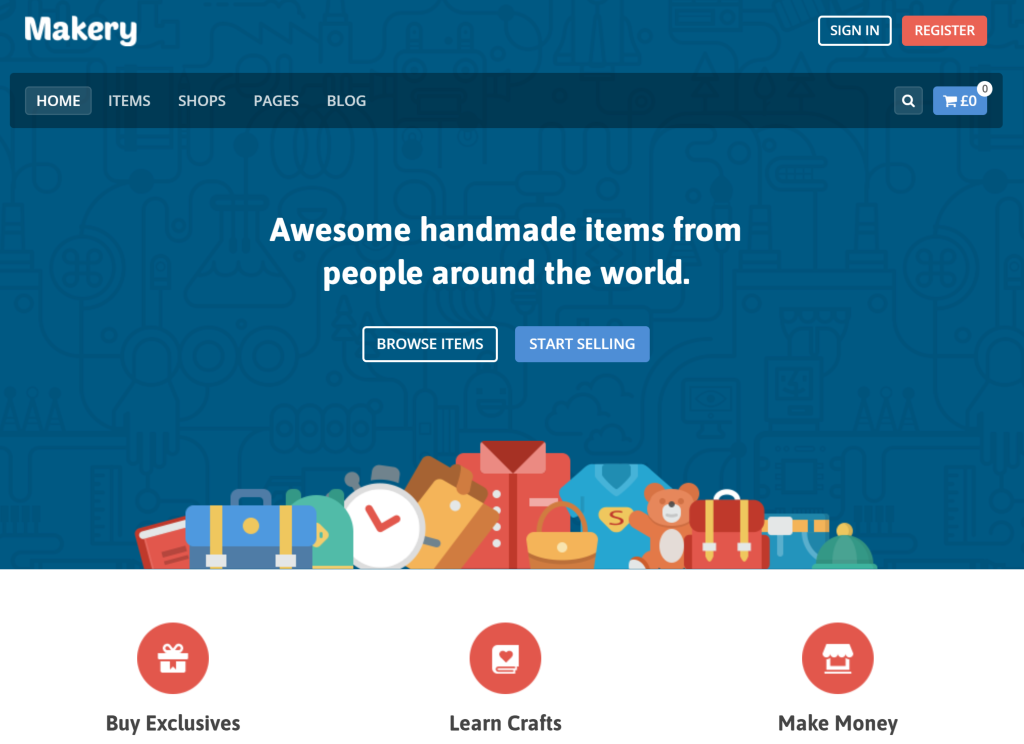 Priced at $49, Makery by Themex is a standard WordPress theme suitable for building a marketplace around any niche – from an electronics store to a vintage market. With features like unlimited shops, multiple carts, and the ability to take commissions, Makery is a basic option that anyone could find easy to use.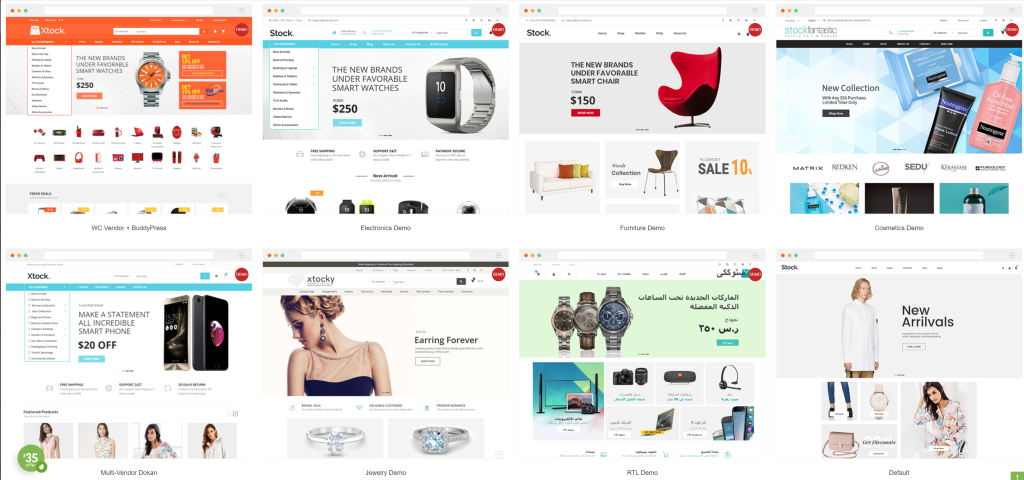 Xtocky by Themepiko is currently on sale for only $35 and is a great marketplace theme option if you are looking to build a store page that is not only beautiful to look at, but functional as well.
Included with the price of the theme is the Visual Composer premium plugin. This plugin will allow you to create your own unique page layouts that fit perfectly with your brand. With a high level of customization and a ton of extra features, Xtocky is a great option for anyone looking to build the next big marketplace website.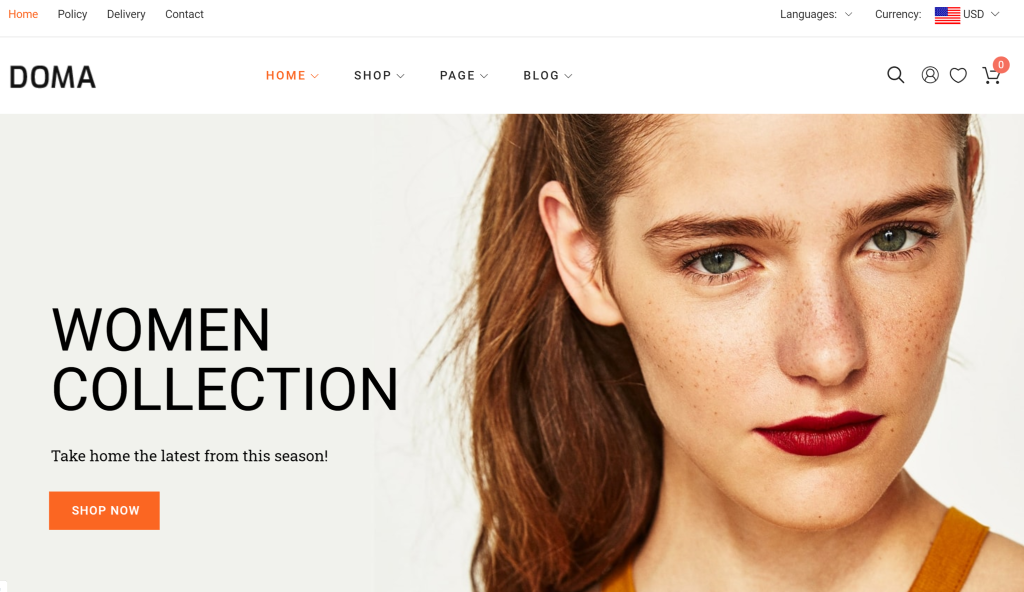 Doma by CleverSoft is a WordPress theme ideal if you are looking to build any type of multi-vendor marketplace solution. With advanced adaptive images, a mobile-optimized design, and research-backed layouts optimized for conversions, this theme is easy to use for both you and your customers.
Additionally, Doma also features a built-in AJAX Product Filter, flexibility in shop layouts, and an unlimited amount of header options. Also compatible with WC Marketplace and Dokan, Doma is powerful, professional, and well worth the price of $59.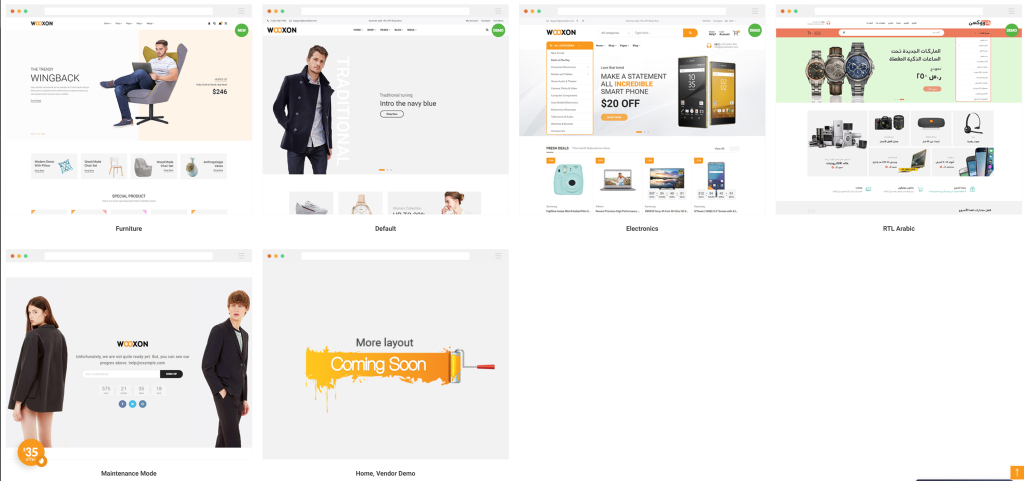 Created by web designers at Themepiko, Wooxon is the perfect theme for developing e-commerce stores with WooCommerce. Some of Wooxon's key features include one-click import for sample data, revolution slider, dedicated support, and unlimited color flexibility.
This option is also very easy to use and features a drag and drop style page builder that helps you visualize your website without needing to understand how to code.
Currently selling at a discount of only $35, Wooxon is a more affordable option that doesn't compromise support or functionality.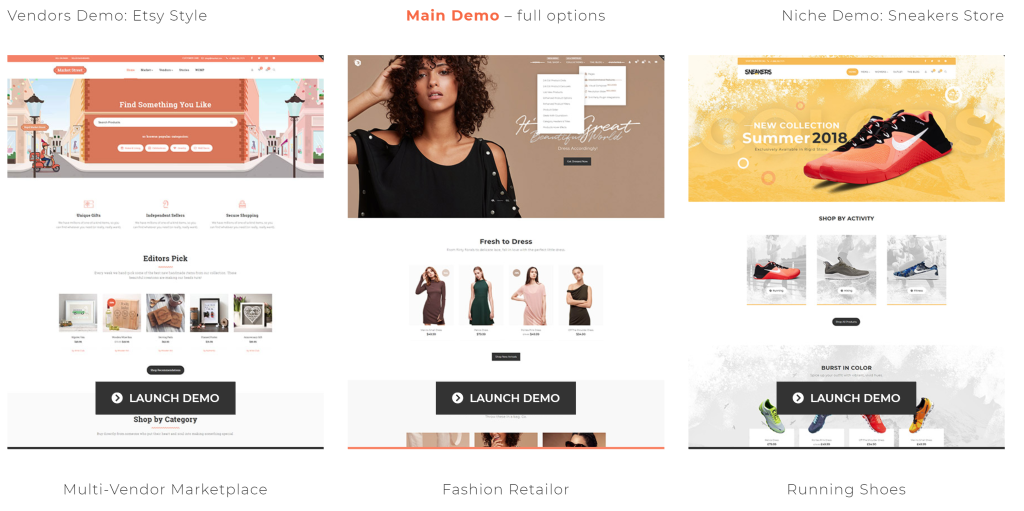 Rigid by Althemist is another well designed multi-vendor marketplace theme ideal for designing an online shop or digital marketplace. Specifically designed for use with WC Marketplace, Rigid is simple enough for beginners, but is powerful enough to be used for even the most complex projects.
Key features of Rigid include multiple payment gateways, vendor issued coupons, and lifetime free updates and support. Available to purchase for $64, Rigid is a wonderful choice no matter the size or type of your business.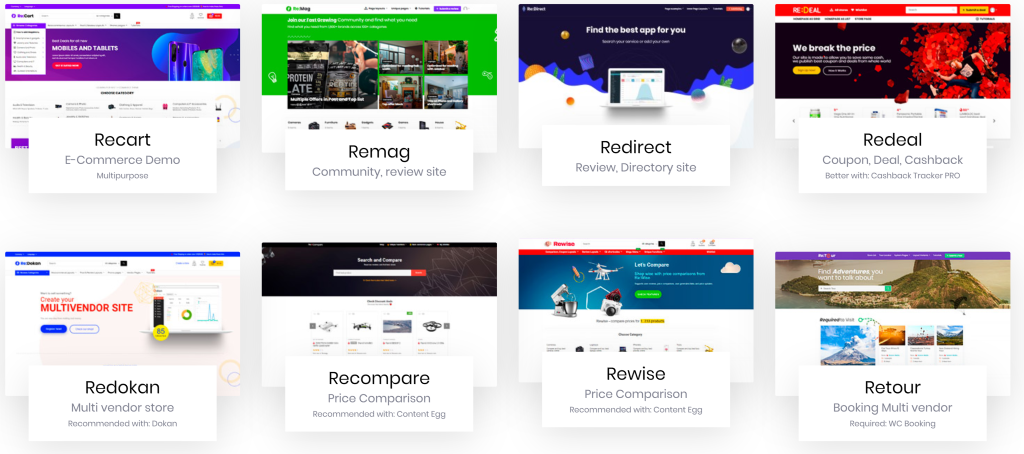 Created by Sizam, REHub is a hybrid theme that allows you to create affiliate, coupon, directory, social SEO, multi-vendor, and comparison sites.
The great thing about this theme is that you do not have to pick just one style of website or business model, but rather you can use a combination of all of them. Also built with SEO optimization in mind, this theme makes marketing and selling products easy.
Priced at $59 and available at ThemeForest, this theme is great for those looking to explore their options with a multi-vendor site.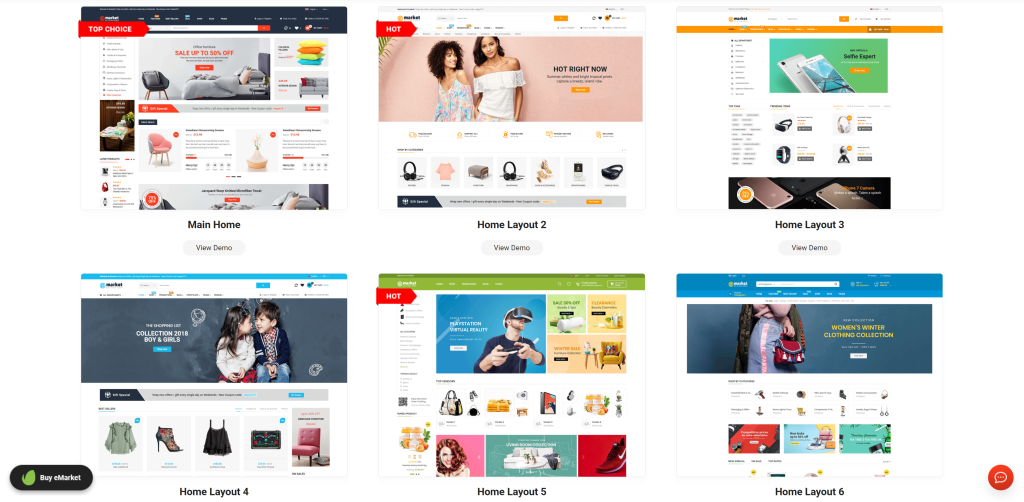 Emarket by Magentech is another good option that looks great and has a lot of features. With a fully responsive design, over $200 worth of extensions, and SEO optimization, Emarket will empower you to make your website exactly what you want it to be.
Other key features of this theme include unlimited color options, one-click import data, Google fonts, and QuickCart Pro. Additionally, Magentech creators are also renowned for their high-quality support. So, if you run into any issues, you can rest assured that they can help you figure it out.
Priced at $63, its support features, high customization capabilities, and extensive functionalities make this theme worth the premium.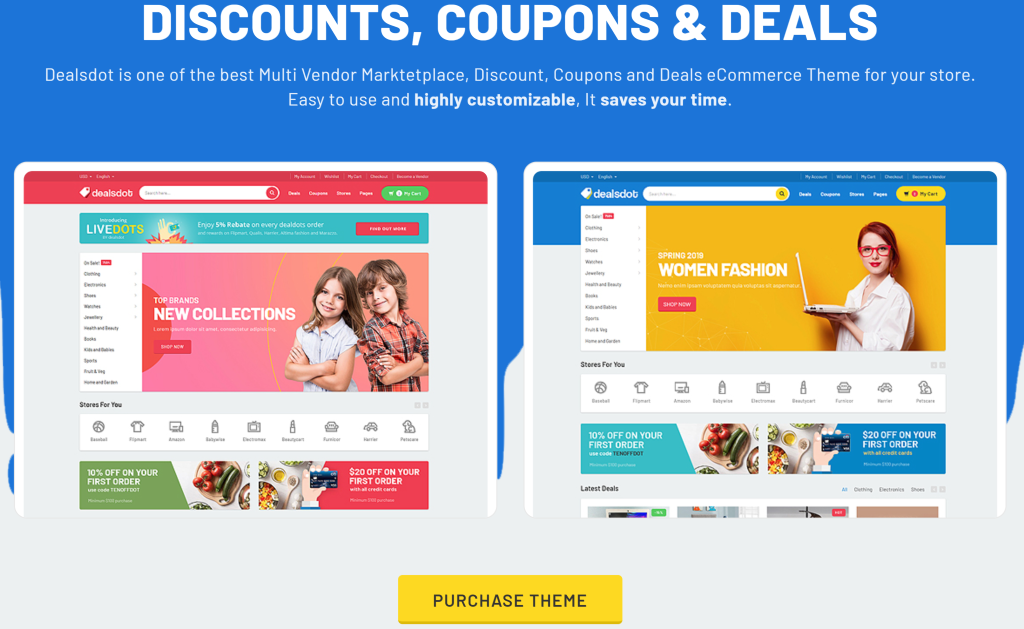 Another great option from KLB Theme is called "Deasdot". This WordPress theme is not necessarily built with any particular niche in mind, but it would work great for those looking to create an online marketplace or platform like Alibaba.
One of the most notable features of this theme is its ability to facilitate affiliate marketing as well as standard e-commerce operations. Additionally, it can also be set up as a coupon theme; perfect for promoting a wide range of products.
Easily customizable and priced at only $49, this is a great option if you want something simple with a lot of functionalities.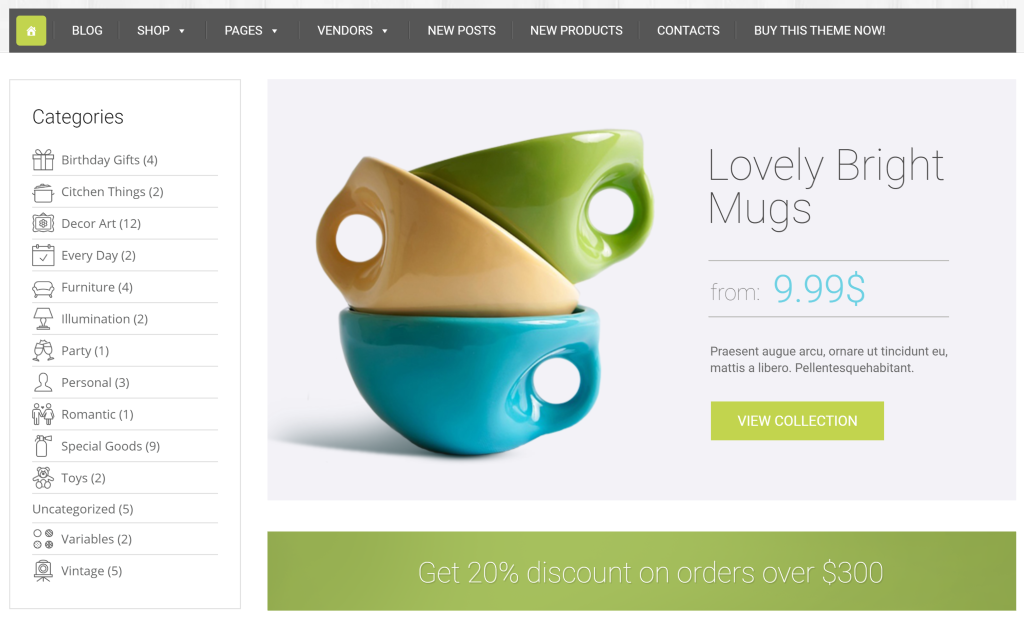 Handy by Themes Zone is a beautiful theme designed for those looking to create an online store for crafts, vintage wear, and handmade goods.
One of the best features of this theme is its ease of use and flexibility. Its simple 'Options Panel' allows you to use your own logo, brand colors, and fonts without the need to do any coding.
Priced at $99 with the installation service or $64 without, this is a high-quality option if it fits your niche and budget.

Final Thoughts
There are hundreds of multi-vendor marketplace themes out there, but finding the right one for your business' needs is the real challenge.
As a final recommendation, make sure to consider exactly what you need before making a purchase. How customizable do you want it? What plugins does it need to be compatible with? Is there any coding involved? Are your brand's fonts included? Is it compatible with your payment processors?
These are all questions you should ask yourself before making a purchase. And if you're still not quite sure, it's best to go with a free or budget-friendly option first before investing in something more expensive.