10 Best WordPress Plugins for Creating a Modern Landing Page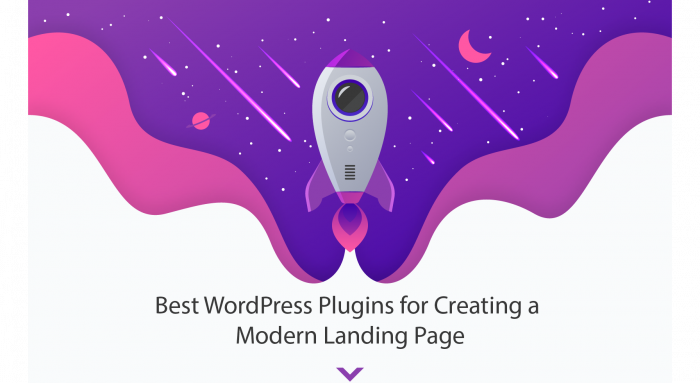 If you have taken your business to the digital world, then a landing page is your most important asset in terms of sales. Without a landing page, new customers don't have the means to learn about your product or understand what it does.
And luckily, over the last decade — it has become extremely simple to create high-converting landing pages with little to no cost. The best kinds of landing pages are the ones that don't even feel like something is being sold. A great landing page will explain a product in such a way that the user feels like he is reading a story.
So, understanding the design principles of landing pages is a great place to start.
What makes a great landing page?

Simplicity: works every time.
Unless you have decade's worth of experience under your belt, going all out with a resource-heavy design is a huge risk. Which is why most designers recommend sticking to simplicity, and a minimal design structure.
Minimalism helps to avoid clutter, which clears up the website space and allows visitors to interact with your design more intimately. And that is not to say that you can't use colors or illustrations. The key is to make your page easy to scan through, but most importantly, easy to understand.
Photography: send a clear message.
Photos do a much better job at presenting an idea than words will ever do. And so with that in mind, choose photos that truly compliment what your brand/product is all about. By using high-quality photos, you can captivate the attention of your site visitors, and hopefully — turn them into customers.
As for using stock photos? You are going to be better off by hiring a professional. Someone who can captivate the essence of your brand and the products you are offering. This one-time investment will pay itself back a thousand times.
Testimonials: build trust early.
How does someone know if they can trust your product when they first come to your landing page? The answer is trust signals. A trust signal can be anything from testimonials, video reviews, social media links, brand pages. You can also use different marketing, sales and customer support tools such as EngageBay to improve the customer experience.
Use whatever design elements you can that help to reassure those other people trust your product. If you plan to make an eCommerce landing page — apply elements like verification badges, credit card badges, and other payment-related verification techniques to ensure your customers that their data is safe.
Where to find inspiration for landing page design?
There's nothing wrong with yielding inspiration from other designers. And the best way to do it is to examine the kind of websites others are building. Here are my favorite sites for finding amazing design inspiration. I have narrowed the list down to sites that focus exclusively on landing pages!

Lapa Ninja has more than 1,800 websites added so far. Each one has had tags added, and also the full website screenshot saved. So, if a specific website is offline, you can still preview the screenshot. Overall, this is one of my favorite inspiration sites to use on a daily basis. Almost daily, anyway.
I feel like the quality of sites that get added is super high, and the site owners also spend time working on other designer projects. As such, Lapa Ninja serves as an impeccable platform to find the latest design inspiration. And don't get it mistaken — Lapa Ninja lists ONLY landing pages.

What's a landing page? A landing page is a special page on your website — including the homepage — that you use to promote or sell something. As such, landing pages can be considered "one-page websites". And the One Page Love project is specifically honoring all those single-page sites.
Of course, One Page Love does include some unique designs that don't necessarily fit the criteria of 'landing pages', but overall there is a good balance for both. I have found countless amazing landing pages using this platform, and I know you'll do the same.

Pixels doesn't include a full screenshot for each listing, but instead, lists the exact color palette that each listed site is using. Like the previous two platforms, Pixels also focuses primarily on landing page designs; products, promotions, books, etc.
What are the best plugins to build a landing page with WordPress?
And now for the main event — all the amazing plugins that are helping millions of WordPress users to create amazing landing pages.
We are focusing primarily on free plugins, but expect a few premium options, and also a few freemium ones. A freemium plugin is where you can unlock additional features by investing in the plugin.

Do you NEED to hire a WordPress developer to achieve the design of your dreams? It truly depends, but one thing's for sure if you are going to use a plugin to create complex designs, better make sure that the plugin can support your idea. And that is the premise of the OnePager plugin. A specifically designed solution to help you create landing pages and one-page websites.
Do you need a page for generating leads? Do you need a new landing page to promote your latest video series? Are you in need of a page to generate new signups? If yes, then OnePager has all the necessary elements and features to ensure your success.
The creators of this plugin believe that User Experience should be the number one priority. And they're not wrong. Nevertheless, the plugin is optimized for beginner users and you can do most of the design tasks by using templates or dragging blocks. On top of that, the OnePager sites are optimized for full mobile compatibility.
Not to say that the Web users are left out. Quite the opposite actually. This plugin implements concise SEO settings and has an optimized codebase to ensure pristine website performance. There's nothing more important than a fast loading site if you wish to close sales on a regular basis.
Awesome Features:
Compatible with all WordPress themes!
All customizations are done on the front-end; similar to the Live Customizer.
Framework integration for managing Settings.

Live Composer is a unique page building solution for WordPress bloggers. The plugin is completely free to use apart from a few premium integrations, but nothing that limits your creative use of this plugin. The name Live Composer is used because you can edit your landing pages in real-time. Hence, it's a Live page composer.
Not only is it Live, but it's also using a Drag & Drop UI. No need to write boring code or weave through endless piles of settings. Simply select the elements you need and drag them where you want. Afterward, you can adjust typography, colors, etc. manually.
Professional web development doesn't come cheap, which is why you are going to enjoy using this plugin. You don't need to have any previous experience with the design either. Just follow the steps and experiment with some of your creative ideas.
More than 40,000 people trust this plugin, making it one of the best landing page builders on the market. Not only that, but Live Composer is also open-source and gets a ton of support from the open-source community. It's rare to find successful plugins that want nothing from you apart to see you succeed.
Awesome Features:
Create multi-media rich pages with very little effort: add new sections, rearrange columns, and add media from the same screen.
You can deactivate this plugin at any time and it won't leave any "junk code" behind.
Completely mobile responsive.

Blox is an entirely new WordPress plugin for building landing pages. Although, you can use it to build any kind of a page you need. And since it's a new plugin, you know that it's going to use the latest web technologies, have amazing demos, and the latest features. And just to reassure you, all of the points are true.
Blox comes with hundreds of pre-built templates. Also, there are more than 700+ readily available elements. An element is either a website section or an individual component. E.g. Video Teasers, Image Galleries, Content Boxes, Instagram Boxes, Content Tabs, Post Widgets, etc.
As for other features, you'll be happy to know that Blox works in real-time. Create pages and have them instantly appear on your screen without needing to hit Save or change a page.
In comparison to other plugins, Blox does make it easy to achieve a design you desire. Everything can be dragged onto the screen and you can quickly select the components you need from a categorized list.
If you know a little bit of HTML then you can manually important any jQuery plugin directly into your Blox interface. Afterward, the plugin is converted into an element that you can add to your landing page. As you know, jQuery has tens of thousands of plugins available, so that's an enormous amount of customization that you can add to your site.
Awesome Features:
The plugin works with any WordPress theme: free and premium.
Very active and open developers, providing support for all of their users.
Clear and direct Options dashboard so that you can style individual components.

Designmodo has been around the block for nearly a decade; since 2010 to be specific. And in this time has established itself as a prominent resource for web designers. Over the years, Designmodo also got involved in product making and has numerous exceptional products in its lineup.
E.g. The infamous Startup Framework, Slides Framework, Postcards, Job Board, and its latest product: Qards for WordPress.
Qards is a new type of a page building plugin which lets you select "Cards" to structure a websites page. The Cards (Qards) are pre-built by Designmodo, and all the functionality is built-in. E.g. Containers, width allocation, and other technical elements are done automatically.
You can simply open the Qards interface, and then pick and choose the design elements you need. The UI works exactly like the WP Live Customizer. All changes are applied to the design in real-time.
Awesome Features:
No requirement for coding; Qards uses a Drag and Drop UI.
Every Qards site is retina ready. Your pages will pop with sharp, gorgeous images and type on devices that support retina display.
Blocks-based web design; how can anything come even close to beating that?

Elementor rose to the top so quickly that I'm sure many other page builder brands felt a bit left out. Indeed, Elementor is one of the most highly acclaimed page builders on the market. And with more than 1 million active users, these guys are not going anywhere.
The product glitters with state of the art tools and features, built to help people like you build exceptional websites. While Elementor isn't a "landing page builder" per se, it doesn't matter in the grand scheme of things. You can take advantage of Elementor's vast library of designs and quickly bootstrap a design that meets your needs.
And don't get us started on performance, a thing that Elementor excels in. Everything from adding elements to editing is done in real-time, and instantly. Yes, switching pages, moving components — all of it loads right in front of you upon taking action. As a result, it's a lot of fun to make design experiments. And, of course, it's also a way to save a ton of design time.
Believe it or not, a lot of the web design productivity goes to switching back and forth between interfaces. But who needs all that when you can just do it instantly?
Awesome Features:
A library of more than 100 custom templates; ready for use whenever you need.
More than 300 blocks which act as the "design content" for your pages.
Have you ever designed a website on a smartphone? With Elementor, you can!

OptimizePress is a WordPress page building plugin specifically created for building landing pages. More than that, OptimizePress is tailored towards marketing websites, funnel pages, sales pages, and some use it to create membership sites, too.
It's one of the longest standing plugins on the market, with more than 9 years of existing experience. As a result, OptimizePress brings forth an unparalleled level of functionality in the field of page building. And specifically, features for building amazing landing pages.
Similar to competing plugins, OP also uses a real-time live editor that you can use to drag&drop elements on your pages. Right off the bat you can work with more than 30+ themes which have been optimized for modern standards.
Furthermore, you can apply this plugin to any existing WordPress theme. But, if you want, you can use the plugin itself as a WordPress theme.
Awesome Features:
Custom-built opt-in forms that you can add anywhere in your designs. Built specifically with marketing UX in mind.
Customize copy, images, colors and almost anything else on your pages to match your brand and messaging.
Don't just make a simple sales page. Instead, use this plugin to launch digital courses, promote your services, sell eBooks, and build sophisticated funnels.

Leaving your WordPress site with the default theme on, or worse no theme at all is never a good idea. The thing is if someone lands on your website — they want to know what you are about.
But, if your intended design isn't yet finalized, how can you ensure that visitors still get a pleasant user experience?
One way to achieve this is through a 'coming soon' page. Such a page can be used to describe your current progress and also to specify when you plan to official launch.
Another thing great about 'coming soon' pages is that you can use them to collect email subscribers, promote social media accounts, and otherwise communicate with your audience.
And SeedProd is arguably the most popular plugins for this use case. 800,000+ WordPress users trust SeedProd to manage their announcement pages.
In short, we recommend using this plugin while you are creating a custom landing page using any other plugins we talked about in this post. Afterward, once your landing page is done — you can switch over to your landing page and immediately announce it to all the subscribers that you have collected for your email list.
Awesome Features:
Build your Coming Soon pages using a Live Editor. Works just like a page builder in this regard!
Zapier integration so that you can collect subscriber data through thousands of custom integrations and services.
Optimized for professionalism and growth. This is the ultimate addon to use whenever you are working on a new site design.

It has been a few months (at the time of this post) since WordPress was upgraded with the Gutenberg Editor. And Gambit Technologies have put in the work to ensure their Stackable plugin is one of the best plugins out there, providing the means to use Gutenberg Blocks for designing landing pages.
Yes, the latest version of Stackable implements additional Blocks that can be used to create landing pages directly from the WordPress editor. The Blocks can be customized, although they come pre-packaged with some nifty features already.
On top of that, Stackable takes care of all the rudimentary technical aspects. Including making sure that Stackable works across portable devices. There are blocks to create content cards, add featured grids, use containers, and implement custom headers.
Awesome Features:
Open-source project and can be viewed on GitHub.
Stylish Blocks interfaces, which you can always style further by using custom CSS classes.
And if you don't like the landing page aspect of this plugin, you can always use it to spice up your blog post content!
Closing statement
What did you think about all the amazing resources in this post? Does it still feel like creating a landing page using WordPress is hard?
Remember that you can always use the comment section below to voice your concerns or feedback.
We are more than happy to help you with achieving the best landing page design for your specific product!