MasterStudy Mobile LMS App for iOS & Android
Get mobile learning even further with MasterStudy App!
What is MasterStudy LMS App?
MasterStudy App for LMS is a mobile learning application to start eLearning fast and let the students take courses on the go. The app was based on the idea of the frequent presence of modern users on the mobile platform.
The app gives full control over its branding and pricing, making it accessible from both iOS and Android systems.
IOS & Android Demo Preview
Take a look at the real App to discover the best learning software to increase the knowledge. Use any mobile devices to deliver online courses and training.
Why Are Learning Apps Good For Education?
An open, intuitive and extensible tool that was born to make personalized learning simpler, more effective and connected. Both teachers and students are going to love the app supporting the learning ecosystems.




Availability
The software is optimized for iOS and Android system based devices including different types of them like smartphones and tablets for exceptional user experience.
You can deliver the best eLearning experience on iPhones and Android smartphones. Get your business a mobile boost with the best educational app!
Convenience
With the app, the favorite courses are accessible for students anytime from anywhere. A complete learning system in their pocket and courses to take on the go. Couldn't be more convenient.
A constant access to training materials allows students to study not only when they have a possibility but everytime they want to. Taking a course online doesn't require anything just student, a phone and the right course, that can be found in MasterStudy LMS App.




Bite-sized learning
To keep learners from getting bored, deliver the content in less volume. Push the short doses of learning materials each day to get your students into a habit encouraging them to study more.
Studying materials divided into smaller parts contribute to the effective storage and assimilation of information. Learning becomes easier, more interesting and more productive.
Use your website as the base for your app-building!
MasterStudy Mobile LMS App is an innovative extension of the popular MasterStudy LMS WordPress Theme and Plugin. These software items developed for educational needs became a successful solution for schools and universities, educational centers and individual instructors.
If you want to create your own educational website, in just one package you can get a modern, stylish theme and a premium plugin for building, managing, and selling online courses. All MasterStudy LMS products work perfectly together as well as independently. And the eLearning app will only extend your digital presence.


Push Notifications
Boost engagement with your mobile application enabling personalized real-time push notifications. Reach your audience anywhere and anytime. Set up your communication channel with Push Notifications in Firebase Cloud Messaging Service.
Whether there's a breaking news alert, app update, or any change in the content, you can deliver messages directly to the user's home screen.
In-app purchases in your iOS App
Make it convenient for the users to buy and upgrade from your app. Improve the in-app experience and offer users real value. Find a new way to monetize your app and make more revenue.Make it convenient for the users to buy and upgrade from your app. Improve the in-app experience and offer users real value. Find a new way to monetize your app and make more revenue.
Provide customers more content and features using secure, online purchases through Apple Pay within the app itself. You can even promote and offer in‑app purchases directly on the App Store.


Offline Mode
No more limits and restrictions — get access to the favorite courses at any time. With offline mode, lessons are always at your hand. Download any course from the app and keep on learning even if you have no internet connection.
The app will store the data once it was loaded and will ensure users have hassle-free access to the course content. Continue taking lessons on the move and don't let bad connection interrupt your education.
App Screenshots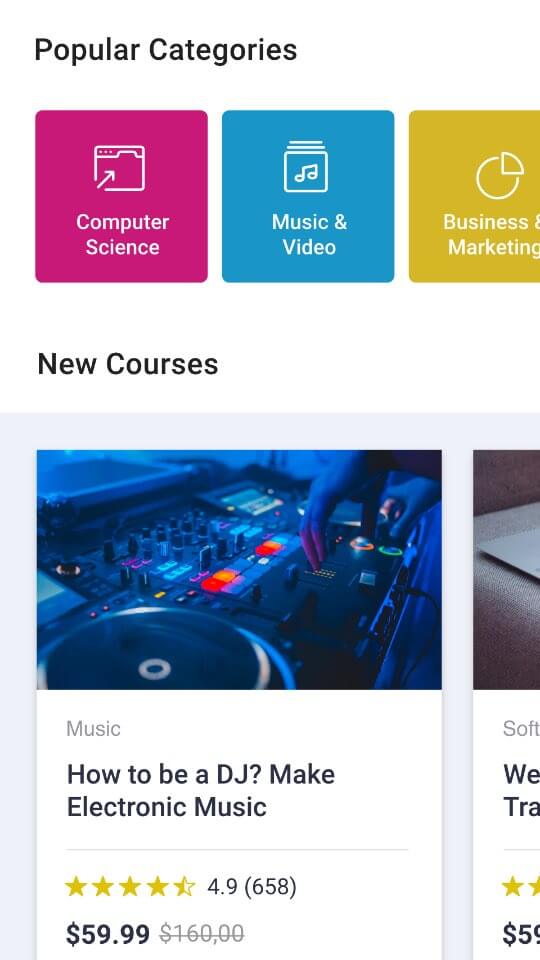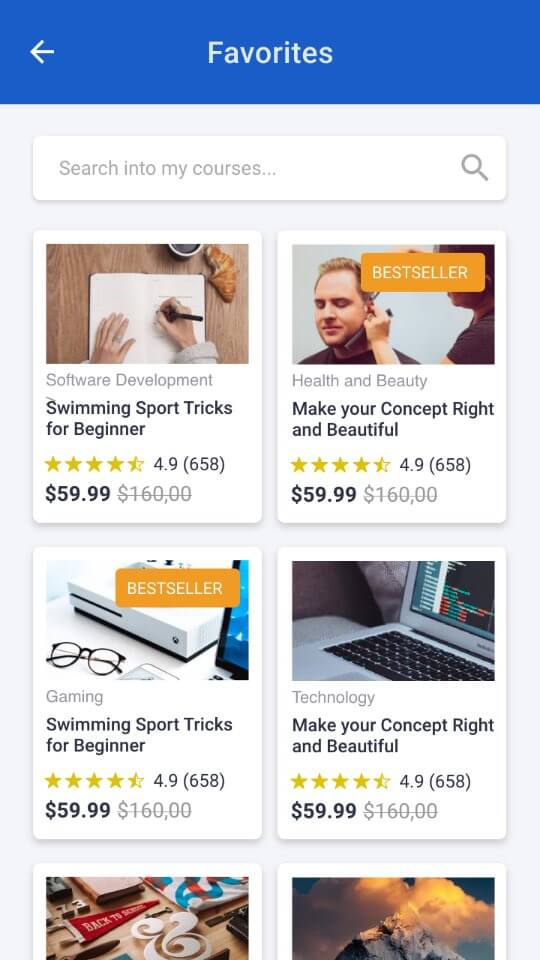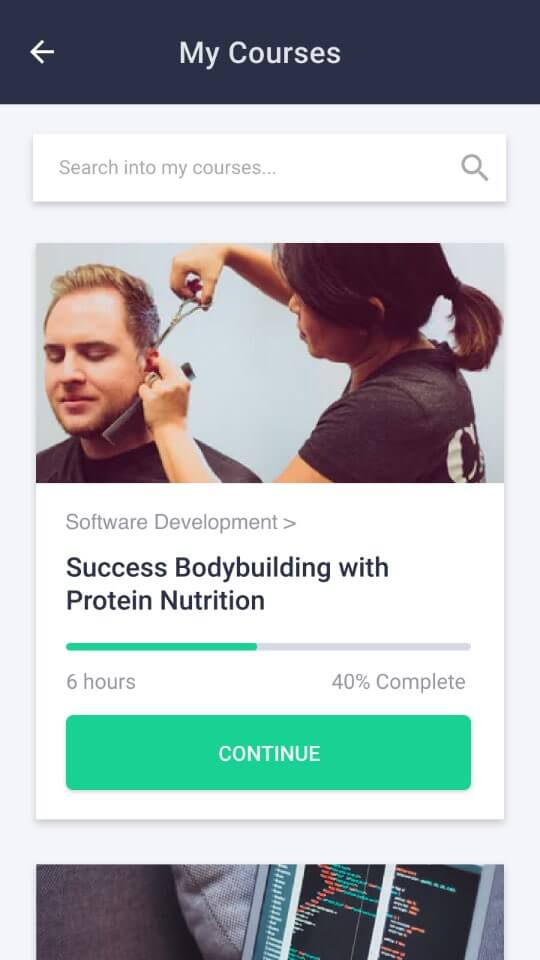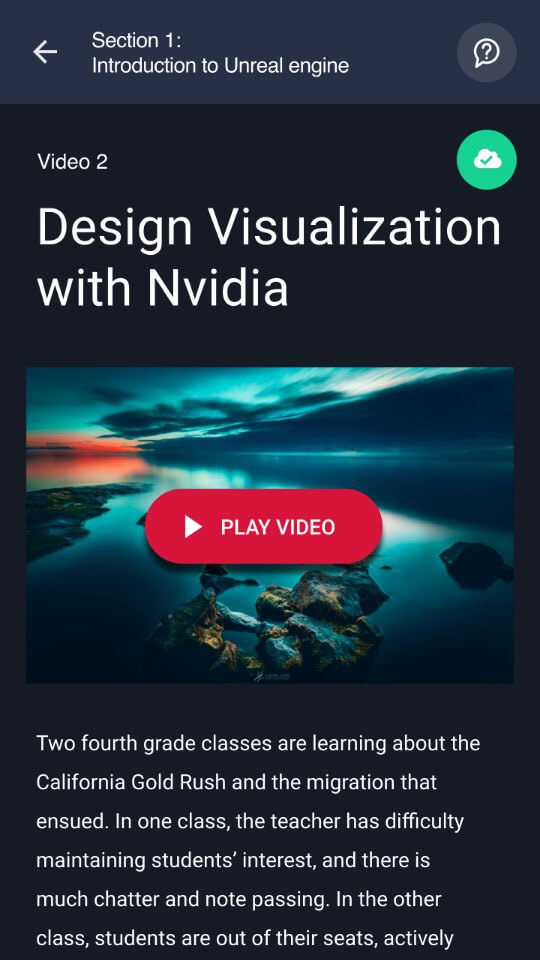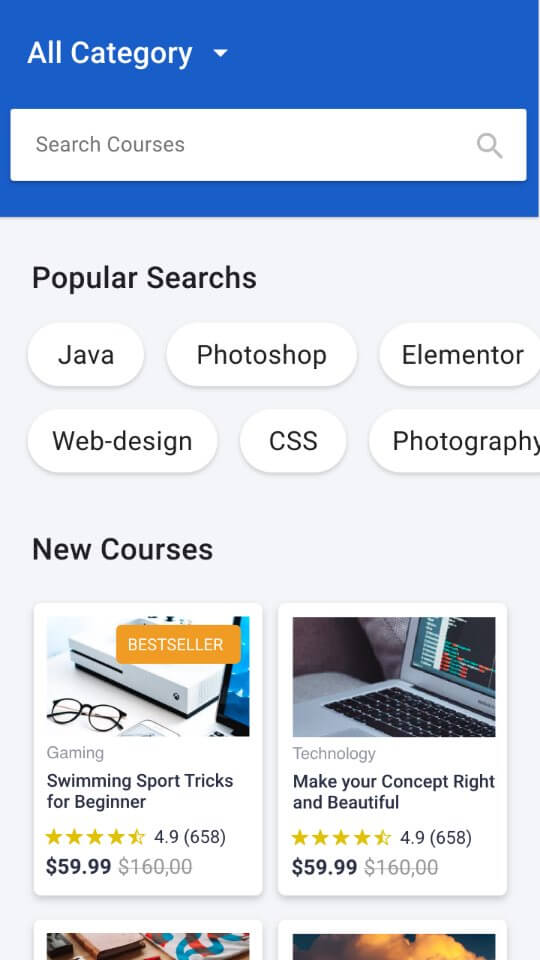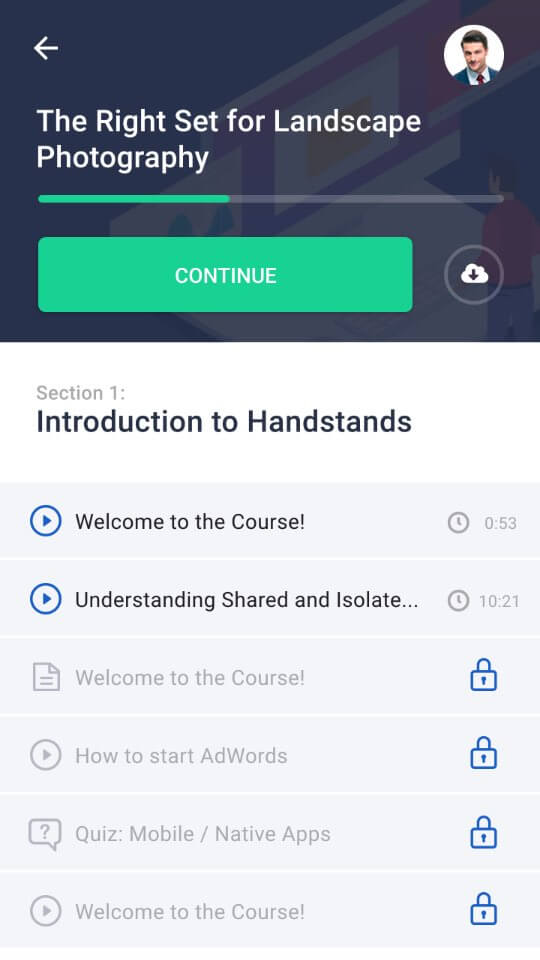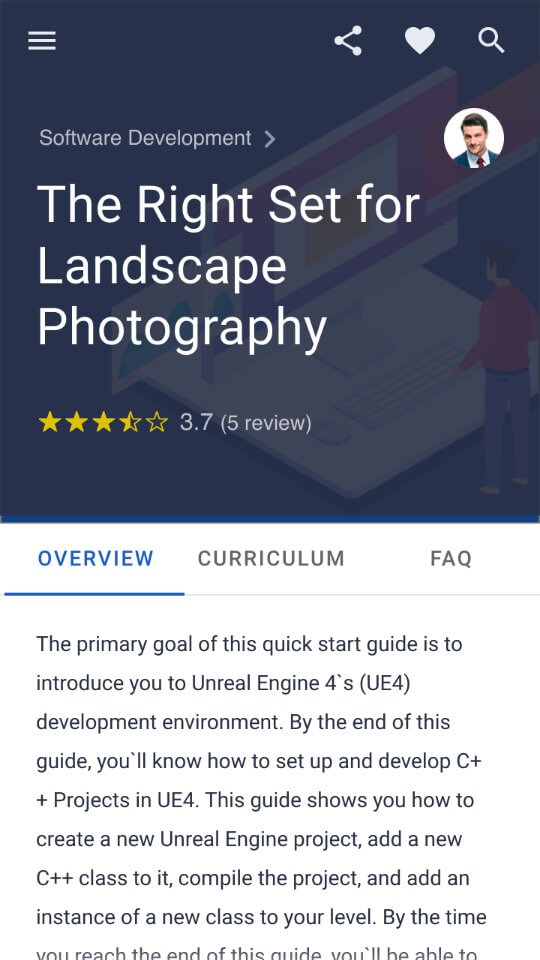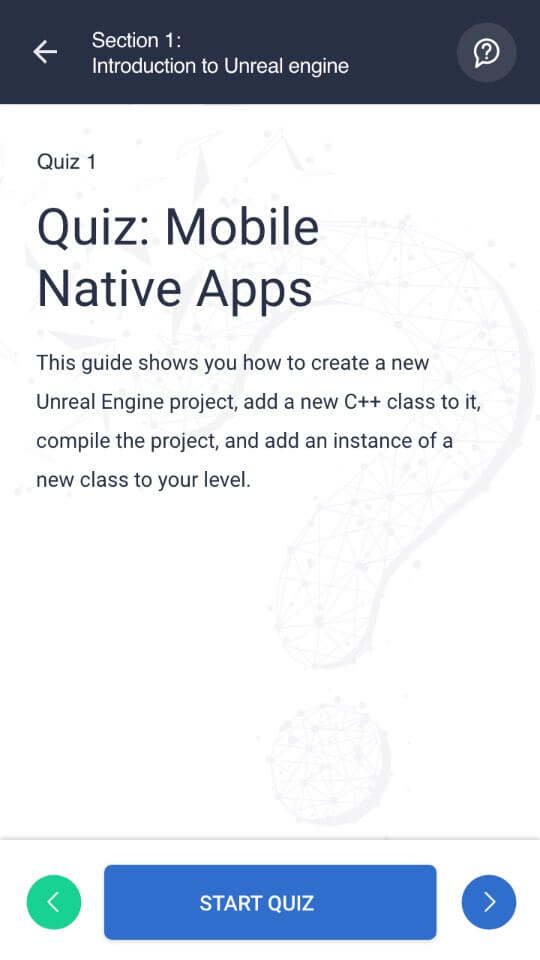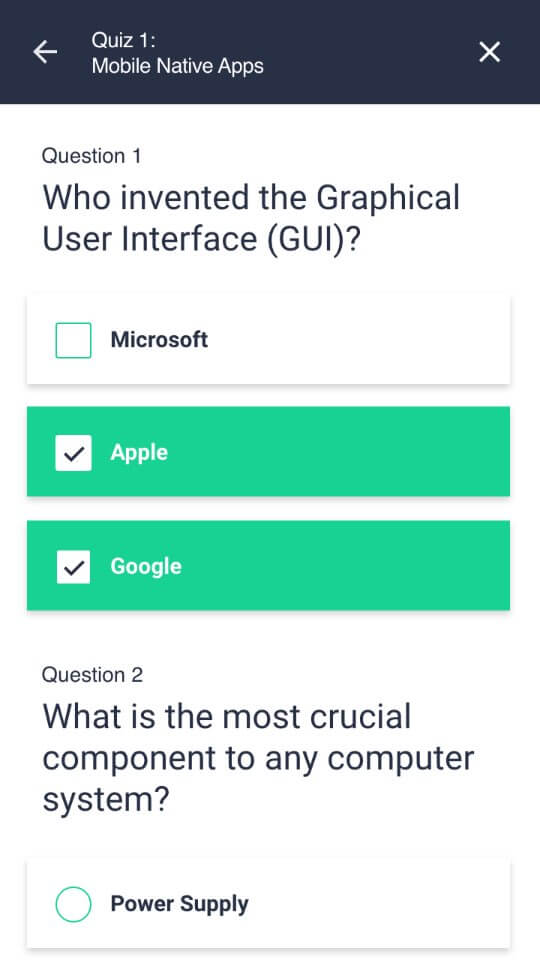 Main Features
The mobile learning app isn't just a tool, it is a powerful combination of great functionalities delighting all the users.
Course Taking

Students can take any courses and lessons they like without interrupting the process of learning and enjoy the smooth flow of content.

Quizzes & Tests

Set up quizzes and assignment tasks with different types of questions including standard True or False tests and interactive Item Match.

User-Friendly Interface

Easy navigation and user-friendly interface help students to concentrate on the learning activities.

Variety of Lessons

The application easily displays all types of lessons, whether it is text, video, live stream or slides.

Integration with LMS

Integrate and connect directly with your MasterStudy LMS website and use it as the content base.

Customization

Change colors, fonts and brand your app with simple customization tools to give it a complete view.

Synchronized Content

Update the course content from your WordPress website and every change will be instantly applied to all students' devices.

Communication Tools

Your students will not be left without attention thanks to discussion forums, comments and messaging systems.

Account Pages

Students will have their personal profile pages they can update and change the personal information.

Course Listing Page

Manage and update the course content from your WP powered website. Every change will be instantly synchronized and applied to all students' devices.

Multiple HomePage Layouts

Design your Home page depending on your needs — prepare it as a marketplace and highlight top categories or move straight to the course listings.

Payments & Memberships

Enable online payments, allow one time purchase and create membership plans, students can access directly from the app.
With MS App Students Can
What Students Get by Using MasterStudy App?
Synchronous Learning

With synchronous learning it is possible to get immediate feedback from the teacher or from the classmate. Interact with instructors and learners even if you are at home.

Progress Tracking

What's more, mobile apps can help students keep track of their studies through automated updates and the means to check on assignments and their own progress.

Higher Motivation

The younger generation is more motivated to learn when they can do it with the help of their favorite devices, which are more interactive as well.

Control Over the Session

Students can take more control over the learning sessions, especially when they can access the course at any moment and check the updates, for instance.
Built with Flutter
MasterStudy mobile learning App was built with the Flutter framework enabling a smooth and easy cross-platform mobile app development. With Flutter you can use one programming language and one codebase to create two different apps — for iOS and Android.
Flutter based apps have some key advantages over other applications:
Maximum productivity

Thanks to hot reload functionality you can change your code and see the results in real-time. A minimum of time is required for update.

Faster apps

Applications built with the Flutter framework work in a smooth and fast way, without hanging and cutting while scrolling.

Less testing

Less quality assurance work is required as there is literally just one app for two different platforms because of the one codebase.

Compatibility

All the widgets come as a part of the app and not the platform, that is why you will experience less compatibility issues on different OS versions.
How it Works
Key steps on how to install and set up
1

Get MasterStudy App

2

Build your own project

3

Submit your app to the store

4

Let students learn from their phones
Request Professional App Customization
Order Now
One Solution For Multiple Problems!






Unimited access and HIGH distribution

When using a website or desktop for online education, learners have to stick to one place, and not each of them has an opportunity for that. But almost everyone has the smartphones they use for the whole day. With online/offline educational apps you can make your courses more accessible and deliver them to larger audiences.

Spending LESS time while getting accustomed

For students, it is sometimes difficult to navigate across the system. They spend more time adapting to it rather than learning. However, usage of the phones and tablets with installed software eliminates the problem and reduces time wasted. Usage of familiar devices helps to quickly integrate into the educational process.

Online training is NOT boring

Many think that online training can be boring, lack of opportunities to ask the question and share your opinion may be dispiriting. But not with a MasterStudy LMS App. LMS allows you to build dynamic interesting courses in the first place, and the App makes it fun and interactive to study for learners.
Benefits Of Mobile Learning
Today twice as many people use mobiles rather than computers, and a significantly larger percentage of people prefer vertical orientation. That means if people have to choose between a mobile app and a web platform, they rather pick the first one. And here are the reasons why.
Flexibility

With mobile learning software, users get the flexibility by eliminating the need for learning activities to happen at a specific time. Accessing the materials whenever they want people to go through the content with more pleasure.

Better completion rates

Successful learning happens only when the content is complete and the information is retained. Educational apps are designed to achieve this objective, they create engagements that leads to higher completion rates.

Collaborative/social learning

eLearning apps allow students to get in touch with their instructors and classmates, share and get ideas on the move. It endorses connectivity and supports knowledge sharing contributing to effective results.

Bite-sized delivery

Students like courses more when they are broken into multiple shorter lessons. Mobile devices are the perfect platforms to view bite-sized lessons conveniently. Smaller learning sessions increase engagement and productivity.






On your way to microlearning
Microlearning is becoming an educational trend. The concept of microlearning supports the idea of delivering the content in smaller parts to the students to enhance engagement and retention rates.
With MasterStudy LMS App you can offer your students or employees to experience the effectiveness of the microlearning approach and ensure a smooth transition to mobile learning.
Frequently Asked Questions
Does this app builder wrap my website into a mobile application?

No, this app builder does not just wrap your website into a mobile app. We created a special app that integrates and fully synchronizes with your WordPress database with the help of API plugin. This means that you can manage content using your WordPress Dashboard, and apply changes and updates to the mobile application.

Do I have to manage the content in two places?

The answer is no. That is the main advantage of this app. You can manage your content in one place for a website and app at the same time. Making any adjustments in your WordPress dashboard such as updating the data of your courses and lessons, these changes will be displayed in your app as well.

What if something does not work and I can't find a solution?

Don't worry. When purchasing a product from StylemixThemes you get professional technical support from the team that is online 24/7. Contact us, create a support ticket and within a couple of hours any of your problems would be solved. In addition to this, you can always find a lot of information learning information such as online video tutorials, articles and guides which are always updated.

Can I brand my app, and have my logo, change colors, for example?

Yes, you can. MasterStudy App supports the high level of customization, and allows you to change the look and feel of the application including colors, text and other branding materials.

Can I build apps for both Android and iOS systems?

Absolutely. You can create both an Android app and an iOS app. The cross platform nature of the software allows building two different apps for different systems from a single codebase.

Am I able to publish the app on my own accounts in Apple App Store or Google Play Store?

That is right! After your app is finished you can release it and publish on both Apple App Store and Google Play Store accounts. You will just need to create developer accounts (for Apple Developer Account it will cost you $99/year, and for Google Developer Account it is $25 one time payment).

Is this the kind of app, where it is a downloadable which I get and still have the rest to do on my own?

This doesn't work this way! We have a goal to make mobile apps of high quality that will be more accessible from the technical side as well. You get the file which is a core base of your app, everything you need to is synchronize it with your website and make adjustments to give it the look you want.
Documentation and Video Tutorials
We provide a detailed step-by-step guide for app compilation and all steps are available in video format as well. You can access both 24/7 by following these links.