3 Top Quality Premium WordPress Backup Plugins: a Definitive List
After countless hours and money invested in your WordPress website, keeping it safe from sudden errors is crucial. Fortunately, regular back ups with a plugin helps do this super quick.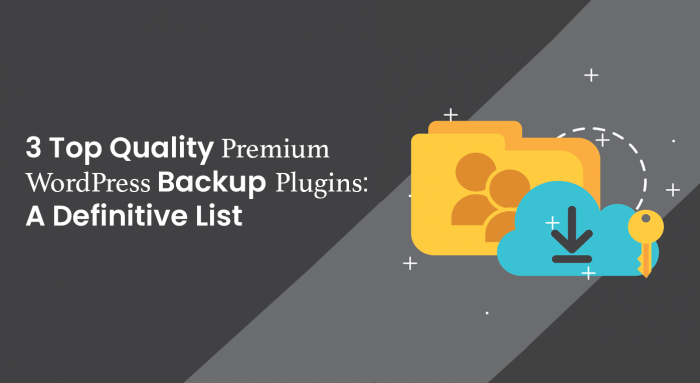 But, with so many WordPress backup plugins available with different features, it can be overwhelming to find the best fit. This is especially true when not all of them are created equal.
While there are a number of excellent free WordPress backup plugins out there, premium plugins not only offer a complete backup strategy, but also a number of security options to keep your site safe from outside threats.
Today, I'll share three of the top premium WordPress backup plugins that all take exceptional care of your WordPress site by providing backups, security, restoration and support right when you need it.
Factors to Consider
When deciding on a WordPress backup plugin, there are a number of factors to consider:
How often do you need your site backed up: hourly, daily, weekly?
Will you need an extensive amount of support from a team well-versed in databases and site migration?
Is security a large concern due to your content or popularity?
What storage options are you currently using and how do you transport any large backup files?
Do you have the budget for a more extensive subscription plugin or would you prefer a single payment that provides access to the software and short-term support?
While most WordPress premium backup plugins have support in all these areas, the amount of specialization can vary. It's a good idea to take some time to think about the needs of your particular site as it should help when trying to navigate the vast number of enticing options.
Below is a list of the three top premium WordPress backup plugins with details about the plugin, its top features as well as its ease-of-use, backup and restoring quality, and pricing.
Please note: the prices indicated below are accurate as of the date this article was published.

Not only is BackupBuddy an exceptional backup solution, but you also can migrate, clone and restore your site using the versatile ImportBuddy tool. BackUpBuddy also has real-time backups with Stash Live – a program that takes a snapshot of your site after each change you make.
Top Features
Comprehensive backups of files, content, database and settings
Scheduled automatic and multiple backups on a daily, weekly or monthly basis
Off-site backup storage in a safe and secure locations such as BackupBuddy Stash, Amazon S3, Google Drive, Dropbox, and more
Email notifications upon backup completion or error
Restoring option by uploading the ImportBuddy file
File protection tools and malware scans
Ease of Use
BackupBuddy has an intuitive setup and everything can be managed from the WordPress admin.
Also, while the cloning and migration tools are pretty easy to handle, restoring can be tricky if you're not technically-minded.
Backup and Restore Quality
BackupBuddy only offers scheduled backups and you can also customize the parts of your site that you would like your backup to contain such as the files and database.
When it comes to restoring your site, BackupBuddy doesn't just restore all the files at once, but allows you to go through each file individually, view the contents, then restore the file back to its original location, essentially undeleting it.
This works via uploading the ImportBuddy file, which requires a bit of technical know-how.
Price
BackupBuddy is not on a subscription service like many premium backup plugins so once you purchase the plugin, it's yours.
Premium plans start at $80 for a single site. Unfortunately, like many other plugins, BackupBuddy does not offer a free trial.
Summary
BackupBuddy is a super great value in terms of the price for the amount of features. Although, it doesn't have particular features such as encrypted backups for extra security or unlimited backup storage space.
If you're willing to update your site around the plugin's backup schedule, it's a strong, all-purpose option that will aid your sense of security.

VaultPress is run by Automattic, the same company that operates WordPress.com. It's not only a strong WordPress backup plugin, but a exceptional security plugin as well.
When the plugin connects your site to the VaultPress servers, it automates backups in real time. It also automatically detects and eliminates viruses and malware, thereby protecting your SEO, readers and reputation by automatically blocking all spammers.
VaultPress' real-time backups are what make it an asset for many big websites who need more focused monitoring. With their Professional Plan, backups don't occur on a typical schedule like many of the other plugins, but rather minutes after you update something, giving you a much clearer view of how your site is doing at any given time.
Top Features
Comprehensive daily security scans
Review and fix vulnerabilities with a simple button click
Long-term archive backups
Partnership with the Akismet anti-spam filtering service to block all spam comments
Browse entire history of backups and download any past database, upload, theme or plugin
Statistical analysis of site performance in dashboard
There's a 30-day money back guarantee
Knowledgeable support staff called SafeKeepers to help you restore your site
Ease of Use
The VaultPress dashboard isn't the same as the one for WordPress. Instead, it's a backup center with calendars that gives you detailed information as to the goings-on of your site on a day to day basis.
From the VaultPress dashboard, you can restore files, monitor security scans and cut out threats – and all from a single screen.
Backup and Restore Quality
VaultPress is known for its fast backups and easy restoration. The makers of WordPress certainly understand the ins and outs of caring for a WordPress site and the quality of the customer service shows.
Restorations occur with a single-click and backups happen daily, but VaultPress does lack the backup scheduling feature many other plugins have.
Price
VaultPress is a part of Jetpack so when you purchase a plan, you're not only getting exceptional security, but also Automattic-built marketing and performance tools.
Depending on the plan you purchase, VaultPress will back up only 30 days of archives, but their Professional Plan does come with unlimited archive backups. Premium plans start at $39 a year for personal plans and $99 a year for business plans.
Summary
VaultPress is a comprehensive, detail-oriented WordPress backup plugin with impressive security features. If you don't mind that it's bundled with JetPack and doesn't do user-scheduled backups, it's a stellar choice.

If you have dabbled in free WordPress backup plugins, chances are you have come across UpdraftPlus Premium, an exceptional backup plugin that allows you to both backup and restore your site easily and quickly. However, their Premium version, built on the extraordinarily reliable and scalable Amazon S3, comes with a variety of features that makes the already-solid plugin a true powerhouse
Top Features
Manual and automated backups, customized to the frequency you prefer
Separate file and database backup functionality
More remote storage than any other backup plugin (Google Drive, Dropbox, Amazon S3 (as well as any S3 compatible provider), RackSpace Cloud Files, Microsoft OneDrive and Google Cloud Storage
Automatic backup before any theme, plugin or WordPress core update
WordPress Multisite-compatible
Restore your site using backups made from other plugins including BackWPup, BackupWordPress, Simple Backup, or WordPress Backup To Dropbox
Free 1GB storage in Updraft Vault
Free upgrades for a year, including any future add-ons
Support via forum and email for a year
Ease of Use
UpdraftPlus Premium has a notoriously easy interface with all the buttons you need (Backup, Restore, Clone, Migrate) right there on the page in the WordPress dashboard as well as records of your latest backups.
There are a few advanced configurations that could be intimidating for non-technical users, but for basic functionality, it's quite straightforward.
Backup and Restore Quality
Back in 2015, UpdraftPlus implemented a new backup zip creation engine based on customer feedback, making everyone happier with less timeouts and quicker processes. The plugin is extremely reliable with both backups and restorations, and works on multiple server configurations.
Price
When you purchase a premium plan, you receive a license that includes updates and support for a year and if you want to renew after a year, UpdraftPlus Premium purchasers receive 40% off their access renewal.
Licenses start at $70 for a personal plan, which is for up to two sites.
Summary
If you're not looking for any security features with your backup plugin and you don't mind no options to buy lifetime updates, UpdraftPlus is an extremely popular and feature-laden WordPress backup plugin that's both reliable and cost-effective.
Which to Choose?
Of these three premium WordPress backup plugins, it's hard to go wrong with any of them.
If security is your largest concern, VaultPress is an excellent choice.
Don't have the budget for a monthly subscription but still want a whole host of features? Either UpdraftPlus Premium or BackUpBuddy may be better.
Our detailed guide to choosing plugins allows you to highlight the key features that you should pay attention to. If you do not know which plugins to use, we have prepared a review must have plugins for each WordPress-website.
Final Thoughts
As a website owner, it's imperative that you take your website backups seriously by investing in a premium WordPress backup plugin.
In the event of a worst-case scenario, these three plugins will go above and beyond to reduce the panic, and stress of such an event.
What premium backup plugin do you use? Which plugin is your favorite? Is it on the list? Share your thoughts in the comments below.