7 Best WordPress LMS Plugins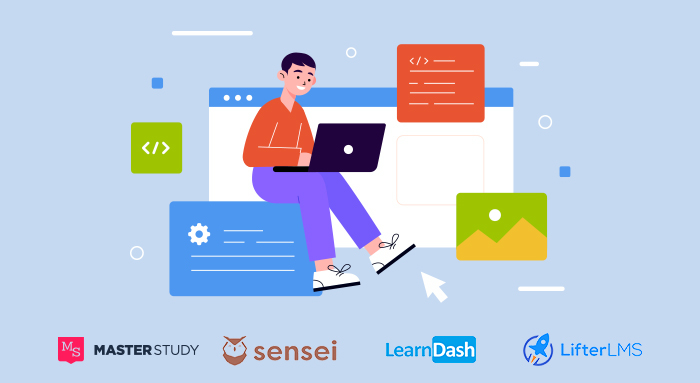 Learning Management Systems (LMS) plugins allow you to create and run online courses through your WordPress website.
The very best kind of LMS will provide features enabling you to manage your online course content, operate quizzes to test your students progressing knowledge and handle both subscriptions and one-off payments, meaning you can spend time on more important aspects of your business.
Here we will compare some of the best WordPress LMS plugins available free and paid, taking into account their specific pros and cons, with the aim of helping you to select the perfect solution for easily create your online learning website.
The content of the article about the best WordPress plugins looks like this:
LMS WordPress Plugin Top Picks


Masterstudy LMS, a robust online education, course, and learning management system plugin for WordPress, is available free of charge. It is packed full of exciting features explicitly aimed at the LMS market.
The plugin enables the creation of professional-looking exciting, interactive lessons that incorporate things such as videos, graphs, images, slides, and additional attachments, so as to make the course overall more compelling for the students.
Additionally included as part of the plugin is a clearly devised admin panel, a handy messaging system, spaces for posting both quizzes and their results, as well as a place for course announcements.
Flexible pricing and payment options are available thanks to PayPal and Stripe integration, included in the plugin. Monthly or annual subscription plans are also possible alongside one-time payments.
There is also the option to purchase the premium add-on of the plugin. This includes a collection of premium features such as Udemy Course Importer, Prerequisites, Online Testing, Statistics and Payout, Trial Courses, Sequential Drip Content, The Gradebook(Course Completion), Lessons Live Streaming, Group Courses, Assignments, Point system, Course Bundle, Multiple Instructors, and WooCommerce integration.
Pros:
Great features available free of charge
Multiple options when building a curriculum
Useful extras for supporting student learning
Interactive options to keep students engaged
Intuitive builder
Modern, attractive designs
Cons:
Additional purchases required for some of the features
Addons needed for a greater range of payment options


This extremely popular WordPress plugin is easy to use and comes equipped with an array of impressive features to support your website's functioning. It is suitable for higher education, professional training, as well as WordPress projects.
The simple to use drag-and-drop course builder enables you to create effective online course content. Alongside this, there are features that allow you to sell the courses, deliver quizzes, award certificates, manage users, download reports, and more.
You can also set up assignments for your clients to complete and then approve or comment upon them when they have been submitted. There is also an array of test management tools, including the ability to select from multiple question types.
Furthermore, they are plenty of monetization options, including subscriptions, one-time purchase options, memberships, a shopping cart, etc. It's possible to accept payments using multiple payment gateways such as PayPal, Stripe, and 2Checkout.
The plugin also integrates well with bbPress, WordPress eCommerce plugins, and WordPress membership plugins like MemberPress.
Pros:
Great visual course builder
Good options for drip-fed content and prerequisites
Unique Video Progression Feature
Engagement triggers that allow for higher levels of automation
Cheaper than many alternatives
Cons:
Limited membership functionality
Lack of initial support and guidance on the dashboard
More challenging to figure out for beginners.


LifterLMS is a powerful WordPress plugin with a lot of really great features on offer. It allows for the creation of engaging courses that your students will really enjoy, and it is easy to set up – even on existing WordPress sites.
The plugin offers a great deal of flexibility on both the type and level of content you can create – everything from small courses to fully-fledged degree-level programs. To enhance the user's experience of the classes, Lifter LMS enables you to add multimedia lessons like video, audio, text, images, and more. These will all serve to make your courses more appealing.
To further boost your client's engagement, the plugin includes impressive features such as automated emails, gamification with badges available, and even certificates upon completion of a course. It also has built-in content restriction allowing you to limit any WordPress page on your site to members only.
In terms of selling the courses, you can easily set up credit card payments – either one-time or recurring, course bundles, coupons, and more. Payments using PayPal, Stripe, or manually via check are accepted.
Pros:
Good level of support and direct access to the LifterLMS team
Simple-to-use course builder for quick content
Great WordPress integration
WooCommerce integration
Cons:
Purchasable addons required for optimal functioning
Limited marketing options
Dated designs in some areas


The freemium Tutor LMS plugin is packed full of useful features to help you in the development of your online courses. You can design and create an unlimited number of exciting lessons with the easy to use drag-and-drop builder.
The plugin includes functions allowing for Gutenberg blocks, video support (native, Youtube, and Vimeo), announcements, course ratings/reviews, and an unlimited number of instructors. You can even set up quizzes to test your student's ongoing knowledge throughout the course.
What's more, Tutor includes frontend student dashboards, teacher profiles and panels, built-in styling options, a custom course widget, and WooCommerce & EDD compatibility – all as part of the free version.
There is an option to upgrade to the premium-level Tutor LMS Pro. This further extends the options available for quizzing and additionally allows for assignment submissions, grading, reports, course certificate templates, email notification, content drip, as well as support for WooCommerce Subscriptions and Paid Membership Pro
Pros:
Allows for third-party instructors
Provides all features required for running an online course for free
Front-end course building potential
Cons:
Some features only available for a fee
Limited styling options


LearnPress is a free and lightweight plugin that includes a host of useful features alongside the option to add or purchase multiple additional features to further extend the functionality of your site.
Course creation, editing, and maintenance are made easy with the ability to add in a range of lessons, quizzes, and questions. Settings are fully customizable, including the duration of the course, the required pass marks, the number of attempts of quizzes before advancing to the next level.
In addition, you can import content from other locations and export content created here for use on other WordPress sites that also support the plugin. Furthermore, using BuddyPress support, students can form discussion groups to talk about any problems and share newly-acquired knowledge.
The plugin can be translated into various languages. It also supports multisite networks, as well as PayPal, Stripe, and WooCommerce payment methods. You can use LearnPress with any standard WordPress Theme, but the authors recommend that it be used with Education WordPress Theme or LMS WordPress Theme.
Pros:
LearnPress and some of its addons are free
Couse creation is straightforward
Good available themes
Cons:
Certifications need to be paid for
Lacking in specific support and guidance


A popular LMS choice, WP Courseware comes with features to support the development of a number of different varieties, of course. In addition, the tools at hand make the individual lessons a breeze to create.
The plugin enables each of the courses to have multiple modules, units, and quizzes. Both course prerequisites and content-drip options are likewise supported. Alongside instructor profiles, instructor grade book, student grade books, custom emails, and many other features that help create an engaging experience for users.
WP Courseware includes useful features to sell courses on your website. It even has a built-in shopping cart option where you can directly connect PayPal or Stripe and start selling your courses.
Moreover, you also have the option to create free courses and offer some content to your users free of charge. This will inspire users to buy the full course. Premium content can be sold for one-time purchases or recurring subscriptions.
Pros:
Great integration options
Easy to use
Many quiz options available
Cons:
No free plan option
Moderate lesson customization capabilities
Designed purely for smaller operations


Sensei is a great LMS option from the people who brought you WooCommerce. The plugin is flexible and easy to use and follows the same best practices as WordPress and WooCommerce.
Sensei works with most standard WordPress themes. The developers do however recommend those which offer integrated support for Sensei. Course creation is easy with this plugin. You can assign quizzes, assignments, grade them automatically or manually, and even offer badges and certificates to students.
Depending on the features you require, you can add several extensions to the plugin. Most of them are free, but to drip feed content and to award badges for achievements, you'll need to purchase extensions separately.
The plugin can be integrated with the eCommerce plugin. By linking courses to a purchased product, you can promote a course to a very relevant audience. Hence, a buyer of a painting set is likely to receive an offer of a course on painting.
Pros:
Good admin interface
Great messaging options
Cons:
Pricier than similar options
Lack of quick support
Less intuitive to use than other LMS builders
All in all, there is a great range of Learning Management Systems on the market to match every kind of requirement. However, for us, there is no better allrounder than the Masterstudy LMS, which offers an impressive number of features on its free version and excellent ones on its premium upgrade.