18 Best WordPress Themes for Technology Bloggers In 2020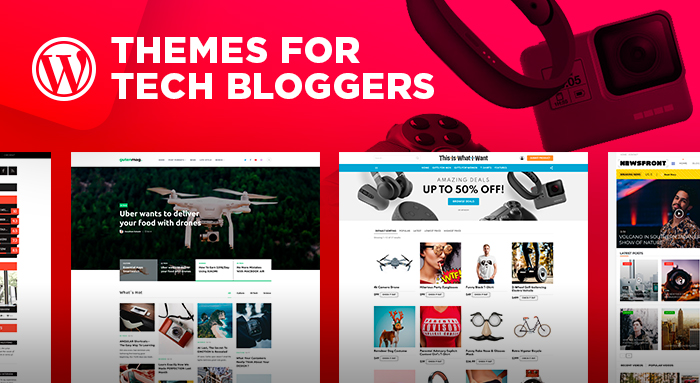 Technology is constantly growing and this constant growth and evolution make it very attractive for bloggers because of the possibility of numerous content. One thing that can easily differentiate these blogs is the quality of their website design.
The theme that a technology blog uses is very important as the blog has to appear professional and like all other blogs, have to be optimized for SEO and great user experience.
This article shows some of the best WordPress themes that work well for technology blogs, and their features. There are 17 of them being highlighted.
#1. Bucket

This WordPress theme is majorly for news. If you are a tech enthusiast that always covers diverse topics, then this is the theme for you. It has a homepage design that is flexible and allows you to choose one of five pre-defined layouts. You also have the option of using the custom page builder to create one for yourself. You can also build your online store with its WooCommerce integration.
#2. Setwood

This is an SEO-friendly theme that offers an excellent user-experience with its minimal design. It is also very flexible and customizable to fit your preference. This WordPress theme has numerous homepage designs that you can choose from to offer your readers great experience on your site. It is also compatible with the WooCommerce plugin.
#3. GutenMag


GutenMag is a theme with full support for the Gutenberg Editor. With hundreds of users already, this is one of the easiest themes to work with in terms of customization and day-to-day management. GutenMag is stylish and with many modern features. You can pick any of the provided demo designs to quickly achieve a specific magazine style. The Crypto Blog and Lifestyle Magazine designs can easily be turned into viral sensations.
#4. Flick

Flick offers you a minimal and modern design with incredibly powerful features. It is very quick and optimized for SEO. Advertising on the flick is also easy as it works perfectly with Google AdSense so you can easily make money from your tech blog. It is also customizable with unlimited background options and colors.
#5. Rexus

Rexus is a magazine theme made with attractive designs to match your tech blog. Its responsive layout makes your website appear great even on devices with small screens. Rexus is optimized for SEO to help you generate traffic organically to your site. It has a panel that offers advanced theme options to allow you to input and edit your site details at any time.
#6. WordX

This beautiful theme is quick and optimized for SEO so you can rank very high for your content in SERPs (search engine results pages). This retina-ready design is fully responsive and gives your website a great look on all devices. It is also perfect for Google AdSense so you can make money from your website.
#7. Magazine
From the name, it is a magazine theme that is optimized for search engines and to offer the users a great reading experience on your website. You also have the choice of 4 options for the homepage which you are to choose from. They are very customizable and you can make them into what fits. It is Google AdSense optimized so you can make some monies.
#8. DesignBlog

The professional design of this theme is aimed at giving your users excellent users experience with maximum readability one of its features. It is optimized for SEO and Google Adsense ads to help you get the most out of your website. It is fully responsive and you have full control over the placement of ads.
#9. Nominal

It has the layer of a classic blog optimized for SEO and readability of the readers and their general user experience. This theme will ensure that your content has a touch of professional writing service to keep your readers glued. It is built with CSS3 and HTML5, so it has a responsive design with a modern look, unlimited background pattern, color, powerful theme, and unlimited google web-safe fonts.
#10. TopGadget

This tech blog WordPress theme has an engaging and attractive design so that your website users are stuck on it and the bounce rate is low on your site. The responsive design means it can work on all devices. TopGadget has an in-built SEO option and ensures that the possibility of conversion is very high on our site.
#11. TechSavvy

From the name, it is obvious it was made for tech blogs. This theme was created with CSS3 and HTML5 codes. It has a design that makes it load fast and also offer an excellent experience to the users. This theme is very customizable and optimized for Google AdSense.
#12. Interactive

Interactive is made with modern design and high quality. It is fully responsive and can work very well on all devices. This highly customizable theme has a number of variations for its homepage. It has unlimited color, more than 630 Google fonts, sidebar options and a ready placement for Google AdSense.
#13. ReTouch

This theme has a clean, professional, minimal and breathtaking design compatible with any site showcasing app. It is well suited for creative, agency landing pages, software, app, and service websites. It is very responsive and is beautiful on all devices.
#14. Pinstagram

This is a theme made with a beautiful design to capture your users' attention and keep them stuck on your site. The homepage allows you to display numerous content and the posts change randomly each time the site is loaded to ensure that all your contents receive maximum attention. It offers unlimited background and color options and is optimized for Google AdSense.
#15. Master

This theme has multiple options and beautiful features for bloggers. You have an option to choose from 9 beautiful demo designs. You can customize it to fit your needs. It also has five different blog layouts to choose from. It also allows you to design new pages without any efforts or lines of code.
#16. Newspaper

This theme is perfect for creating a news site with a successful source. The theme is perfect with BuddyPress, WooCommerce, etc. so you do not have any problem with the extension of your site functionality. You also get a free lifetime update after buying this theme. You have different demo options, easy to customize and SEO-friendly.

#17. MH Magazine

You can use this theme to launch news websites and online magazines related to technology, the internet, and gadget. It is very flexible and offers numerous layout options. The theme is also optimized for SEO so that you can rank higher for google searches. It also has social sharing buttons so that your readers can also share your content on their social media platform.
#18. MagXP

This magazine-style theme fits with many niches, especially the tech niche and has the same outlook as a certain assignment help Australia tool. It offers different layouts for the homepage with a very attractive and engaging design. The MagXP theme is one of the most optimized WordPress themes for SEO to help you bring plenty of traffic to your site from different search engines. It is also very responsive and has a great look on all devices. It is created with CSS3 and HTML5 with numerous features.